So you wanted to use Google Drive to receive files? Did you found GoFileDrop and you wonder what other alternatives to it there are out there?
File Request Pro lets you create file request links or embeddable forms that go straight to your Google Drive.
It's ideal for any serious business that needs flexibility and security to receive customers' files.
File Request Pro offers many customization options for your upload page and forms
One key difference between GoFileDrop and File Request Pro is all the possibilities that FRP offers to customize and make your page or form match your business brand and identity.
The following, are only available in File Request Pro
Your Brand in URL. You can choose your URL, have an easy to remember URL to point your customers too.
White Label. Hide any reference to file request pro brand in your page. Your customers never know you are using a third-party software
Edit text, Colors, and Layouts. Everything you see in your upload page is 100% customizable. Change the message your users see, your logo, background color and more. Make your page match your brand identity. Offer your customers an undifferentiated experience.
Secure your page. Add a secure word or password to your page so it's private. Only the people with the password can upload your files into your Google Drive.
Choose your folder and automatically organize Files
When using GoFileDrop all your uploaded files go straight to one Google Drive folder. Let's face it, if you work with more than ten customers, managing files this way became impossible.
Thanks to File Request Pro, you can create a new folder with your customer name on it. Easily identify which files belong to which customer. Save hours a day organizing your files.
Create unlimited upload pages vs only one in GoFileDrop
Create as many upload pages and forms as you need. Do you have more than one website? Work on different offers or maybe a few landing pages? Create as many pages as you need. Each page is linked to one folder in your Google Drive account.
Mobile compatible upload pages and widget
File request pro has been built with mobile in mind. Our upload pages and embed forms are mobile compatible. More than 50% of your customers will use either a mobile or a tablet to upload your files.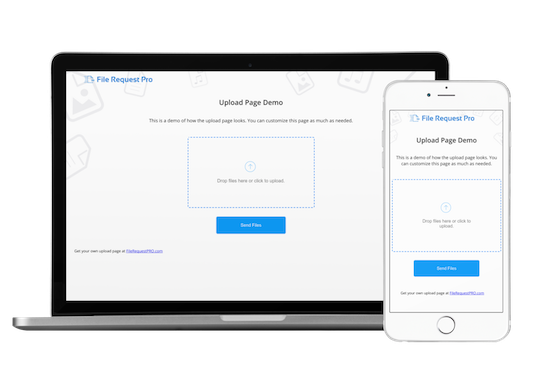 Secure for you and your customers
When register for GoFileDrop it will require access to your entire Google Drive account. This is not the standard practice at all. As a matter of fact, now Google does not allow this kind of access anymore.
At File Request Pro, we only have access to only one directory of your choice. Keep your files private and secure.
Clear and Simple Pricing
At the time of writing this, GoFileDrop has many prices ranges. It makes almost impossible to know how much you will pay.
We like to keep thing simple. One flat pricing so you are confident that no matter how many files you receive, your pricing will be the same.
Ready to give File Request Pro a try?
Getting started with File Request Pro is painless. Register for free and in a few minutes, your customers will be able to upload the files you need. You can try for free for 14 days, no credit card required.
14 Days trial. No credit card required