API Authentication
---
File Request Pro makes it simple for users to generate API tokens that can be used to consume File Request Pro's API. Please keep in mind that API access is only available on same plans.
Go to "Your settings" from the top menu.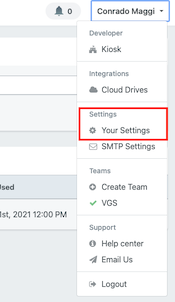 On the right side menu click on API.





You can now enter a token name. When you're ready to go, just click on the validate button to get your API token.

If your token becomes compromised, you can regenerate it. However, be aware that any applications that were using the old token will lose access once it has been regenerated
There are two ways of passing the API token to your application. You may choose any of these approaches based on the needs of your application.
Option 1 : Query String
You may specify your token as an api_token query string value.
GET "https://filerequestpro.com/api/files?api_token=YOUR_TOKEN_HERE
Option 2 : Option 2 : Bearer Token
Second option is to use HTTP header. You may provide your API token as a Bearer token in the Authorization header of the request.
POST https://filerequestpro.com/api/files
HEADERS :
'Authorization' => 'Bearer YOUR_TOKEN_HERE'
'Accept' => 'application/json',