Creating your first upload page
---
File Request Pro lets you easily collect files from users to your OneDrive Google Drive or Dropbox. This tutorial will walk you through setting up your new account and creating your first page.
Step 1: Connecting your cloud account
Once you create your account, you will need to configure the location for the uploaded files. When files are uploaded from your page, they are uploaded to a connected cloud drive. One or more of these options can be configured. Click the connect button and enter the respective login credentials.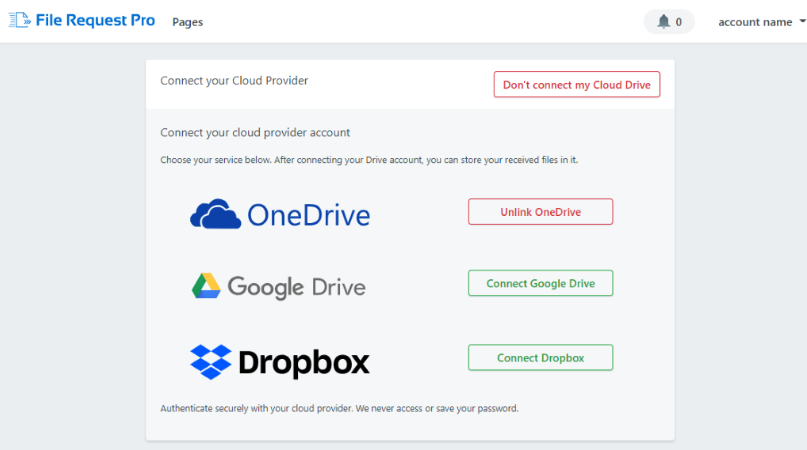 If necessary, you can click the Unlink button at any time to disconnect a connected drive.
Now you are ready to create your first upload page. From the account Dashboard, click Add New.

You will now configure your new page. You can customize the page with your own color preferences, language, fields, and URL. We recommend you go through each section and configure the setting to your liking. Not all settings are required.
As you customize the settings for your page, you can preview the saved changes by clicking View your page found at the top of the page.
Step 2: Your Page Settings

Enter the name to be used for the page. This will show on the File Request Pro Dashboard and will be used as the default page URL. This name is not visible to the user.
The page URL is the URL where your page will be hosted. This is the link you will share with users so they can upload a file. The URL will always begin with filerequestpro.com/up/. You can customize the rest of the URL.
Select whether this page will be secured with a password or not. If you do not require a password, select Yes. If you wish to password protect the page, only user with the password will be able to upload files. Select Password Protected from the drop-down list. You will be prompted to enter a password when this option is selected.
Click Save.
Step 3: Page labels, text, and translations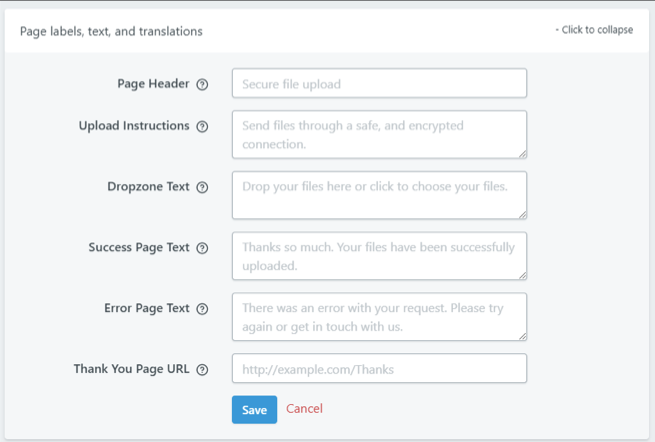 Now you can begin to customize the look of your page. Not all of these settings are required but are recommended to instruct your user on uploading their file.
Page Header - Enter text that will show at the very top of your page. If your upload page is embedded into your website, the page header will not display.
Upload Instructions - Enter text that will instruct the user how to upload the file. You may want to tell them what type of files you will accept or any other special instructions. You can use HTML tags to format your text. For example, you can include a hyperlink and format bold text, among other things.
Dropzone Text - This text defaults to "Drop your file here or click to choose your files." It is displayed in the upload box to guide the user. You can enter your own text to override the default.
Success Page Text - This is the message that displays when a user has successfully uploaded a file. This text defaults to "Thanks so much. Your files have been successfully uploaded." You can enter your own text to override the default. HTML is supported in this field. You can redirect a user to a Thank You page instead of displaying a Success message.
Error Page Text - This is the message that displays when there is an error uploading the file. This text defaults to "There was an error with your request. Please try again or get in touch with us." You can enter your own text to override the default. HTML is supported in this field.
Thank You Page URL - A thank you page can be used to direct the user to another page instead of displaying a Success message. Enter the URL of the page to redirect the user to
Click Save.
Step 4: Page branding and color theme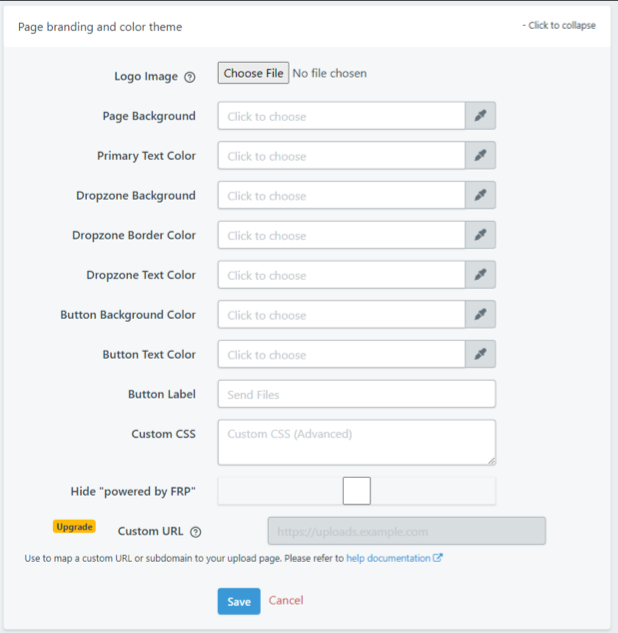 All of the colors and button labels on your page can be customized. This is not required but it is an good idea to incorporate your company branding.
Logo Image – Click Choose File to add your logo to the upload page. The logo is displayed on the upper left corner of the page.
Click the test tube icon next to any of the color settings to choose a custom color. For a complete list of option please check Upload Page Theme.
Configure the Send button using the Button Background Color, Button Text Color, and Button Label settings. By default the button is blue with white text and says Send.
Click Save.
Step 5: Form Fields

If you require additional information from a user when they upload a file you can add form fields. These are fields they can use to enter their name or contact information or any other data you may need to get from them. Additional form fields are not required.
Click Add Field to add a field to the form.
Select a Field type. This will restrict the type of data the user enters into the field. Select from Text, Long Text, Phone, Email, URL, File Upload, Checkbox, Dropdown, Date, Integer Number, Decimal Number, or Hidden. Click Advanced Settings to set special characteristics of the field, like a min and max value, or special validation rules.
Next, enter the Label to show on the page.
If the field information is required from the user, select the Required checkbox.
If you want the data to be saved to a text file, select the Save the form input as a text field in my Drive. The text file will be saved in a subfolder. The name used for the subfolder is based on the data for the field that has the Folder checkbox selected.
Once all fields have been created and configured, click Save.
Step 6: Thank you email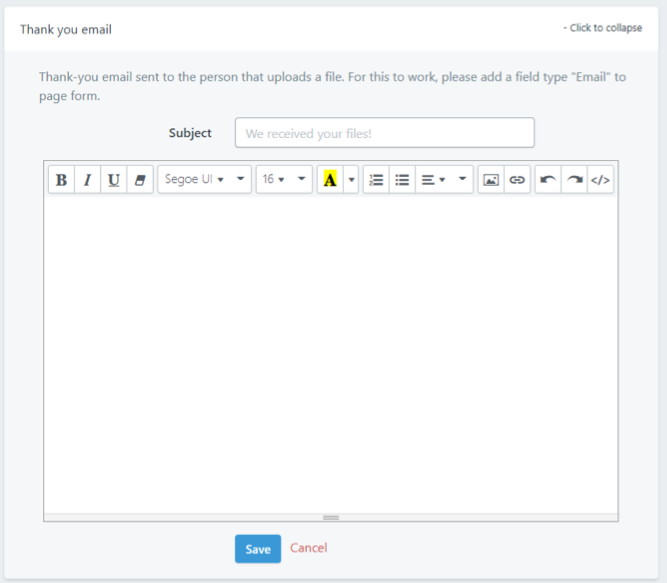 Once a file has successfully uploaded a Thank You email can be sent to the user. You must collect the user's email address if you want to send the Thank You email.
Make sure you create a form field called Email in the form fields section. If you make it required, they will always receive an email upon successful upload. If the field is not required and they leave it empty, they will not receive an email.
Enter a Subject to be used for the email.
Now create the email text in the WYSIWYG text box.
Click Save.
Step 7: Uploading & File Destination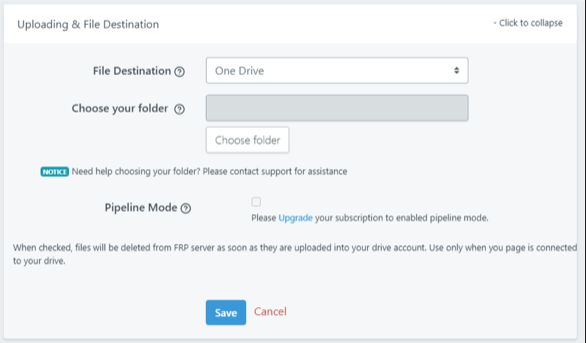 Select the Destination for the file upload. This can be via email or any of the connected cloud drives. If you want to place it in a specific folder on the destination, click Choose folder.
Click Save.
Step 7: Notifications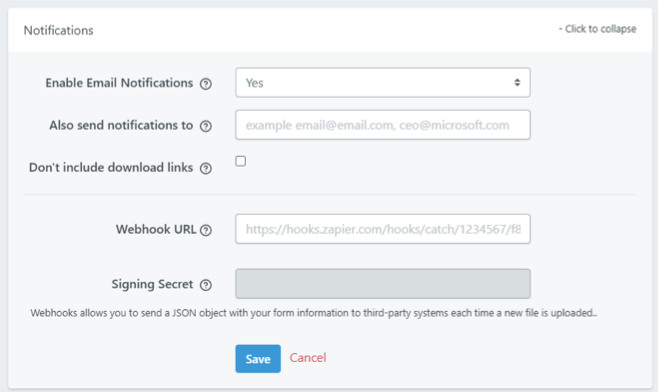 The notifications section lets you enable notifications to let you know a file has been uploaded. This is not required.
Enable Email Notifications – Select your preference, Yes or No. If you select Yes an email notification will be sent to your email address.
You can add additional email addresses for notification by entering them in the Also send notifications box. Multiple email addresses can be entered by using a comma between them.
Optionally, you can include a link in the email notification to download the file. Select the Don't include download links box to not include the download link in the email.
Click Save.