These companies have already simplified the way they collect documents.

Streamline your employee recruitment process
Reduce back and forth conversations with candidates, get all the information you need in one place and comply with data retention regulations.
Collect recruitment applications and support material in one place
Improve your candidate recruitment process by creating a form that requests all candidate information as well as supporting documents using an approachable form. Your can also use the portal to request information from references, contracts from your legal team and interview notes from department heads.
Automatically send all content to a folder in your cloud drive, organised by any value you choose (candidate name, for example). All uploaded files go straight to your Google Drive, OneDrive, SharePoint or Dropbox. Use Zapier to connect with thousands of other apps. Save hours organising and searching for files.
Accept large files or folders up to 10GB
Unlimited file requests
100GB of extra storage in case your cloud storage is full
No log in required for external users
Automate repeatable processes and speed up the application process
Once you have created template forms you can use these every time with minor tweaks. Reduce error and save time with a repeatable document collection process that works. Dynamic file organisation means that you no longer have to spend time manually organising documents and supporting content. Files are kept out of your inbox, where they are more likely to get misplaced.
You can also set up automated email sequences to remind candidates and team members of application requests and deadlines.
Dynamic file organisation in your cloud drive
Automated email sequences and deadlines
Create your own templates by duplicating forms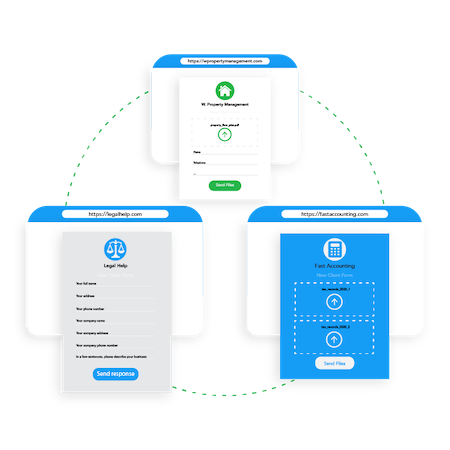 Customise the document collection process so you can get the information you need
Whatever position you are recruiting for, customise the process so it works for your specific candidates. Use a classic one-page form, or ask one question per page. Add multiple upload requests or just the one. Use conditional logic so candidates only see questions that are relevant to them
White-label candidate-facing upload pages so they fit in with your company branding. Use standalone pages or embed forms into your website. Candidates are more likely to trust a process that looks like it comes from your company, rather than from a third-party service.
Form builder and drag and drop upload field
Conditional logic
Granular branding options
Embed option or standalone pages
Candidate data retention and security
Candidates give you access to private and confidential information. They have a legitimate expectation that you will keep their data secure and keep it for only as long as is necessary. Unencrypted email is not secure. It is vulnerable to phishing, not to mention human error.

With File Request Pro, user data is securely encrypted and sent direct to your cloud account or dashboard. You can only allow users with a link to upload documents. You can even set a password, although we don't make this the default option because it complicates the user experience. We focus on making it as easy as possible for users to send you files while still maintaining bank-level security.

You can specify that candidate data is deleted immediately from our servers once it is uploaded to your cloud drive. Otherwise we have a 30 day policy. We also support audit history and logs. Feel confident that your document collection process is as secure as candidates can reasonably expect.
Document collection for human resources
Your job is complicated enough. Simplify the clunkiest parts of the recruitment process.
✅ Keep sensitive documents out of your inbox and ensure employees and candidate personal information is stored in a safe, secure place.
✅ Create a repeatable and professional document collection process that you can use again and again
✅ White-label and customise application requests to improve successful conversions and reduce the time you need to spend chasing missing content
Save time and hassle with candidate recruitment and onboarding. Create your branded lightweight portal in 20 minutes.