Are you looking for an easy way to request files from anyone, even if they don't have a Google Account?
With a Google Drive folder, you can easily make your friends and family, or even professional networks upload files like documents, photos, audio-video, and other types of files with just a few clicks.
Google Drive is a popular cloud storage option that makes it easy for you to store large files without clogging up your phone or computer.
No matter where your team is located or what devices they are using – desktop computers, tablets, or smartphones – everyone can share the same folder on Google Drive to collaborate in real time without having to worry about outdated versions of files.
However, if you want to request files from other people you start running into problems. You can share a folder, but contributors need a Google account. Contributors can also open and see all files in that folder, even using the most restrictive 'view only' setting.

What is File Request Google Drive?
A "file request" on Google Drive is a feature that enables you to add a file to a shared folder even if you are not a member of the shared folder. When you need to transmit or receive large files that exceed the email cap, this is quite helpful. Especially, when using this function, you no longer have to be concerned about file size restrictions and attachment loss.
Nevertheless, this capability is not directly accessible through Google Drive. Hence, it is advised to build a shared folder, share it with the receivers, and ask them to add files to that shared folder if you wish to request files using Google Drive.
Use Google Drive for Cloud Storage and File Request Pro for Requesting Files.
File Request Pro provides you with customizable upload pages with drag-and-drop functionality. You can use them to gather and organize content from anyone, including clients, partner companies, and contractors, without them needing to sign in.
File Request Pro also natively integrates with Google Drive, so files are automatically sent to your account, which remains private and secure.
Restrictions of Receiving Files With Google Drive
Most people nowadays have a google account but that did not change one of the main drawbacks of using Google Drive shared folders for file receiving or upload files, is that users must have Google accounts in order to upload files even when the user has a google drive link.
You should choose a tool that is as barrier-free for your clientele as possible. Making things simple for them also makes life simple for you because delays are avoided.
If Also Important to Take Into Consideration:
When a file is shared, its owner and anybody with edit access can change the file's sharing permissions and re-share it.
Stop publishing the file if you don't want anyone to be able to access it publicly.
Collect Files From Anyone, Anywhere, Using Any Device.
Using Google Drive and File Request Pro, you can quickly collect content from anyone. They don't need a }File Request Pro or a Google account to sign in. They can use any device, including mobiles, tablets, and desktops.
With a 5GB limit for the team account, you can collect very large files without any hassle. You can also request folders, as well as files.
The drag-and-drop functionality is easy to use, so your clients are more likely to respond quickly, rather than needing tech support from you.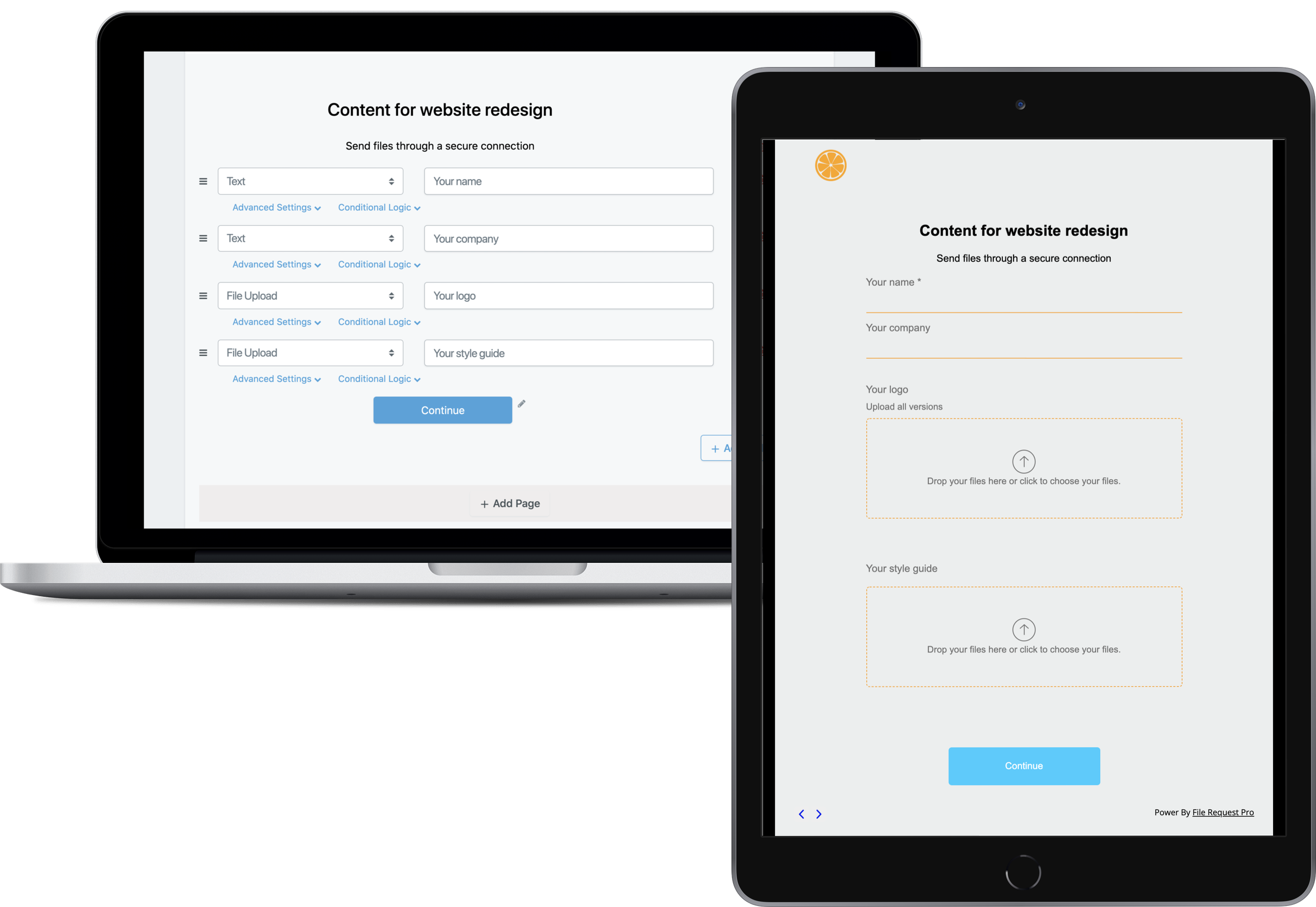 Bank-Level Encryption To Reassure Your Clients and Stay Compliant Using File Request Pro.
Although Google Drive takes security seriously, its weak spot, understandably, is shared folders. Google Drive does its best to weed out phishing and scams, as it says in the support documentation:
"If you use Google Drive for work or school, Google will automatically evaluate any files that are shared with you from outside of your organization for phishing or malware."
However, if you have security and privacy concerns,  shared folders are a bit of a minefield. By using File Request Pro, you can keep content secure.
Securely Collect Files and Folders With File Request Pro.
Our at-rest and in-transit encryption ensures that messaging, data, photos, audio video, and file transfers are secured to the latest global standards. Read our security commitments.
Only people who have a link are permitted to upload files. You can even establish a password, although we don't make this the default choice because it complicates the user experience.
Whenever the material is uploaded to your cloud storage, you can choose to have it promptly removed from our servers. Otherwise, our policy lasts for 30 days.
Have faith that the procedure for collecting documents is as secure as you can reasonably anticipate from all parties. You can also ensure that your Google Drive files and folders
stay private and without the need for your client to make a Gmail account.
If you still want to limit the public's access to a file or folder here is an easy to follow step by step:
Only those with access can open a file once you alter an item's general access setting to Restricted.
On Google Drive, Google Documents, Google Sheets, or Google Slides, locate the file or folder.
Choose or open the desired file or folder.
After selecting Share or Share Share, select Obtain link.
Choose "General access" and then press the Down arrow.
Opt for Restricted.
Choose "Done"
If you want to learn more about the permissions Stop, limit, or change sharing you can enter this site.
Customized Forms Mean You Can Streamline The Content Collection and Get What You Need.
Although Google Drive allows people to share any type of content with you, it doesn't make the file collection process particularly efficient or easy.
If you have specific files that you need, as well as extra information, then you will have to ask for all this in a free-form text box or email that might get overlooked. Then you'll have to send reminder emails and thank you emails manually.
With File Request Pro you can create customized file request pages that gather all the information you need in an easy-to-follow way. You can add page breaks to create multi-page forms or stick to a classic one-page form.  You can even apply conditional logic, so customers only see the questions and pages that are relevant to them.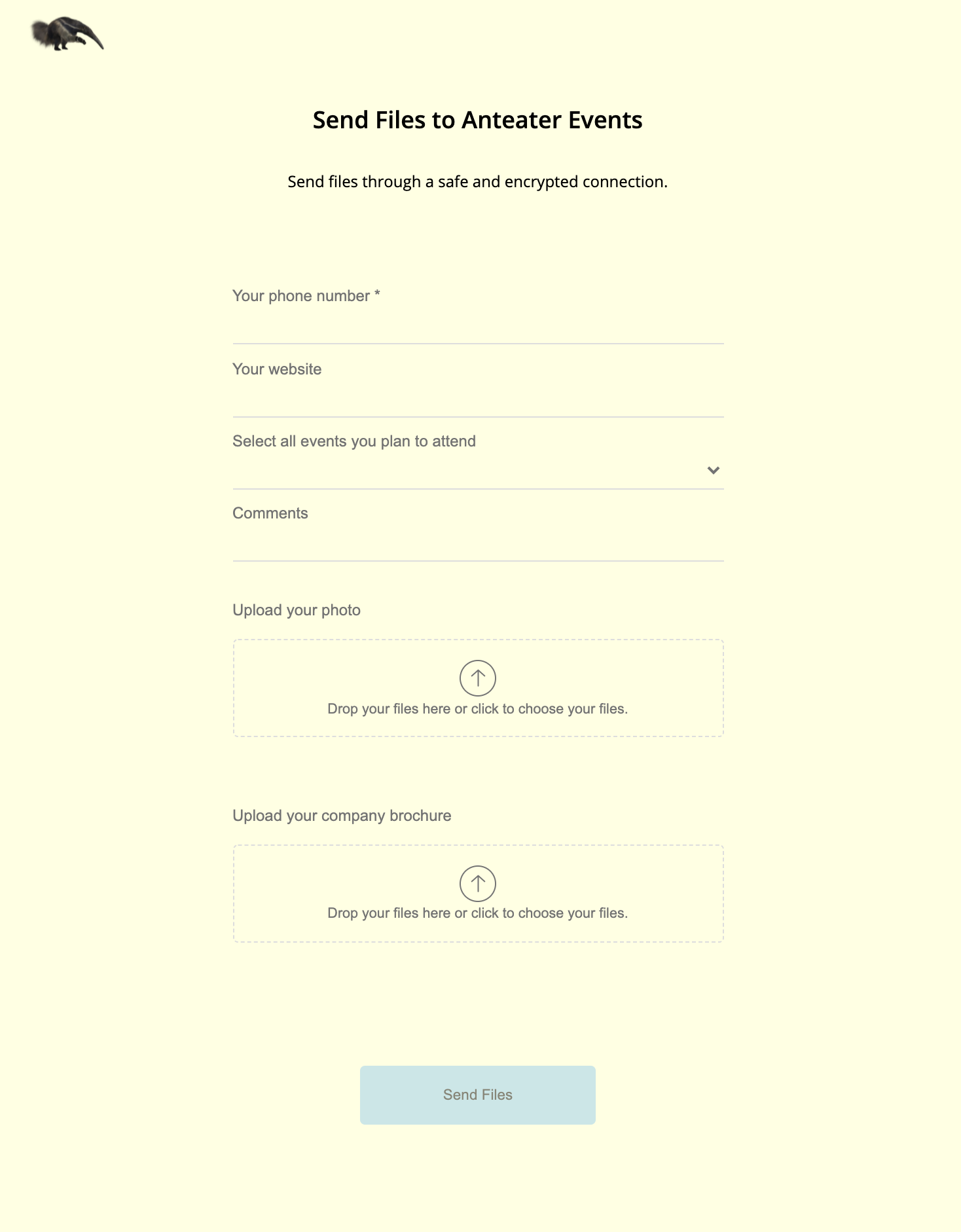 You can then set up automatic reminders and thank you emails, so you don't have to spend time chasing clients for information: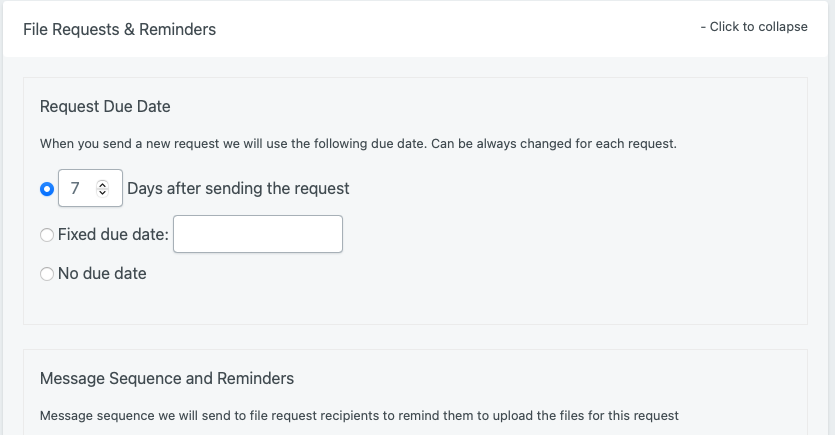 How Does File Request Pro work?
File Request has been created to be as easy to use as possible, for both you and your clients.
Create a branded upload page, no coding is required.
Send a link to the page to clients, or embed it on your website.
Set up automatic reminders and thank you emails.
Share the page with your clients.
View your files in Google Drive.
Need more information? Here's our product overview and our help center.
How Does File Request Pro Integrate With Google Drive?
From your page integration menu, you can  'Connect Google Drive' and allow permission. That's all it takes to connect your Google Drive account.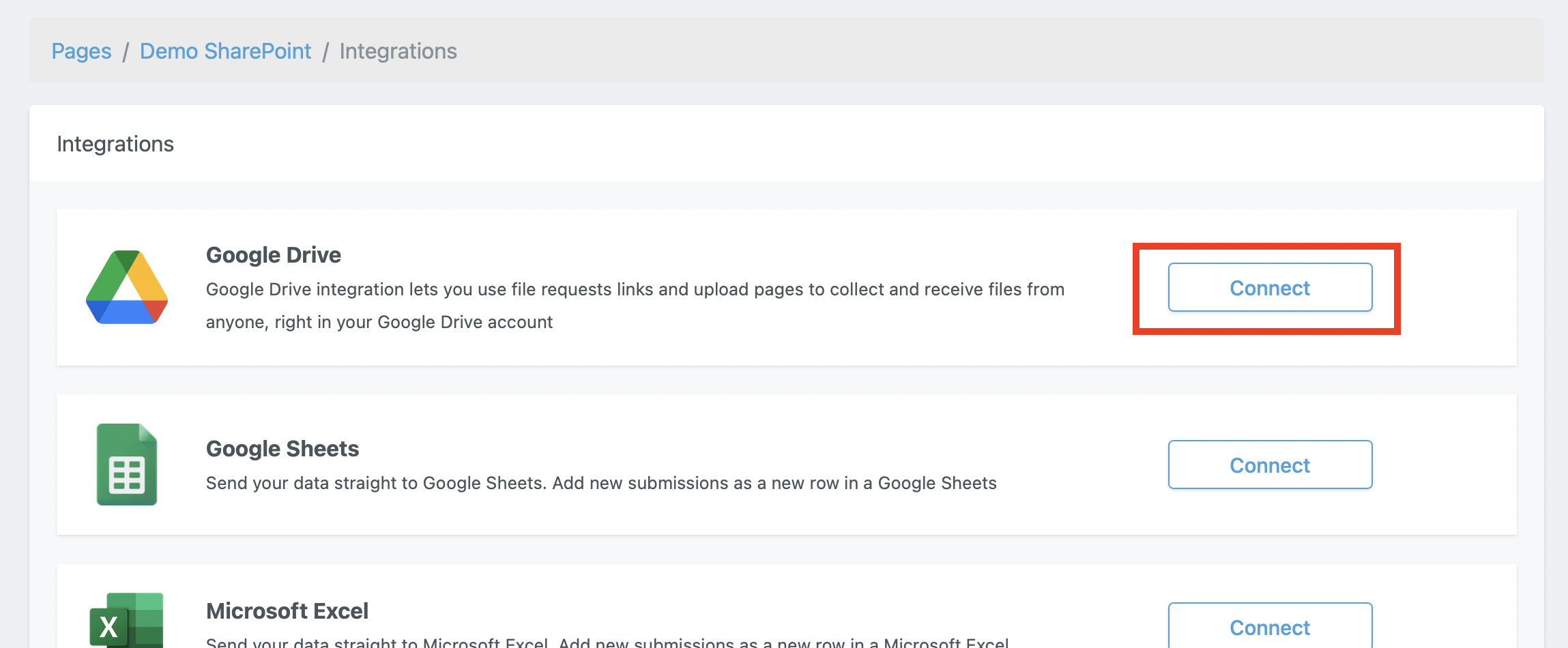 After connecting your Google Drive account, choose which folder you want to use to receive your files.
In the Google Drive integration settings screen, you can choose in which folder the uploaded files will be stored.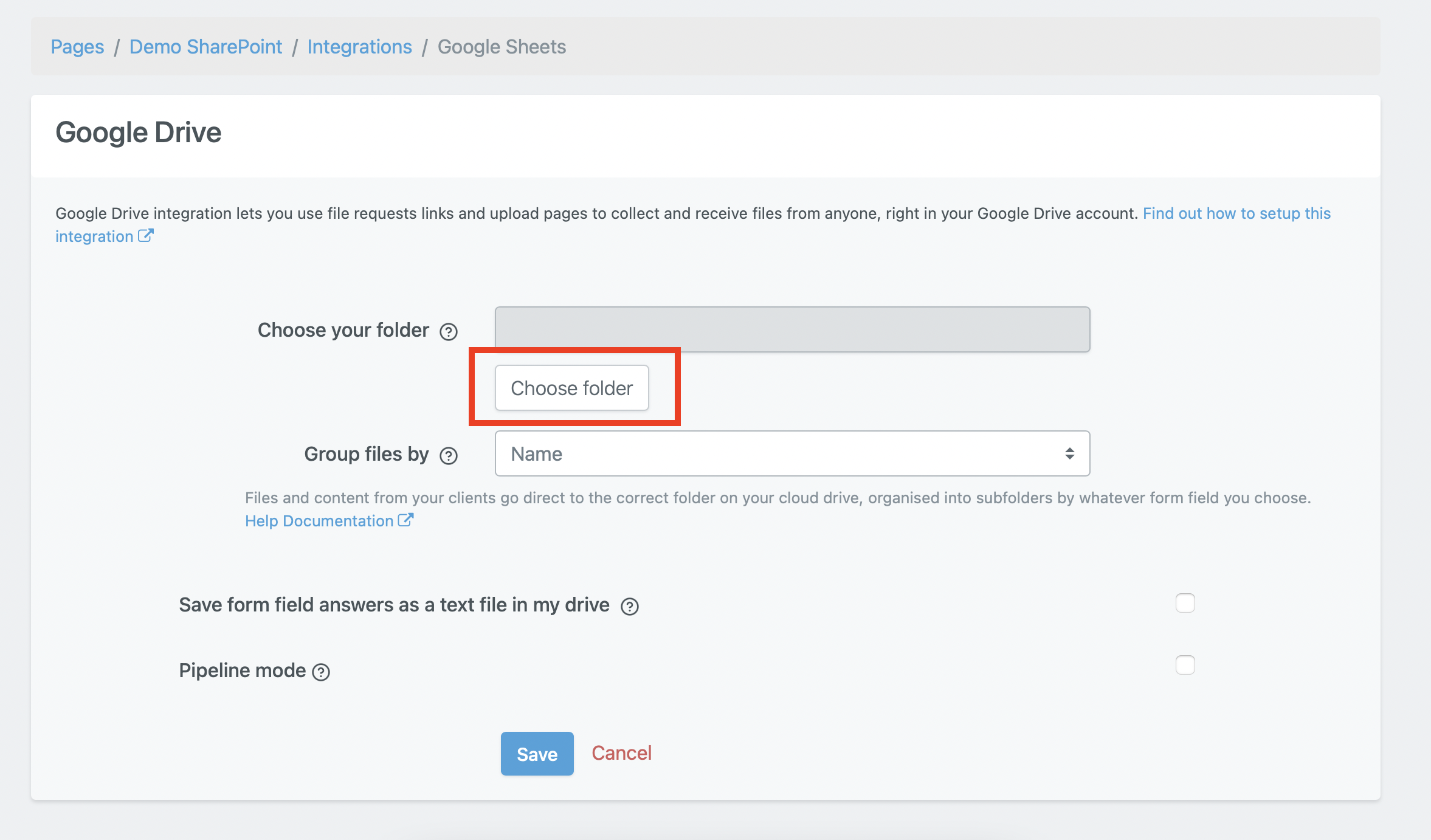 Request Files Across Several Clouds Services With File Requests Pro.
It takes a lot of effort to get electronic files from your clients. To gather and arrange content, use branded upload pages with drag-and-drop capabilities to upload files, so you can spend more time on critical work rather than security and logistics concerns.
File Requests Pro, will spare you many hours of low-value labor even if you have tens, hundreds, or even thousands of clients. Also, it will make it simpler and less error-prone to share client information with your staff.
File Request Pro allows you to upload files and folders directly to the cloud services you are currently using so you can upload files to your cloud storage instead of cluttering up your inbox.
Cloud Storage Services That Integrate With File Request Pro:
GoogleDrive
Microsoft OneDrive.
OneDrive.
SharePoint.
Dropbox.
If you or your business use another could storage to share files, sharing folders, upload files, and save large files like: Cloud, Sync, Icedrive, or Mega you can use Zapier to connect with this app and thousands of other apps.
Another fantastic feature of these integrations between File Request Pro and the Cloud Storage services is Dynamic file organization, which means that you no longer have to spend time manually organizing documents and supporting content.
Ready To Give File Request Pro a Try Together With Your Google Drive?
Requesting files from anyone with Google Drive and File Request Pro is a secure and effective way for businesses to securely collect content from clients, colleagues, and customers with minimal fuss at the moment to upload files.
With File Request Pro, you have access to multiple cloud storage services and bank-level encryption compliant with the latest industry regulations. Not only that, you can send out customized forms automatically so that the content collection process is streamlined, further minimizing your workload.
Get started with File Request Pro and have an easy and professional way to collect and edit files in your google drive folder, and other content, from anyone. Spend more time on important tasks and less time worrying about the logistics and security of your share files.
Ready to see how File Request Pro can help your business get organized? Give it a try today and get started with our free 15-day no obligation trial.