Google Drive is a popular cloud storage option that makes it easy for you to store large files without clogging up your phone or computer.
However, if you want to request files from other people you start running into problems. You can share a folder, but contributors need a Google account. Contributors can also open and see all files in that folder, even using the most restrictive 'view only' setting.


Use Google Drive for cloud storage and File Request Pro for requesting files
File Request Pro provides you with customisable upload pages with drag and drop functionality. You can use them to gather and organise content from anyone, including clients, partner companies and contractors, without them needing to sign-in.
File Request Pro also natively integrates with Google Drive, so files are automatically sent to your account, which remains private and secure.
Collect files from anyone, anywhere, using any device
Using Google Drive and File Request Pro, you can quickly collect content from anyone. They don't need a Google or File Request Pro account. They can use any device, including mobiles, tablets and desktops.
With a 5GB limit for the team account , you can collect very large files without any hassle. You can also request folders, as well as files.
The drag and drop functionality is easy to use, so your clients are more likely to respond quickly, rather than needing tech support from you.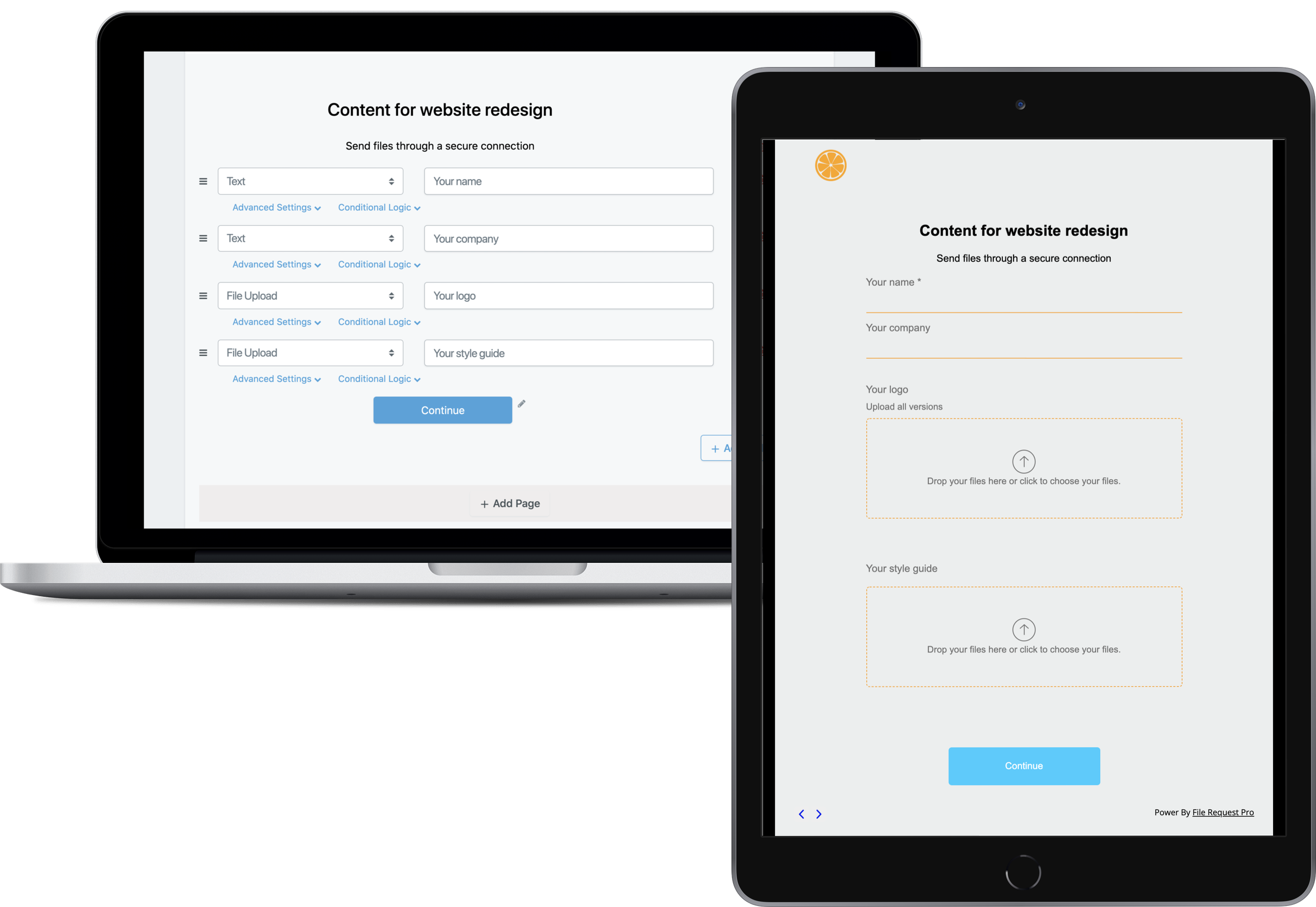 Bank-level encryption to reassure your clients and stay compliant using File Request Pro
Although Google Drive takes security seriously, it's weak spot, understandably, is shared folders. Google Drive does it's best to weed out phishing and scams, as it says in the support documentation:
"If you use Google Drive for work or school, Google will automatically evaluate any files that are shared with you from outside of your organization for phishing or malware."
However, if you have security and privacy concerns,  shared folders are a bit of a minefield. By using File Request Pro, you can keep content secure.
Our at rest and in transit encryption ensures that messaging, data and file transfers are secured to the latest global standards. Read our security commitments.
You can also ensure that your Google Drive folders stay private.
Customised forms mean you can streamline content collection and get what you need
Although Google Drive allows people to share any type of content with you, it doesn't make the file collection process particularly efficient or easy.
If you have specific files that you need, as well as extra information, then you will have to ask for all this in a free form text box or email that might get overlooked. Then you'll have to send reminder emails and thank you emails manually.
With File Request Pro you can create customised file request pages that gather all the information you need in an easy-to-follow way. You can add page-breaks to create multi-page forms or stick to a classic one-page form.  You can even apply conditional logic, so customers only see the questions and pages that are relevant to them.
You can then set up automatic reminders and thank you emails, so you don't have to spend time chasing clients for information:
How does File Request Pro work?
File Request has been created to be as easy to use as possible, for both you and your clients.
Create a branded upload page, no coding required
Send a link to the page to clients, or embed on your website
Set up automatic reminders and thank you emails
Share the page with your clients
View your files in Google Drive
Need more information? Here's our product overview and our help centre.
How does File Request Pro integrate with Google Drive?
From your page integration menu, you can  'Connect Google Drive' and allow permission. That's all it takes to connect your Google Drive account.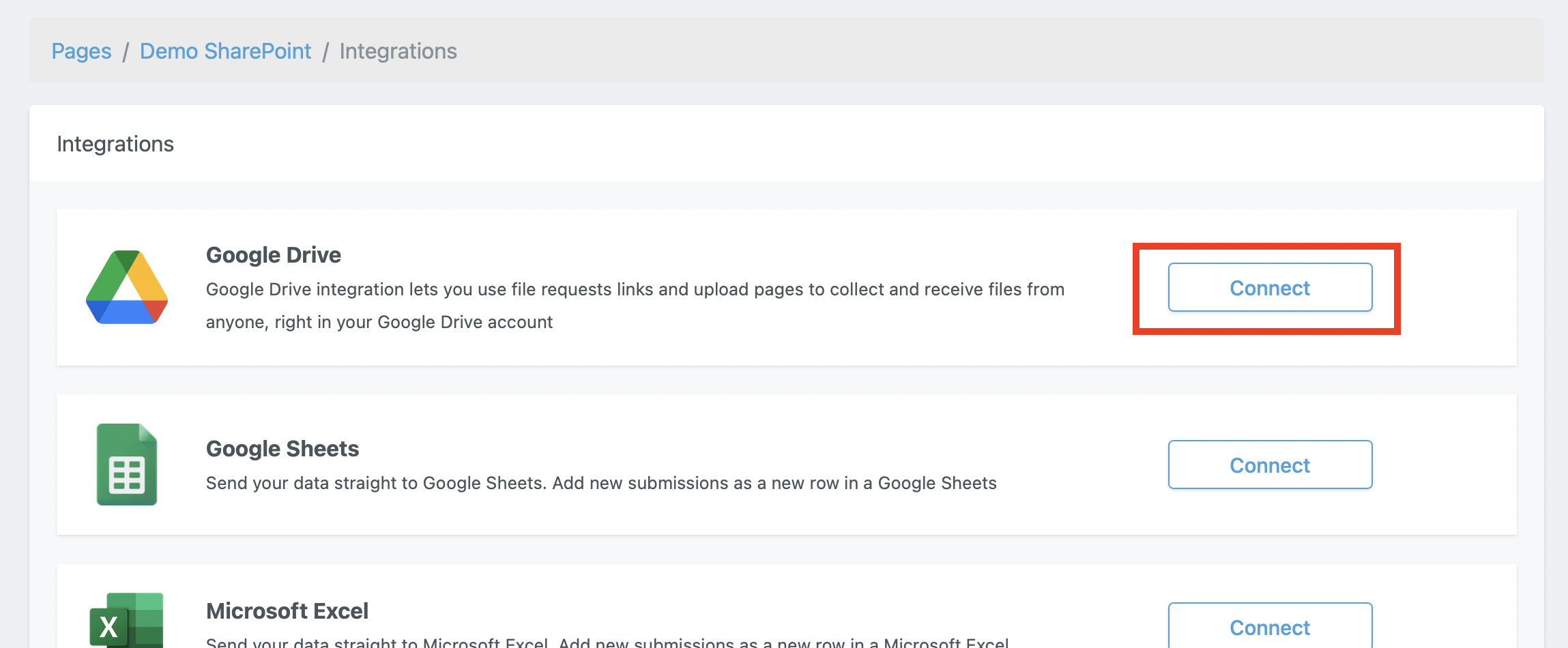 After connecting your Google Drive account, choose which folder you want to use to receive your files.
In the Google Drive integration settings screen you can choose in which folder the uploaded files will be store.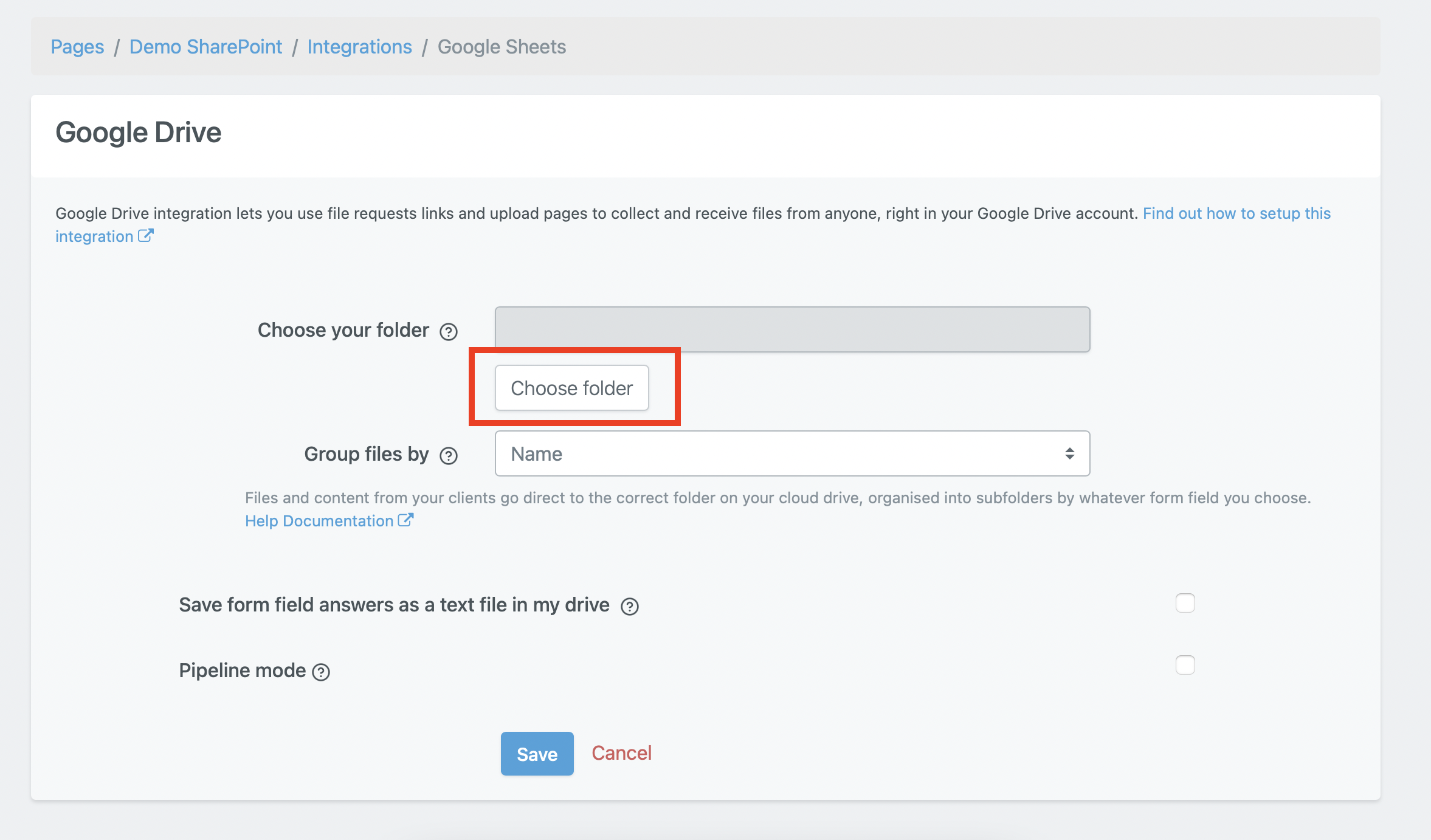 Ready to give File Request Pro a try?
Get started with File Request Pro and have an easy and professional way to collect files, and other content, from anyone. Spend more time on important tasks and less time worrying about logistics and security.
Get started with our free 15-day no obligation trial.