Lightweight and flexible client upload portal
Your users are busy enough without having to learn how to use a complicated client interaction hub. Set up a customisable and streamlined upload portal and make your clients lives easier (and yours as well).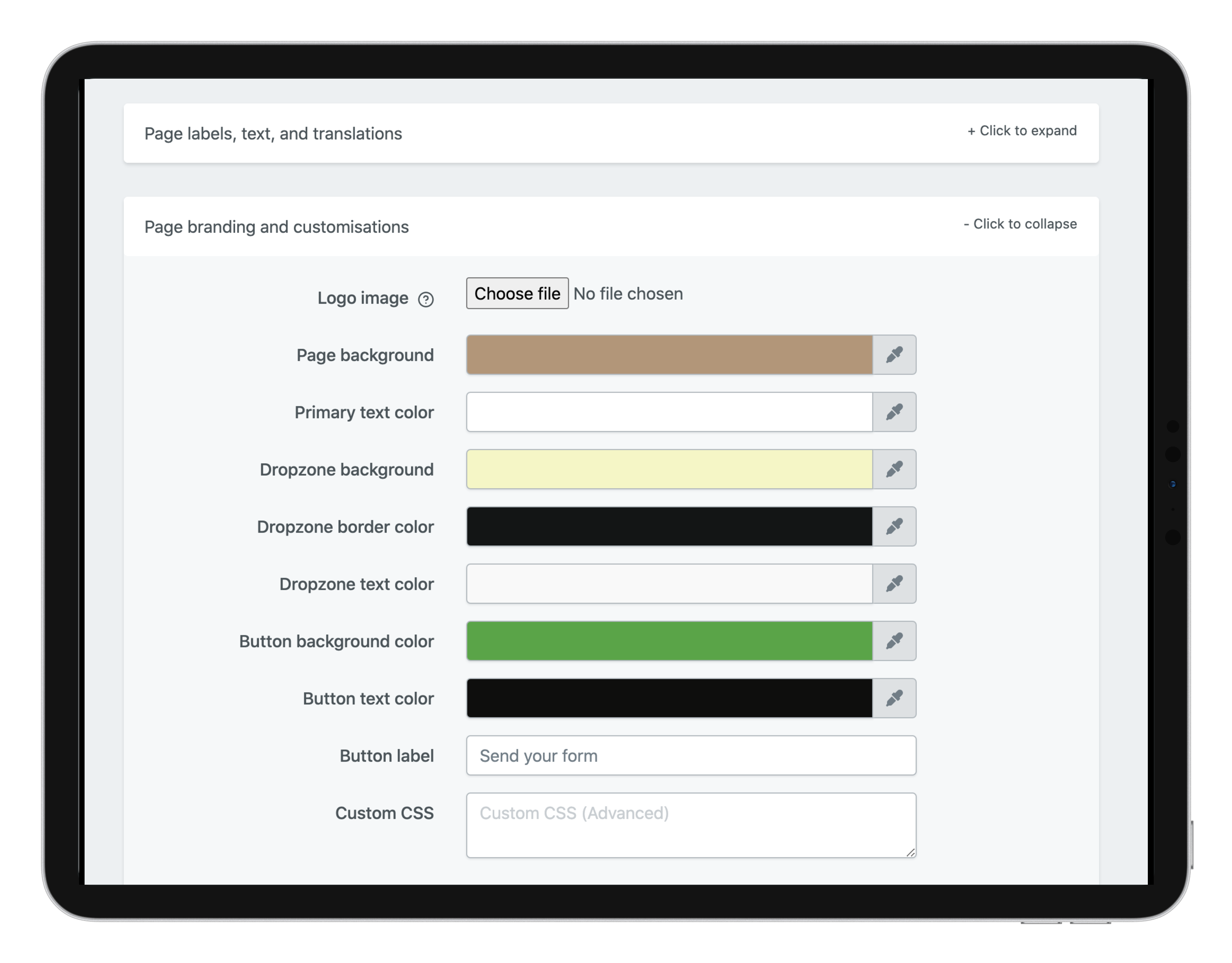 Easily customise the upload process
Add your own logo and brand colours to the background, dropzone, border and buttons on client-facing pages to match your brand visual style and portal experience. Choose text colours and add microcopy. Edit the url for upload pages, or even customise the domain (https://yourcompany.uploads). Whether you embed client-facing pages in your website or keep them as standalone pages, you can make sure they fit with your brand.
A white-label document collection process will enhance user trust in your product or service.
Easy to use colour picker or input #hex
Add your own labels, texts and translations
No need to create user accounts.
Fully white-label client-facing pages
To exactly match your portal to your brand, you can use CSS to modify user interface elements, hide functionality, or create a unique user experience specific to your customers.
Custom CSS offers unlimited possibilities. Need help? Get in touch and we can do it for you.
Custom CSS
Support from our team if you need it
Hide 'Powered by File Request Pro'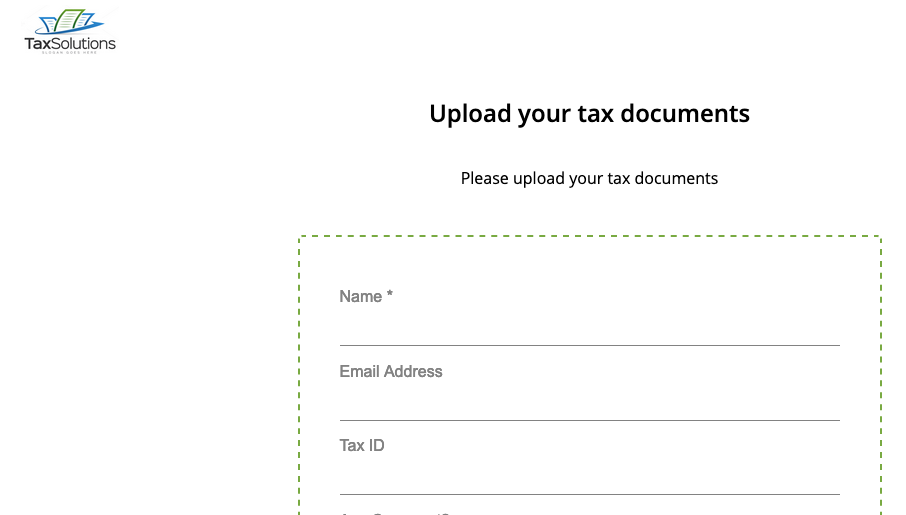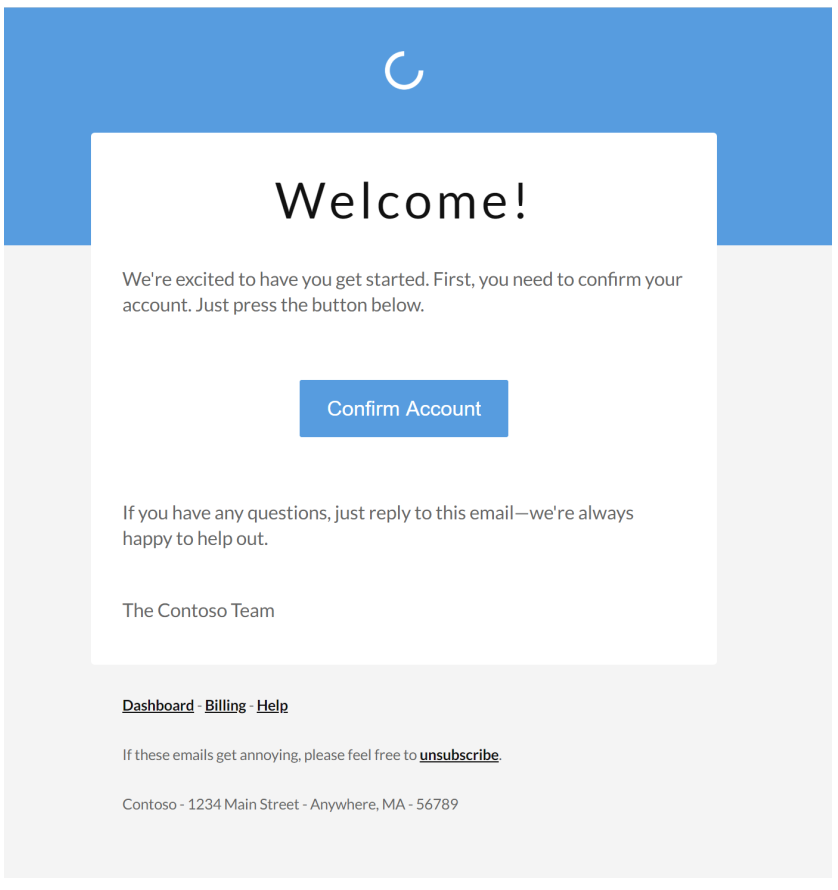 Create and customise your file request, reminders and thank you email sequence
Automate your emails so you don't need to manually chase clients for files and remind them of deadlines. Emails are 'smart' so respond to the actions of your clients. You can also use custom HTML templates to match your brand.
Customise your outgoing server (SMTP) so all emails are sent from your domain name.
Customisable automated email sequence
Use HTML templates to match your brand
Send emails from your domain name
Collect any kind of file or content from anyone
Use our modern form builder to create flexible client-facing pages. Collect any type of content by using a variety of form fields and microcopy. Show users one page of questions, or split requests over a few pages. Customise client-facing pages so they exactly suit your company and the needs of your clients.
Personalise public-facing pages by using conditional logic, so users only see relevant questions.
Accept large files or folders up to 10GB (business plan)
Unlimited file requests
100GB of extra storage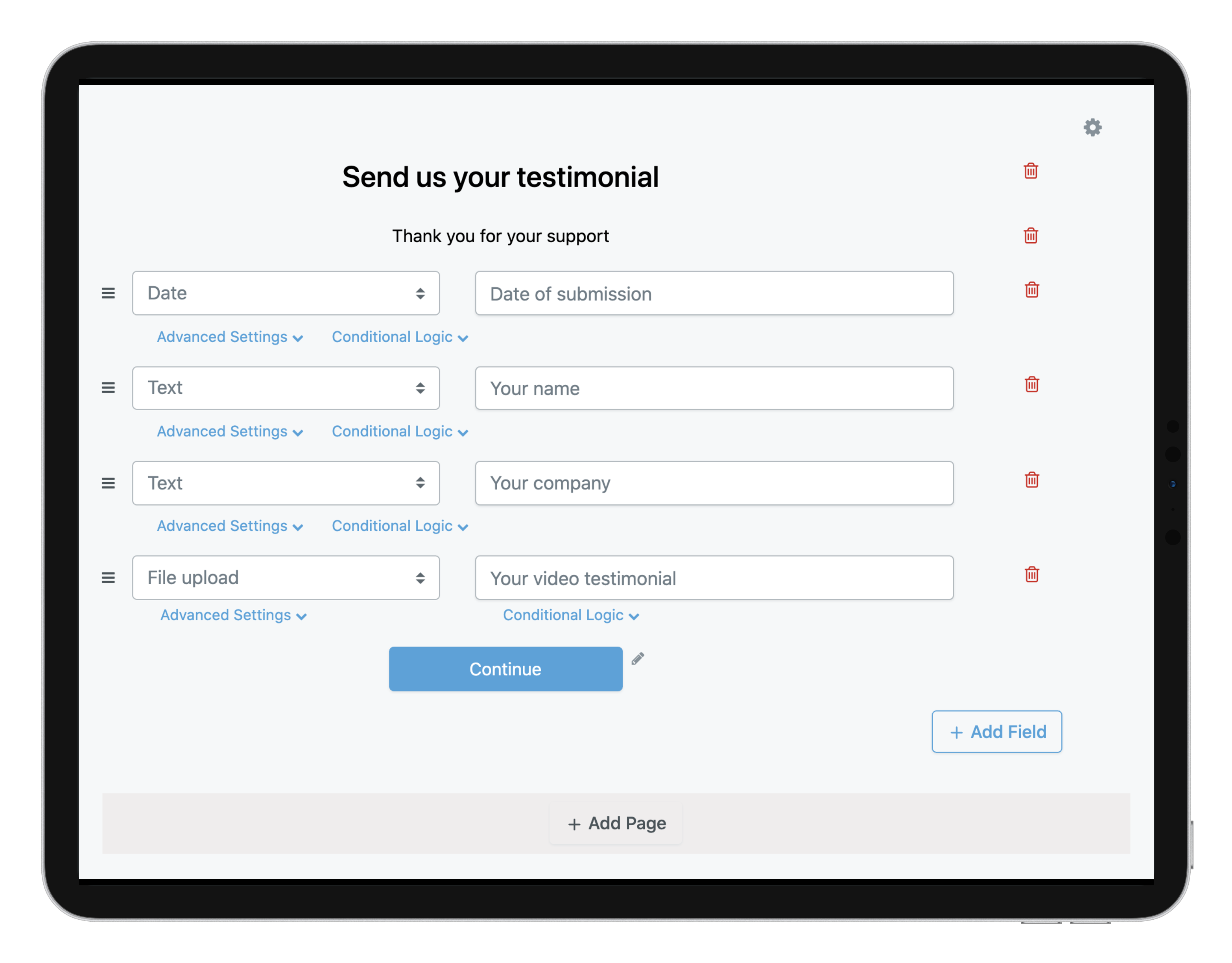 White-label file upload portal for companies of all sizes
File upload portals usually have an extensive feature set, a steep learning curve and limited flexibility in terms of how you use them. They are aimed at enterprise companies. File Request Pro provides a lightweight, flexible upload portal that is suitable for small, mid-size and larger organisations.
✅ No frustrating login details, password or new accounts are required for your users
✅ Modern form builder with conditional logic means you can efficiently collect any type of content as well as files
✅ Once uploaded, all files can be automatically synched to Google Drive, OneDrive, SharePoint or Dropbox, organised by any value you choose
✅ Easy to use white-label options as well as full design control using custom CSS
Questions and answers
Is File Request Pro secure? Yes. User data is securely encrypted when it is sent to your cloud account or dashboard. You can only allow users with a link to upload documents. You can set a password, although we don't make this the default option.
Can external users upload files? Yes. File Request Pro makes it as easy as possible for anyone to send you files – employees, partners and clients.
Do I have to send files to a cloud drive? No. You can download files from your dashboard, send them to your inbox, or send them to thousands of other apps using Zapier.
Can you upload files from clients? Not at the moment. This is something we're considering, but our core focus is document collection.
Create your white-label client portal for free and try it for 15 Days. File Request Pro is the easiest way to create a secure, branded client portal that your clients will enjoy using.