Receiving large files has never been more reliable
Receive large video files, digital documents or graphics from customers without them needing to log in to yet another software product. Customers simply drag and drop their files, which are then sent through a reliable and encrypted connection to your inbox or cloud storage software.
Receive large files in Google Drive & OneDrive
Receive your files directly in your Google Drive, OneDrive, SharePoint or Dropbox account. Use dynamic file organisation to order them by a value that you choose, such as name, email, company type or even a hidden value like a customer number. Save hours of your time on manual file organisation.
Use cloud storage software for what it's good at – storing files – and File Request Pro for professionally collecting and organising content and large files.
Simple and intuitive for your clients and your team
Save hours explaining to your customers how to send you large files. All they need to do is drop a file on a professionally branded upload page. The file or folder can be huge and it doesn't matter. You can even ask for extra information from clients by adding form fields with conditional logic. These gently nudge customers to give you the correct information.
Everyone likes upload pages and understands them. They are as simple for your clients to use as email, without the big size limitations and organisational headaches. Streamline your workflow and reduce your stress levels with File Request Pro.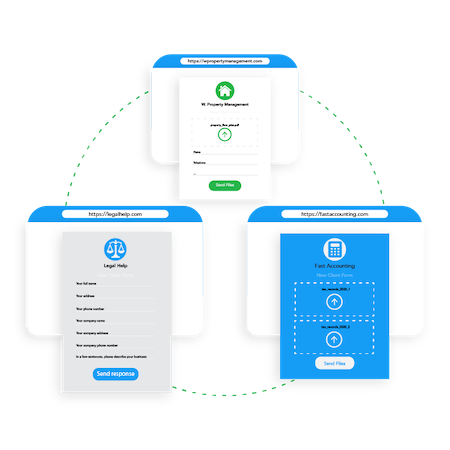 Embed your upload page in your website.
You can embed an upload page in your website to ask for specific information from site visitors. Or leave it as a standalone form and send clients the link. Use a sub-domain or custom URL to reassure customers that the page is from you. You can even use your custom SMTP server for outgoing communications like reminder emails.
To embed an upload page simply copy two lines of codes to your site. Get set up with a branded upload page on your website in only a few minutes.
How does File Request Pro work?
Send a secure link to your clients. They upload large video and graphics files with a simple drag and drop. The files appear in the cloud storage folder you choose.
Create your upload page or form. No coding required.
Super simple 5 minute set up. Fill in some basic information, upload your logo, add some copy and your brand colours.
Your customers drop huge files on your page or form
Share your page with customers, colleagues or partners. They don't need to sign up for an account. They just drop the files in your page.
Files show up in your cloud storage software
Files transfers to your cloud storage, organised by whatever value you choose. You also receive an email about the new files.
Marty Drake
The Compliance Shop
We've been very happy with the service, and so have our clients. They love the ability to just drag and drop , and to upload multiple files at one time. We've got nothing but positive feedback. We definitely have had a great experience so far.
Patrick Nolan
Mortgage Banker
File Request Pro allows us to send our clients a link to upload their documents and creates a folder with their name in our Google Drive. Very simple, clean, and efficient.
Create an upload page or embeddable form for your website and receive big files and documents from your customers today (without any hassle).