These companies have already simplified the way they collect documents from their customers

Use automation to accelerate mortgage document collection
Automating repetitive tasks like document collection is one of the best ways to improve loan and mortgage turnaround times. Rather than chasing clients for files, reminding them of deadlines and searching through your inbox for documents, implement a repeatable document collection process instead.
Use File Request Pro to create one page or multi-page forms that show clients what to upload. Then automatically send files and content to your cloud drive, organised into the correct folders. File Invite natively connects with Google Drive, OneDrive, SharePoint and Dropbox. Use Zapier to connect with other apps.
Send an automated reminder sequence of 'smart' emails to encourage your clients to finish the document collection process within a specified time frame.
Create an upload portal that streamlines onboarding and frees up your team
Improve customer experience and close deals faster. Get better feedback and more referrals.
Encourage your clients to complete the application process
With a lightweight document portal clients don't have to log in, so they can immediately get started with sending files, whatever device they are using. The more friction you put in the way of clients, the less likely they are to get started. Even motivated clients will be left feeling frustrated if the document collection process is clunky and time-consuming.
File Request Pro works by showing your clients manageable 'pages' of questions or upload fields. This prevents your clients becoming overwhelmed and guides them through what they need to send. You can use a wide variety of form fields to gather any type of information, data or content.
Accept large files or folders up to 10GB
Clients don't need to log in or have an account
Includes modern form builder with conditional logic
Keep client mortgage and loan application files organised and secure
Protect your reputation as well as client data by using upload software with bank-level encryption. Email is vulnerable to phishing scams and client files can easily get lost.
With File Request Pro, all uploaded files and content go straight to your specified root folder in your cloud drive (shared or individual) organised into subfolders by any value you choose. Save hours organizing and searching for files. Prevent mistakes caused by manually moving around client files.
Dynamic file organisation in your cloud drive
Bank-level encryption
Pipeline mode and audit history and logs
White label your mortgage or loan client portal
An accessible and branded client-facing portal makes a great impression on customers. Rather than facing the expected stream of emails, phone calls and piecemeal instructions, they see a clear and welcoming process that sends a clear message about who your company is and how you operate.
Clients are reassured by content that fits in with your other online material in terms of design and copy.
Simple colour picker and user interface for branding options
Use your own domain
Customise request, reminder and thank you emails
Custom CSS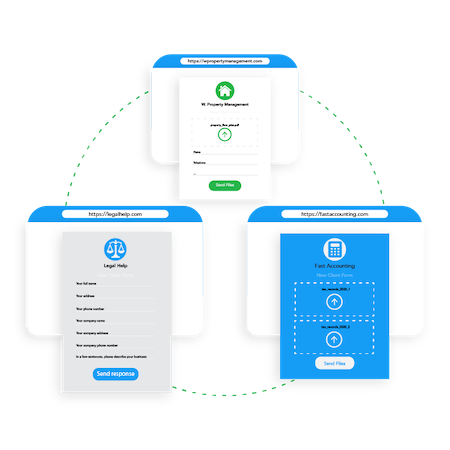 Simple, secure document collection software for mortgage brokers
Get content and documents from clients in a timely manner
✅ Keep sensitive documents out of your inbox and ensure your clients' personal information is sent direct to a secure cloud drive
✅ Make sure the correct documents are requested for every deal, without having to follow up on missing or incomplete items
✅ Automate low-value tasks and free up your team for core activities
✅ Improve your clients' onboarding experience and improve the chance of repeat business or recommendations
✅ Get value for money from software that has straightforward pricing, no long-term contract lockups, and a free 14-day trial
Questions and answers
Is File Request Pro secure? Yes. User data is securely encrypted when it is sent to your cloud account or dashboard. We don't require users to log in because we think the trade off in terms of user experience is too great. You can allow users with a link to upload documents. You can also set a password, although we don't make this the default option.
Can external users upload files? Yes. File Request Pro has been specifically created to make it as easy as possible for anyone to send you files, particularly clients external to your organisation.
Do I have to send files to a cloud drive? No. You can download files from your dashboard, send them to your inbox, or send them to thousands of other apps using Zapier.
Can we upload files from clients? Not at the moment. This is something we're considering, but our core focus is document collection.
Improve your sales velocity and get more deals by streamlining your document collection workflow. Create your mortgage or loan client portal now.