These companies have already simplified the way they collect documents from their customers

Get the content you need without continually chasing clients
Collect any type of attachment, file, or content using upload pages that work on the web and mobiles
Keep files out of your email and in one secure place
Collecting content and files in your inbox is frustrating and has security issues. Even just using a cloud drive can be annoying, as clients often have to log in and you can struggle to send them appropriate instructions through the basic interface.
Instead, File Request Pro provides you with professional client-facing upload pages that you can use to collect any type of information from clients and team members. All uploaded files and content are then sent direct to your Google Drive, OneDrive, SharePoint or Dropbox, organised into folders.
Accept large files or folders up to 10GB
100GB of extra storage in case your cloud storage is full
No log in required for external users
Guide clients to be organised and focused
Sending endless messages and deadline reminders to clients is not a good use of your time. It's much easier to guide clients to upload the correct information on time with a smart user interface. Save yourself time and hassle by creating a repeatable and automated process for collecting client documents.
Use dynamic file organisation to send files already organised to your cloud folder. Create an email reminder sequence to request files on time. Build a template for different client requests and simply duplicate and tweak. Keep projects on track and free yourself up to concentrate on core tasks.
Automatically organise content in your cloud drive
Native cloud drive integrations or use Zapier to connect to 1000s of apps
Create automated email sequences that respond to the actions of your clients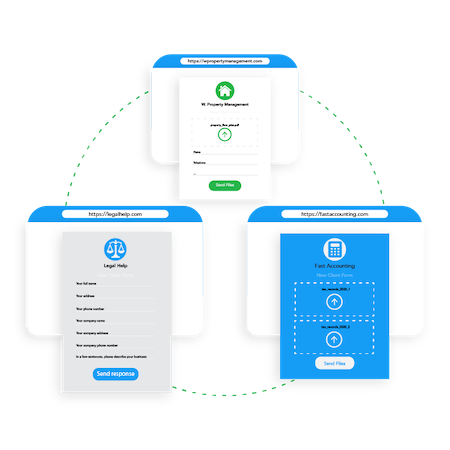 Fully white-label forms and upload pages to boost client trust and responsiveness
Increase client trust in your content collection process by branding upload pages so they fit with your in-house style. You can quickly change design elements as well as copy, or use custom CSS for more advanced customisations. Use conditional logic so clients only see questions relevant to them. Use standalone pages or embed forms into your website. Run questions over one page or many.
Clients are more likely to trust a process that looks like it comes from your company, rather than from a third-party service.
Form builder and drag and drop upload fields
Conditional logic
White-label upload pages so they match your in-house style
Client data retention and security. More secure than email
Your clients have a legitimate expectation that you will keep their content secure and keep it for only as long as is necessary. With File Request Pro, user data is securely encrypted and sent direct to your cloud account or dashboard. You can only allow users with a link to upload documents. You can even set a password, although we don't make this the default option because it complicates the user experience. We focus on making it as easy as possible for users to send you files while still maintaining bank-level security.
You can specify that client data is deleted immediately from our servers once it is uploaded to your cloud drive. Otherwise we delete after 30 days. Feel confident that you are reducing the possibility of error and following best-practice security procedures.
An alternative to Gather Content and other gathering content tools
Gather Content and similar content platforms are great for major content projects, where you require a standalone cloud platform with extensive editing and project management functionality.
If you simply want to collect client content in one organised place then File Request Pro is easier to use and good value. You can also work with your favourite tools rather than replace them with a new platform.
Turn digital content collection from your most clunky process to your most streamlined
Automate repetitive tasks and help clients be organised
✅ Receive all files and documents in your cloud drive, already organised into subfolders
✅ Create approachable branded upload pages that guide your clients to send you the correct content
✅ Set deadlines and create responsive request and reminder sequences
Simplify and streamline the way you gather content. Create your lightweight upload portal in 20 minutes.