Get files faster by improving the customer experience.
Your can use File Request Pro to create client intake forms, or as part of your onboarding process or day-to-day work. Use it to securely collect files such as insurance documents, bank statements, tax statements, and so on.
Your clients simply need to fill in any content questions, and then drag and drop files. They don't need to sign in, or use a specific device. Uploaded files can be pushed direct to Microsoft OneDrive or SharePoint, Google Drive or Dropbox, so your files are organised in one secure place.
By simplifying file collection, you can spend more time on your core competencies, and provide value for your clients.
Simple, organised and secure document collection
File Request pro is a lightweight alternative to client portals. Collect documents securely, without needing to learn complex software or ditch processes that already work.
We'll sort security so you can focus on deliverables
Our at rest and in transit encryption ensures that messaging, data and file transfers are secured to the latest global standards.
All our user data is encrypted at rest using AES 256-bit encryption algorithm. Our service is built on cloud service providers like Amazon Web Services (AWS) and Linode, with robust security mechanisms. For detailed information about our security best practices read our security commitments.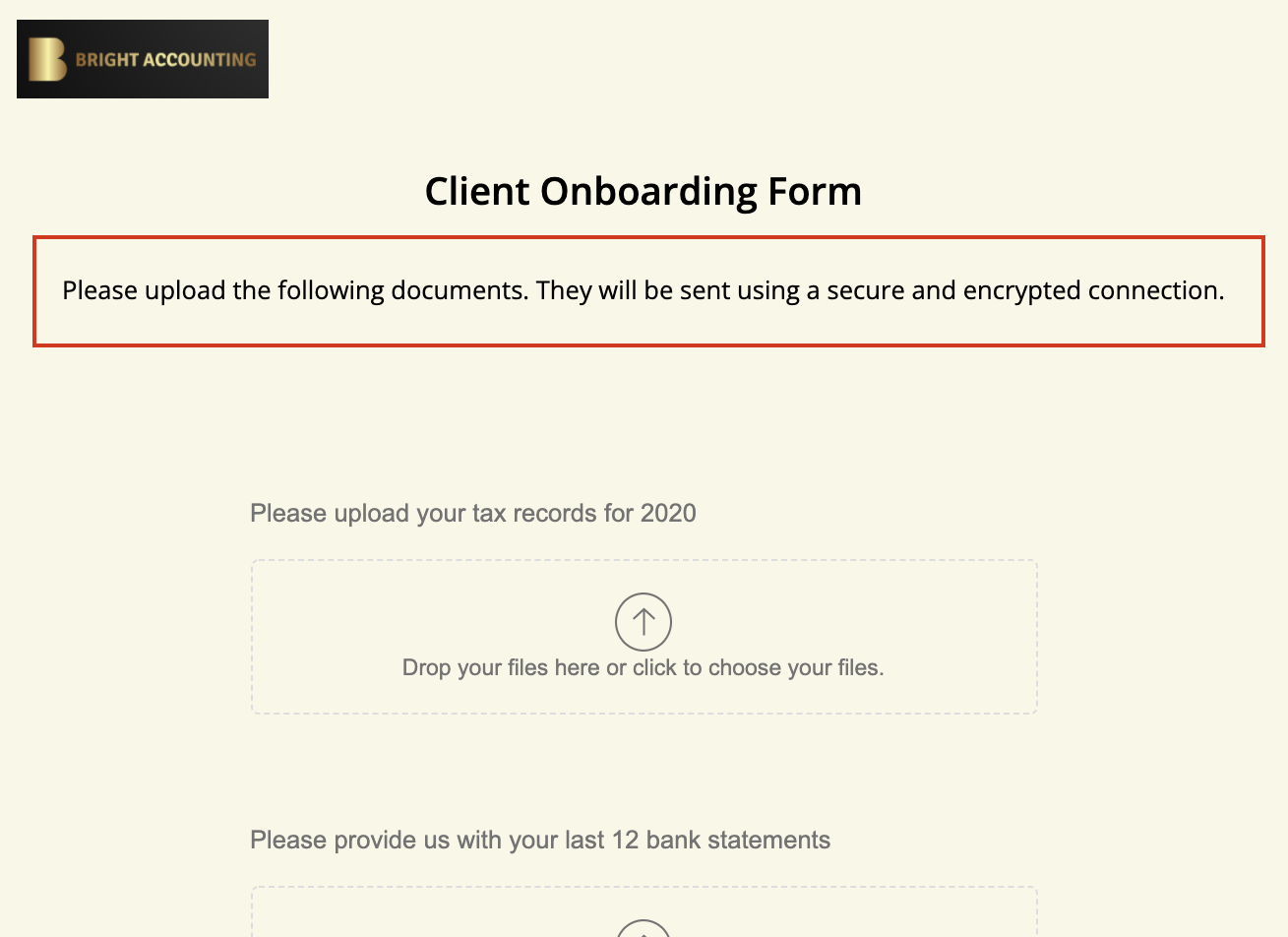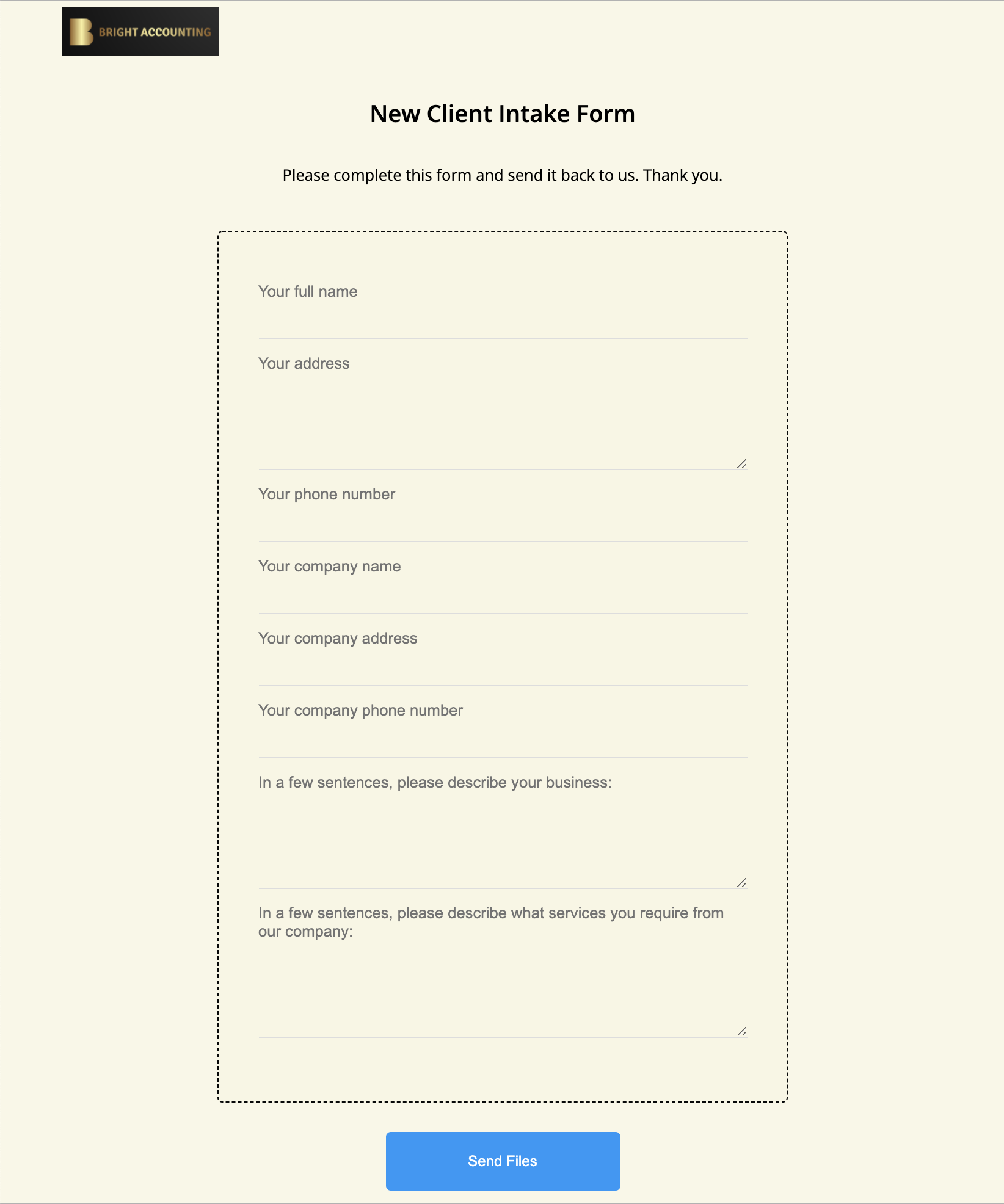 Customise your upload pages to improve your client response rate
Your clients are much more likely to upload the correct content and files if you provide them with a branded, structured form. Use questions to guide them through content questions (like name, telephone number, address, number of employees, and so on). Then use drag and drop fields to ask for specific documents.
Upload your logo and colours, to reassure customers they are in the right place and can feel confident about uploading documents. You can even embed the upload form on your website, or keep it as a standalone page with a customised url.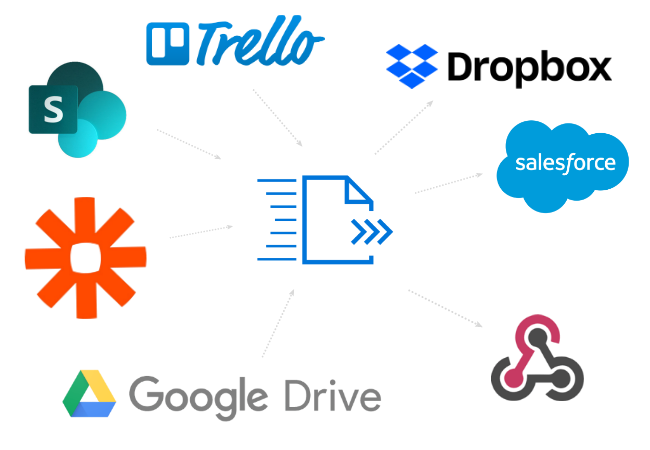 Connects with your favourite apps to streamline your workflow
File Request Pro natively connects with Google Drive, Dropbox, SharePoint and OneDrive. Set up takes 2 minutes. Files are automatically sent to a folder or subfolder of your choice. Stay organised by collecting documents in one place.
You can also use Zapier and webhooks to further customise your document collection process.
Set up a repeatable and automated process and save time
File Request Pro supports automated reminders and thank you emails, so you don't need to spend time going back and forth with clients yourself. You can also reuse file upload pages for different clients so you minimise time spent creating individual forms.
Create a repeatable and automated document collection process and save yourself time and hassle chasing files from clients.
Why is email not a secure option for document collection?
Sending tax and personal documents in an email poses many risks including:
Your clients accidentally sending the documents to the wrong email address, directly exposing sensitive information to an unknown third party.
Client emails getting misplaced in your inbox. If you receive hundreds of emails a day, it's easy to overlook an email from a client containing important documents.
Emails aren't encrypted. Clients working with a financial institution should only send sensitive documents over an encrypted network. This reduces the risk of identity theft.
Securely collect tax files and documents with File Request Pro
Streamline your document collection process and make life easier for your clients from the start.
✅ File Request Pro is secure. It pulls sensitive documents out of your inbox, ensuring your clients' personal information is stored in a safe, secure place.
✅ Your clients don't need to register or use a specific device or app to upload files. All your clients will be able to use it, without contacting you for tech support.
✅ You can synch File Request Pro with the cloud storage you're already using. This keeps disruption and costs to a minimum.
File Request Pro has been created for the sole purpose of helping businesses collect documents from their clients. Set up your first secure upload page today in 15 minutes.