Create flexible client intake forms that work
Collect any type of large file, folder or content from your clients with customised upload forms. Increase your response rate by creating a branded form that customers trust and find easy to fill in.
A file drop widget that synchs with Google Drive, OneDrive, SharePoint and Dropbox
Receive files directly in your secure cloud drive, including shared drives. Setting up a cloud drive integration takes two clicks. Use Zapier to integrate with thousands of other apps.
All client responses are sent direct to a specified root folder, automatically organised into subfolders by whatever value you choose. Save hours of your time manually moving around files. Reduce the risk of lost and mislabelled files.
Quick and easy for your customers
Your customers just need to drag and drop large files or folders on the dropzone. It's easy and quick. Then guide your customers to give you extra information using form fields and conditional logic. Split your questions over one page or multiple pages to get the best response rate.
Increase your response rate for accurate submissions with an intuitive and flexible file upload widget.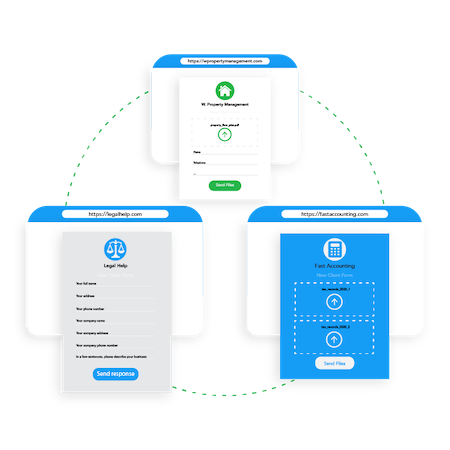 Create a secure upload form that matches your company branding
Customise the upload form so it matches your company design and style and fits seamlessly into your website. Increase customer trust and maintain your brand image.
Keep confidential and private customer data secure. Our at rest and in transit encryption ensures that messaging, data and file transfers are secured to the latest global standards.
Embedded file upload widget demo
Copy and paste two lines of code to embed the upload widget.
An upload widget that is part form builder, part automation tool and part upload software
✅ Your website visitors or customers can upload any type of file (images, video, audio, documents, presentations) direct from their desktop or mobile.
✅ No user account, login, or password are required for your users. Add as many form fields as you wish, plus conditional logic, to build your intake form.
✅ Once uploaded, all files will be automatically synched to Google Drive, One Drive, SharePoint or Dropbox, or you can download them directly from your File Request Pro dashboard.
Create your file upload widget for free and try it for 15 Days. Simplify file collection using a file upload widget that is both easy and powerful.