Client onboarding should be a repeatable and streamlined process that extracts all the information you need from clients as easily as possible.
That way you don't get distracted from your core competencies by sending reminder emails, sorting through emails and searching for attachments.  Clients will also have a positive initial experience with your company, and get value from the relationship quicker.
In this article, we'll look at how you can quickly simplify your client onboarding experience, specifically the document collection process. If you are frustrated with your onboarding process, then now is the time to start improving it.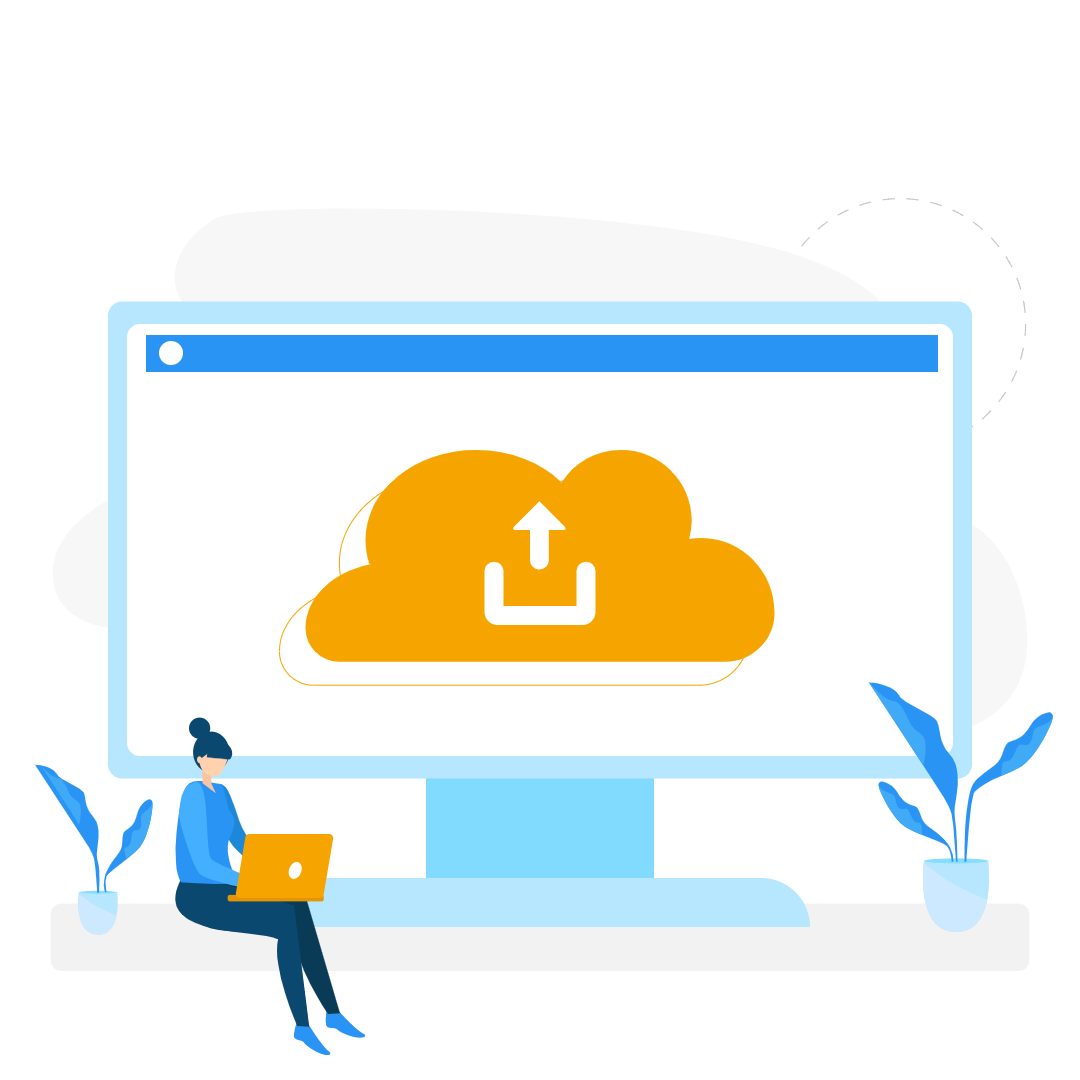 Document collection – the sticking point for onboarding
Too often document collection is a complete pain. You either send people a list of what you need by email and clients pick and choose what to send you and forget the rest. Or you use a cloud storage provider but still get confused about who has uploaded what to where, and who can't because they don't have a Google account, and so on.
Even if you are good at welcoming new clients and scoping out what they need, the ensuing onboarding steps can tarnish that great first impression.
So what should you do?
Automate repeatable low-value tasks
Document collection and organisation is an ideal candidate for automation. Attempted manually it is boring, time-consuming, and insecure if you use email or start losing track of files.
Given the current global environment, being able to use digital tools efficiency will also be key to the continued success of your company. As Accounting Today writes:
The ability to integrate the latest tools into an accounting practice is a key indicator of firm's ability to thrive in the future
Thankfully, when it comes to document collection, the tools you need are neither super complicated, expensive or 'transformative' – which too often means they are hard to set up and use.
New client onboarding tools
Unsurprisingly, there are a considerable number of tools out there to help you simplify your new client onboarding process.
Broadly speaking, these fall into a few categories:
Scheduling tools to help you set up meetings
Proposal tools to help you with your initial first steps
Client management tools that help you manage the entire customer experience
Document collection software that focuses on streamlining content and file collection.
In this article, we'll concentrate on document collection software,  as this is often a bottleneck and is one of the easiest problems to solve.
For a more in-depth look at client onboarding refer to: The definitive guide to client onboarding for accounting firms by Karbon.
What onboarding problems does document collection software solve?
By using document collection software, you can improve these aspects of your onboarding process:
Reminder emails are automated so no more back and forth emails requesting missing document
Upload pages carefully guide clients through what content they need to upload, so clients are less likely to forget to answers questions and upload documents in the first place
Files and content are sent directly to one place, usually your cloud provider, rather than stored in different locations
Document collection software offers a customised, professional process that leaves new clients with a good first impression
Onboarding takes less time so clients experience value from your company quicker, while you spend more time on your core competencies
Documents and confidential information is securely shared rather than vulnerable to hackers through email
Automatically collect documents together in one place, for example, in your cloud storage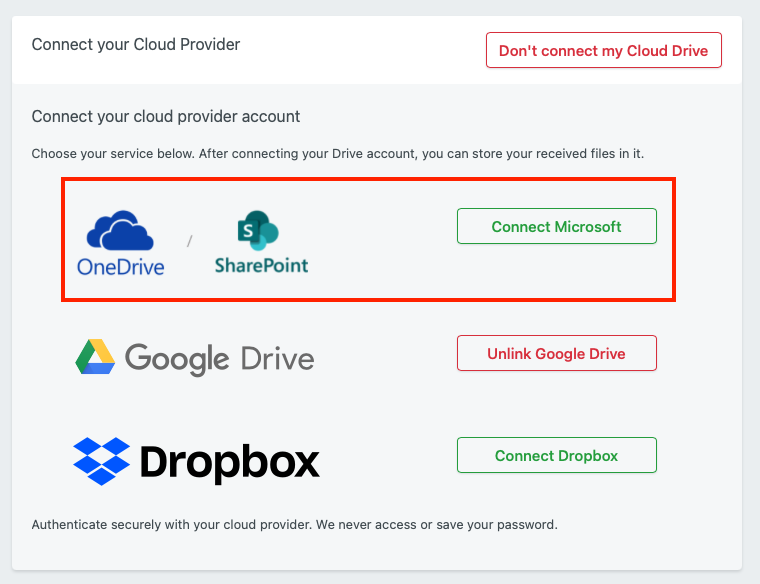 Why should accountants and wealth management companies use a new client intake form?
Client intake forms, particularly when you send them privately to very new clients, are a secure, low-cost and repeatable way of collecting information and files.
Done well, they should provide a positive initial customer experience with your company. After all, if people come to you because they want help with complex finances and convoluted legislation the last thing they need is a complicated onboarding process.
Client intake forms will also help you meet stringent security requirements when it comes to client data. Email is often a target of scammers, while even shared cloud drives can be problematic.
This help document for Google Drive explains what they do to counteract phishing and malware. Popular cloud storage providers are often the targets of hacking as well. This article examines whether Dropbox is secure.
How does document collection software work for client onboarding?
The exact process will depend on your company and whether you prefer a high touch process or seek to automate as much as possible. The following offers a rough guide:
Create a new client intake form
You can use a new client intake form to gather key information about your client. You can also use the form to confirm what the client expects from you, and how your working relationship will progress. This way you can head off common client problems such as project creep and miscommunication.
This client intake form was created using File Request Pro. You can create one-page or multi-page forms.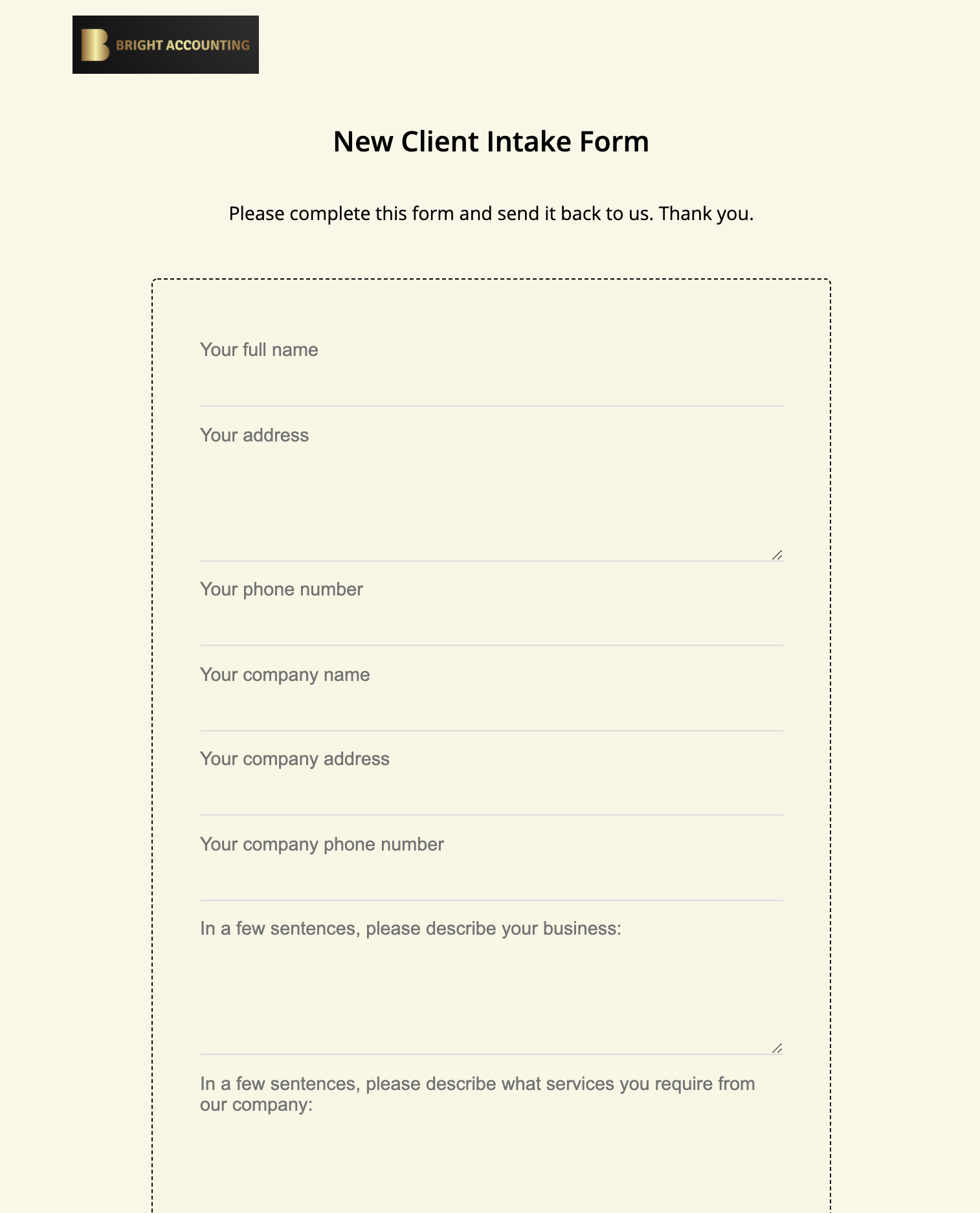 Create a client onboarding form
You can use a client onboarding form to request key documents and data from your clients, which you need before you can get on with your job. This might be tax documents, receipts, bank statements, insurance documents, and so on. An effective client onboarding form is simple for your client to use and guides them through what they need to upload.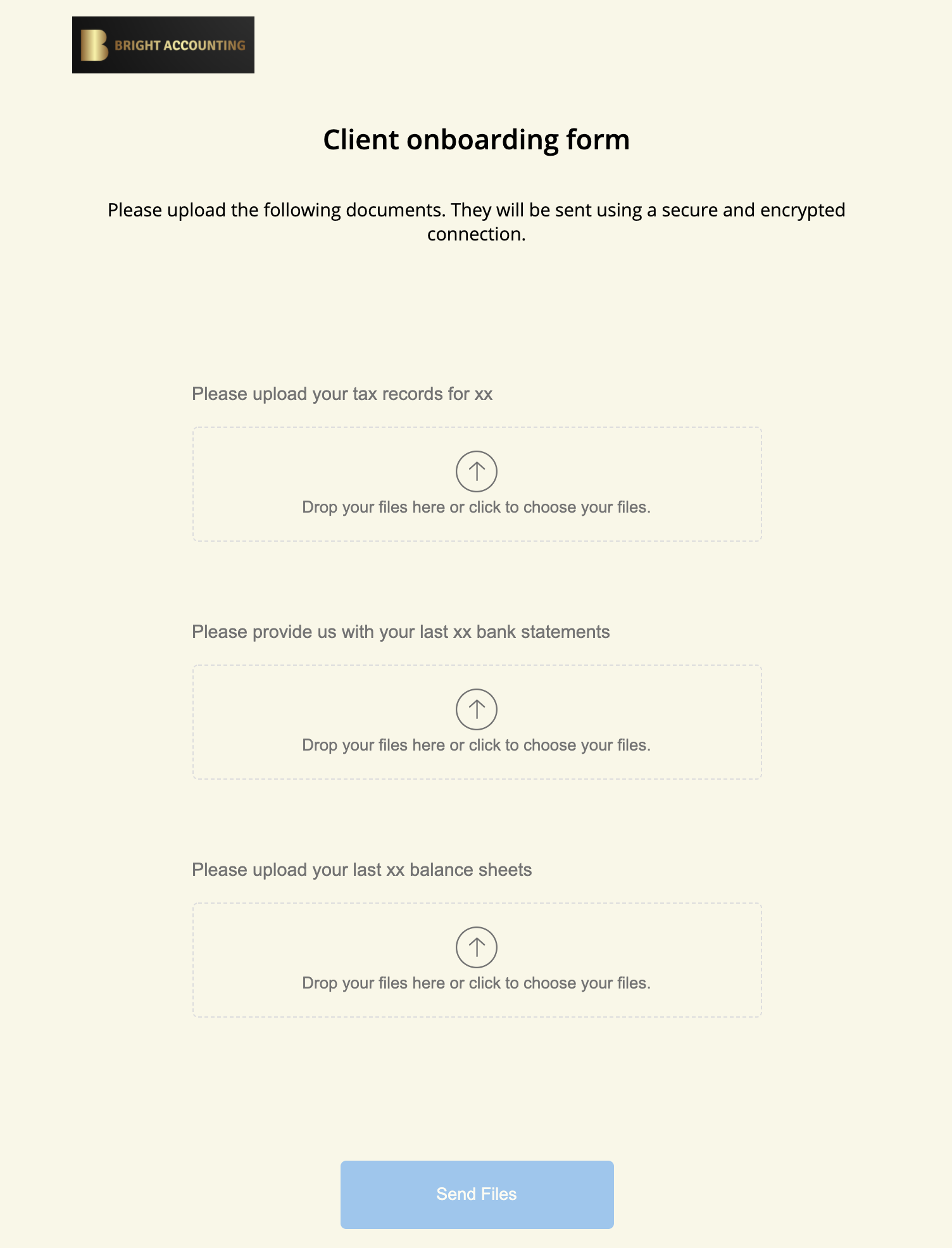 Create Tax Return Checklist for Clients
Tax season is always a busy and stressful time around the office. Navigating clients can be tough as well when they don't want to cooperate, slow down, or don't respond sincerely.
One thing that's important for running things smoothly: a checklist of tax preparation documents. That way, your clients know what they need to send or bring in.
Read more about creating Tax Return checklist with File Request Pro
Simple PBC Audits
A "Provided by Client" list,  or PBC List,  lists documents which will be needed to complete an audit on the client's behalf. It serves as a checklist of what information the client is required to provide in order for the auditor to complete the audit.
File Request Pro makes a great solution to streamline and simplify your PBC audit process. Find out how to create a PBC request
Automate reminders
Automate client document requests, reminders and thank you emails so that you minimise low-value back and forth communication with clients. You should be able to automate these emails based on a deadline or through stipulating how many days after a certain communication you want another email sent.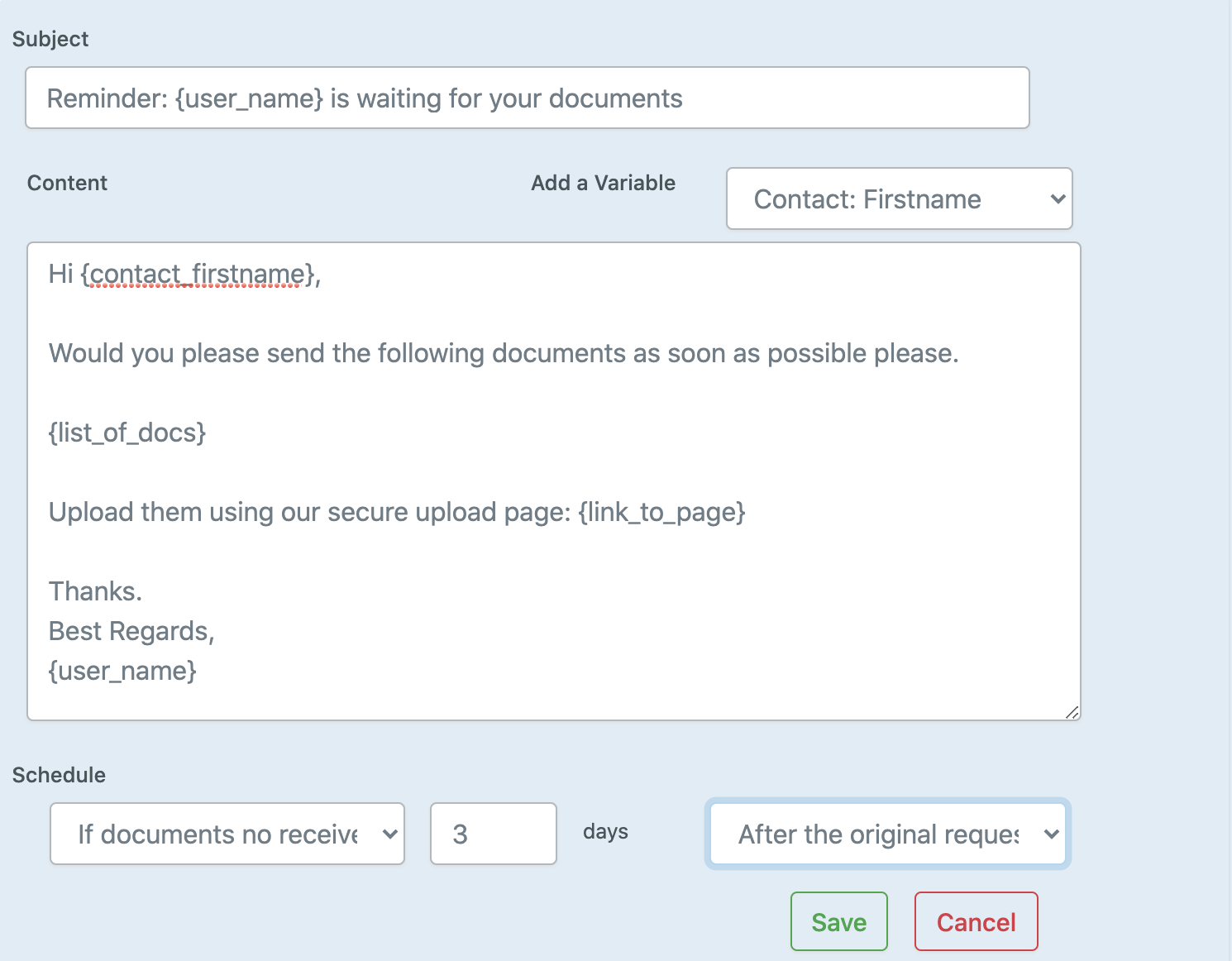 Re-use templates and automated reminders
To keep your onboarding process as simple as possible, reuse your upload forms and automated reminders for different clients. You might need to make the occasional tweak, but this is much quicker than starting the process from scratch every time.
Document collection software like File Request Pro allow unlimited upload pages on even their most basic plan.
Ready to streamline your onboarding process with improved document collection?
These are your next steps:
Sign up for a free trial of document collection software like File Request Pro
As part of the onboarding process, connect the software to your cloud service provider (Microsoft OneDrive, SharePoint, GoogleDrive and Dropbox)
Create a customised upload form (10-15 minutes)
Set up automated emails (10-15 minutes)
Send your first upload form to a new client
TOTAL TIME TO IMPROVE YOUR ONBOARDING PROCESS = 35 minutes
Read more about File Request Pro – secure document collection software for accountants.