When a new client comes to you, it is expected that they have many questions in mind and are looking for the best accounting solution.
The onboarding process for accounting clients varies greatly from client to client. For instance, the process you use when onboarding a client for tax planning will be substantially different from one for CFO services. Regardless, the initial process must be structured, and you'll require a checklist with all the documents and information you need from the client to facilitate the process and collection of these, in an automatic and effortless way.
When you start considering the ongoing operations of an accounting firm, the process starts with the onboarding checklist for new clients. This can be difficult because they don't have all your documents ready at one time like their financial statements, profit and loss statement, or their cash flow statement.
By considering the importance of the onboarding checklist for new clients, your business will not only become productive sooner than expected but also ensure that the client is engaged and updated about the completion of all processes.
To streamline this process, we have included below the ideal checklists pertaining to the different stages of making a new client into an existing client, who will not just help grow your business but also build trust in your approach – which is fundamental for successful long-term relationships and growth.
What is customer onboarding?
If you are asking yourself this question, the answer is simple: what makes new users feel at ease entering into a business relationship with your company using your accounting services A top-notch customer onboarding program includes demonstrations of each step in detail, supportive advice, and celebrations when a customer reaches milestones while utilizing your product or service.
Why is client onboarding important for your

business operations

?
The onboarding procedure provides long-term advantages for both your consumers and your company. Customer onboarding makes life simple for them.
They can easily find the information they need to use your items. That enables them to progress through the procedure without difficulty and develop faith in your company.
The manner in which you welcome new clients sets the tone for your connection with them going forward. Additionally, it boosts customer lifetime value (LTV), lowers churn, and converts new users into die-hard devotees.
In other words, user onboarding is essential to retaining customers and, ultimately, to the expansion of your organization.
Accounting Firm Client Onboarding: 4 Key Issues to Overcome
When you are onboarding new clients for your accounting firm, the process starts after the client gives the go-ahead. However, you should make a plan to guarantee a smooth and effective onboarding process for new clients. It's simple to describe the ideal customer onboarding process, but it might be challenging to implement.
1. Misinterpretation of expectations:
One of the most frequent difficulties you could encounter is the misalignment of expectations between you and your client. If you have encountered similar circumstances in the past, you're not alone. Just like in other areas of your operation, you should have templates for your sales processes to avoid misaligned expectations and under-delivering.
Your entire team should come to an agreement with the client regarding the services to be offered, the number of accounts the client has, and the numerous software systems being integrated.
2. Delay in starting:
Time equals money in business. If it takes too long for you to begin a new service with a client, it's likely that they will go to the next vendor. When you have your customer's attention, your objective is to help them go forward as quickly as possible. A well-structured onboarding process can help your company get up to speed with your client's needs quickly.
3. Lack of resources:
When starting work for a new client, it is critical to have all the necessary documents, reports, and information from the customer at hand. An issue many companies face is having to deal with a long and tedious back and forth with the client to get all these documents in line.
4. Scope Creeps:
Have you ever dealt with a client that seemed to have higher expectations every time you spoke? Scope creep occurs when a project's expectations, features, or deliverables keep growing over its existence. It happens frequently to accounting professionals all around the world, particularly when a uniform onboarding process isn't in place.
In contrast, if you have a laid-out communication system that is open and understandable, you can keep such issues at bay.
As we've seen, a robust onboarding process can help your business largely avoid the pitfalls previously described here. In this article, we will try to provide a concise list of every item or information you should ask, know, or obtain from your new client during the onboarding process.
Task List For Your Accounting Checklist.
There are many accounting tasks that need to be done throughout the year, but it is not easy to remember them all. It's better to plan ahead and keep track of what you need to do during your accounting process.
The exact process will depend on your company and whether you prefer a high – touch process or seek to automate as much as possible. The following offers a rough guide:
Create a new client intake form
You can use a new client intake form to gather key information about your client. You can also use the form to confirm what the client expects from you, and how your working relationship will progress. This way you can head off common client problems such as project creep and miscommunication.
This client intake form was created using File Request Pro. You can create one-page or multi-page forms.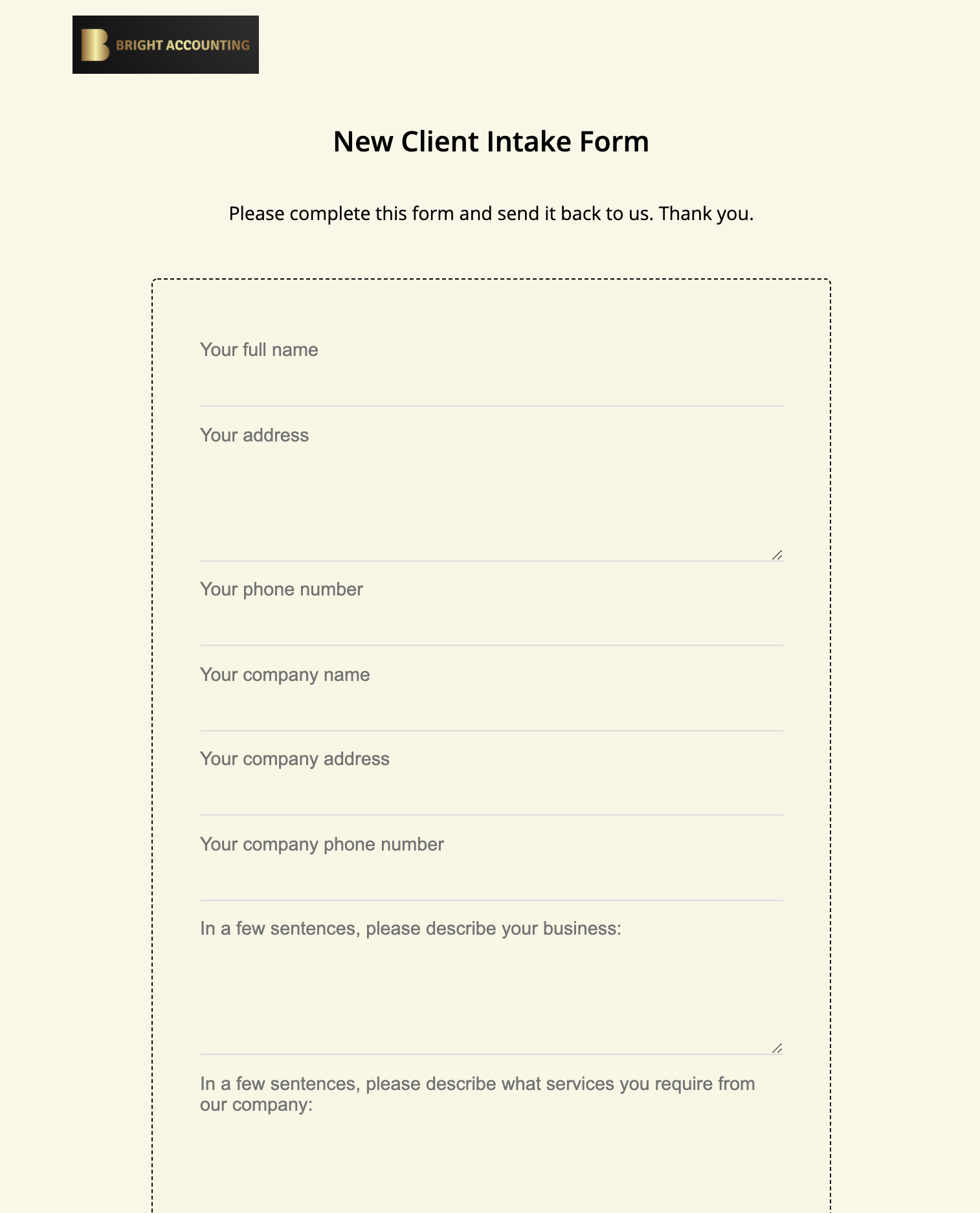 Create a client intake form
Bookkeepers are always looking for new clients, and an intake form helps to onboard new clients quickly and efficiently. The form should request key documents and data that the bookkeeper needs in order to do their jobs, such as tax documents, receipts, bank statements, and insurance documents. The form should be simple for the client to use, with clear instructions on what needs to be uploaded.
An effective client onboarding form saves the bookkeeper time and ensures that they have all the information they need to get started.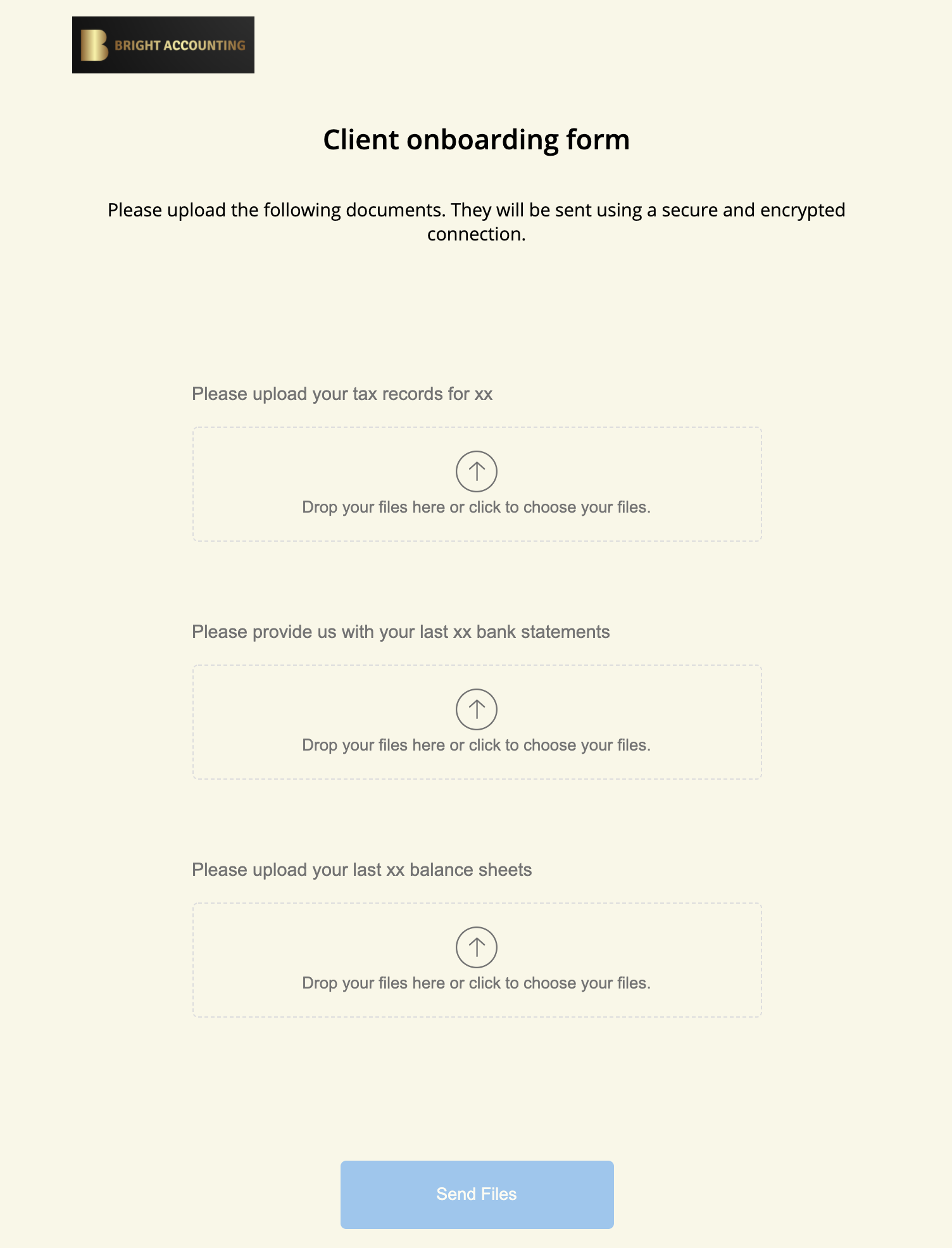 Create Tax Return Checklist for Clients
Tax season is always a busy and stressful time around the office. Navigating clients can be tough as well when they don't want to cooperate, slow down, or don't respond sincerely.
One thing that's important for running things smoothly: a checklist of tax preparation documents. That way, your clients know what they need to send or bring in.
Read more about creating Tax Return checklist with File Request Pro
Simple PBC Audits
A "Provided by Client" list,  or PBC List,  lists documents which will be needed to complete an audit on the client's behalf. It serves as a checklist of what information the client is required to provide in order for the auditor to complete the audit.
File Request Pro makes a great solution to streamline and simplify your PBC audit process. Find out how to create a PBC request
Automate reminders
Automate client document requests, reminders, and thank you emails so that you minimize low-value back-and-forth communication with clients. You should be able to automate these emails based on a deadline or by stipulating how many days after a certain communication you want another email sent.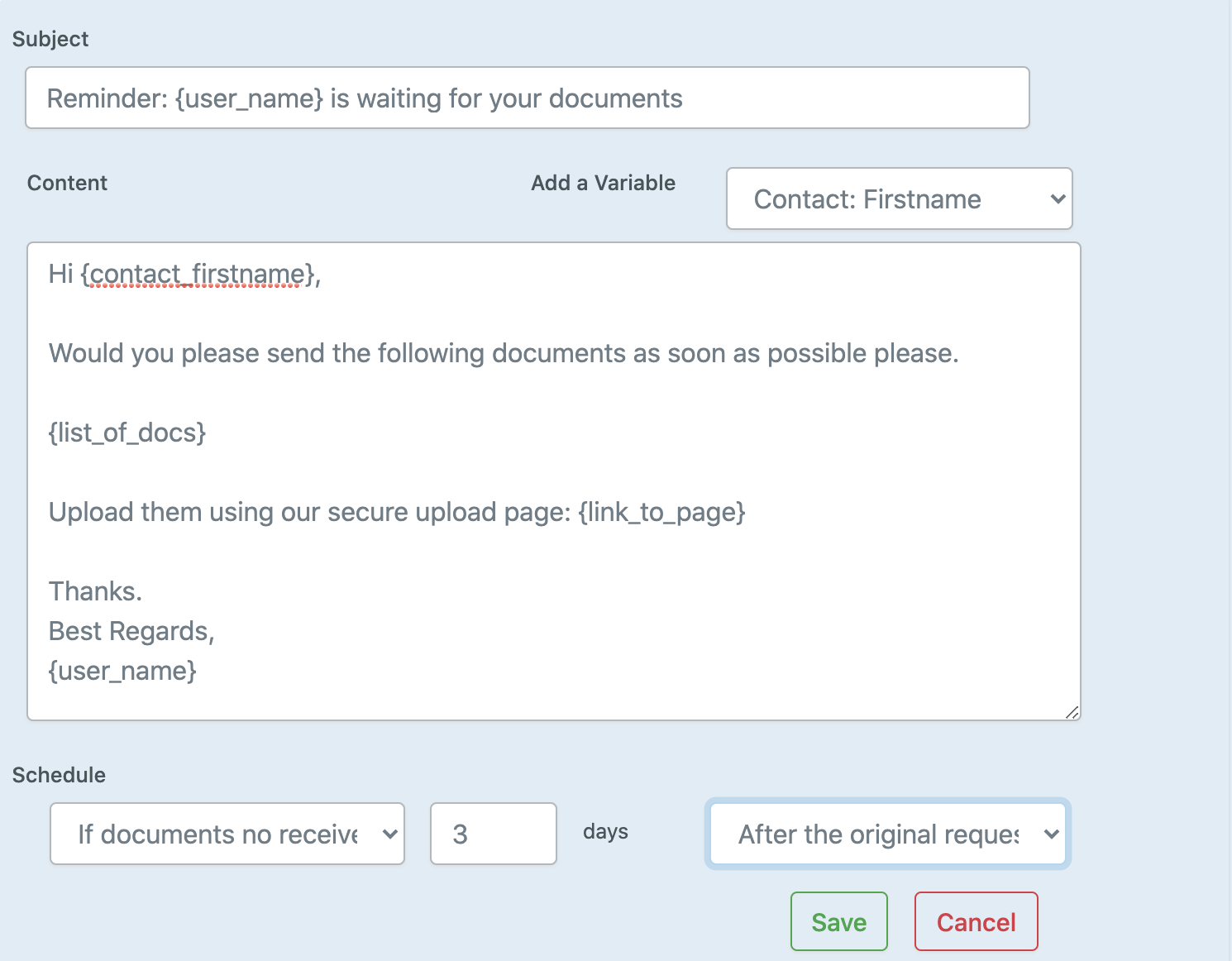 Watch the following video for a simple guide on how to automate your reminders for your new bookkeeping clients and customers:
Re-use templates and automated reminders
To keep your onboarding process as simple as possible, reuse your upload forms and automated reminders for different clients. You might need to make the occasional tweak, but this is much quicker than starting the process from scratch every time.
Document collection software like File Request Pro allow unlimited upload pages on even their most basic plan.
Why is It Crucial to Have a Pre-Made New Accounting Client Checklist?
It is very crucial for your business, given the time and work it would take to construct a checklist from scratch for each client and the wasted time for things overlooked.
A checklist that you carry with you both during and after the initial encounter will help you avoid any mistakes. You won't have to contact your clients again to request additional items as a result.
It enables you to become more effective, so you can provide more services, raise the lifetime value of your clients, and boost your overall profit.
New Accounting Client Onboarding Checklist.
1.Contact Information.
First, to provide excellent customer service, it is necessary to have all the basic contact information upfront. To that end, be sure to collect the following contact information from your clients:
-Full Name
-Phone number (cellphone and landline)
-Email
-Mailing address
This will ensure that you can easily get in touch with your clients should any questions or issues arise. By having this information at the start of the onboarding process, you can avoid any potential hiccups down the line.
2. Business Information.
If this new client needs more than their personal accounting but there are looking for your financial services for their business, you may also need information about their company such as:
-Business name
-Business number
-Is this a new business?
-Incorporation/business formation documents
-Ownership schedule
-Brief overview of your business
-What are your business goals?
-What do you hope to gain from our relationship together?
With this information, you and your accountant team will be able to accurately assess the needs and provide you with the best possible service.
3. Signed Contract.
You may have all your client and their business information, but a signed contract is indispensable before you begin your business relationship to start any kind of work or service.
A complete, signed copy of the contract should be kept in your client file and be available for reference if necessary. The contract should specify the details of your arrangement.
4. Greeting Email.
Send a welcome email to your new client after your initial kickoff meeting that explains the next stages, their expectations, and a timeframe for the project's initial scope.
5. Having Access to Former Accounting Systems.
You will require access to these documents regardless of whether your client employed manual accounting procedures or accounting software like Quickbooks or Xero. Even though you could have a general notion of the condition based on past conversations with the customer, this will help you and your staff accurately assess the current state of the accounting records.
6. Financial Information.
It's obvious that the most important item on your client's checklist is their financial information:
-Access to online banking, credit card, loan, and bank statements
-Recent account reconciliations
-Copies of prior tax return
-Previous invoices
-Payroll information, if applicable
-Inventory information, if applicable
The customer could additionally include details about how these accounts are used. For instance, the company might use a bank account for receivables and a credit card account for transactions with suppliers.
7. Financial Statements.
Financial reports for their operations are crucial tools for an accounting firm, regardless of how big or small the organization is. These statements comprise:
-Income statements
-Cash flow statements
-Income statements at the portfolio level
-Balance sheets.
This is the essential data you need to start working with your client. Now that your checklist is done is time to figure out how to collect all this information.
The Best Alternative to Collect and Organizing Client Files
You could ask for these documents via email but finding the information you need in an inbox can be difficult, and things frequently get lost.
Another method for storing client paperwork is to use shared drives such as Google Drive or Onedrive, which most likely you're already doing. The issue with them is that many of them demand that your customers register, adding additional barriers to their ability to send the required documents.
When you only require a few simple questions answered by your consumers, forms can save you time if all new customers will be providing the same information. With File Request Pro, you can create just such forms, allowing your customers to upload files and content, which can then be automatically uploaded to your cloud storage.
The documents can be automatically organized in your Google Drive and Google Docs thanks to File Request Pro's smart integration. It works just as well with Microsoft OneDrive and SharePoint. Using this integration can spare you many hours of low-value labor, sending back and for emails and calling your client. Additionally, it will make it simpler and less error-prone to share client information with your staff.
Building Perfect Checklists for Every Client.
You probably won't ask every client identical questions because their situations frequently differ greatly from others. The onboarding process for accounting clients varies greatly from client to client. For instance, the process you use when onboarding a client for tax planning will be substantially different from one for CFO services. You require a client information checklist that is particular to the industry you are serving as well as the service you are offering.
A single, thorough accounting client onboarding checklist is therefore not practical. A better strategy is to create distinct checklists for each type of service you provide. Specific request lists for various services will be monotonous and tedious so using our form builder you can add Conditional Logic to your Upload Page for more effective forms. This is a great way to streamline your document request onboarding process and make sure that only the most relevant form fields are displayed to every client.
In this video, you will learn how to use conditional logic on your upload page to make sure that the right form fields are displayed depending on the type of customers that is filling out the form.
Onboarding New Clients Can Be Easier Using Our Customize Upload Forms.
We strongly advise you to integrate file collection software into your business so that each time you onboard a new customer, you can just send them a form with all the fields you need and won't even have to worry to remind your client or organize the document in different folders.
You'll be able to focus your efforts on the objectives and demands of your clients and get a true understanding of the most effective strategy for solving their problems. By using this checklist, you can power up your employee onboarding process and obtain the most return on your investment (both in time and money).