These companies have already simplified the way they collect documents online

How is a lightweight file upload portal suitable for RFIs and request information?
File Request Pro lets your vendors upload files and content quickly and securely. You can get started in 10 minutes. There is no learning curve for you or your vendors.
Document upload portals can be complex and expensive. Spreadsheets are tedious to update, organise and share. File Request Pro concentrates on the essentials of RFI: streamlining the file collection process. It helps solve many of your problems in terms of collecting and organising information, without having too many extra 'bells and whistles'.
Flexible RFI software that fits in with your existing tools
File Request Pro natively integrates with popular cloud drives, and can be linked to thousands of other apps using Zapier. It aims to streamline your existing project processes rather than replace them.
Automate low-value information collection tasks
Automatically send rfi response content to your cloud drives, correctly organised and saved to your chosen file location. No more hunting for files in your email, which then need manually organising. File Request Pro natively integrates with Google Drive, OneDrive, SharePoint and Dropbox.
Set up an automated email sequence to send file requests, remind vendors of approaching deadlines, or thank them for submitting documents. Cut out all the back-and-forth that document collection usually requires, and make your vendors accountable.
Dynamic file organisation in your cloud drive (SharePoint, Google Drive)
Integrate with your project management software
Use templates and pages to speed up your rfi proccess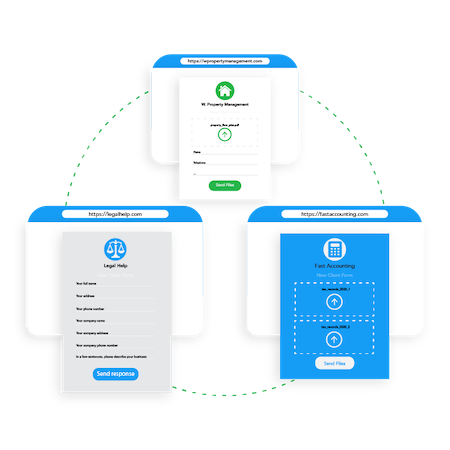 Create a customised experience and increase response rates
Use our modern form builder to encourage your vendors to submit the correct information. Split your rfi's over multiple pages or use a one-page form. Use our 10+ form fields to ask for specific content. Pre-fill form fields so your vendors don't need to. Keep the document collection process approachable and understandable. If your vendors can fill in a simple form they can use File Request Pro.
Style and white-label the information collection experience using your brand colours, logo and copy. It will look professional, and impress vendors (enough that they get back to you quickly).
Accept large files or folders up to 10GB
Unlimited rfi invites and reminders
100GB of extra storage
Bank-level encryption
Online fraud is an increasing problem, so it's more important than ever that you keep information secure. This is particularly the case if you are bound by regulations in your jurisdiction (like the GDPR). File Request Pro portals are secured using an encrypted connection (SSL) and all user data is encrypted from the portal to your cloud drive. Avoid email phishing scams by keeping confidential data out of your inbox and reassure clients.
Keep client data secure without compromising the user experience.
Audit history and logs
Share portals publicly, with a link or using a password
Pipeline mode so user data can be immediately deleted
Keep project on track with flexible RFI solution (that clients & vendors actually like using)
Customise File Request Pro so it fits in with your processes and works for you. No need to learn complicated new software or approach RFI in a specific way.
Integrates with Google Drive, Dropbox, OneDrive and SharePoint
Send documents automatically to your cloud drive (including shared drives). Dynamically organise them by any value you choose.
No user log in required
Choose to make client portals immediately accessible, so users can get started straight away, without having to create an account. Password protection is available if you want though.
Customisable and white-labelled
Use custom branding to create your own branded upload portal. Reassure vendors and partners they are in the right place.
Email message sequence for users
Automate file requests, reminders and thank you emails. Message sequences are 'smart' and respond to the actions of your clients. Use your own server for a personalised experience.
Modern form builder
Ask users for extra data and information using form fields, as well as file upload fields. Use conditional logic to streamline forms and make them relevant.
API & Zapier Integration
Use our webhooks API to integrate File Request Pro with the tools you use on daily basis. Or use Zapier to send your data to 1000s of other apps.
Questions and answers
Is File Request Pro secure? Yes. User data is securely encrypted when it is sent to your cloud account or dashboard. We don't require users to log in because we think the trade off in terms of user experience isn't usually justified. You can only allow users with a link to upload documents. You can even set a password, although we don't make this the default option.
Can external users upload files? Yes. File Request Pro has been specifically created to make it as easy as possible for anyone to send you files – team members, partners.
Do I have to send files to a cloud drive? No. You can download files from your dashboard, send them to your inbox, or send them to thousands of other apps using Zapier.
Can we pre-fill answers on a form? Yes, using query strings. This isn't an easy option though. Our product is focused on collecting information rather than sending it. Let us know if this is a dealbreaker for you.
Marty Drake
The Compliance Shop
We've been very happy with the service, and so have our clients. They love the ability to just drag and drop, and to upload multiple files once, we've gotten nothing but positive feedback. We definitely have had a great experience so far.
Patrick Nolan
Mortgage Banker
File Request Pro allows us to send our clients a link to upload their documents and creates a folder with their name in our Google Drive. Very simple, clean, and efficient. Works better than when I was using Citrix ShareFile instead of Drive at a fraction of the cost.
Your vendors are busy enough. They don't have time to learn how to use more software. Increase response rates and user satisfaction by using a streamlined file upload portal.