This article will guide you on how to create a project intake form for your company. It will also provide best practices for the project intake process.
If you are looking to create a new project intake form or improve the current one, this article is perfect for you. It will provide step-by-step instructions and tips on how to create an efficient and effective project intake form that will help your company grow.
What is a project intake form?
A project intake form is a document that helps you collect the information from your client about the project they need to complete.
It can be used at any stage of a project, but it's usually used when you are starting a new project with a client.
The form should include questions about the client's needs, goals, and desired outcomes so that you can create a plan for them.
Project intake forms are often considered as one of the most important documents in the business process because they provide an overview of what needs to be done and how long it will take.
What are the benefits of using a project intake process?
Creating consistency: Having a project intake form can help you develop guidelines and standard operating procedures. This will make it easier for you to replicate the same process when enrolling new projects in the future
Improving communication: Filling out a project intake form has many benefits. It can help you know if you have all the required information from your client, prevent any problems with workflow, and make it easier for you to work with the team.
Saving time & Embrace automation: Creating a project intake form template can save you time and make it quicker to delegate tasks. With tools like File Request Pro, you could also make this an automated process, which saves even more time!
Questions every project intake form should ask
Every project intake form should have at least six questions to be effective. These questions should be asked in a specific order, and the answers to these questions should provide some insights about the project.
This is a short questionnaire that will allow us to gauge your project, and you'll receive an estimate shortly.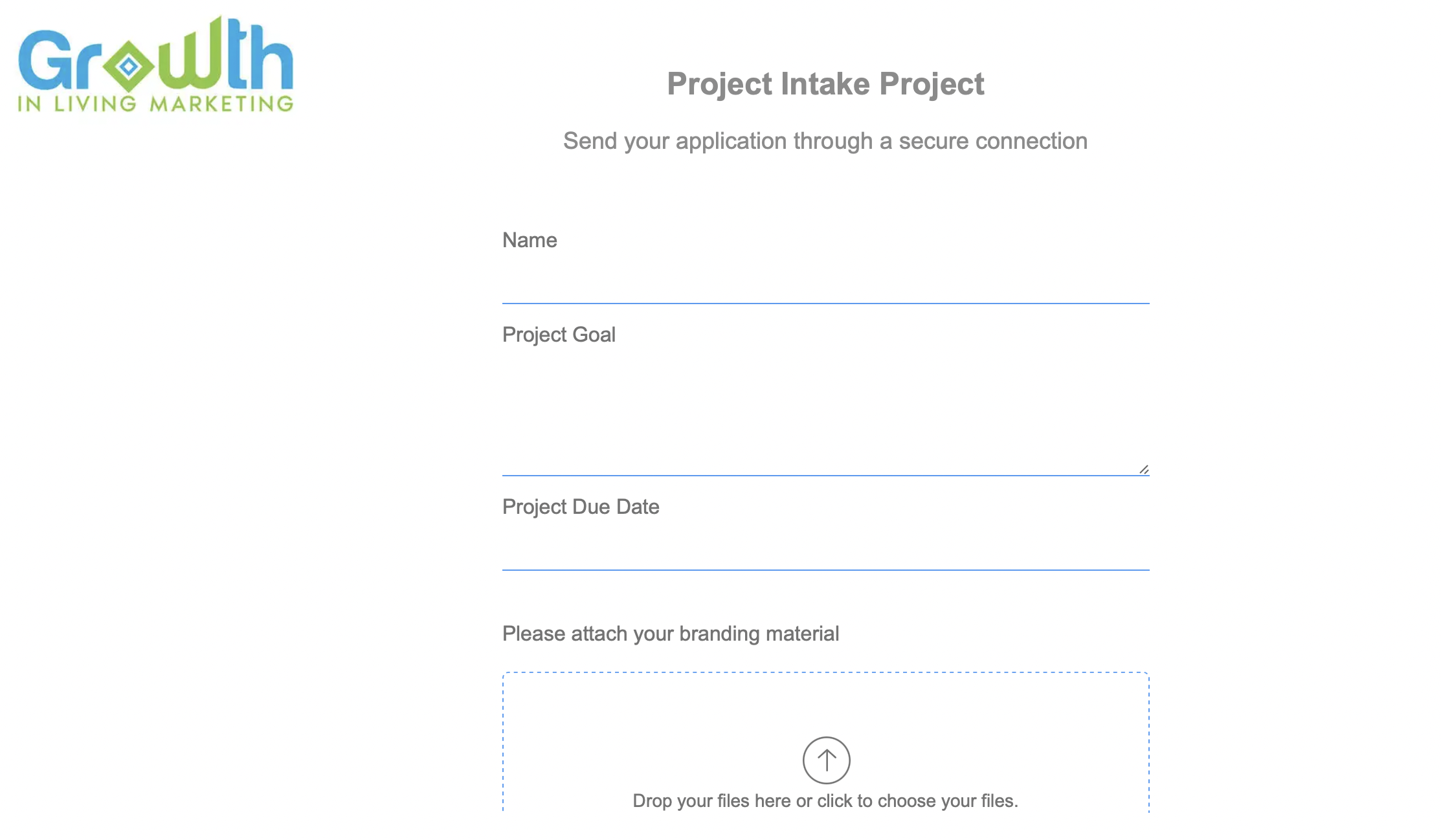 Purpose of the project
In this section of your project intake form, ask your client what their goal for the project is. To help the client get the most out of their investment, you can prompt them to include more information about the key performance indicators (KPIs) they plan to measure, specific features the finished project needs to include or what their desired outcome is.
This is an important piece project intake form that can help you ensure your team understands what they must deliver to meet your client's expectations
Detailed Project Information
Specific questions will vary from project to project, as it's not the same a Logo design project or web development project.  For example, in a web design project, we might ask:1) What is the goal of this website?2) What is the target audience? 3) What are some considerations needed to reach the target audience effectively? 4) How will this website be presented to the target audience? 5) Who are all of your competitors in this market
Some general question about the project to include are:
Details of project requester
Details of the requesting brand
Project type
Target audience or end-user
Similar competitive projects
Definition of the budget
Project deadline
Supporting Files.
Automating your Project Intake form process
If a project intake form is something you have to send to all your customers, then it makes sense to automate as much of the process as possible. This will save you time, and also hopefully reduce the onboarding process from months to weeks.
Rather than replacing your entire onboarding process with 'bells and whistles' software aimed at corporations, you can test out automating aspects of your Project intake process with more lightweight (and less expensive) document collection software.
Aspects of the process you can automate/repeat include:
'Smart' reminder emails sent out to encourage customers to submit content and documents by a certain date, or in a number of days
Automated file request emails and thank you emails
Automatically sending files to your cloud storage, organized into folders
Templates or duplicate project intake forms, so you don't have to keep creating them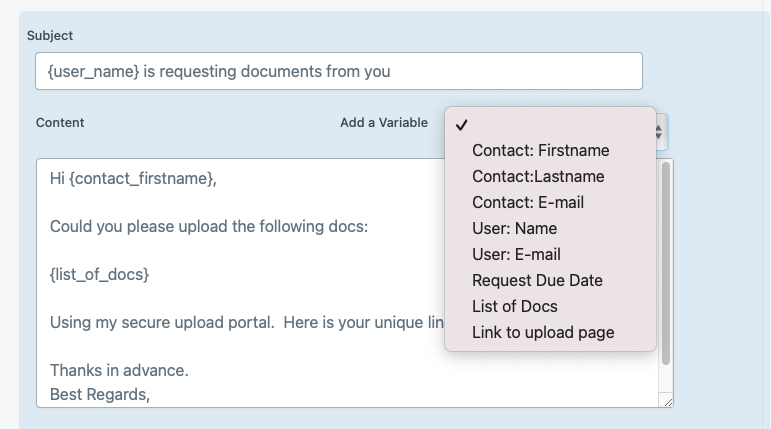 Create your Project Intake Form with File Request Pro
File Request Pro is lightweight document collection software that makes it easy for you to create branded Project Intake forms that you can send to your customers or embed in your website.
Create approachable multi-page forms that work on any device. Use conditional logic to only show customers questions that are relevant. Ask customers to drag and drop files without them needing to log in or have an account.
Content and files can be sent automatically to Google Drive, Microsoft OneDrive and SharePoint and Dropbox. Use Zapier to connect File Request Pro to thousands of other apps.
For more information, check the tutorial on building an intake form with File Request Pro or sign up for a free trial and create your own project intake form within 10 minutes.