Dropbox is primarily a cloud storage service that lets you save files online and sync them to your devices. You can create various documents inside Dropbox, including documents and spreadsheets, but you can't create a form.
To create a form that synchs with Dropbox you'll need to use a form builder,  upload page software with Dropbox integration, or use an automation tool like Zapier.
What documents can you create with Dropbox?
Dropbox makes it possible for you to create documents, presentations and spreadsheets. You can choose from these options:
Dropbox Paper
Word Documents
Google Docs
PowerPoint Presentations
Google Slides
Excel Workbook
Google Sheets
Dropbox Paper Template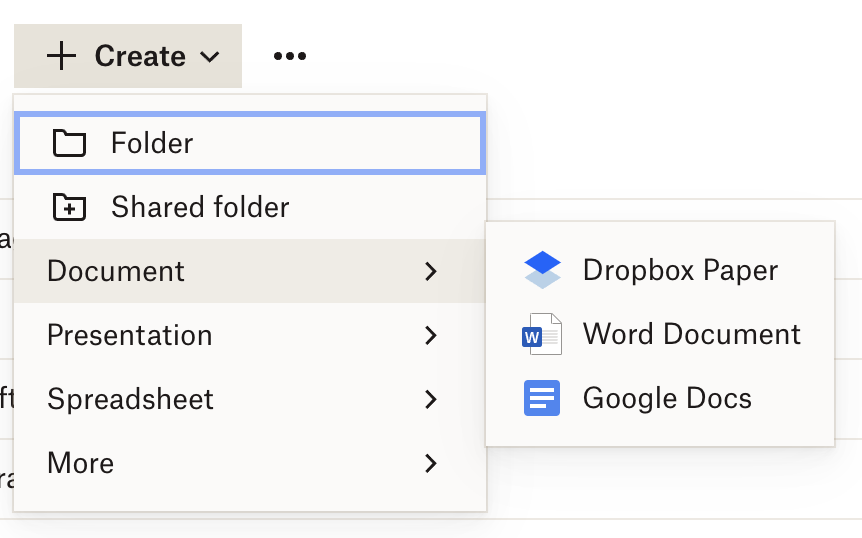 What about Dropbox File Request?
Dropbox has a feature called 'Dropbox file request', which you can use to request files from other people, regardless of whether they have a Dropbox account.
You can't create a form as such, but you could potentially ask for extra information in the 'Description' field.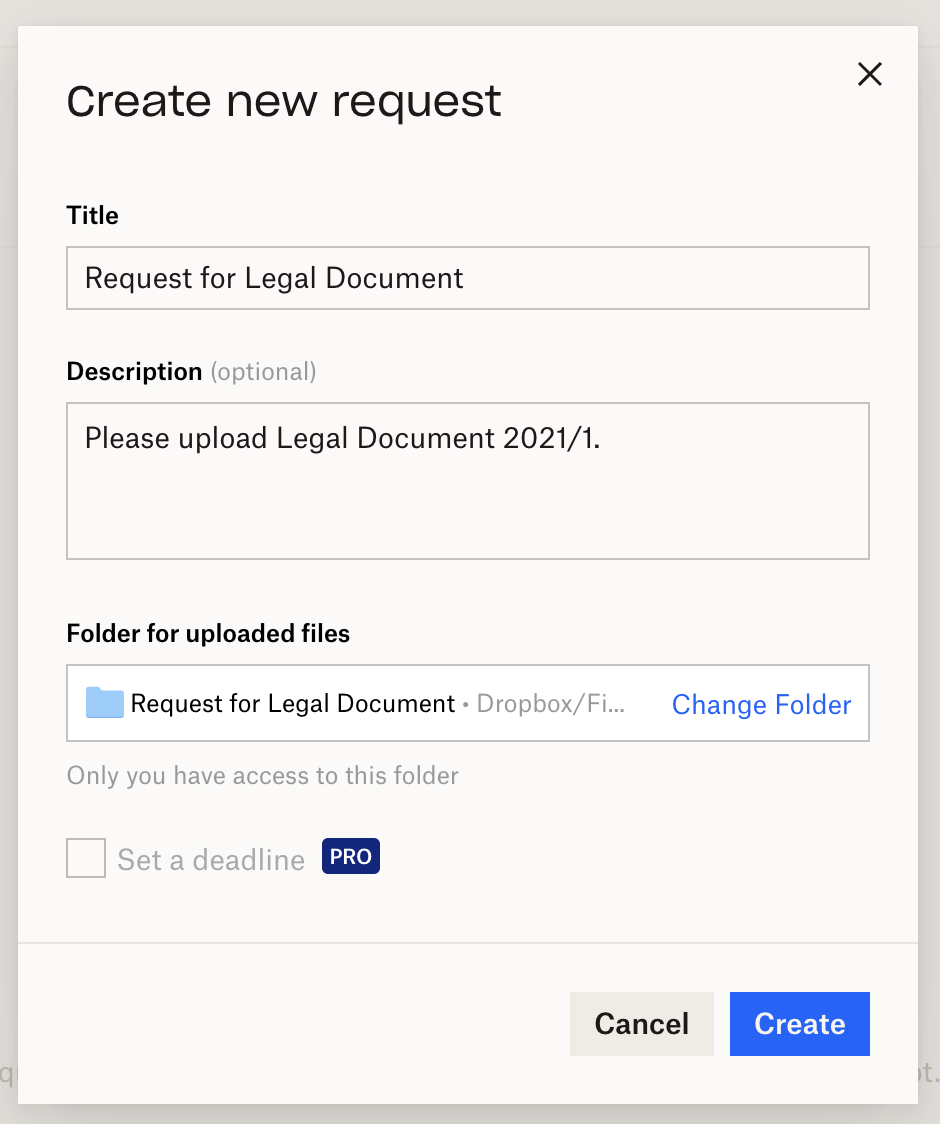 The downsides of trying to use Dropbox's file request feature instead of a form include:
Your clients are more likely to ignore your requests for specific content or send incorrect information than if they were guided through a form
Your clients will have to email you with the extra information or include it as an extra file to upload to Dropbox
Dropbox file requests have Dropbox branding, which can be confusing for clients and annoying for you
However, Dropbox File Request is easy to use and is free for the basic feature.
Using Zapier to connect Google Forms and Dropbox
You can connect Google Forms to Dropbox using Zapier. Zapier is an automation tool that lets you create workflows using tools that don't have native integrations. You can get 5 'Zap's on their free plan. Here is their landing page on connecting Dropbox and Google Forms.
Potential workflows include:
Create Dropbox text files with new Google Forms responses
Upload linked files from new Google Forms responses to Dropbox
Create Dropbox folders for new Google Forms responses

Zapier is an impressive product, but it takes time and effort to learn how to use it effectively. Pricing can also mount up if you are using Zapier consistently.
Form builders vs branded upload pages (that connect with Dropbox)
If you specifically want to collect content and files from clients or business partners, while automating low-value tasks like reminder emails, then consider branded upload page software.
This type of software is specifically designed to make it as easy as possible for you to securely and professionally collect files and content from clients. You can white label upload pages and automate email reminder sequences and thank you emails.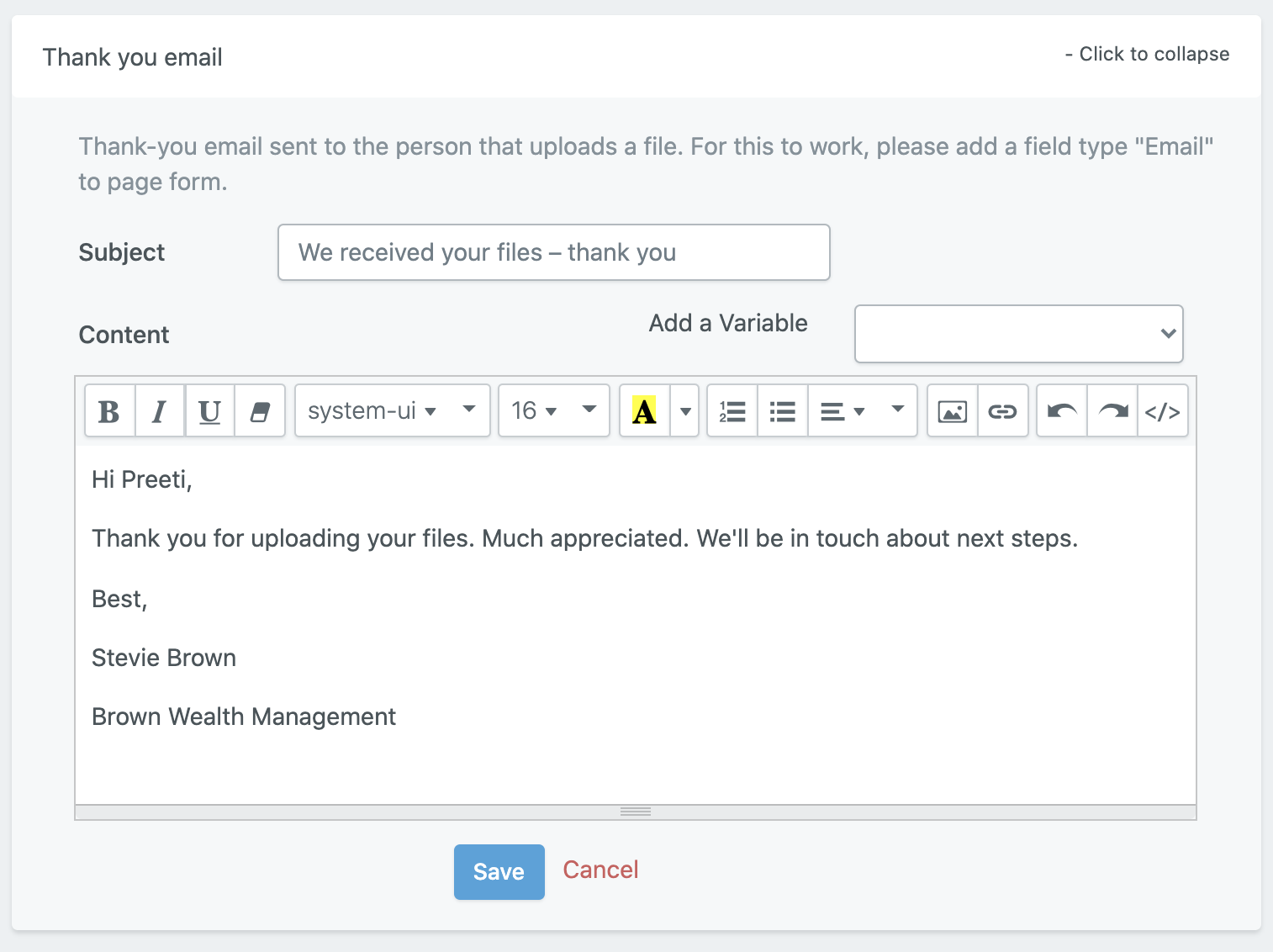 You can also send clients to a standalone branded upload page, with a customised URL, or embed the form in your website. You can also create one-page or multi-page forms.
In contrast, form builders don't usually support reminder sequence emails, and have a more basic file upload functionality (because it is an 'add on' feature rather than part of their core product).
This branded upload page was created using File Request Pro: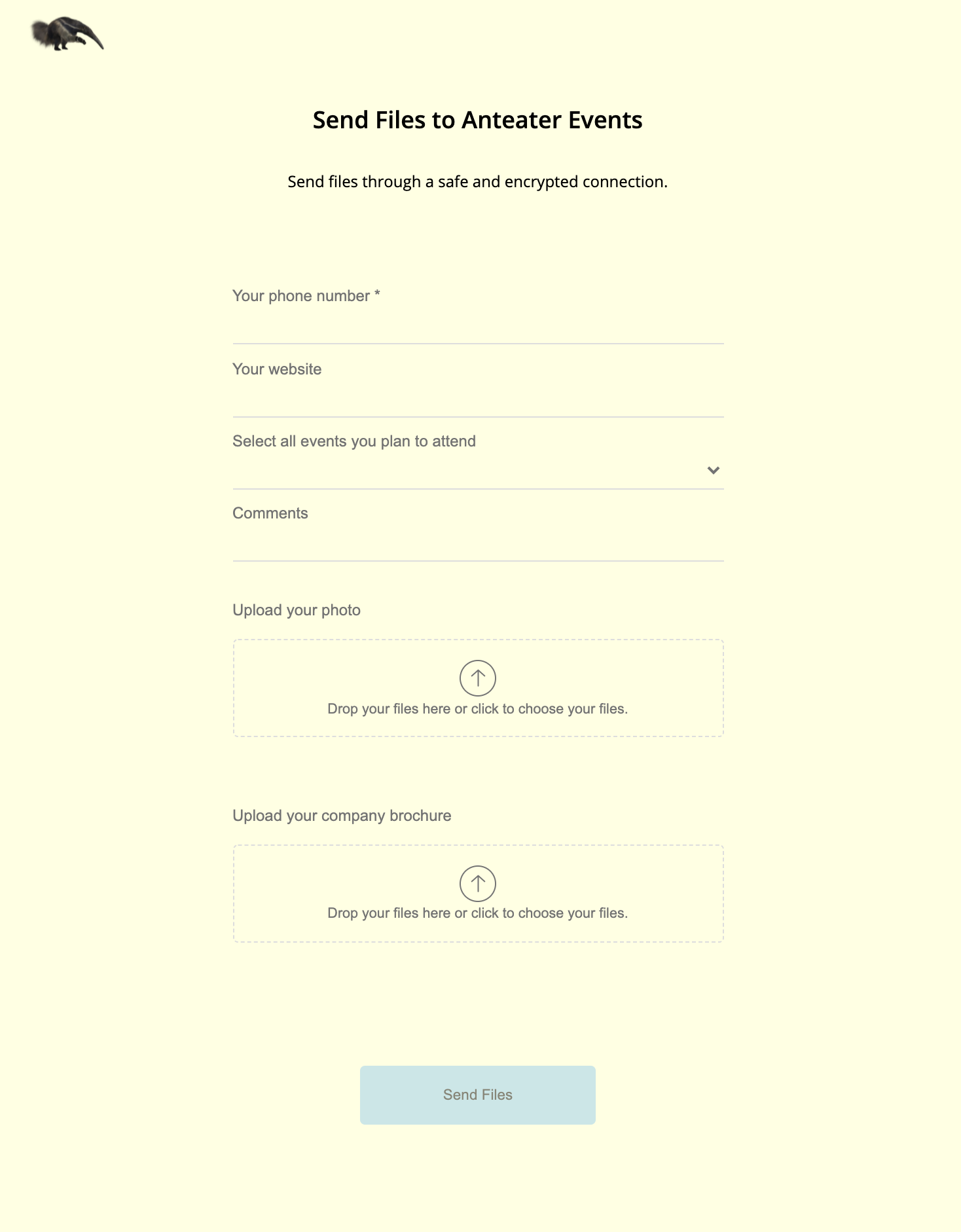 File Request Pro: build upload forms that synch with Dropbox
Use branded upload pages to collect content and files from forms and to automate low-value tasks like file organisation and reminder emails. Then use Dropbox for storing and organising content across multiple devices.
File Request Pro's Dropbox integration is quick and secure.
Microsoft Forms and Dropbox
Microsoft and Dropbox have been in partnership since 2014. You can edit Microsoft Office files stored in your Dropbox directly from the web or on your mobile device. The partnership concentrates on these apps:
Teams can co-edit Excel, Powerpoint, and Word files natively, in real time. And the Dropbox badge allows collaborators to see who else is viewing a file and get the latest version with just one click.
There is currently no direct integration between Microsoft Forms and Dropbox.
With Microsoft Power Automate you can copy modified files between OneDrive and Dropbox, which could form the basis for a workaround. Otherwise, you'll need to use a third party app to connect Microsoft Forms and Dropbox.
Form builders than integrate with Dropbox
A number of form builders offer a direct integration with Dropbox, for example, Jotform or Formstack. This is a simple option if you want a form that synchs with your Dropbox account. To decide which form builder is right for you consider:
Whether you can white-label forms
Whether forms can be customised to suit your clients (not all clients like 'conversational' forms)
Whether you need file upload functionality
Whether you want an email reminder sequence
Whether pricing is flat rate per month or varies depending on specific factors, which can mount up