A "Provided by Client" list  or PBC List,  lists documents which will be needed to complete an audit on the client's behalf. It serves as a checklist of what information the client is required to provide in order for the auditor to complete the audit. In a no-bid government contract, a PBC is required by regulation.
What is an audit PBC List?
A PBC request list makes it easy for clients to gather everything they need for an audit. Then the auditor can perform their audit efficiently because all the requests have been fulfilled. The list will vary for each project, by year and season. This is a great starting place for gathering supporting documentation. Once your PBC is created, it acts as a roadmap for the audit.
PBC Checklist
There is no definitive answer for what your auditor will request. This depends on your business and its financial structure, but in general, we can say you will most likely be asked for anything that relates to or affects the finances of your business.
Even though there are no set guidelines, you can expect the list of requested items to include reports and documents related to:
Revenue and income

Expenses

Cash flow

Loans

Debt agreements

Schedules

Procedures

Contracts
The audit checklist is dynamic and will change as the auditing process progresses. They can add to, or remove from, the list depending on what's required for each area
The purpose of this audit checklist is to make your auditor's job a little easier. But it can also make your life simpler. By using the list to prepare and consolidate your documentation in advance of the audit, you can reduce the audit time, which will save you money.
Best practices to managing your PBC requests
Set a Deadline for the PBC
As an auditor, you should try to send your audit checklist no later than 4 weeks before the audit begins. This will give you ample time and create enough breathing room for you to go gathering any required information. Make sure this deadline is both conveyed to and acknowledged by both the auditor and the client.
Due date for each item
Make sure you are very clear about deadlines. Create a due date for each specific item on the list, and make sure you know at which points in the process certain documents will be needed.
Automation
You can use software to automate tasks like follow-up emails, which is a time-consuming process. This allows you to focus on other important aspects of your business.
Gathering client info is an essential part of the process and using the right tools will not only make it easier for you but your clients too.
How to collect PBC Request List securely
These days, documents that used to be hand-delivered at the accounting office have to be done digitally (by email or personal Dropbox) or through courier services.
Regardless of the method you use to share information, privacy must always be your #1 concern, especially since financial records contain information that could be used for identity theft or other malicious activities if it landed in the wrong hands.
Ship encrypted flash drives
There is a risk that your sensitive tax documents could be misplaced when you send them by courier. This can happen even if it's an honest mistake and you end up letting a third party see the information in your paperwork.
It's better to use encrypted flash storage if you still want to send docs by courier.
Email password-protected documents
Your emails may not be encrypted, and thus any private information you're about to send, can be intercepted by a third party. This can lead to serious security risks in terms of intellectual property theft or leaked company data.
Just to be safe, you should always password-protect your documents before you're uploading them as an attachment.
Use a Secure Portal or Document Collection tool
Another way to transmit documents is to use a secure portal or upload page to upload them.
File upload page software is part automation tool, part file upload software and part form builder. It provides you with an easy way to request and organize files.  Clients are not required to log in, and the user experience should be more like filling in an online form rather than learning how to use complex new software.
An effective PBC Request list form should simple for your client to use and guides them through what they need to upload.
This example has been created using File Request Pro: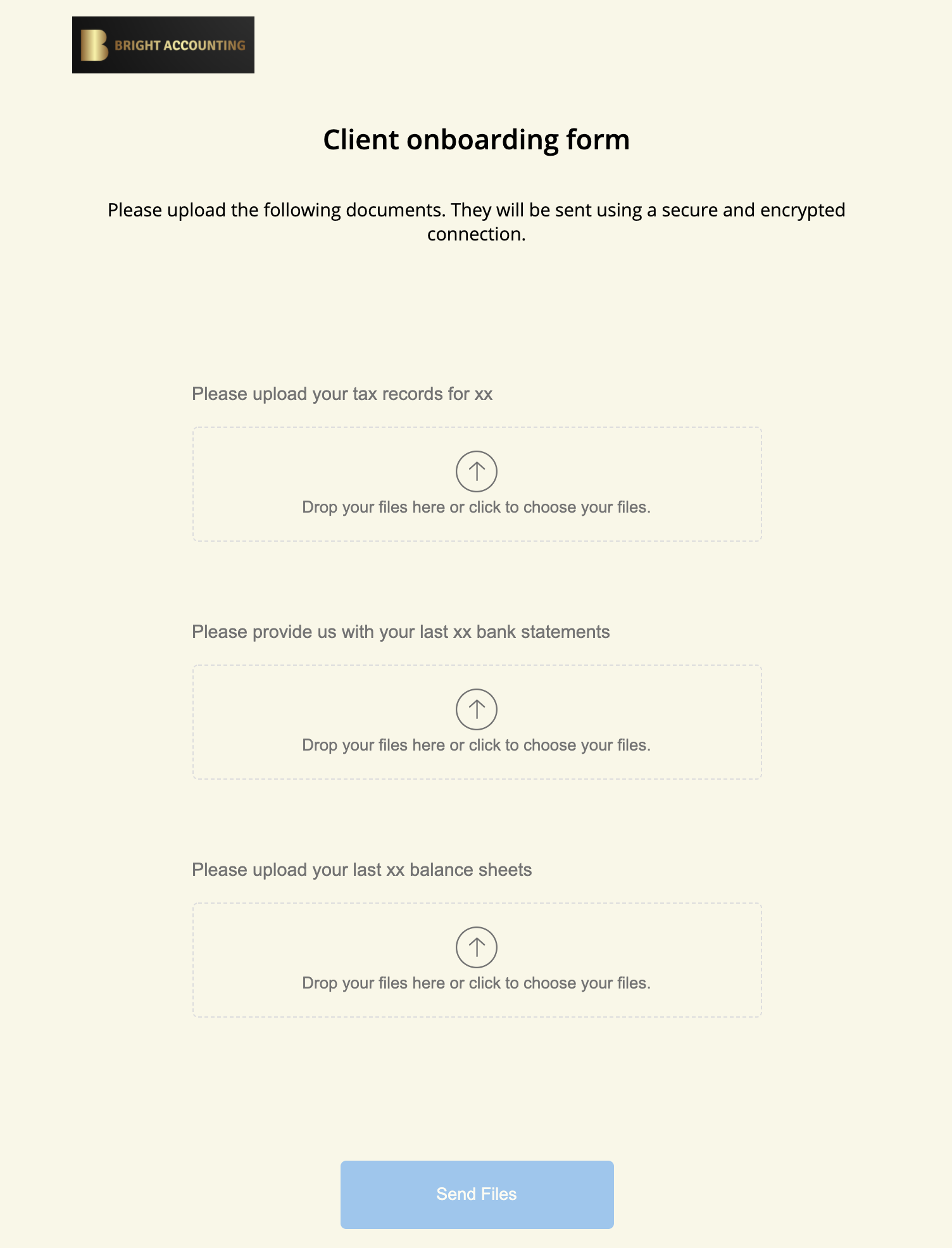 You can also use reminders to save time going back and forth with customers about missing content by automating reminder and thank you emails. You can customize the copy, although we can autofill key information like files requested. The file reminder sequence is 'smart' and adapts to the actions of your clients.
If clients are sending you private and confidential data, you must make sure your data collection process is secure and trustworthy. Using unencrypted email or even links to shared cloud folders can be problematic.
In contrast, File Request Pro provides you with a secure way to collect data that is still easy for your clients to use. All our user data is encrypted at rest using AES 256-bit encryption algorithm.
If you're a client, you can recommend this program to your accountant to help keep your own finantial documents secure.