A "Provided by Client" list or PBC List,  lists documents that will be needed to complete an audit on the client's behalf. It serves as a checklist of what information the client is required to provide in order for the auditor or the audit team to complete the annual audit. In a no-bid government contract, a PBC list is required by regulation.
Now that the audit process has begun, it's time for you to send one to your new client, and you need some assistance with their list of audit requests.
What is an audit, PBC List?
A PBC request list makes it easy for clients to gather everything they need for an audit. Then the auditor or the audit team can perform their audit efficiently because all the requests have been fulfilled. The list will vary for each project, by year and season. This is a great starting place for gathering supporting documentation. Once your PBC list is created, it acts as a roadmap for the audit.
When and how to use a PBC list in your audit process?
The PBC list for planning is usually shorter and simply asks for the data necessary to finish planning, which often includes interim financial statements, board meeting minutes, and copies of any debt agreements that were established over the year.
The auditor or the auditing firm expects to try to include the majority of the items required to complete the engagement, thus the fieldwork PBC list is lengthier. The year-end financials, reconciliations, and client documentation may be on this list of items.
PBC Checklist.
There is no definitive answer for what your auditor will request in the PCB list. This depends on your business and its financial structure, but in general, we can say you will most likely be asked for anything that relates to or affects the finances of your business.
Even though there are no set guidelines, you can expect the PBC list of requested items to include reports and documents related to:
Revenue and income.
Expenses.
Cash flow.
Loans.
Debt agreements.
Schedules.
Procedures.
Contracts.
The audit checklist is dynamic and will change as the auditing process progresses. They can add to, or remove from, the list depending on what's required for each area.
The purpose of this audit checklist is to make your auditor's job a little easier. But it can also make your life simpler. By using the list to prepare and consolidate your documentation in advance of the audit, you can reduce the audit time, which will save you money.
The top PBC Request Lists include these three essential elements:
The first element is customization and specificity: Every request for information should be tailored to the client's particular circumstances and specific to the type of engagement. Sending a PBC list to a client that has nothing to do with their company is one of the quickest ways for a professional to demonstrate to them that they are ignorant of their industry. A client's time is wasted on pointless demands, so make sure the PBC Request List you utilize is targeted and tailored.
The second element is setting priorities: Using due dates to create and convey realistic deadlines is one of the finest ways for professionals to show what order information is needed. Avoid surprises, due dates enable professionals to communicate clearly with clients and let them know what information is anticipated and when.
The third element is utilizing the proper tools and methods. to enhance the experience and spare clients and professionals time.
Best practices for managing your PBC request list.
Set a Deadline for the PBC list.
As an auditor, you should try to send your audit checklist no later than 4 weeks before the audit begins. This will give you ample time and create enough breathing room for you to go gathering any required information. Make sure this deadline is both conveyed to and acknowledged by both the auditor and the client.
Make sure to have clear communication.
We frequently concentrate on what we ought to say when speaking with people. However, listening is more important for good communication than talking especially when you are trying to create an audit request list.
Understanding the words or the information being delivered is only one aspect of listening well; another is comprehending the feelings the speaker is attempting to express.
As we said before a key element of any audit request list is to give each item on the list a due date, and be careful to note the stages of the procedure at which particular documents are required.
Automation.
You can use software to automate tasks like follow-up emails, which is a time-consuming process. This allows you to focus on other important aspects of your business.
Gathering client info is an essential part of the process and using the right tools will not only make it easier for you but your clients too.
What to do when not everything goes as planned?
The PBC list for planning is often shorter and only asks for the data necessary to finish planning. The auditor tries to include the majority of the items required to complete the engagement, thus the fieldwork PBC checklist is lengthier.
We are all aware that sometimes unforeseen circumstances arise that will alter the path of the initial plan, despite the best of intentions and a reasonable deadline. Here are some suggestions for what to do if you get behind on the PBC request list items and don't think you can make the deadline:
Remain calm.
Contact the client and let them know how the requested items are going.
If there is still time to do the audit preparation and get the requested information before the scheduled audit, and determine it with the client. If not, you might want to move the audit.
What format are PBC lists in?
The most popular way to track and organize the PBC request list items is with Microsoft Excel or Google Spreadsheets. Other approaches include simple email lists, Word documents, custom software created by the CPA company, or a third-party service.
But how is the best way to ensure audit PBC request lists be collected safely and in the most efficient way?
How to collect PBC Request List securely.
These days, documents that used to be hand-delivered at the accounting office have to be done digitally (by email or personal Dropbox) or through courier services.
Regardless of the method you use to share information, privacy must always be your #1 concern, especially since financial records contain information that could be used for identity theft or other malicious activities if it landed in the wrong hands.
Ship YOUR PBC request LOST encrypted flash drives.
There is a risk that your sensitive tax documents could be misplaced when you send them by courier. This can happen even if it's an honest mistake and you end up letting a third party see the information in your paperwork.
It's better to use encrypted flash storage if you still want to send docs by courier.
Email password-protected documents.
Your emails may not be encrypted, and thus any documents requested or private information you're about to send can be intercepted by a third party. This can lead to serious security risks in terms of intellectual property theft or leaked company data.
Just to be safe, you should always password-protect your documents before you're uploading them as an attachment.
Use a Secure Portal or Document Collection tool.
Another way to transmit documents is to use a secure portal or upload the page to upload them.
File upload page software is a part automation tool, part file upload software, and part form builder. It provides you with an easy way to request and organize files.  Clients are not required to log in, and the user experience should be more like filling in an online form rather than learning how to use complex new software.
An effective PBC Request list form should be simple for your client to use and guides them through what they need to upload.
This example has been created using File Request Pro: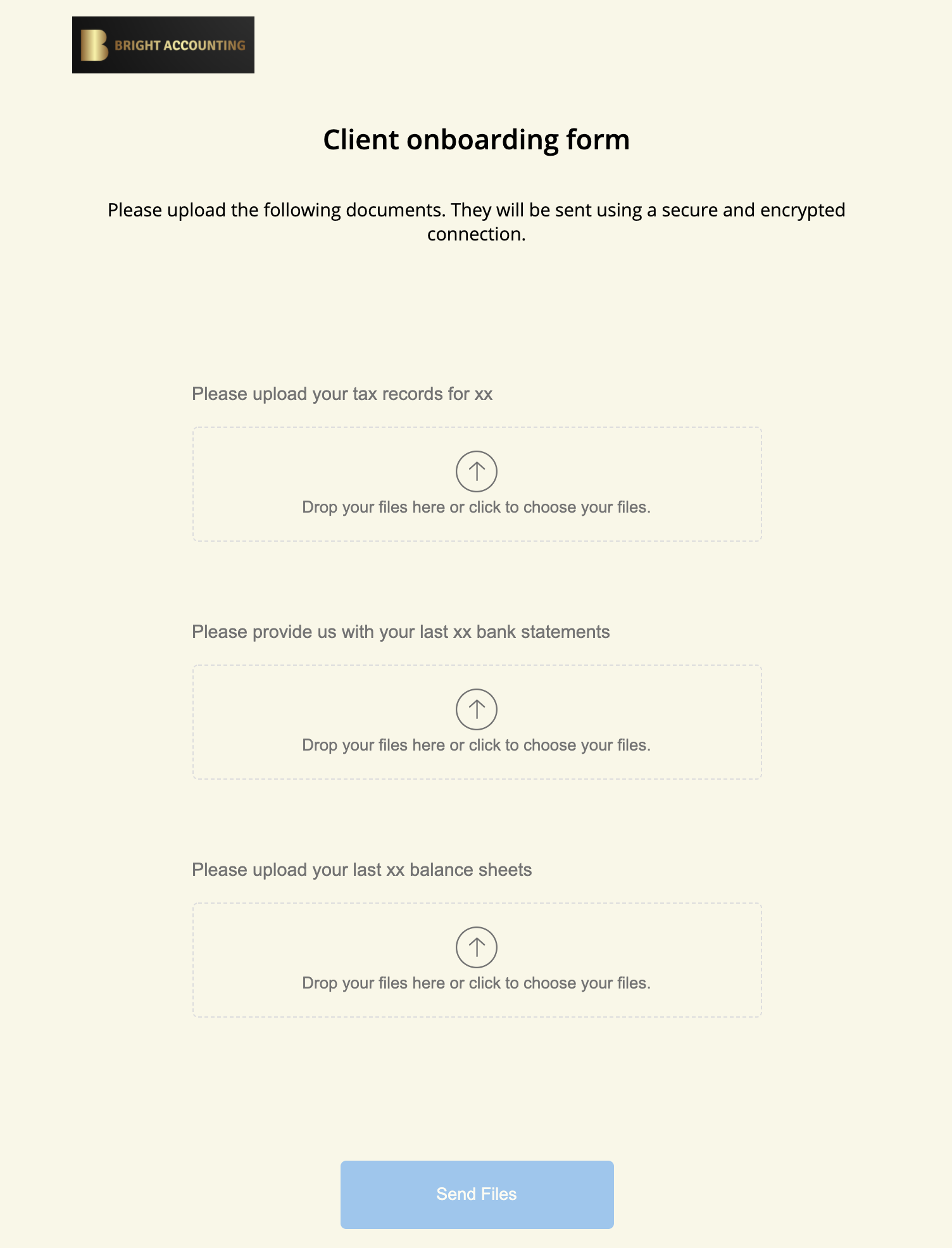 You can also use reminders to save time going back and forth with customers about missing content by automating reminder and thank you emails. You can customize the copy, although we can autofill key information like the files requested. The file reminder sequence is 'smart' and adapts to the actions of your clients.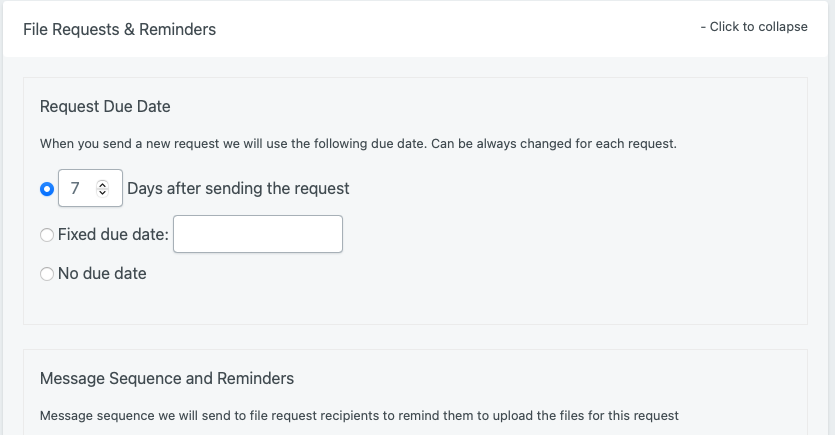 If clients are sending you private and confidential data, you must make sure your data collection process is secure and trustworthy. Using unencrypted email or even links to shared cloud folders can be problematic.
In contrast, File Request Pro provides you with a secure way to collect data that is still easy for your clients to use so it will be great for your pbc request list. All our user data is encrypted at rest using AES 256-bit encryption algorithm.
If you're a client, you can recommend this program to your accountant to help keep your own finantial documents secure.
Understanding the importance of your audit request list.
In conclusion, understanding how to create an audit PBC request list is essential for the success of audits across any industry.
Comprehending the elements of a PBC checklist, when and how to use it, and best practices for managing your PBC request list are all important for effective audit results. Furthermore, setting a deadline for the PBC process, having clear communication between parties involved, utilizing automation tools where applicable, considering different formats for collecting data, as well as ensuring secure collection via encryption or password protection are critical considerations.
Utilizing these methods of securely receiving the information will ensure that audits are successful both responsibly and safely.
With these helpful tips, we hope you will be able to make the most out of your next audit by ensuring everything goes according to plan and if not taking the necessary steps to start again.