Gathering documents and verifying information can cause a lot of back and forth between borrower and broker. It's often the clunkiest part of the mortgage or loan application process and can prevent you getting more sales. It can even lose you business, in the case of misplaced files, hacked emails or confused clients.
Streamline your document collection workflow
If collecting bank statements, ID documents, tax returns and pay slips is one of the most time-consuming and error-prone aspects of your business, then streamline it with a few best practices.
1. Automate repetitive mortgage applications tasks
Collecting documents from mortgage applicants is a repetitive process that you need to navigate tens or even hundreds of times a week. If you reply on manually communicating with clients then you can easily be spending hours of your team's time on paperwork. This pulls them away from core tasks and reduces sales velocity.
Instead, automate tasks like:
Requesting documents
Reminding clients to send documents when a deadline approaches
Organising files and content
Automation will save your team time and prevent mistakes caused by human error. It should also lead to a better client experience, particularly if you keep improving the document collection process based on user feedback.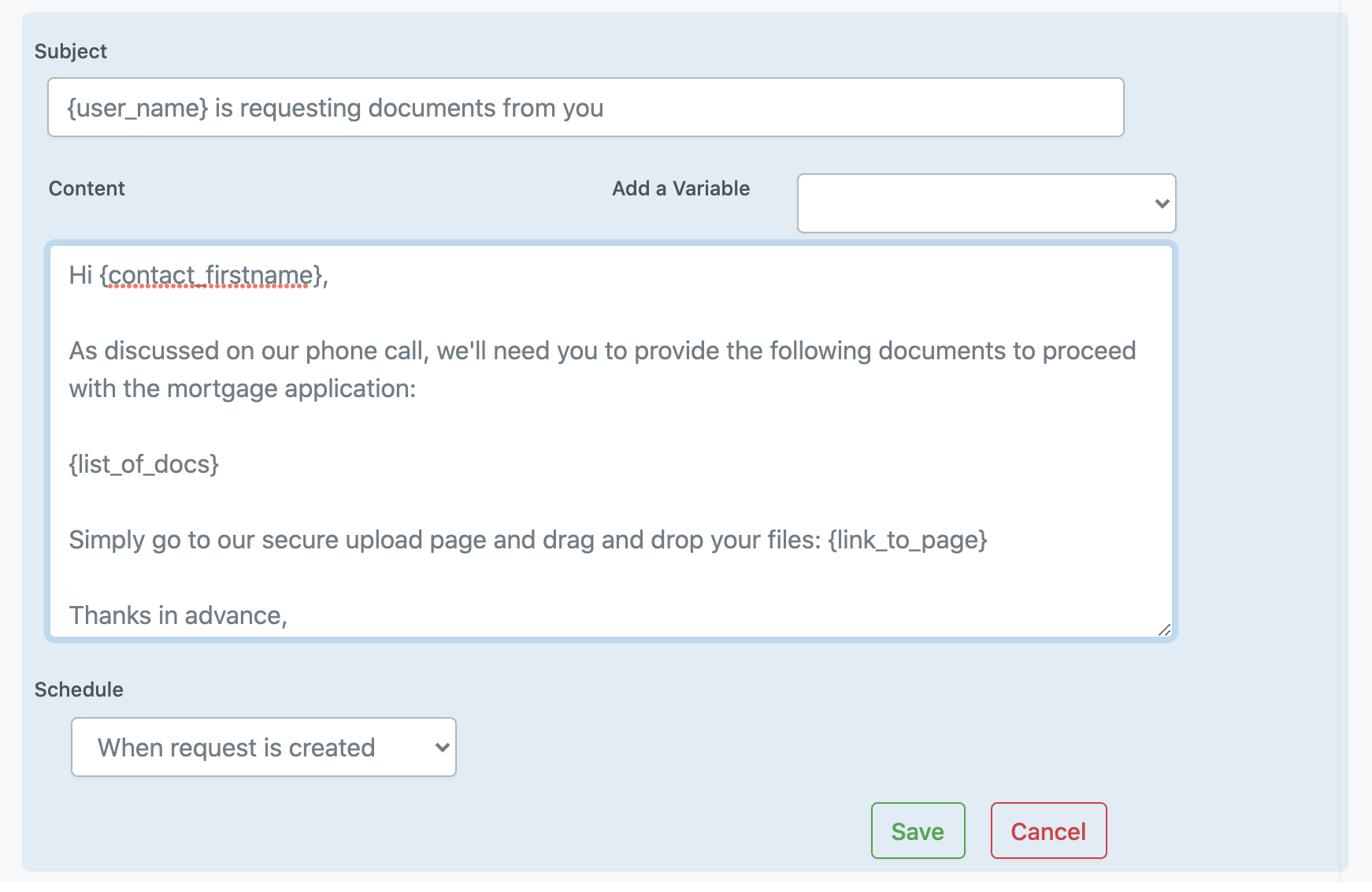 How do you automate repetitive mortgage document collection tasks?
1. Use Zapier to connect existing apps
Depending on your existing set up, you can use a tool like Zapier to connect your existing tools. Zapier is a product that allows end users to integrate the web applications they use. You pass information between your apps with workflows called Zaps.
Zapier has a bit of a steep learning curve, but you don't need to learn to code. It offers a flexible and clever way to automate workflows that depend on several different apps.
2. Automate specific tasks related to document collection
You could focus on automating one task related to document collection. For example, sending an email sequence asking clients for documents, reminding them about due dates and following up when they haven't sent something.
Rather than being marketing emails these are rather 'transactional' emails. They are functional and expected by clients based on a previous request or action. For more information read: What is transactional email and what is it used for?
You'll want to make this email sequence 'smart' so that it responds to actions taken by your clients. For example, the sequence should change if your client sends all files before the deadline, only a few files, or no files.
3. Use document collection software
Document collection software makes it easy for you to collect documents, folders and extra content from clients and team members. It can be divided into these categories:
File upload page software, sometimes called lightweight client portals
File transfer tools, sometimes called file sharing tools
Client interaction hubs, sometimes called client portals
Collaborative cloud storage software
File upload page software is part automation tool, part file upload software and part form builder. It provides you with an easy way to request and organise files. Clients are not required to log in and the user experience should be more like filling in an online form rather than learning how to use complex new software.
This example has been created using File Request Pro: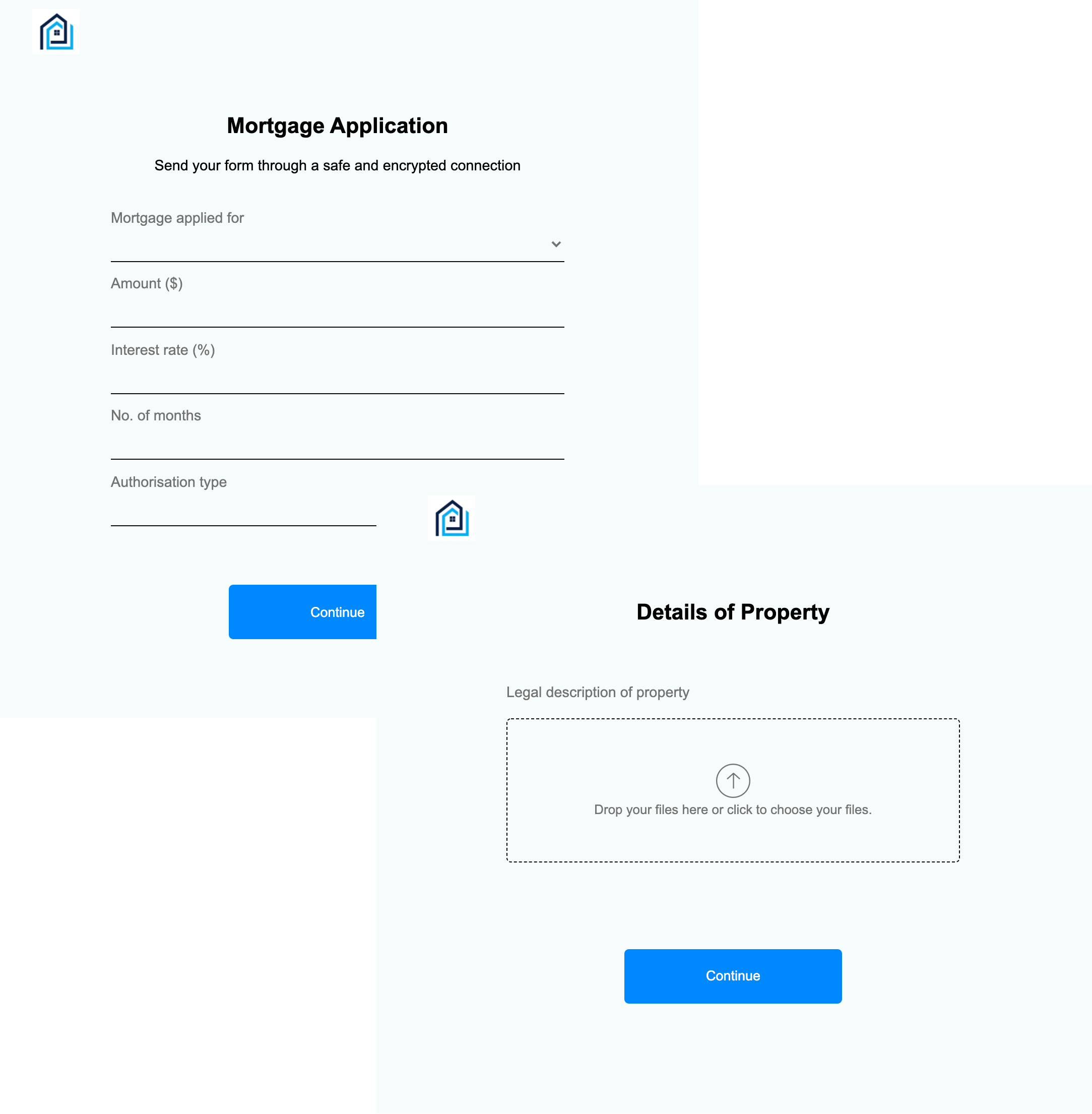 File transfer tools concentrate on making it easy to send large files to someone. This can make them a poor choice for file collection because the experience for the recipient is fairly basic. They don't usually help with file organisation or automation. File transfer tools should be easy to use for senders though.
Client interaction hubs usually have extensive functionality, and can be used to share documents as well as to collect them. They usually require clients to log in. They are a good choice if you need their feature set and you have the budget.
Cloud storage software like Dropbox, GoogleDrive, OneDrive and SharePoint is a popular choice for projects that require collaboration. They work in different ways, so you'll want to research which is the most suitable for you. For example, OneDrive and Dropbox support (basic) file requests. GoogleDrive is more focused on 'sharing' files.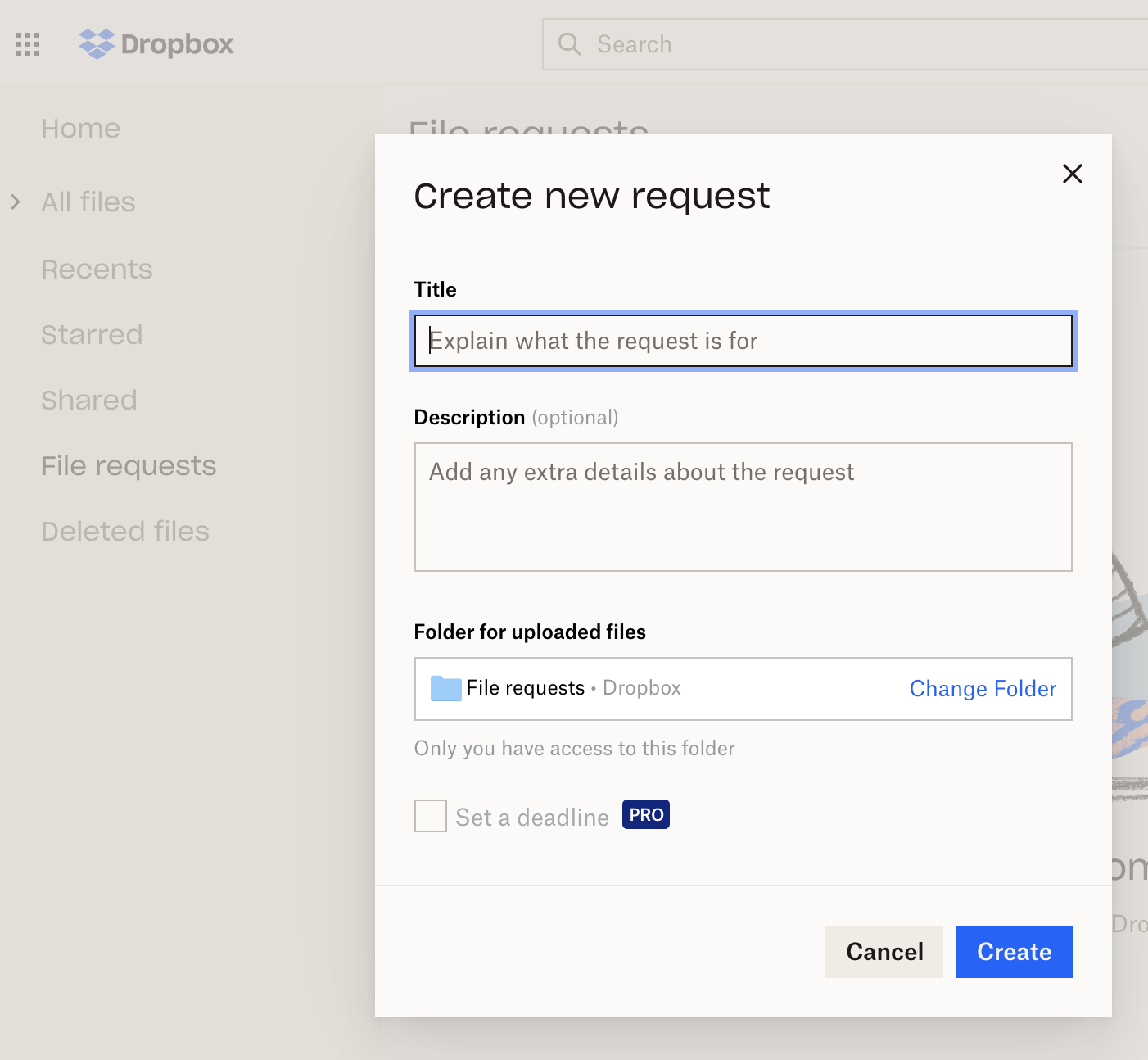 2. Create a repeatable process to collect documents
If you're requesting documents from clients on a case by case basis you can easily forget to ask for everything you need. Then you have to stop what you're doing and wait for the borrower to provide the missing documents before the underwriting process can continue.
To ensure you ask for all the correct documents, create a repeatable and tested document collection process. Duplicate file request forms so they can quickly be customised for individual clients. Create 'templates' for file requests, saving you time and improving the chances that the document process will go smoothly.
In this example, you can see the first part of a template for a mortgage application created using File Request Pro.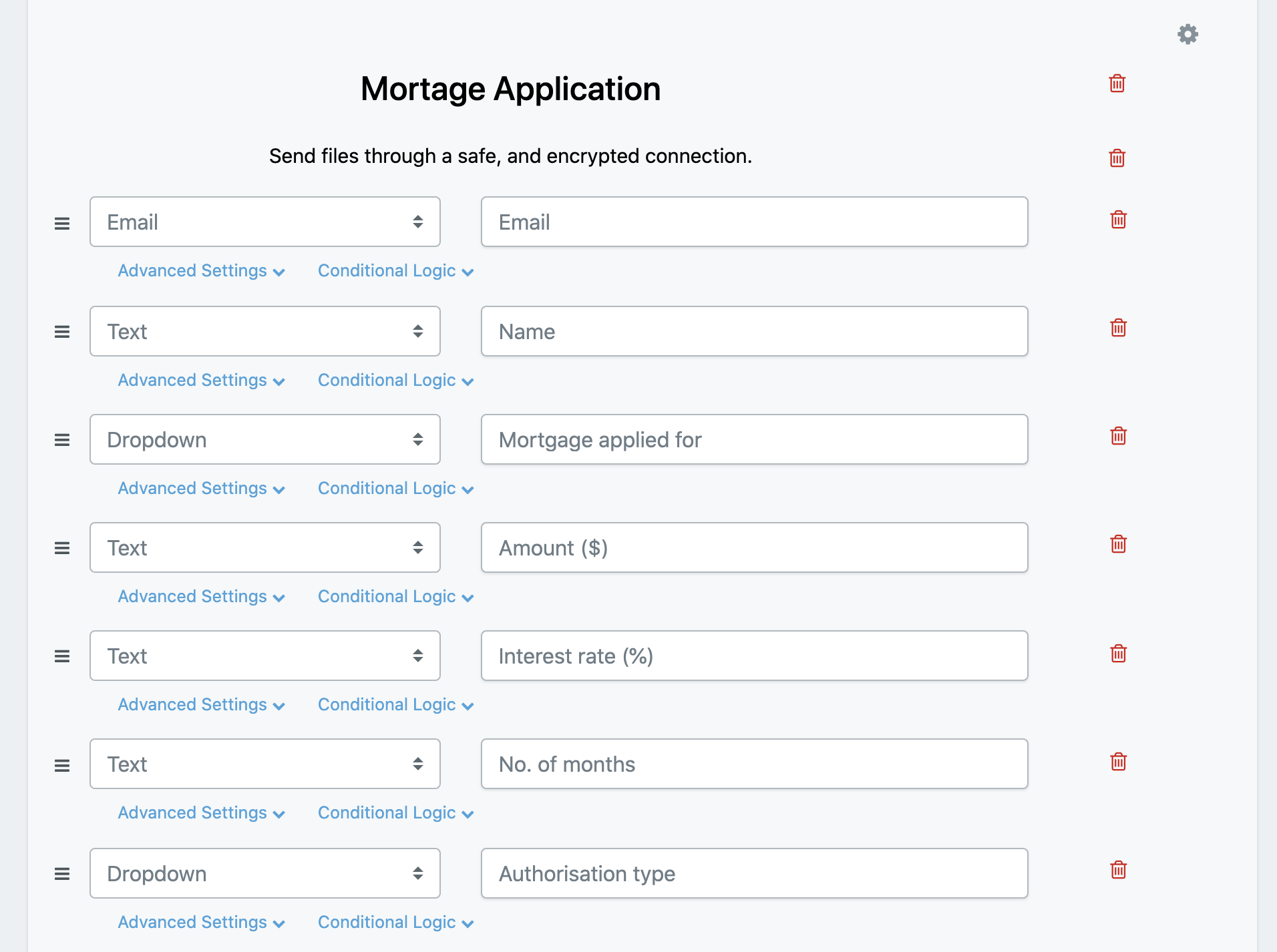 3. Have one central location to collect documents
You want to avoid a situation where documents from clients end up spread across your cloud storage folders and your email. You'll then need to spend time finding these files, organising them, and potentially relabelling them so they make sense to you. You also make it hard for other team members to work with you if files aren't easily findable.
Instead, choose one location to organise and store files and content. This location should be secure and accessible to team members with the correct permissions.
A popular choice is to save client files direct in your cloud storage, whether this is Google Drive, Dropbox, OneDrive or SharePoint. This way files are kept out of your inbox and are stored securely. Look into dynamic file organisation, which means that uploaded client files and content are automatically sent to your chosen cloud storage, organised by whatever value you choose.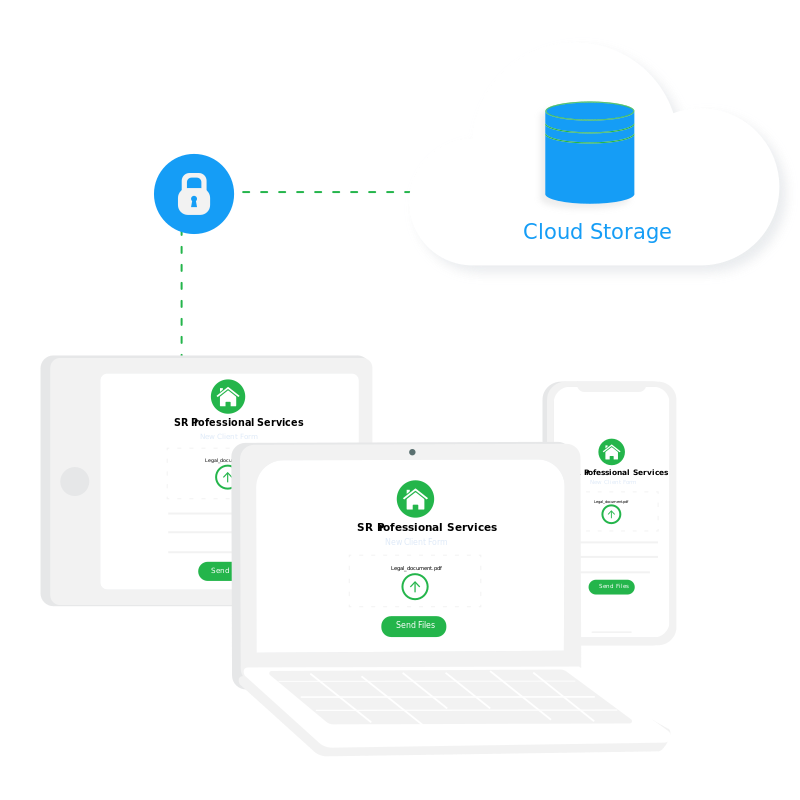 4. Use bank-level encryption to send and store files
Your borrowers are sharing sensitive information during the loan origination process. They want to know that you are protecting their security. Bank statements, tax records, and pay stubs are just a few of the sensitive documents borrowers share. If borrowers aren't comfortable with your practices, they won't send them.
Sending this type of private or sensitive email by unencrypted email is risky. But asking customers to log in to a portal and watch a video about what to do next, could be too much of a trade off in terms of the user experience. A good middle way is to use a document upload service that has bank-level security but doesn't require clients to log in or learn how to use new software.
5. Keep the user experience as easy as possible
Applying for a mortgage is a complex and stressful experience for borrowers. If you can keep it as easy and approachable as possible in terms of document collection, then you'll have a better chance of closing the deal and securing recommendations and good reviews.
Providing borrowers with an easy way to upload documents from their phone or computer is essential. They will get documents to you faster and feel more confident in the process.
A good idea is to 'chunk up' what you need borrowers to do and be clear at every step what information you need (and what you don't, or what is incorrect). Using conditional logic will also make sure clients see only relevant questions, shortening the number of questions they have to fill in.
It is easier to use a user interface to guide borrowers to provide the correct information than to have to be on the phone to them giving tech support or to encourage them to fill in an intimidating-looking form, like in the example below.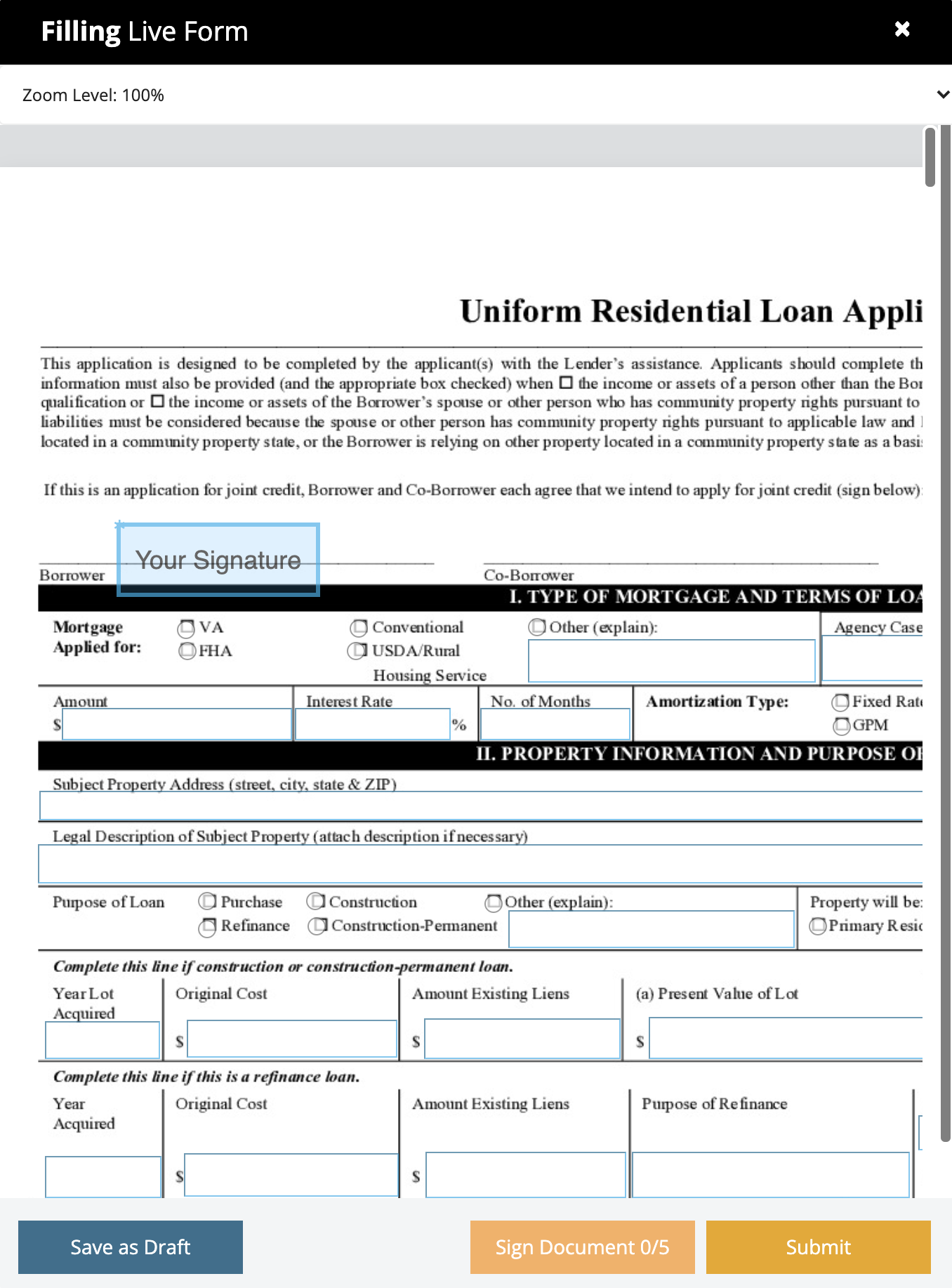 Quickly collect documents with lightweight document collection software File Request Pro
File Request Pro provides you with a simple and secure way to collect supporting documents for loans from all your clients, no matter where they live or what device they use.
Provides multi-page upload forms that are easy for borrowers to fill in
Includes modern form builder with conditional logic
Easily collect multiple documents, folders and large files from clients external to your organisation without them needing to log in
Fully syncs with your cloud storage, including native integrations with GoogleDrive, OneDrive, SharePoint and Dropbox
Dynamic file organisation in your cloud drive by whatever value you choose
Automated file request, reminder and thank you email sequences
Bank-level encryption, audit logs and pipeline mode
Find out more about how File Request Pro can help you gain a competitive advantage by streamlining your document collection process.