The SharePoint vs. OneDrive question is one that customer service team members and even IT professionals are often asked. It's a question that honestly shouldn't be so confusing because SharePoint and OneDrive are Microsoft cloud storage products with common characteristics. But there are some key differences between the two which can help us in that decision.
One is used for file management and collaboration within a team or organization, and the other is an online archive used for sharing and backup purposes. While it's great that Microsoft included both cloud storage options, it's important to know which product best fits your use case to save time, money, and frustration down the road.
In the following article, we will explore what each of these cloud storage options is, what their functions are, and how they handle different aspects of data management, security, and collaboration for teamwork. This way you can choose the one that suits you the most.
SharePoint serves as a central location for business data. It provides real-time information cooperation and ensures the confidentiality of all exchanged data.
The software also includes a SharePoint library for the primary database, a different storage area set aside for client information, and a folder for the owner's private data.
Additionally, SharePoint features a centralized permission management system that allows all team members to access any file's content. This implies that a whole team can edit and work on a document simultaneously.
What is OneDrive?
OneDrive has a single ownership model for all created documents and files. This indicates that only the file's creator can open the file, examine its contents, and modify any of the file's data.
If the owner of a document wants to distribute viewing rights, they can choose who joins their group and, in turn, choose who has access to their content. Because of this, using OneDrive at work individually on files and saving early versions before they are ready for team review is a terrific idea.
OneDrive is a viable substitute for using flash drives, personal drives, or your computer's hard drive at work because the material from OneDrive can easily be shared, and even uploaded on SharePoint.
OneDrive provides two variations:
OneDrive: it can be used by most people as a storage platform for personal information
OneDrive for Business: you can keep data concerning your job, clients, and your workplace.
Despite their similarities, both platforms are distinct, and knowing these differences is necessary to effectively use them.
It's crucial to be aware of the features of all file-sharing systems, regardless of whether you use Teams, SharePoint, OneDrive, or any combination of the three. This will help you make an educated choice.
Because of its collaborative features, SharePoint is a superb choice for information storage and team project management. Instead of serving as a platform for group collaborations, OneDrive is better suited for individual usage and sharing files only between a handful of collaborators.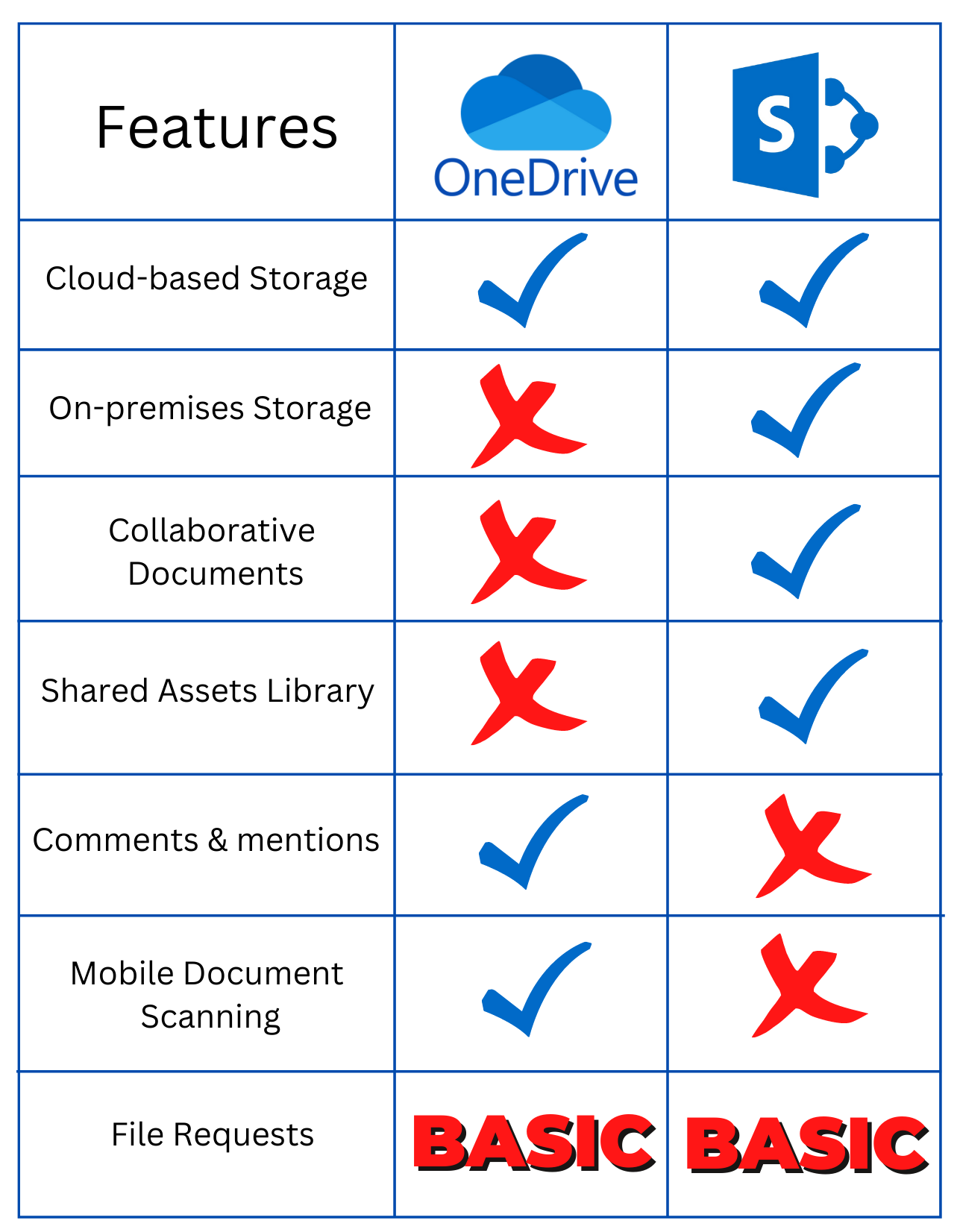 File Requests Feature:
OneDrive for Business and SharePoint has a feature that allows you to collect files from customers, vendors, and other external users securely without giving them any additional permissions. They can access the link and upload files without the need for a password. Using a link, you send them; you can pick a folder where people can submit files.
Requesters of files can only upload files; they are unable to view the contents of a folder, edit, remove, or download files, or even see the names of other uploaders.
Request files are accessible if "Anyone" link permissions are enabled at the tenant level. The Request Files capability on OneDrive or SharePoint sites can be turned on or off by administrators using the SharePoint Online Management Shell.
This is a great way to request files, but it has some limitations that can make the experience of your customers or suppliers not be the best, as well as cause them not to deliver the required information in the expected times. It also has some other shortcomings, such as the lack of a friendly and easy-to-navigate portal, no easy drag-and-drop functionality, and you must manually remind your users to upload the documents to the folders which take valuable time and is prone to human error.
If you are looking for a better way to request files that also work with OneDrive or SharePoint, you should think about using File Request Pro.
File Request Pro.
File Request Pro is a tool that makes file requests, uploads, and collections safe, simple, and quick. Users can build an online form or website, and others can submit files through a simple, straightforward software solution.
Along with the file request feature, users can also create shareable links, allowing the recipient to drop files, folders, photos, and more quickly and easily. They can send the files without having to make a new account. Basically, it is a drag-and-drop operation. swift, easy, and natural.
Another benefit of using File Request Pro is that you won't have to remember to send follow-up emails to ensure that all your requests for documents are fulfilled as a result, you won't need to manually remind your users to place the files in the upload instead you will only have to set up automatic email notifications to remind them to deliver the requested documents.
If you want to know how to set up File Request Pro reminders watch the following video to learn how:
File Request Pro can also be connected to other file-sharing software like OneDrive or SharePoint, helping you to get your client's documents stored in any account immediately that you need. As soon as new files are received, email confirmations are immediately delivered to the user.
If you want to know more about how to use File Request Pro and how to use it with Microsoft Cloud Storage you can click here to answer all your questions on OneDrive functionality with File Requests Pro or click here to know how can you request files with our file upload software and integrate it with SharePoint.
OneDrive is less effective for collaborative work, especially projects involving a big number of people. This is because external information transfer is challenging, and the software's storage capabilities are limited.
1TB of storage is available on OneDrive for each user. One user could create simple documents with this much capacity, but a group project requiring many files or substantial amounts of data would require more than 1TB.
OneDrive gives you access to more storage if you pay for it, but the most storage you can buy is only 6TB, which is still insufficient for extensive team projects.
Maintaining File Privacy.
OneDrive is a better choice than SharePoint for protecting file privacy. Working on personal documents on SharePoint can be riskier than utilizing OneDrive because of the heavy emphasis on collaboration. This is because files containing personal information can have several owners by default.
In contrast, OneDrive's default settings do not promote collaboration. By default, a document's sole owner and full editing rights belong to the author. As a result, OneDrive is a superior choice for creating small-scale, private content.
Document and Data Management.
When it comes to data administration, OneDrive provides the same templates, auditing controls, and versions as SharePoint, but it is unable to build a distinct web page or portal.
Because OneDrive lacks an integrated content management system (CMS), publishing a document online on OneDrive is much more difficult than it is on SharePoint.
In comparison to OneDrive, SharePoint works well with other Microsoft 365 technologies, making it simpler to upload information for publication online.
Additionally, SharePoint has white-label features that let users connect to their company's private network to support branding and facilitate document delivery. OneDrive doesn't have these features and functions better as a personal location to store stuff.
The key distinctions between OneDrive and SharePoint are hopefully clearer to you at this point. Both are excellent for sharing and storing files, but as was already mentioned, they require very different approaches to use correctly.
Of course, adopting SharePoint should be a consideration for those who require more than just a location to store files and collaborate with essential documents.
Since OneDrive also has a personal use version, it's more likely that you've already used it rather than SharePoint for storing your personal data. Also, OneDrive will be more than adequate for those who require a straightforward location for their variety of files.
Now that you are aware of the distinction between these two cloud storage platforms you are already better educated to make the decision of which of them suits you.