Google Forms is a great product. It's free, easy to use and popular. However, uploading files requires you to use specific settings. Here are the 6 steps you need to take to successfully upload files using Google Forms.
1. Add a file upload field to your Google Form
To add a file upload question choose '+' and then use the dropdown to find 'File upload'. You can choose to allow only specific file types, maximum number of files and maximum file size.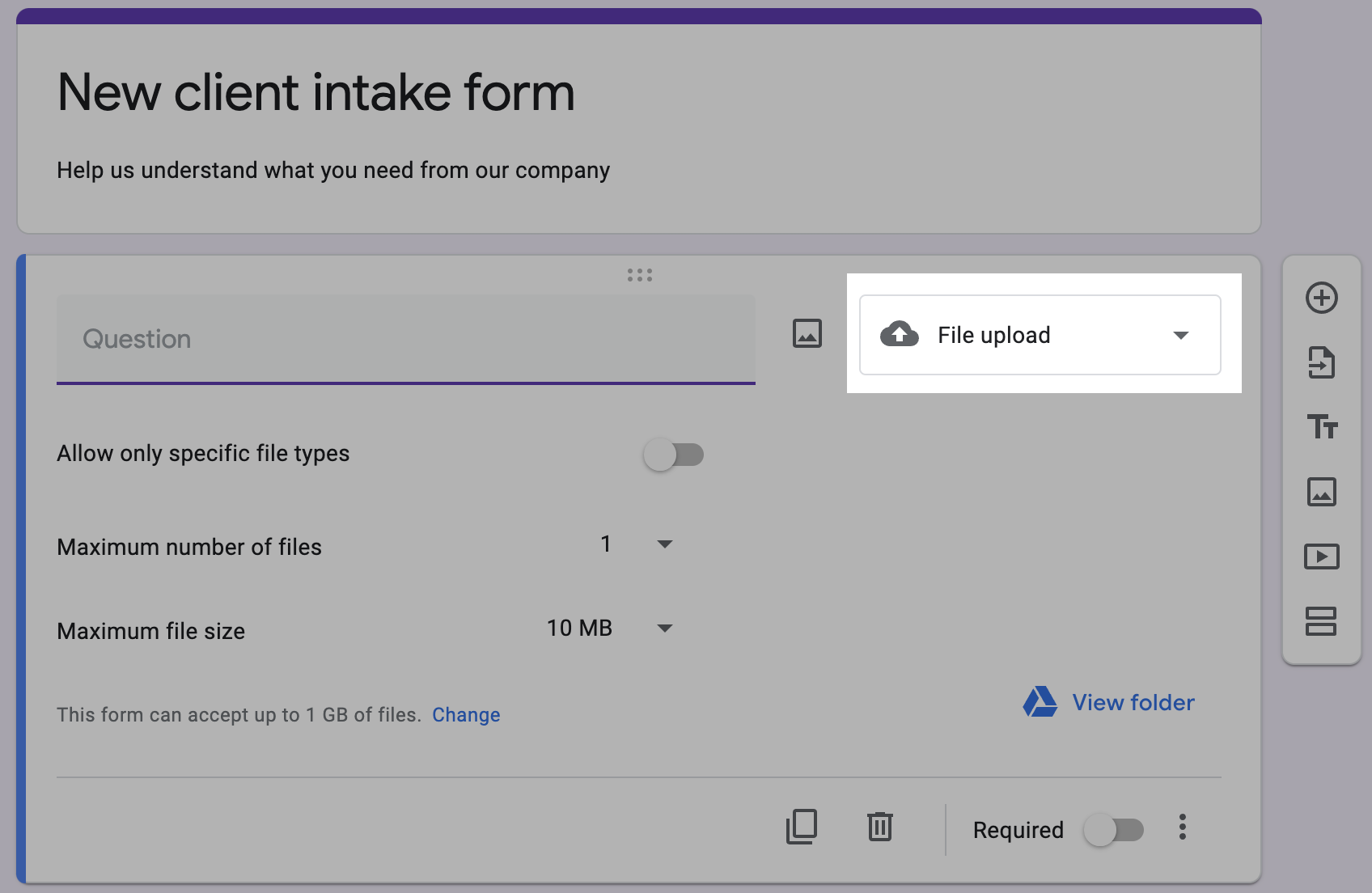 2. Make sure that your respondents have Google accounts OR use software that connects to Google Drive
You can only receive files from respondents with Google accounts using Google Forms. There is no easy workaround just using Google Forms.

If you want to receive files from anyone you'll need to use file request software that connects to Google Drive.
This type of software (like File Request Pro which we built) isn't free. However, as well as getting a form builder with conditional logic, you'll also have access to additional functionality like:
Dynamic file organisation linked to your Google Drive account
Automated reminder email sequences
A customised file request process.
Read more about how you can use File Request Pro and Google Drive to request files from anyone.
3. Connect your Google Form to your individual Google Drive (or the file upload option will be greyed out)
Shared drives are a great way to work with teams: "Shared drive files belong to the team instead of an individual. Even if members leave, the files stay in place so your team can keep sharing information and work anywhere, from any device."
However, you won't be able to use file upload questions if the form is stored in a shared drive. If the file upload option is greyed out this might be why. This restriction seems to be related to security issues  Read more in the Google Help Section.
4. Turn off Data Loss Prevention (or the file upload option will be greyed out)
If your administrator has turned on data loss prevention this can also lead to the file upload option being greyed out as well.
Check with your administrator that Data Loss Prevention is turned off is you want to request files using Google Forms. If your administrator is hesitant to do this, then you'll need to look to other file request options.
5. Choose the Google Form settings that work for you
Google Forms allows you to change certain settings. You can make the form into a quiz, manage how you collect responses and change how the form and responses are presented.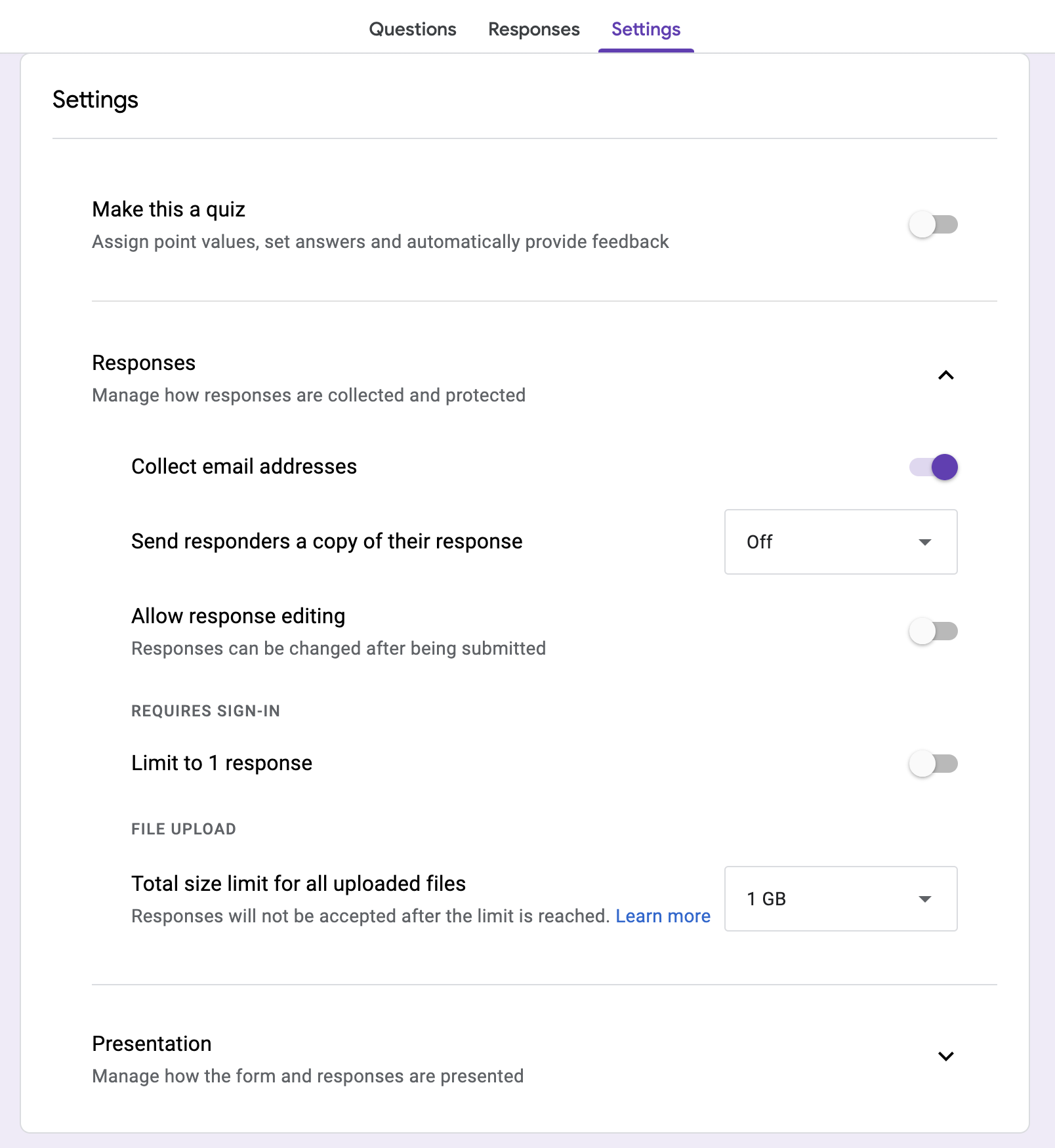 6. Send clients a link to your Google Form
You can email clients with a link to your Google Form, or send them a link direct. Google gives you the option to shorten your link, although you can't customise it.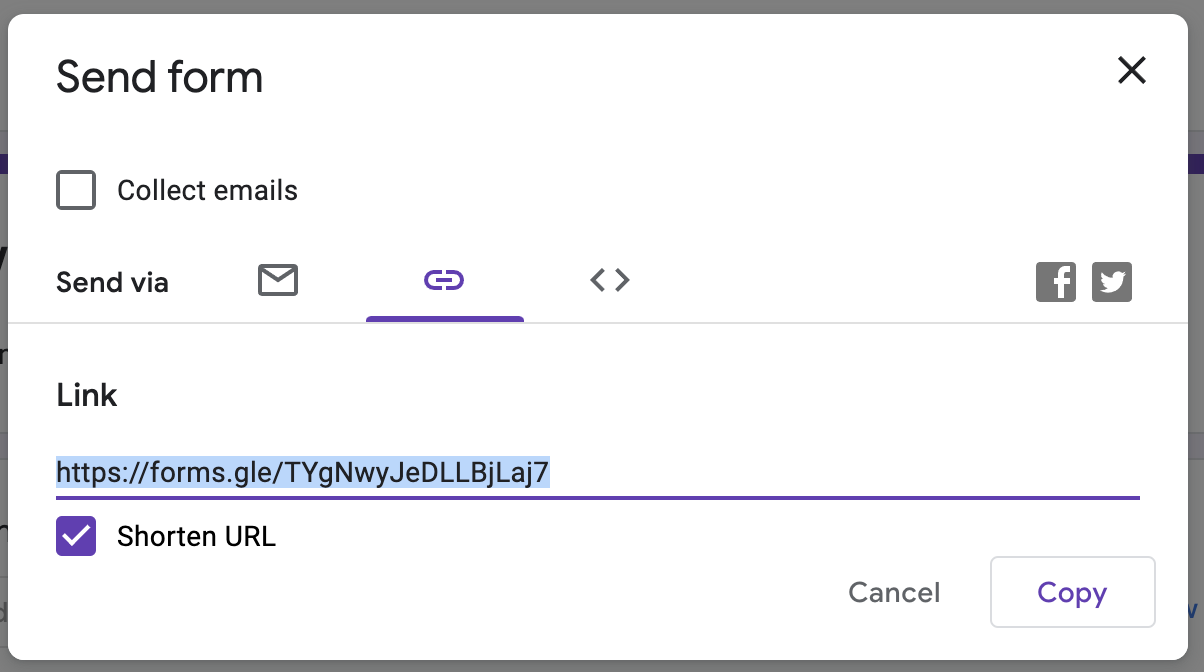 You can't embed a Google Form in your website if you have a file upload question in it. You'll get an error message if you try and do this.
Are the Google Forms restrictions too difficult? There are other options.
If it is important for you that you can request and organise files from clients, partner businesses or suppliers then you might need to look at other options. You'll specifically want upload software that natively integrates with Google Drive, so your workflow is as streamlined as possible.
We created File Request Pro so that you can use cloud drives for what they are great at – file storing and synching across devices – and File Request Pro for professionally collecting and organising any type of file or folder.
How File Request Pro works – the easy way to allow file uploads from anyone direct to Google Drive
Sign up for a free trial account and connect your Google Drive account (shared or individual) with a click
Create a branded upload page using as many or as few customisations options as you choose
Add any extra form fields to collect text information (date, email, hidden, anything really) and add conditional logic
Activate a reminder sequence of emails and set a deadline so you don't have to chase clients manually for content
Send a customised link to your clients, or embed the upload page in your website. Clients don't need to sign in or create an account.
Files and any text will automatically appear in your folders in Google Drive, organised by whatever value you choose
To read in more detail about how File Upload Pro works please see our article: Allow anyone to upload files directly to your Google Drive.
Here's an example of a File Request Pro branded upload page: