Automating manual tasks and and streamlining processes is an essential way for accounting, financial and wealth management companies to stay competitive. This is particularly the case given that the abrupt move to online-only interactions caused by Covid-19 looks set to heavily influence the way we work in future.
In this article we'll look specifically at how client portals and document collection software can save you time and hassle, improve data hygiene, and ensure your clients' data stays secure.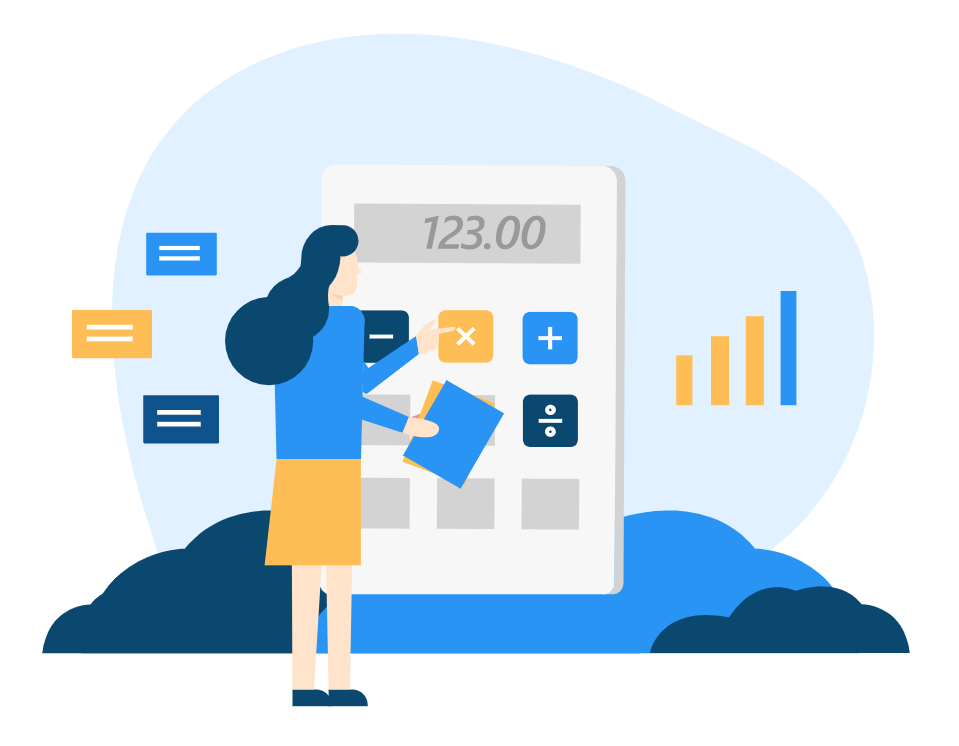 What is a client portal for accountants, financial and wealth management companies?
Client portals are digital gateways through which you can collect and share files, services and information with clients. Clients typically have a username and password that gives them access to the portal. They can then see content and upload files.
The main advantages of client portals are:
They remove the burden of data storage from your other devices and cloud providers
They keep data in one organised  place
They are secure with bank-level encryption
They provide an easy way to collect or share multiple or large files
They can be used across different devices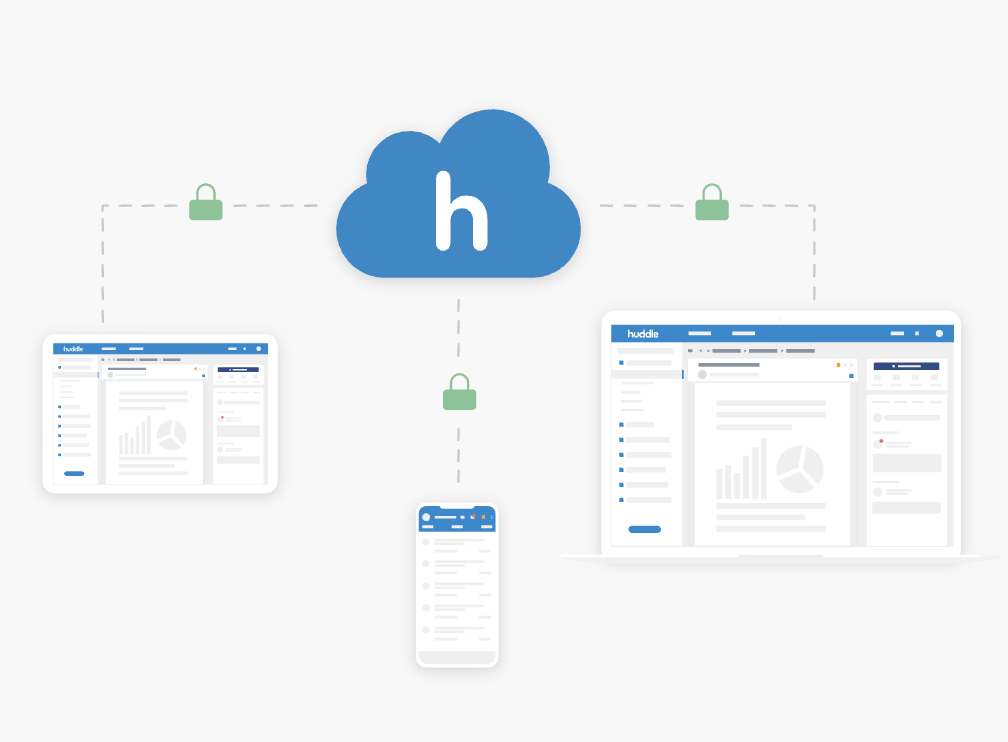 Typically, client portals are similar across different industries. However, some client portal providers specifically tweak their offerings to be particularly useful for the finance and accounting industry.
Client portals vs File sharing software
Client portals are online platforms for managing, sharing and organising content from clients or partners, who usually need to log in. Document collection software, including branded upload pages, are a way to collect and organise client data without a sign up process.
How do client portals fit into the accounting automation landscape?
Although the case is fairly clear for using technology to automate repetitive low-value tasks, prevent human error and improve the client experience, the actual process of automation can seem annoyingly complicated.
This is particularly the case if you are looking at complex tools that require new ways of working and days, perhaps weeks, learning how to use the tools.
No wonder that some accountants and finance professionals are seen as 'technology averse'.
Client portals are a useful way of benefitting from accountech without the disruption of a 'total digital transformation.'
The benefits in terms of simplifying and automating certain tasks like document collection and organisation outweigh the time you spend setting up the software and learning how to use it. Many client portals connect with apps you already use, so streamline existing workflows.
Document collection software, as an alternative, is even more 'entry level'. We'll talk about this type of software later in the article.
Examples of client portals for the finance and accounting industry
Client portals targeting the finance and accounting industry all acknowledge the need to keep data secure. However, there are plenty of variations when it comes to integrations, features and company values.
SmartVault
SmartVault is an online platform for managing and securely sharing files. It targets the financial and accounting industry with integrations such as: taxcalc, FreshBooks, Xero and Intuit QuickBooks, Lacerte and ProSeries. SmartVault also integrate with DocuSign to provide e-signatures. Portals can be customised with your company branding and you can use your own branded subdomain.
SmartVault was founded in 2008. Company values include: 'Every customer experience must include a smile' and 'Show grit and make sh*t happen'.
Huddle
Huddle provides cloud-based client portals that can be customised with your company branding. They automatically synch documents across devices, and manages versions, so you don't have version-control problems to worry about.
Apparently '7 of the top 10 accountancy firms' use their software. Certainly, larger companies seem to be their target market: you can request up to 500 files at a time.
onehub
Onehub tends to brand itself as a cloud storage solution, although it  essentially provide client portals. It has all the expected functionality for enterprise sized companies, including secure FTP gateway for mass uploads, granular permission controls, and  'data rooms' with 'automatic numerical indexing'.
Onehub aims to make sure that the user interface is as simple as possible, even though the product is full-featured.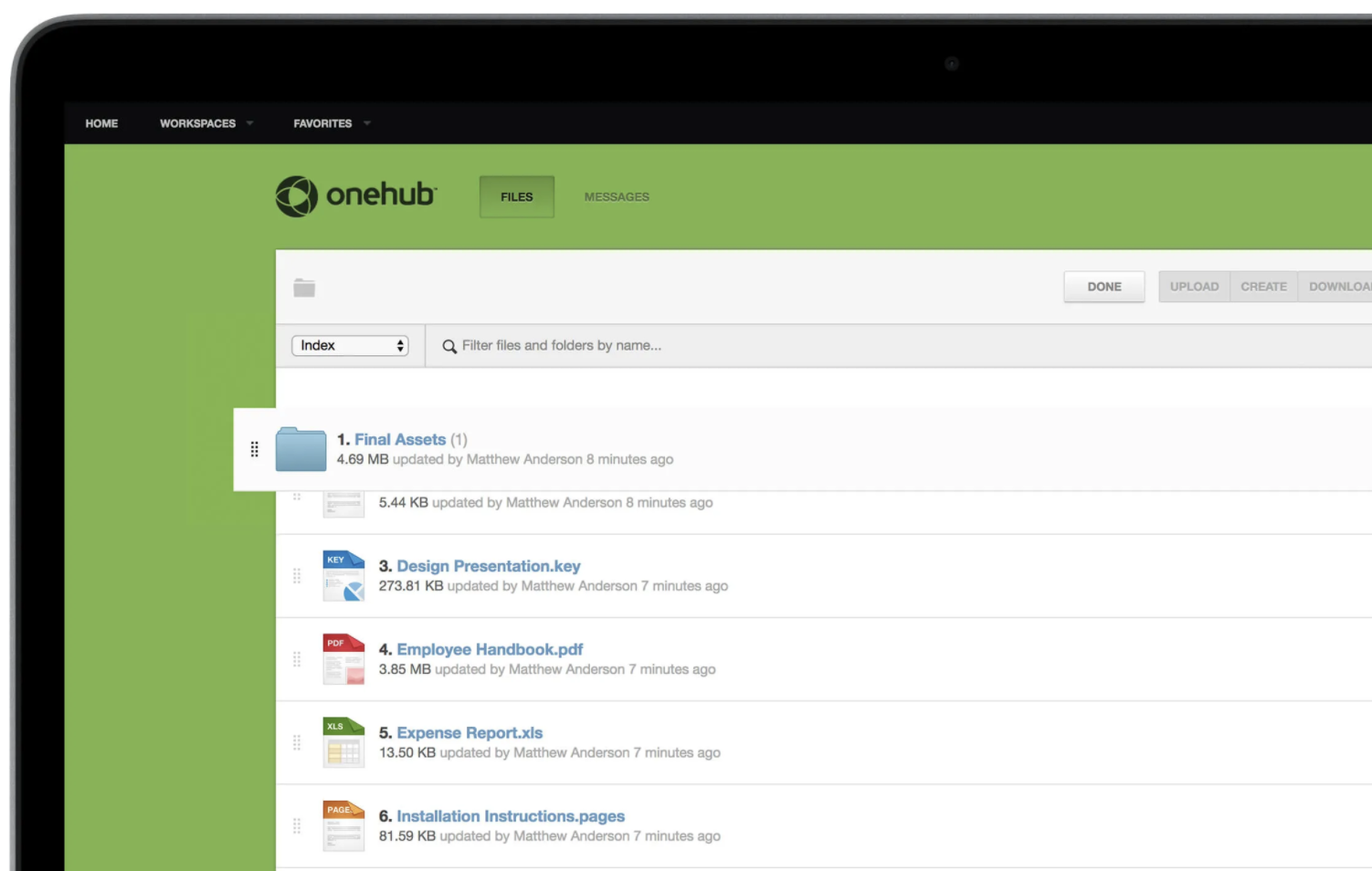 Secure document collection software for accountants and finance professionals
If your company needs a simple way to collect content and files from clients then document collection software is your best option.
This software typically is less expensive than full-featured client portals, without unneeded extra features, but should still make your life considerably easier.
Document collection software includes well-known cloud service providers such as Google Drive, Microsoft OneDrive and SharePoint and Dropbox, as well as upload page software such as File Request Pro and Fileinvite.
Cloud service providers all allow you to request and collect files. They have limitations though, which is understandable given that file requests are not their main remit.
Upload page software is a more professional solution, with options for customising your upload page, embedding it in your website, automating reminders, and so on.
Document collection software can also be adapted to form part of your onboarding process. You can create a new client intake form to gather essential client contact information, as well as an onboarding form that gathers extra business details and files.
If you are already using any of these cloud providers it is tempting to want to keep using them for collecting and sharing files. This is generally straightforward if you want to collect files from people internal to your organisation or who have a cloud provider account. However, easily collecting files from anyone can be more challenging.
GoogleDrive: You can share a folder but your clients will need a Google account. They can also view other files in that folder, which may be a security issue. You need to use a free text field to request files rather than a form, which can lead to confusion. There is no way of automating reminder emails.

Microsoft SharePoint: You can't use Microsoft SharePoint to request files from people outside your organisation. There are workarounds though, as suggested in this article: How can you request files from external partners using SharePoint?
Microsoft OneDrive: This has a 'request file feature', although it is not available for Office 365 Government, Office 365 operated by 21Vianet, OneDrive for home, or Office 365 Germany. The upload form that is sent to people via a link is restricted in terms of design, as well as ability to collect text-only information. It is also quite unhelpful if you want to collect multiple files. Here is the support article for creating a file request for Microsoft OneDrive.
Dropbox: this is probably the best option for collecting and organising files from anyone. Dropbox has a 'file request' feature that allows anonymous uploads. As a downside, you can't customise the experience so it is can be quite basic. You also can't create a standalone web page to collect files.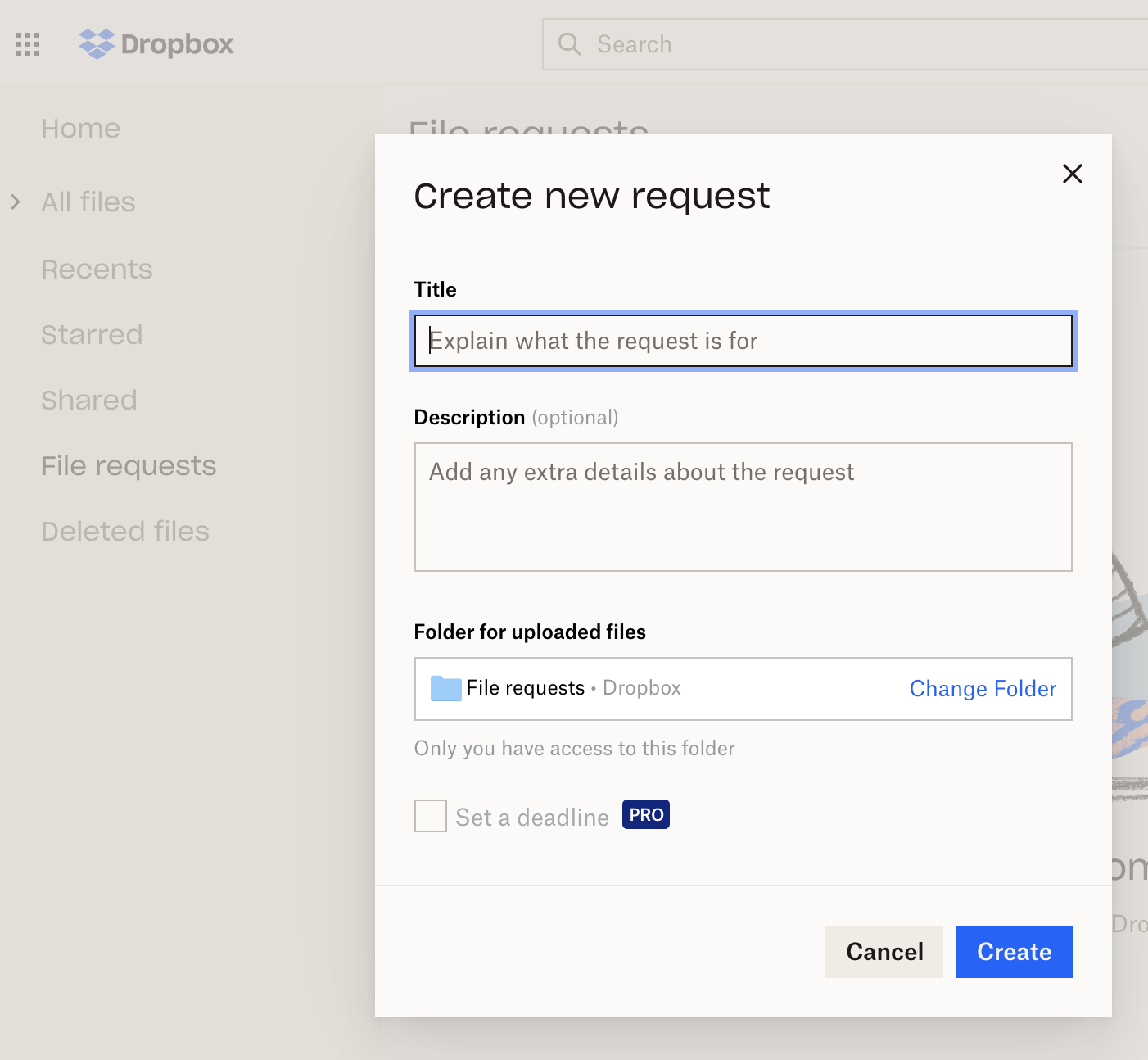 Using file upload software to request files from your clients no matter who they are or what tech they use
File upload software has been designed to do one job: to make it as easy as possible for you to collect and organise files from anyone, no matter what tech stack they use.
You create an upload page (or upload pages) and automate reminder emails to clients. Then you just send clients a link to their own upload page. Clients simply need to fill in any questions on the page and drag and drop the requested files. If they forget, they are automatically reminder on a schedule that suits you.
Examples of file upload software includes File Request Pro and Fileinvite.
File Request Pro
File Request Pro makes it easy for you to create sophisticated, branded upload pages for your clients. They provide native integration with GoogleDrive, Dropbox, OneDrive and SharePoint so files are automatically transferred to these locations already organised into subfolders. Webhooks and Zapier allow for for other third-party integrations. You can also automate file requests, reminders and thank you emails.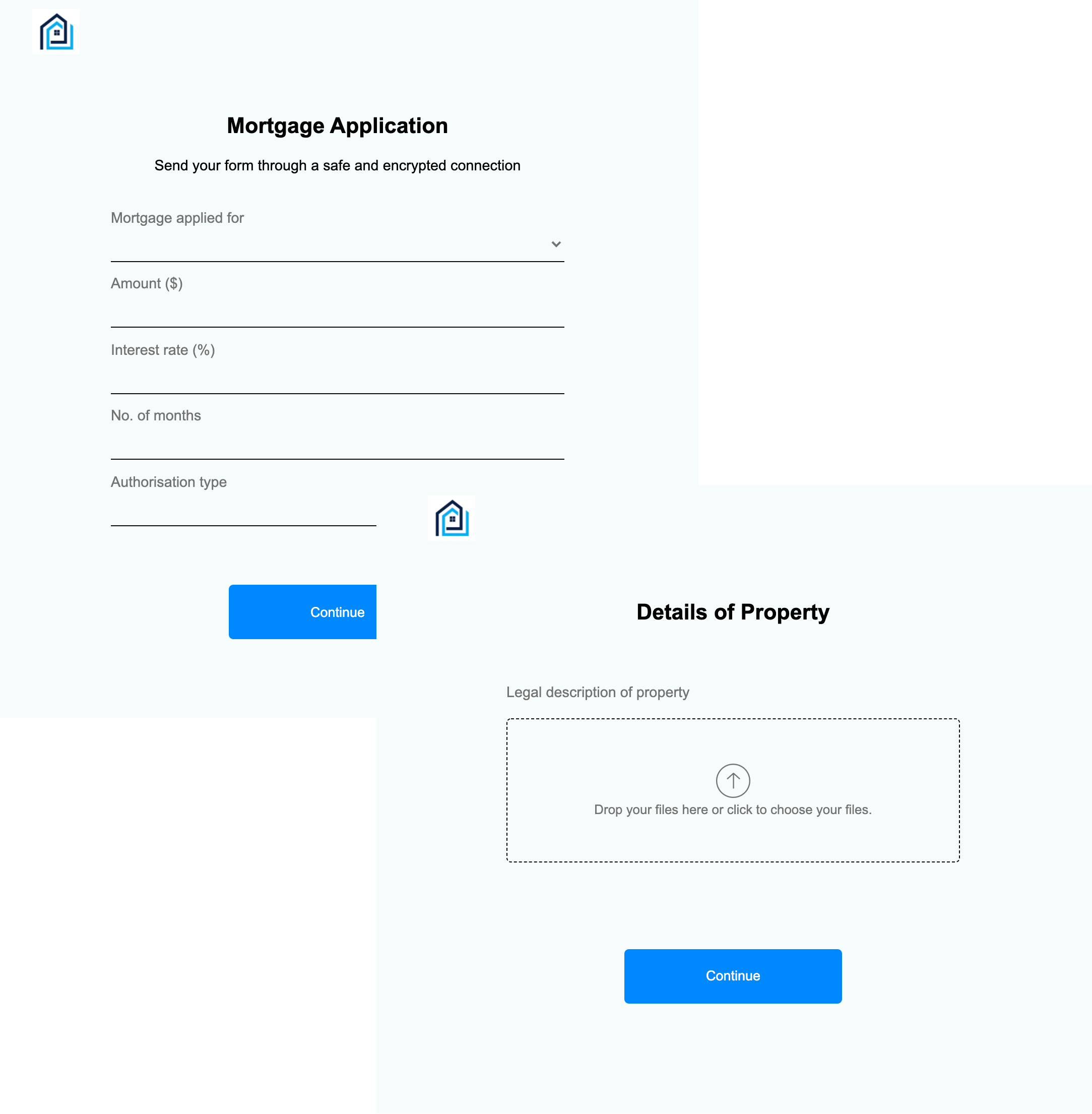 File Request Pro works with companies across a range of industries and are proud to be self-funded.
Fileinvite
Fileinvite targets enterprise companies, with a slightly expanded feature set. They provide esignatures, templates and auto-document enhancements (like auto PDF conversion and collation, file renaming and redaction of data like tax file numbers). They provide integrations with cloud storage providers and some data providers, although only on certain plans.
To get a custom quote contact the company.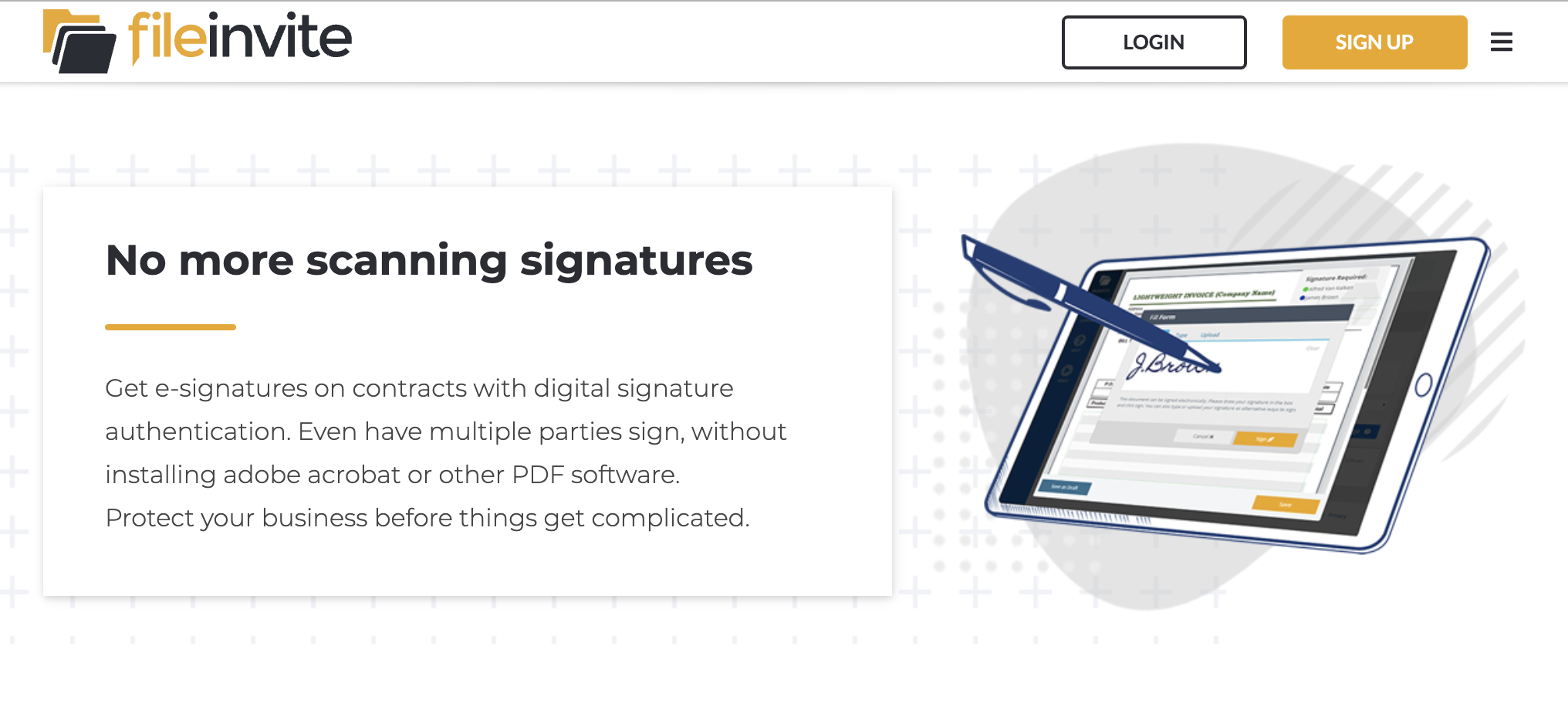 How secure are client portals and file sharing software?
Given that accountants and other finance professionals deal with sensitive and private data, security is extremely important. This makes it all the more surprising that some professionals are still using email for data collection.
Email and local data collection are vulnerable to scammers and hackers. According to security experts Tessian, 74% of organizations in the United States experienced a successful phishing attack in 2020 and 96% of phishing attacks arrive by email.
Most client portals and file sharing software will offer bank-level encryption. This means you can feel fairly confident that sensitive information is safe. Do read the small print though. File Upload Pro, for example, deletes uploaded files from the client page within a month, or immediately if requested. Links are only valid for a week and can be password protected.
The security situation with some cloud storage providers can be slightly trickier. Although they take security very seriously, there are weak spots in terms of shared folders. This help document for Google Drive explains what they do to counteract this issue. Popular cloud storage providers are often the targets of hacking as well. This article examines whether Dropbox is secure.
All software can also be compromised by employee or user error though, so you want to make sure that companies have robust security processes. It's worth considering that larger companies do not necessarily have the advantage here. A notorious Dropbox data breach was caused by an employee using a company password on other websites. The bigger the company the more employees they have to educate and manage.
Do you need a client portal or document collection software?
Client portals and specialist page upload software are a useful way of streamlining the low-value and tedious job of data collection and management while improving the client experience.
Given that they are usually reasonably priced, and often connect well with your existing software and processes, they are a good first step towards modernising your practise without having to do a massive tech overhaul.
Cloud storage providers are a tempting and familiar option for data collection and organisation, but the benefits are slimmer. However, they are often very cost-effective. So it depends on your priorities.
Streamline your file collection in 20 minutes with File Request Pro
File request Pro offers a 14 day free trial. Onboarding takes 2 minutes, which leaves you 17 minutes for customising your new upload page and sending it to your first client. Create your free upload page now.