Have you ever wanted to get a quick insight into what your customers or website visitors think? Or maybe capture leads faster and with less effort? One of the most common ways to do so is with the simple and easy-to-use Google Forms. With only a few clicks, you can create a form and link to it from your webpage.
However, a better way to use Google Forms – one that your customers will trust more and be more likely to use – is to integrate the form directly inside your website. With a little more effort, you can easily integrate a customized survey or contact form into your website – no coding required! In this blog post, we'll explain how to embed a Google Form quickly on any website. Plus, uncover an easier alternative that requires even simpler configuration steps as well as lower maintenance costs.
What are Google Forms?
A free web tool called Google Forms allows you to design and distribute forms and surveys. Since it is a component of Google Suite, which also includes Google Docs, Google Sheets, Google Drive, and several more apps, integrating it with these other platforms is simple.
Embedding a Google Forms form on your website can often be a great way to meet the needs of your company or work team. To understand if it's the right tool, here are some of the advantages and disadvantages of Google Forms.
Advantages Of Google Forms.
Google Forms is a free and user-friendly platform for creating forms.
It is easy to create and design forms.
Google Forms is part of the widely used G-suite platform.
However, customization options and embedding options are limited.
Google Forms can manage event registrations.
It allows for the creation of opinion polls and quizzes.
No special software is required to use it.
Form submissions are received instantly.
Data collected can be displayed visually with charts and graphs.
Downsides Of Google Forms.
Naturally, Google Forms' design and functionality are limited as it is a free tool. Some of these limitations are:
Design and customization options are limited, and the form will always look like a Google form.
Form logic options are limited, and customizing the form's path for each user's needs is not possible.
Browser and device optimization is not perfect. Embedded forms often don't work well on mobile devices.
Potential for spam or malicious responses: As Google Forms are openly accessible via a link, there is a possibility of receiving spam or malicious responses from anonymous users.
It's important to weigh these drawbacks against the benefits and specific requirements to determine whether sharing a link with Google Forms is the best solution for your needs.
Steps For Making a Google Form.
In just a few simple steps, you can create your own form in Google Forms:
Step One: To begin creating a new form or quiz, go to forms.google.com and in the "Start a new Form" section, select the "Blank" with the Plus sign.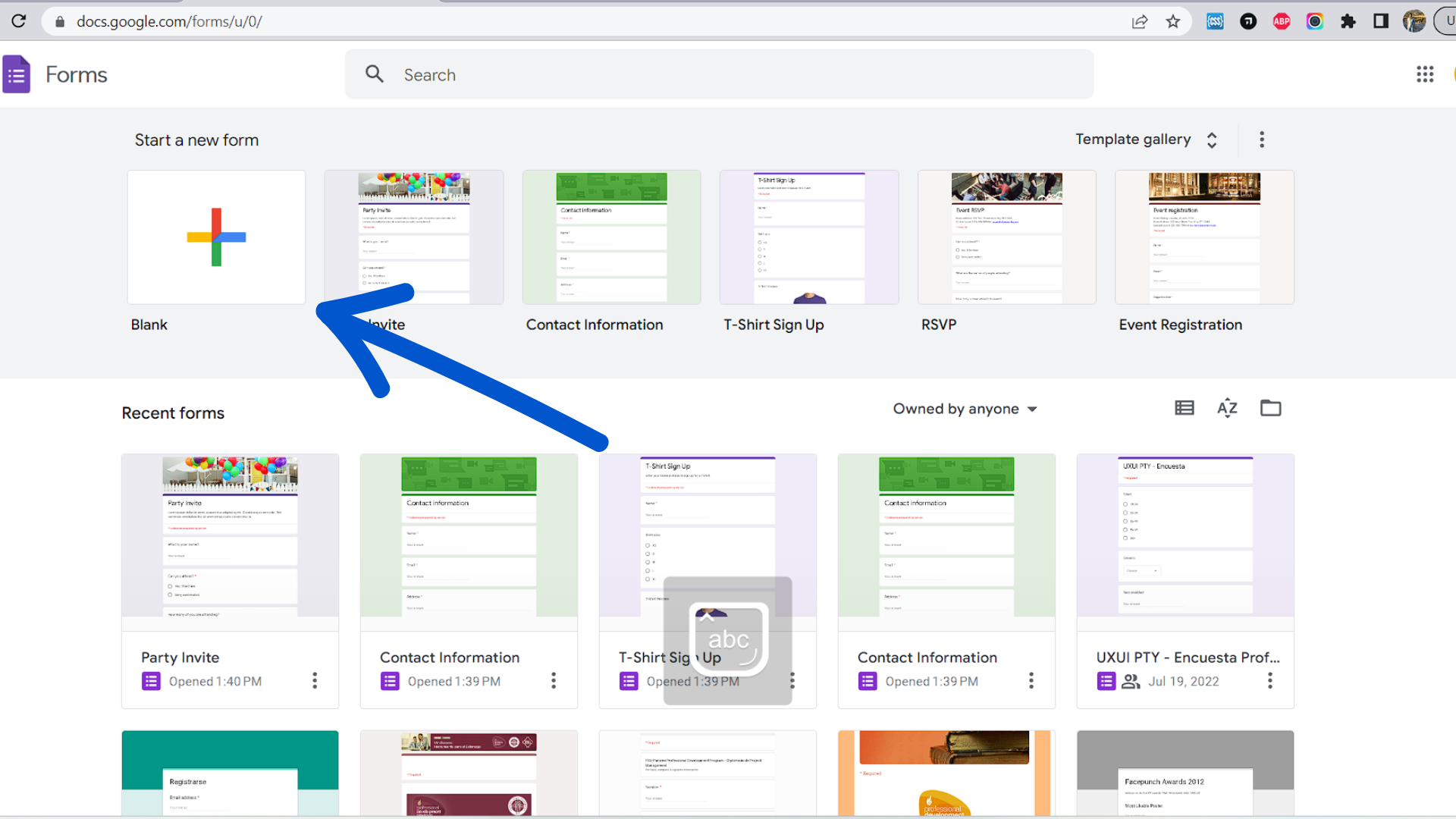 Step Two: Name your form and choose whether to create it in:
Google Drive.
Google Sheets.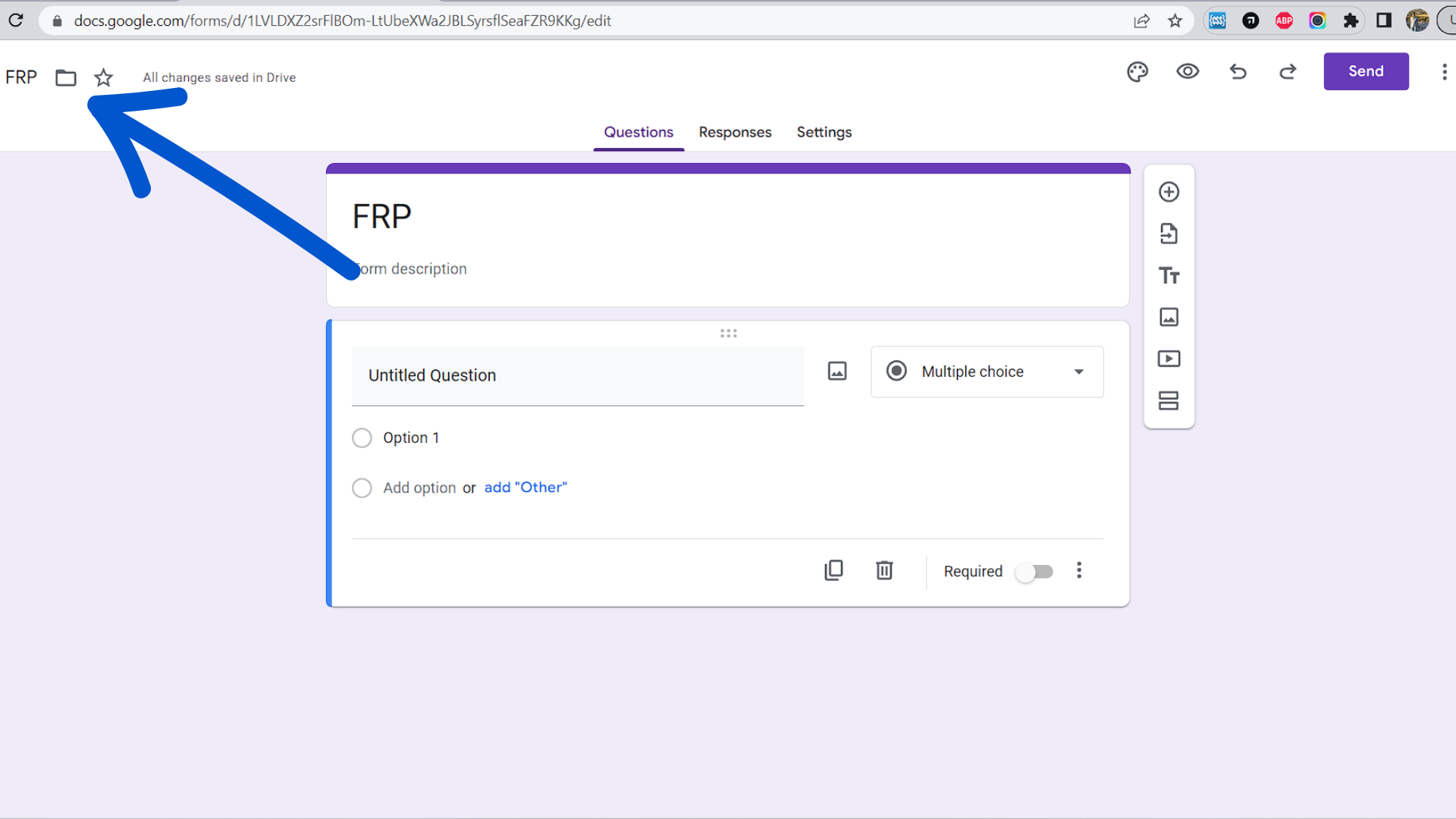 Step Three: Customize your form by adding, editing, or formatting text, images, or videos.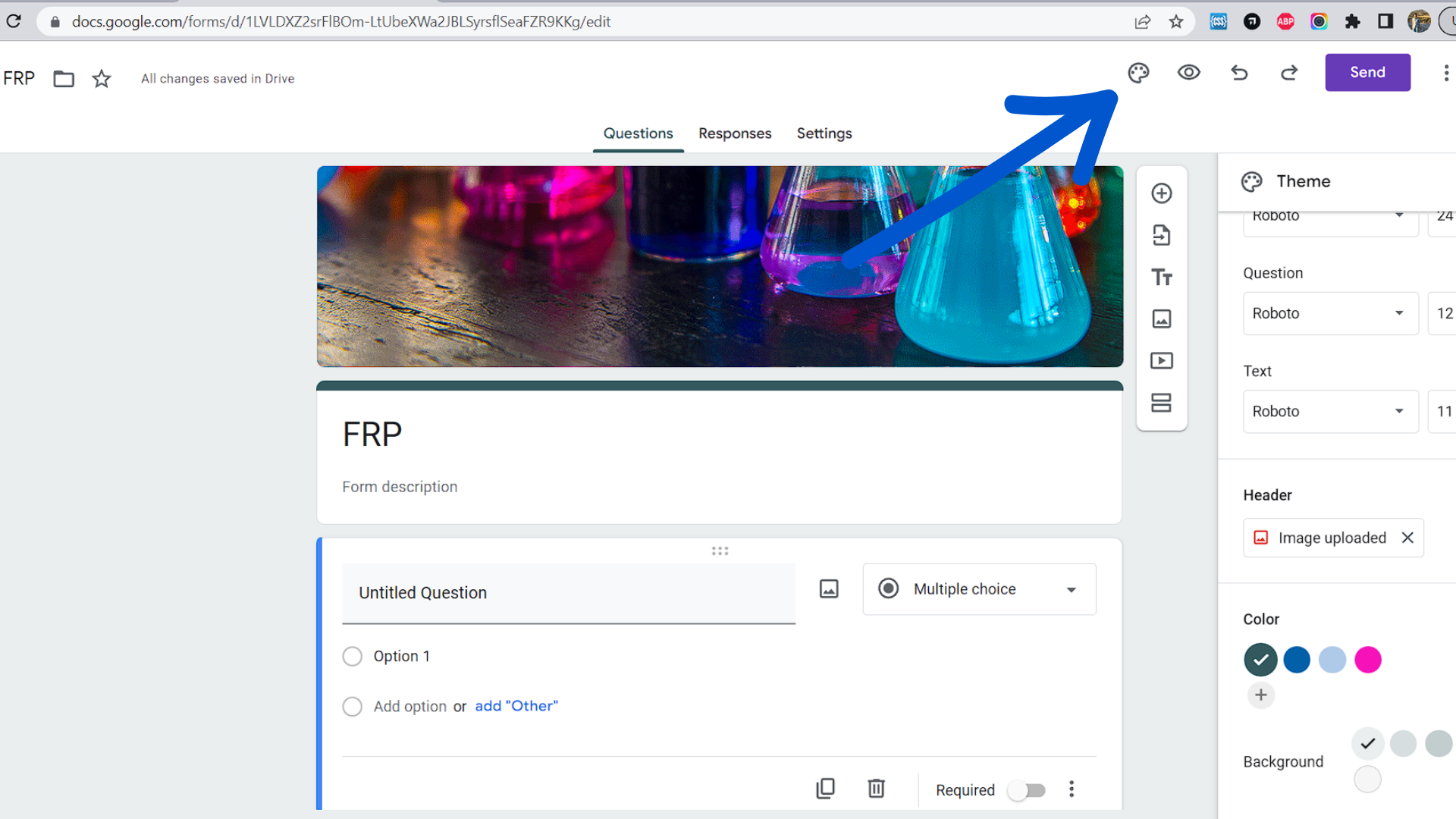 Step Four: You can also create a quiz using Google Forms.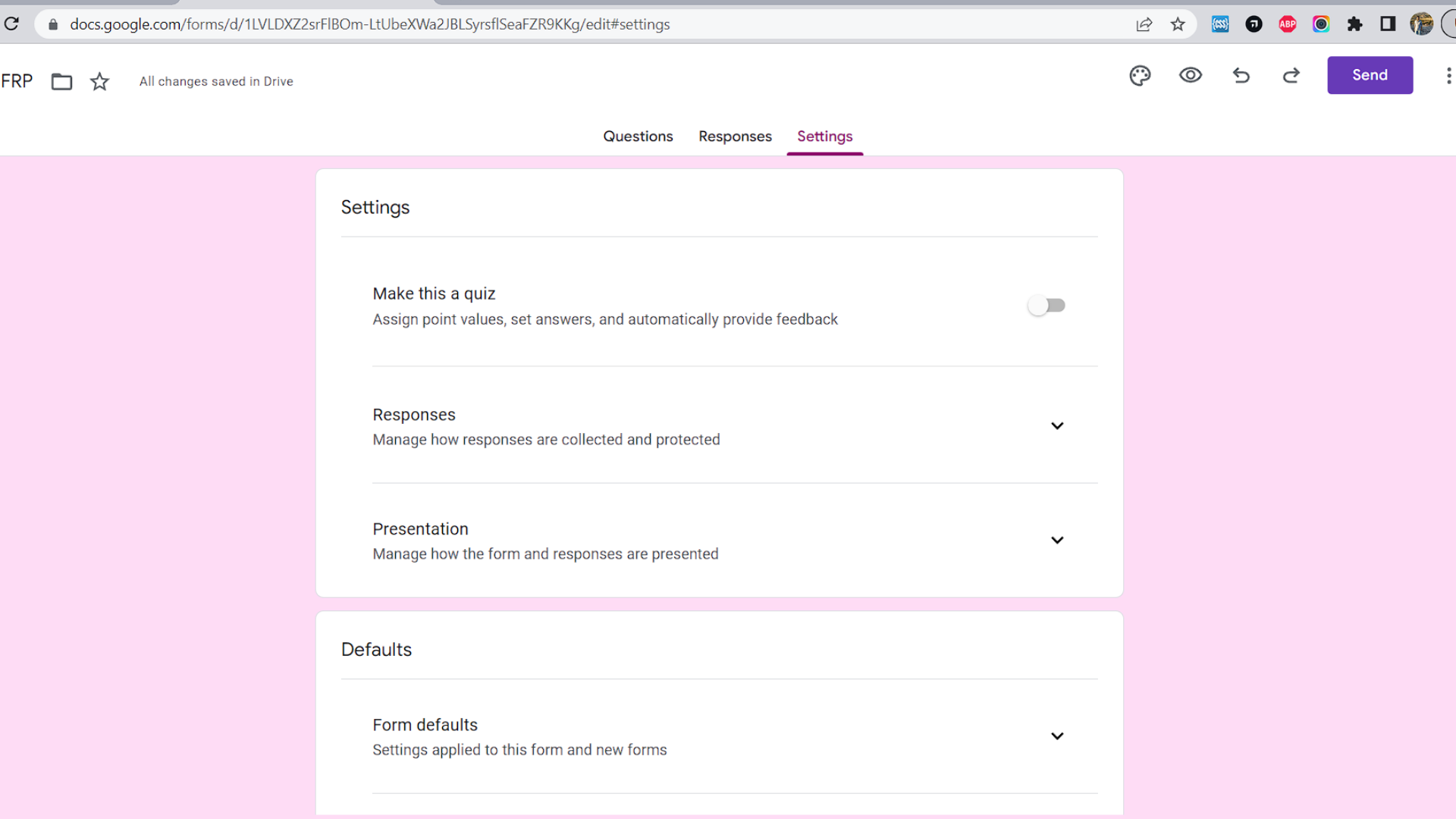 Step Five: Choose where to save the responses to the form.
Step Six: When ready, send the form to others to fill out and collect their responses.
Following these steps, you are ready to create your own Google form! As we said before, Google Forms is a fantastic tool with a user-friendly interface and shareability features that make it an excellent choice for anyone looking to collect data and feedback from multiple sources.
With responses stored in a Google Sheets spreadsheet, you can easily track and analyze the data you receive, which makes it a great option for simple and quick intake forms. If you would like to learn more about how to create an Intake Form with Google Forms and other cheap form builder options available to you
Google Forms can serve as an easy and cheap tool for your company, but as we have already seen on its downsides, the forms created by this tool cannot be edited and stylized so that they better represent your brand and that your clients quickly recognize that this form comes from your business. Some clients may also lose credibility in your business, as they consider that a properly established company should have a more professional and properly branded form or way of collecting customers' data.
One way to minimize these issues will be to embed your Google Forms into your website or another source that comes from your company so that there is no doubt about who will receive the data that your clients fill out the form.
Embedding a Google Forms into Your Website.
Let's take an in-depth look at how to embed Google Forms into your website using step-by-step instructions that even beginners will be able to follow! After an introduction to why embedded forms are important for modern websites, let's walk through what you need to do so that you can quickly deploy interactive Google Forms directly onto any page within minutes!
Follow These Steps to Embed the Form in A Website.
Step One: Select the symbol with two pointy brackets (< >) next to the "Send via…" options in the "Send Form" pop-up.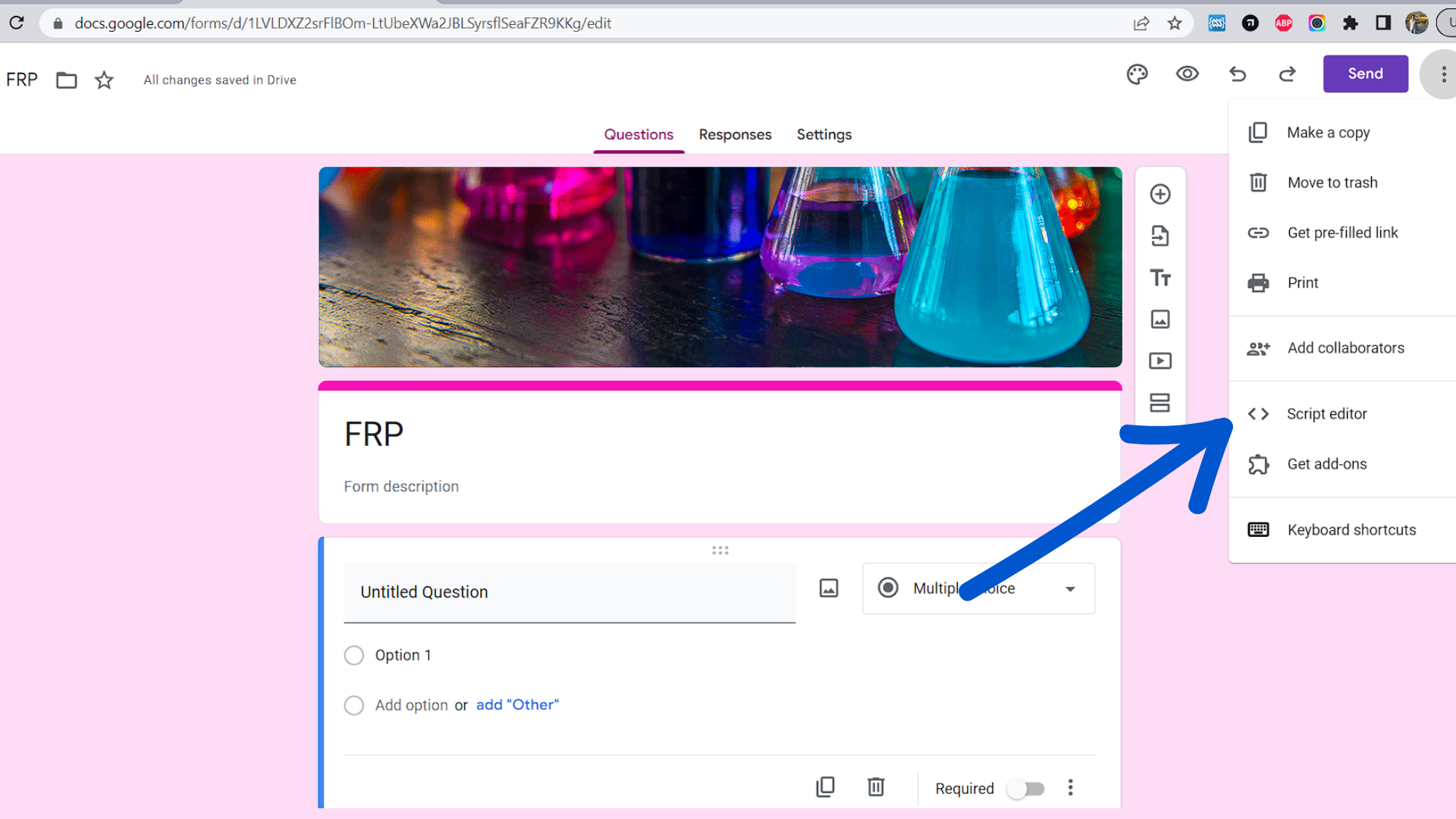 Step Two: Click the Copy button or press Ctrl + C (Windows) or Cmd + C (Mac) on your keyboard to copy the HTML that is displayed.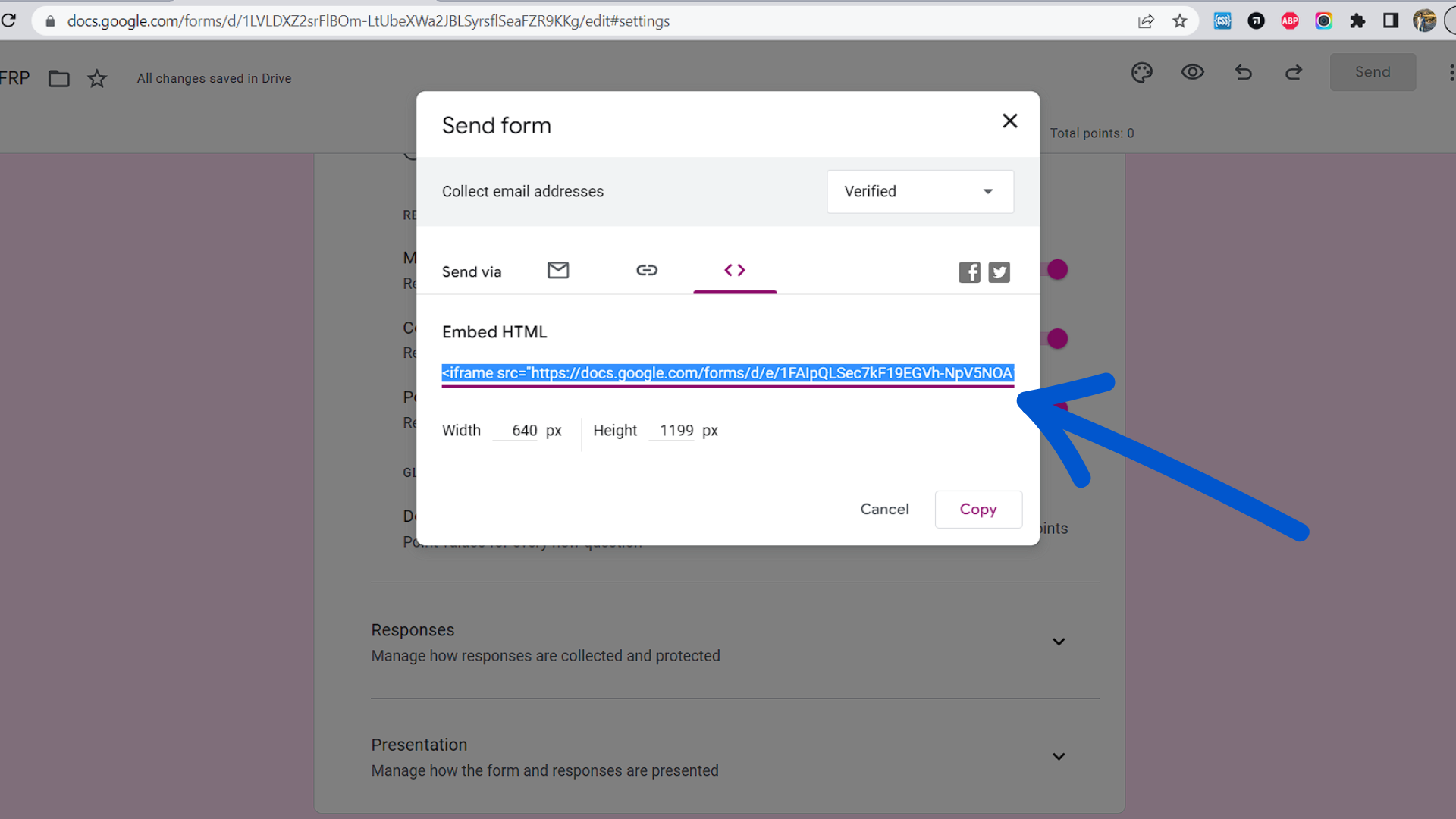 Step Three: An iframe on your page will contain your form. You can choose to change the iframe's height and width. Keep in mind that iframes could affect usability. Sometimes it looks strange or doesn't fit on the page, especially on mobile.
Step Four: Paste the code into your website where you want it to appear, typically in the page's body.
Now after following all these steps you've accomplished the integration of your form into your website.
The ability to share a URL of your domain with your users is this option's largest benefit. Your customers will feel more comfortable filling out a form located on your website as opposed to a widely shared form hosted on Google.
If among the needs of the form that you have created is to make your client able to upload files, there is another article on how to upload files using Google Forms, but it must be noted that there are other options and approaches to developing forms for your website that do not require writing a single line of code and also do not have the drawbacks or limitations of Google Forms. Let's look at some of the alternatives available.
Google Forms Alternative – Form Builder Software
It's time to look at Form Builders as a Google Forms alternative. This software allows users to effortlessly create customized forms that are far more engaging than standard Google Forms. With these tools, you can create forms that are tailored specifically for your business needs with great features such as drag-and-drop blocks and auto-calculations – all without any technical expertise!
Form Builder Recommendations.
Nerdy Form: Businesses and organizations can quickly and easily create customized online forms for websites and applications using the intuitive, dependable, and user-friendly form builder web app Nerdy Form. You may create and use a variety of forms using Nerdy Form to optimize workflows, boost effectiveness and productivity, and improve user and client happiness.
With the use of the form builder tool, lead generation, contact, sign-up, subscription, event registration, survey, order, return purchase, application, and customer service forms may all be created without the use of any code.
Forms.App: is a tool for creating online forms and surveys. It enables users to create forms rapidly and easily. It is driven by a user-friendly web-based interface that may deliver the required and preferred form structure according to a user's preferences. To create and amend a form on the platform, no coding knowledge is necessary. It covers form design, form restrictions, and features for money collecting.
Forms.app can be used to organize gatherings or discussion forums where people can post their queries on any topic. Email, Facebook, Twitter, and WhatsApp are all viable options for doing this. Users are guaranteed to see results right away on a single platform.
File Request Pro: this is a cutting-edge file-sharing platform designed to ensure secure, hassle-free, and swift file requests and receipts. This cloud-based solution offers a streamlined approach, allowing users to establish an online hub where they can effortlessly generate and dispatch file requests.
In addition to the file request itself, users can conveniently share a browser link with recipients, enabling them to effortlessly drop files, folders, images, and more. The recipient is not required to create a separate account, as the process is as simple as drag-and-drop. This seamless experience is both quick and user-friendly.
There are many features and functionalities in the form builder web app that increase efficiency, productivity, and user experience. Based on the information users have submitted in the forms, conditional logic enables forms to rapidly modify and show or hide information and fields. Forms with many phases and file uploads are supported!
Your customers are able to send great amounts of data and documents in an orderly, effective, and comfortable manner, and so the likelihood of a successful form submission and lead conversion rises as a result. After users complete and submit forms, you may also automatically reply to their emails. You'll either reassure them that you received their paperwork or nag them about missing information, deadlines, progress reports, or follow-ups.
Moreover, cloud-based file storage seamlessly integrates with popular services like Google Drive or OneDrive. Any files shared through the link automatically appear in the user's document storage account. Immediate email confirmations are sent to notify users of the arrival of new files.
Why Is Better to Use a Form Builder Than Google Forms?
Although it cannot be denied that Google Forms has one of the biggest advantages against any form builder (It's free), a dedicated form builder stands out by providing advanced features and functionalities that go beyond the capabilities of Google Forms. These form builders offer an extensive range of options to customize your forms, allowing you to create a unique and branded experience for your users like different form layouts, colors, and fonts to adding custom logos and backgrounds, the level of customization available with a form builder empowers you to craft forms that seamlessly blend with your website or organization's design.
Furthermore, form builders excel in integration possibilities, allowing you to connect your forms with a wide array of third-party applications and services, including those of Google! This level of integration helps you automate data transfer, eliminate manual tasks, and maintain consistency across your digital ecosystem.
Final Thoughts.
After looking at the benefits of using a Google Form and other alternatives, it's clear that integrating a form into your website can lead to an improved user experience for your visitors. Using forms with Google Forms is relatively straightforward once you know what steps to take, although it has its kinks. The drawbacks can be considered depending on the type of data you are collecting and whether it is suitable for using Google Forms.
The decision comes down to weighing up each platform's advantages and disadvantages and which cost-benefit analysis allows you to achieve the desired outcome – having a functional form integrated with your website.
By choosing a form builder, you gain access to a more professional and tailored solution for your form-building needs. These platforms offer a comprehensive set of features, customization options, integration possibilities, and dedicated support to help you create highly functional and visually appealing forms. By leveraging the capabilities of a form builder, you can enhance your form-building experience, streamline data collection, and achieve your desired outcomes effectively.