Google Drive is a fantastic, popular tool that lets you collaborate with other Google users using shared folders. However, your clients need a Google account to upload to your Google Drive or to send you a file using Google Forms.
This is why we built File Request Pro. You can continue to use Google Drive for safely storing files and File Request Pro to professionally collect and automate file collection from anyone without them needing an account or to log in to specific software.
Use a file upload service that connects natively with Google Drive 
File Request Pro provides you with an easy and secure way for anyone to send you files, without needing to download an app or log in to a service. Simply send them a customised upload page, they drag and drop large files or folders onto the page. Those files are then sent directly to a specified Google Drive folder, organised by any value you choose.
You can even use File Request's cloud storage (included with a monthly plan) if you temporarily run out of space on your Google Drive.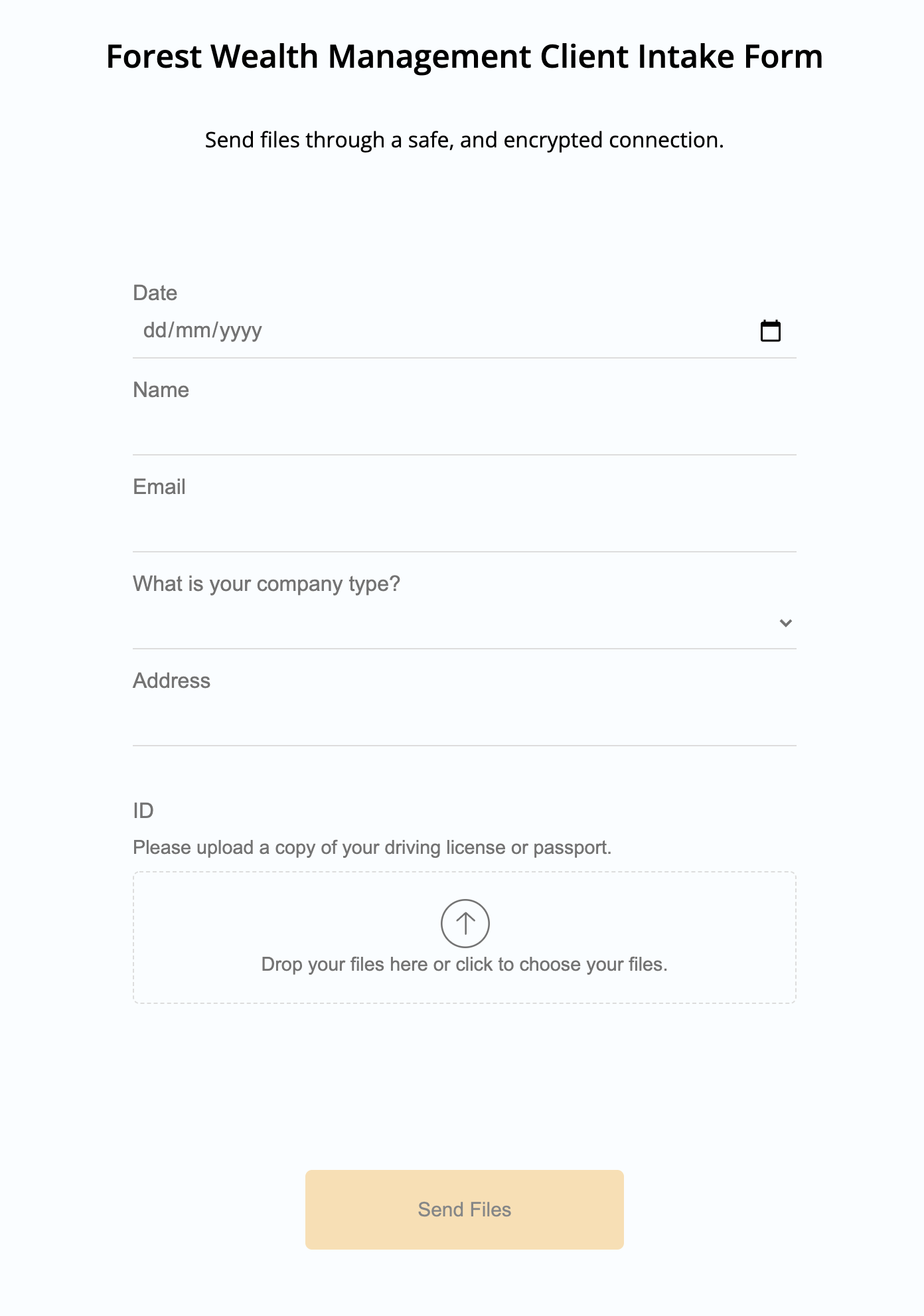 Easily receive large files and folders in your Google Drive
File Request Pro is really easy to use. Once you've signed up for a free trial account select 'Connect Google Drive' and allow permission. That's all it takes to connect your Google Drive account.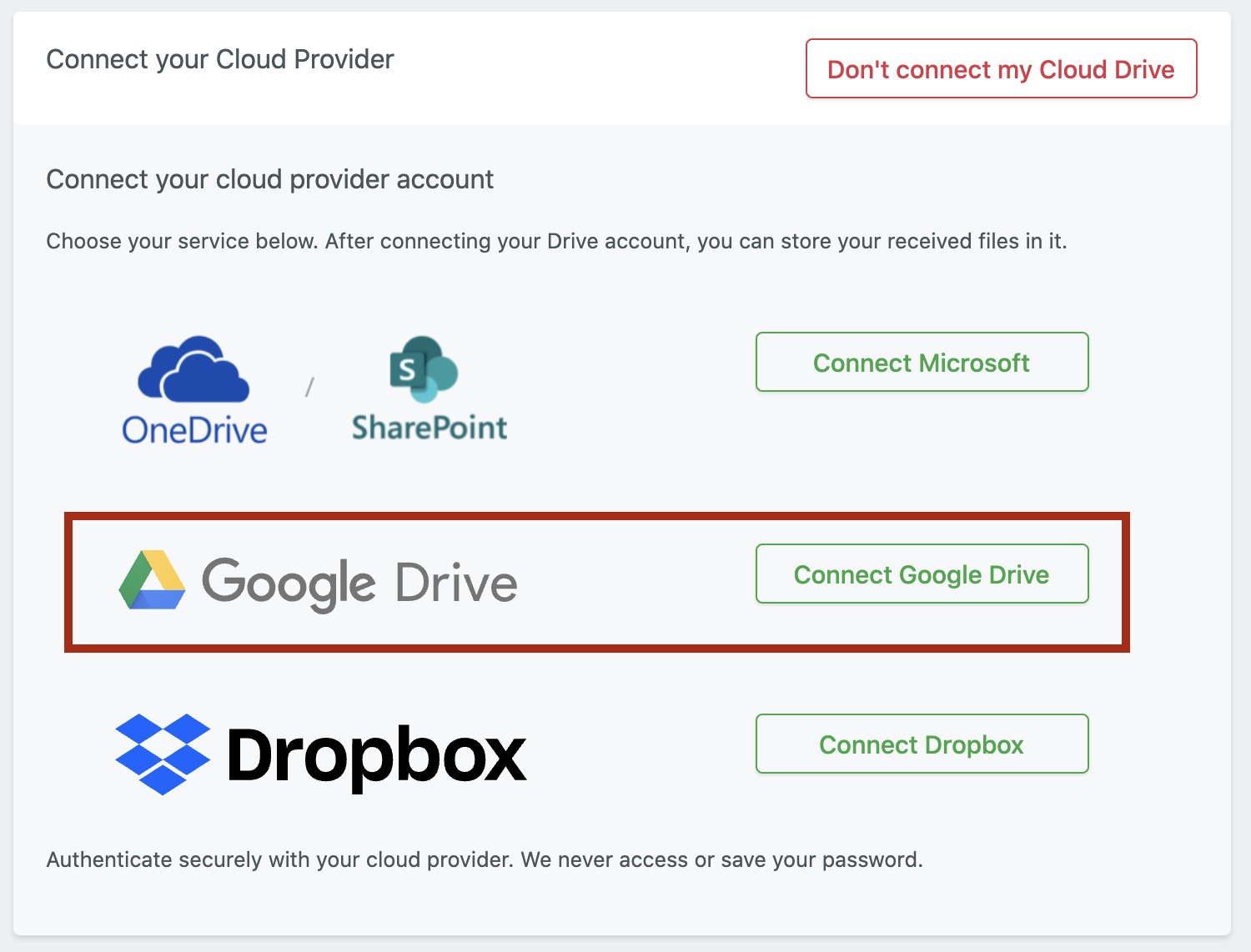 Then select 'Add new page'. You'll see various options allowing you to change the look and feel of your upload page. You can add your company logo, colours and branding and whatever text you need for the page header, dropzone text, your success message and so on.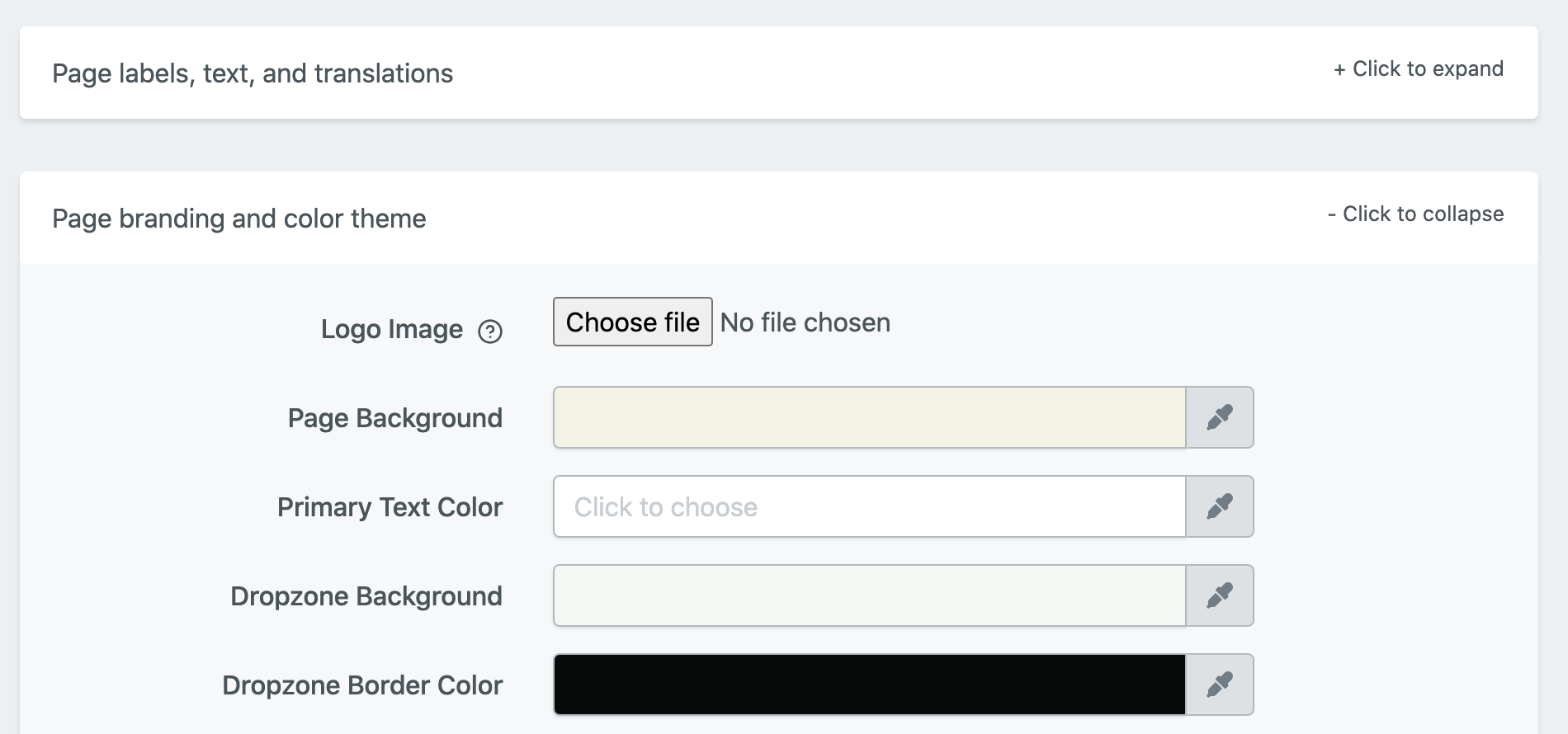 Choose whether to make the page public, open to invite only or password-protected. You can even choose to customise the URL you send people.
File upload software and form builder rolled into one
Once you've made as many customisations as you need, you can add form fields. Although our product is based on the idea of having an intuitive 'File upload field' where you can specify file type, size, description and rename files as well, we also offer many other form fields for collecting extra information.
File Request Pro also supports 'classic' one-page forms (with subheadings if needed) as well as multi-page forms.
So File Request Pro is basically upload software and form builder rolled into one (and other things besides!). You can even add conditional logic to form fields, to ensure that your clients only see questions – or pages – that are relevant to them. 
It's much easier to get the correct files you need from clients by using a smart user interface that guides them through the file collection process, rather than dumping instructions in one text field and wasting time with back and forth emails specifying exactly what you need and how to send it.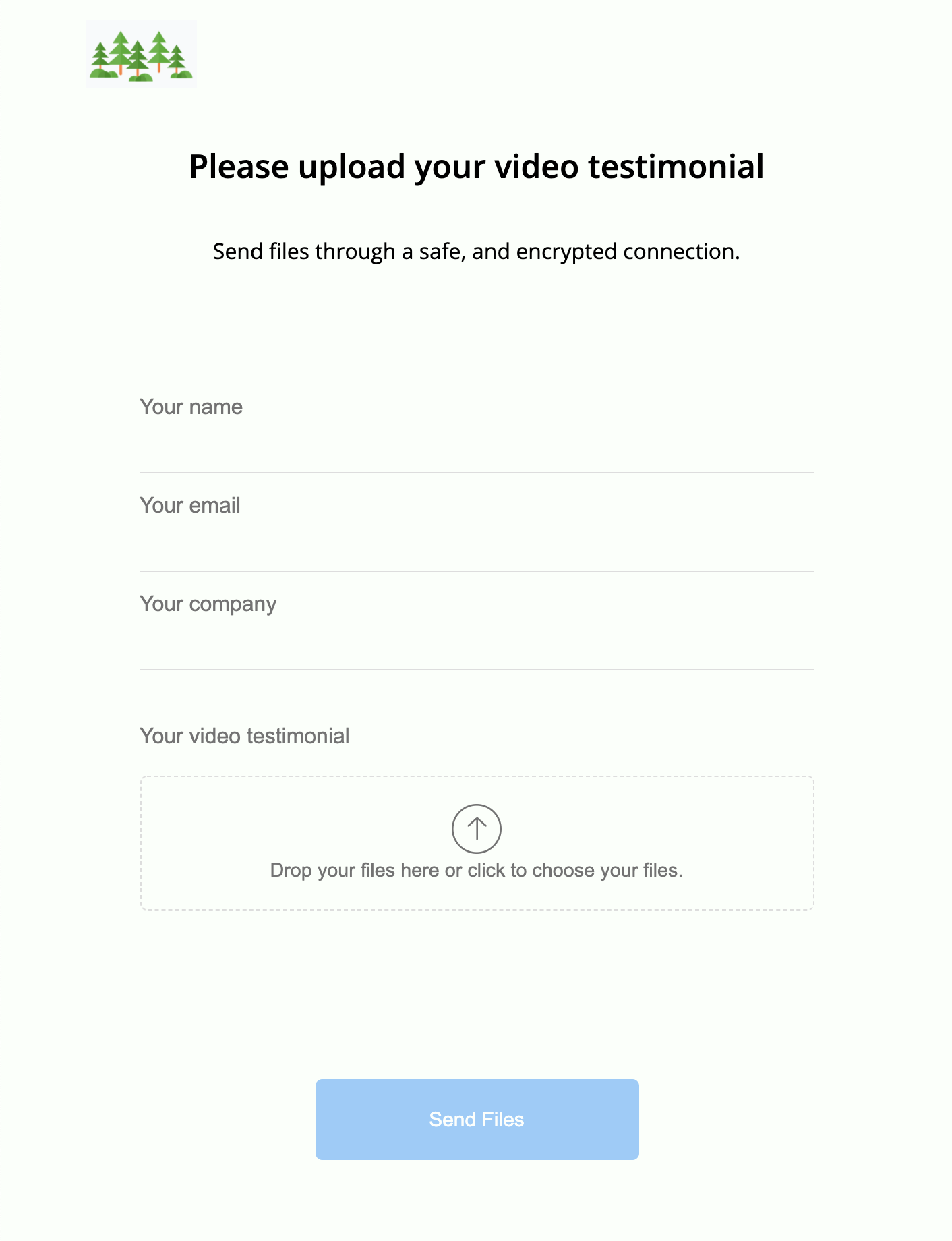 Once you've added any extra form fields, simply send your clients a link to your standalone and secure upload page (or duplicate your upload page to quickly personalise it for different clients). Or you can embed your upload page in your website, by cutting and pasting a few lines of code.
Save hours of your time automating the boring bits of file collection
Files and content are sent automatically to a folder of your choice, using whatever value you choose (this is called dynamic file organisation). This will save you hours of time and hassle manually organising content and files, and trying to match it up to emails and client names. It will also mean fewer errors connected with lost and mislabelled files.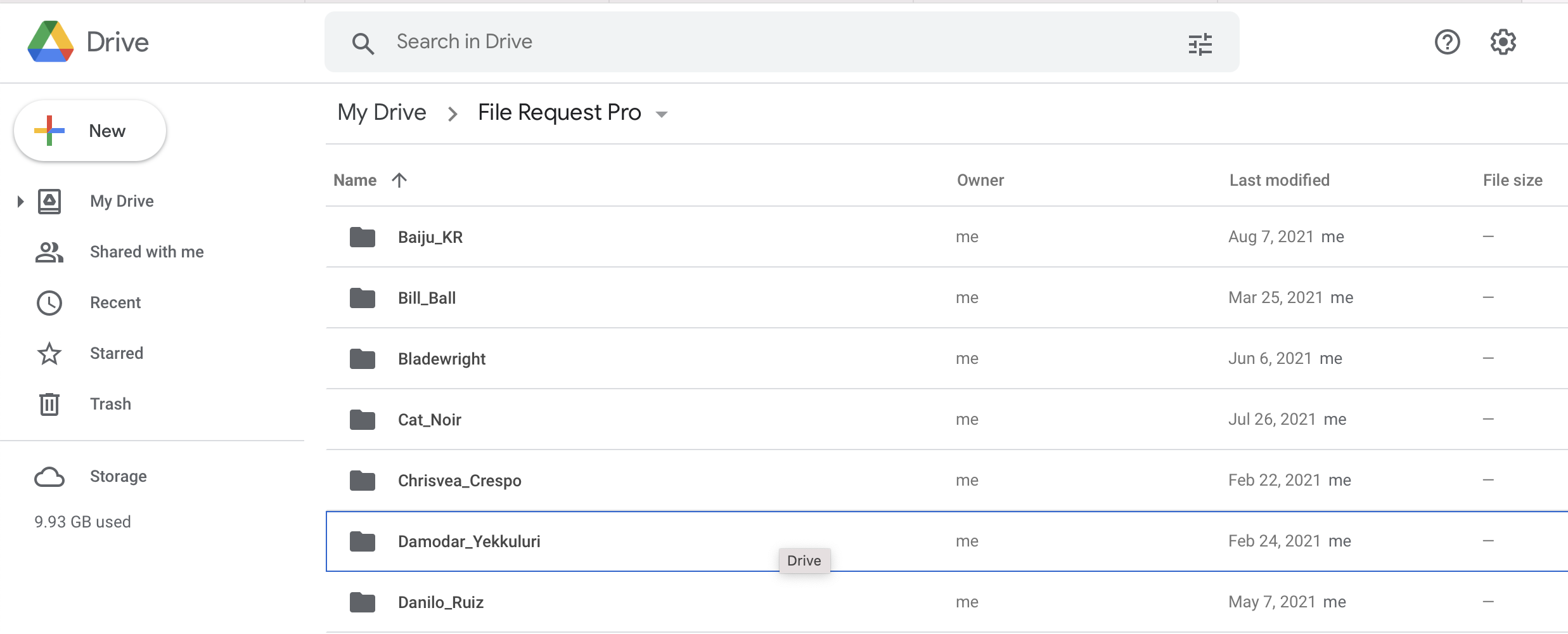 You can also automate an email reminder sequence, as well as thank you emails. This saves all the hassle of manually chasing clients for content, and reminding them of deadlines. Make content come to you rather than the other way round.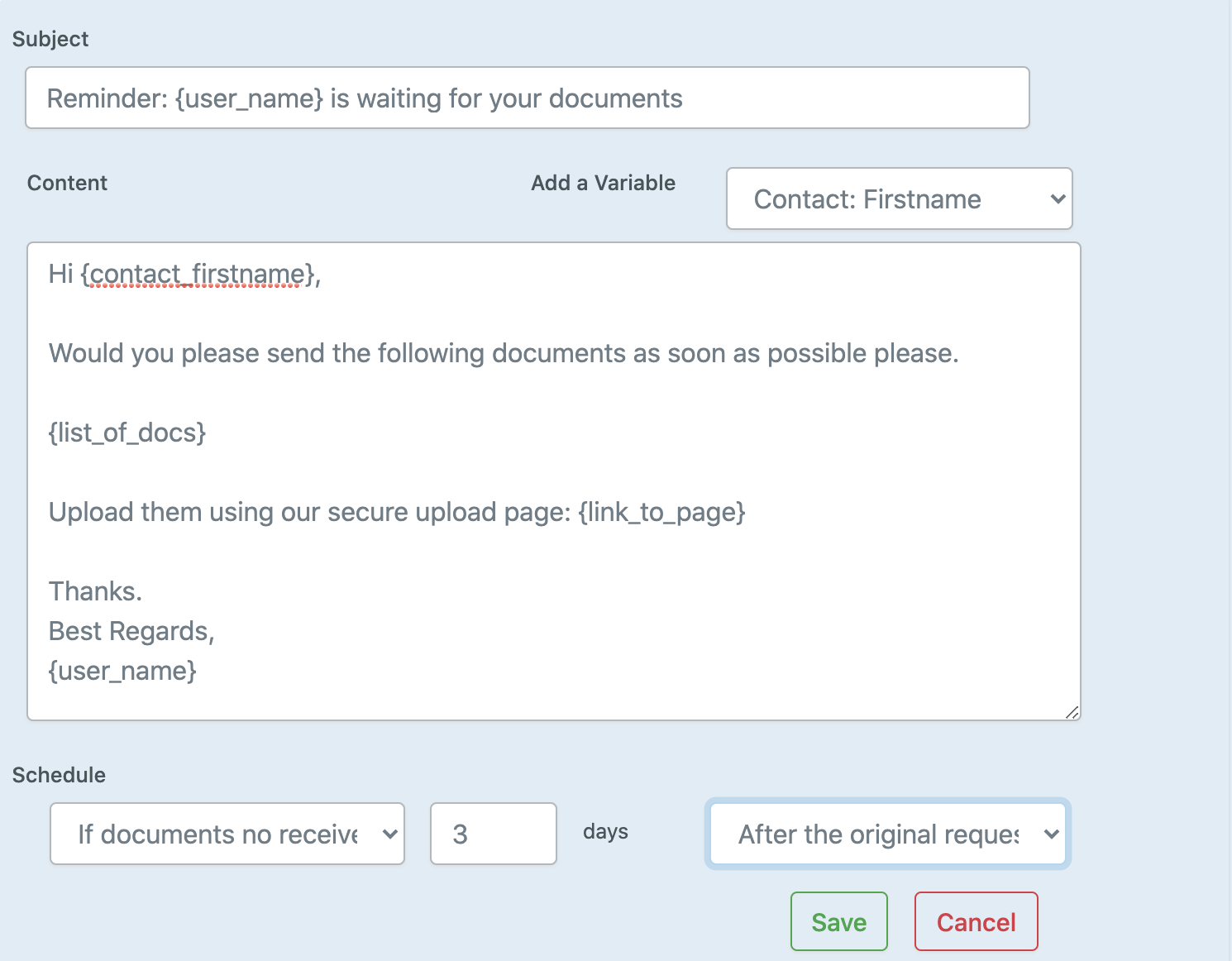 Keep confidential client files secure
Although Google Drive take security very seriously, there will always be some issues with shared folders. Pro-consumer company Comparitech even goes so far as to say: "One of the security trade-offs that results from the convenience that comes with link sharing is that your supposedly private Google Drive files can be easily discovered and exposed." 
With File Request Pro you can avoid link sharing and keep confidential client files and content secure. All our user data is encrypted at rest using AES 256-bit encryption algorithm. For detailed information about our security best practices read our security commitments.
Why use a file upload service as well as Google Drive?
Secure and professional way to allow anyone to send you files without needing to sign in or download anything
One-click integration with Google Drive, meaning files are automatically sent to folders specified by you
Automated file organisation, reminders, requests and thank you emails, which saves you time chasing clients for content
Bank-level encryption meaning clients feel confident about sending you files and you are less likely to suffer from fraud
Interested in using File Request Pro with Google Drive?

File Request Pro makes it easy for you to allow uploads from anyone, anywhere, direct to your Google Drive. Accept any type of content and files, create as many upload pages as you need, and have multiple admin users so your entire team can be involved. 
File Request Pro has a 14 day free trial. Find out more.