Each time you meet with a new client, think of all the information you need to onboard a new client. Have you been using paper forms and looking for an alternative? Consider gathering your legal client intake form digitally. Keep reading about how electronic forms can help transform your practice, and see how they can help get the information you need.
The legal process is information-driven and requires a longer onboarding process to the company. While onboarding, you'll need to collect relevant documentation and personal information relating to their case. Generally, you don't charge your clients for this process, which is why it's so important to streamline the operation to make it as quick and efficient as possible.
Why create a legal client intake form?
A legal intake form helps to initiate the process for keeping good records. The information you collect will be used to track and provide the best possible representation for your client. You should always have an up-to-date intake form to ensure that all information is private, confidential and secure.
When you start using an intake form with your clients and potential clients, you'll be able to show that you're professional from the get-go and earn their trust quickly. By using an intake form with your clients, you can make sure you're on the same page and that your client understands what to expect from the process saving hours of back and forward with emails, calls, etc that usually cant be billed.
Some benefits of digital client intake legal forms
Forms are accessible anywhere

Reduces risk of errors

Easily sort information

Collects information before meeting with a client

Customize forms specific to your needs

Faster turnaround time

Easy follow-up

Sustainability for the environment

Efficiency
Guidance for creating a client intake forms for your law firm. 
There are a variety of ways to create an intake form for your law firm. The following includes a brief list of options and some questions that you might want to think about when designing yours.
The first form can request contact information to reach a potential new client. Here you get some idea of why this client wants to hire a specific law firm. You can also include where they are at in their process of finding an attorney. Today, you'll find that many people will contact you online. It is a great way to get the first introduction.

Filtering incoming clients can help streamline the process in the office. This allows staff to schedule or not schedule; to find out if you are a good fit for them or vice versa. It's okay not to work with a client. If the case is too much for your workload or out of your spectrum, refer them to someone in your network.

Take the time to include questions that may make you reconsider working with them. Is there a conflict of interest? Could their case not be tried? You have a reasoning behind your choice, and it is great to know if this is worth the time and effort upfront.

Collect details of their claim or case such as where, why, who, or what was involved. This can help pinpoint highlights of what is most important to their case.

Introduce your practice. This follow-up form can be sent automatically once an appointment is confirmed. Here you can outline the expectations from both parties, fees, and what will be covered at the first consultation. Include any other documents that need to be signed as a new client.

Forms should be user-friendly which only encourages the potential client to complete them.

Can a client complete them on their phone or laptop? Does it need too much information all at once? Looking at completing this form as a client will help with the compliance of paperwork.
Following some of the ideas listed above can help gather the information needed before getting started at an initial consultation. 
How should I create my client intake form?
These days, documents that used to be hand-delivered at the accounting office have to be done digitally (by email or personal Dropbox) or through courier services.
Regardless of the method you use to share information, privacy must always be your #1 concern, especially since the case records contain information that could be used for identity theft or other malicious activities if it landed in the wrong hands.
Offline intake forms.
Offline intake forms are paper-based forms that are used to collect relevant information about a client. It is usually done in person and the first meeting. If these are done in person and on paper and at the first meeting, you're wasting valuable time from the beginning. Taking the forms online, it becomes easily accessible to your clients. File Request Pro offers an easy solution to digital forms. It allows a practice to move efficiently through the new client process.
Email password-protected documents
Your emails may not be encrypted, and thus any private information you're about to send, can be intercepted by a third party. This can lead to serious security risks in terms of intellectual property theft or leaked company data.
The American Bar Association (ABA) lays out specific rules for professional conduct relevant to lawyers. According to Rule 1.6 of the Model Rules of Professional Conduct, also known as the Client-Lawyer Relationship, a lawyer "shall not reveal information relating to the representation of the client unless the client gives consent. Therefore using email may not be a possible option.
Use a Secure Form or Upload page.
Another way to transmit documents is to use a secure portal or upload page to upload them.
File upload page software is part automation tool, part file upload software and part form builder. It provides you with an easy way to request and organize files.  Clients are not required to log in, and the user experience should be more like filling in an online form rather than learning how to use complex new software.
An effective legal client intake  form should be simple for your clients to use and guides them through what they need to upload.
This example has been created using File Request Pro: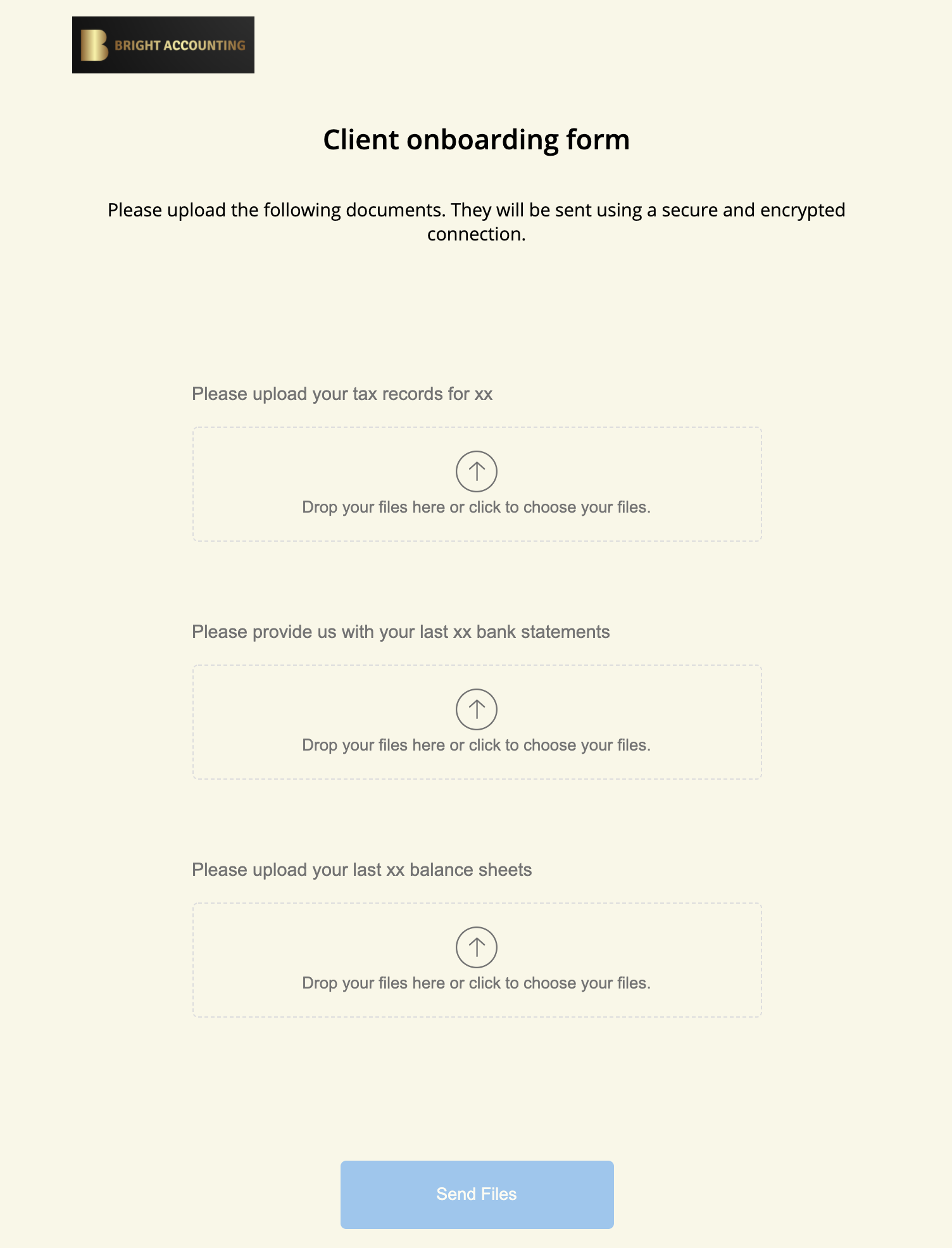 If clients are sending you private and confidential data, you must make sure your data collection process is secure and trustworthy. Using unencrypted email or even links to shared cloud folders can be problematic.
In contrast, File Request Pro provides you with a secure way to collect data that is still easy for your clients to use. All our user data is encrypted at rest using AES 256-bit encryption algorithm.
If you're a client, you can recommend this program to your Lawyer to help keep your own documents secure.