Requesting, collecting and organising electronic files from clients is an increasingly important aspect of running your business. However, it can be hard work. Clients don't have the same software or cloud storage provider. Email is messy and insecure.
So what is the best software to make the file request process as simple and streamlined as possible? So you can concentrate on your core competencies, and provide a good customer experience? We'll help you find out.
Cloud storage providers are extremely popular. They are easy to use, often very good value, and trusted by millions of people worldwide. To an extent, you can use all cloud storage providers to collect and organise files. However, they are primarily a cloud storage solution rather than file request software. So you can expect some drawbacks.
You only have a few text boxes to get people to upload the correct files and content. Clients tend to skim this kind of guidance and don't always send you what you need.
You can't customise the document upload experience so it doesn't look that professional for clients and partner companies
You usually need to use a bit of a workaround to get files and content from people external to your organisation
The document collection process can't easily be automated (for file requests and reminder emails) so can be time-consuming if you do a lot of document collection.
Google Drive is a cloud-based storage solution that lets you upload your files to the cloud so you can access them anywhere using any device. The standard Google Drive option gives you 15GB of storage for free. The business version is available as part of Google Workspace. This is a collection of 19 apps that help you work collaboratively with your team.
To collect files using Google Drive you need to use the 'share' feature. This works fairly well for people within your company, but becomes more problematic if you need to collect content and files from people external to your organisation.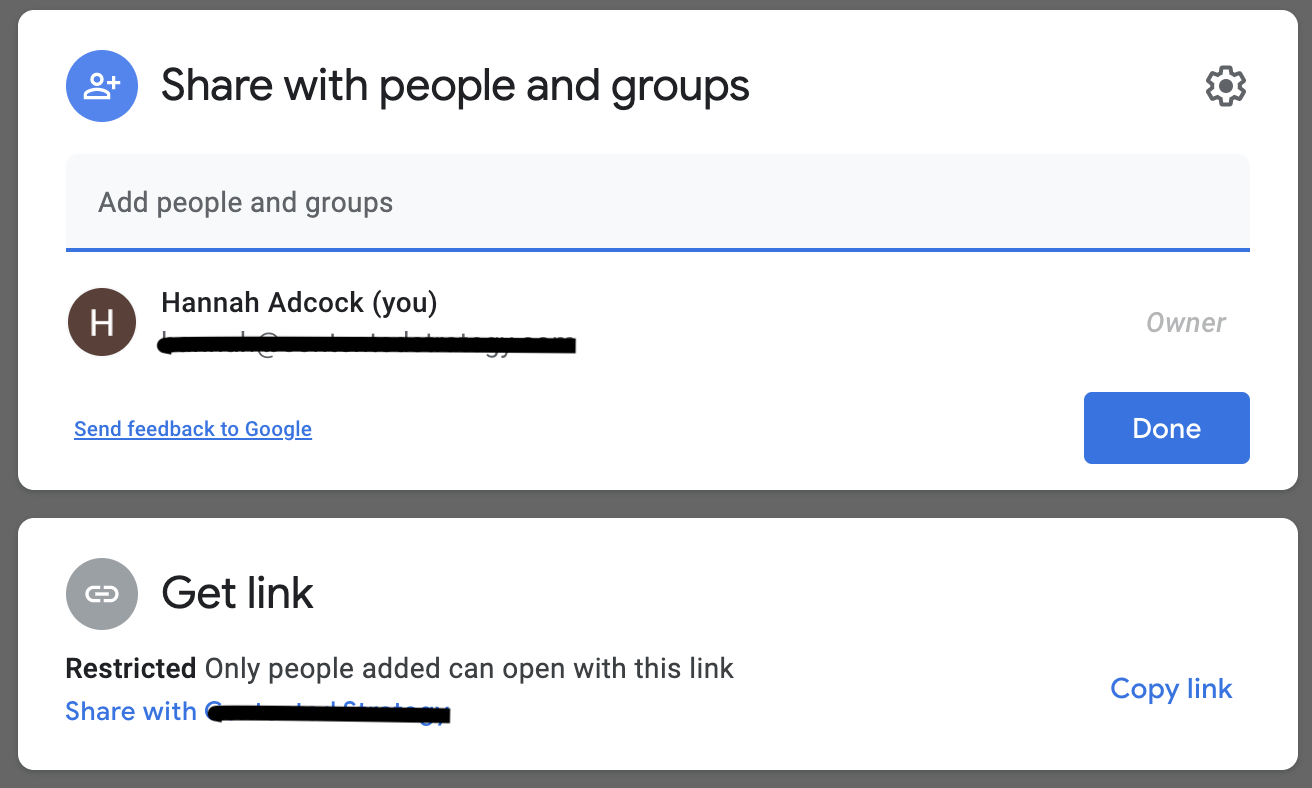 You can share a folder, but contributors need a Google account. Contributors can also open and see all files in that folder, even using the most restrictive 'view only' setting.
Even using Google Workspace, the process is not entirely straightforward as their help article makes clear.
People who don't have a Google Account get an email invitation (with a PIN) to collaborate on the shared file or folder. After people sign in with the PIN, they can view, comment on, suggest edits to, and directly edit files and folders.

Visitor sharing must be on for your organization. See Share documents with visitors.
Google Drive is really set up as an app that requires other people to be using it as well. This might be great for the viral growth of the product, but it can be annoying if you're trying to find a document collection solution that everyone can use without signing in or creating an account.
Google Forms: requires sign in for file uploads
Even using Google Forms is not an effective workaround, because respondents are required to sign in. You also can't upload files to a shared or team drive. If you try, you will find the 'file upload' option greyed out.

Will Google Drive work for your company?
Yes, if your company already uses Google Drive or Google Workspace, and you don't need to regularly collect file from clients and partner companies. It is easy to use, good value and probably already familiar to most of your team. You can offset the security issues of shared folders by setting up certain constraints ie. you can set an expiration date on file access so external partners or agencies can no longer access them once a project ends.
However, if you need to do a lot of file collection from people external to your organisation, and need the process to be streamlined, professional and secure, then you might want to consider other options. Upload software that natively connects to Google Drive is a good option. You'll get the benefits of your cloud storage provider without any of the disadvantages.
Dropbox: use the file request feature
Dropbox is a file hosting service that lets you collaborate with friends, family and colleagues. Dropbox basic lets you have 2GB of storage free. There are also plans for business, starting from £10/user/month for teams.
Unlike most other cloud storage providers, Dropbox has an actual file request feature. This makes it the best cloud storage provider for document collection.
Anyone can send you a file you've requested, all files are collected into a Dropbox folder you choose, and people who upload files to your file request cannot access your Dropbox account.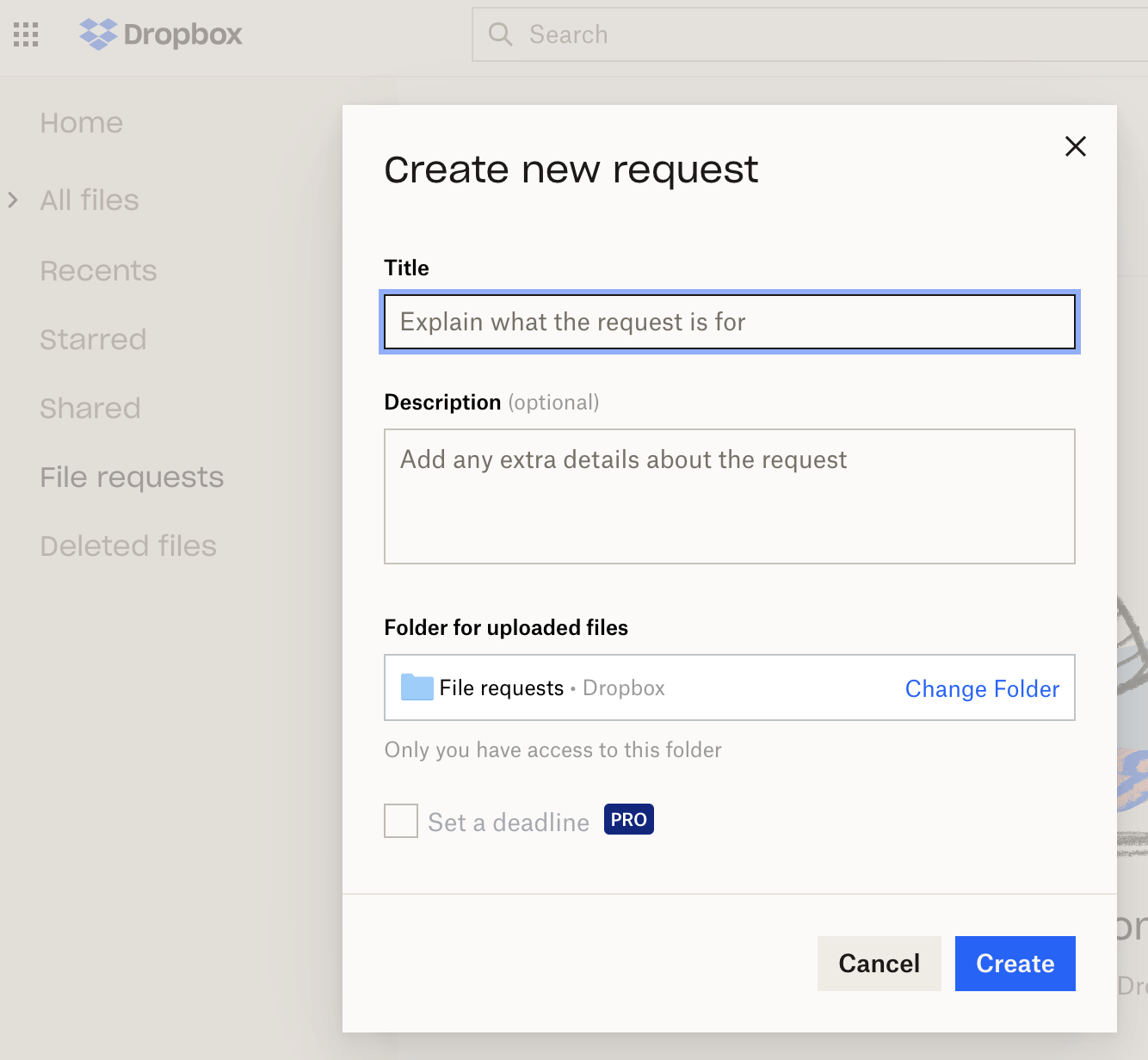 When you create a new request you can add a title, optional description, and specify where you want the files collected. If you have a pro account, you can set a deadline for file collection.
Similarly to Google Drive though, Dropbox operates by promoting its own ecosystem. This means you can't customise or white label file requests so they look like they come from your business. The file request form is also basic, so you can't collect a respondent's email, or guide them though the process of uploading content and files in a step by step way.
In terms of security, Dropbox is an interesting case study. This article looks at Dropbox Security Issues 2021: The Good, the Bad & the Ugly.
Will Dropbox work for your company?
Yes, if you want to request a few files from clients and partners. The basic form won't be too much of a problem, if you only need one file, and you can keep track of client names and emails manually.
However, if you need to collect and organise a substantial amount of content and files from clients, then specialist software will save you time and hassle. Instead of trying to list all the files you need in one 'description' field you can create an upload form, like this one created using File Request Pro (which also integrates with Dropbox). You are much more likely to get the files you need first time round.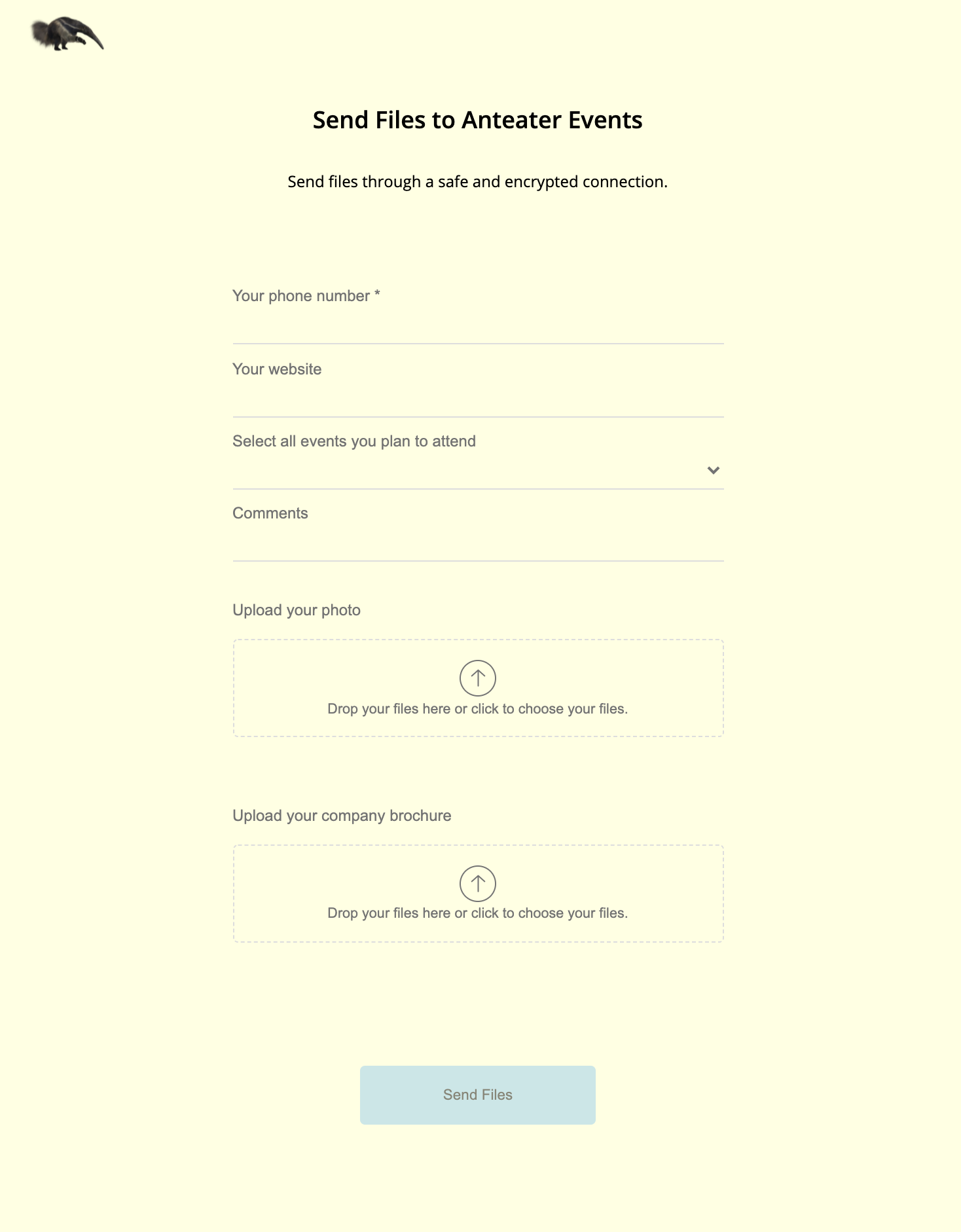 Microsoft OneDrive is a cloud storage service that allows you to store all your files securely in one place. In many ways, it is a competitor to Dropbox. SharePoint is more of a collaboration tool, with collaborative documents and a shared assets library. This article summarises the main differences between OneDrive and SharePoint.
Microsoft rolled out a new 'request file' feature in December 2019 for OneDrive. You can only use this feature if you have a OneDrive for work or school account. The feature is not available for Office 365 Government, Office 365 operated by 21Vianet, OneDrive for home, or Office 365 Germany.
The process of requesting a file is rather like Dropbox:
Choose the folder you want to upload files to and select 'request files'
Describe what files you are requesting
Send a link to people or enter their emails
You'll receive a notification email whenever someone uploads files to your file request folder
Similarly, the downsides are that the file request form is basic: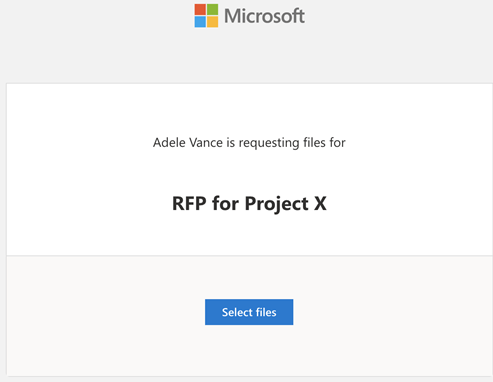 There are also potentially security implications, because you need to permit the 'anyone sharing' feature. See Microsoft's help article for more information.
When Anyone sharing is enabled for your organization, the default sharing link is normally set to Anyone. While this can be convenient for users, it can increase the risk of unintentional unauthenticated sharing. If a user forgets to change the link type while sharing a sensitive document, they might accidentally create a sharing link that doesn't require authentication.
In this article we look in more detail at how to allow other people to upload files to your one drive.
At the moment, it isn't possible to collect files from people external to your organisation using SharePoint, like you can for OneDrive.
Confusingly, the file request feature was briefly available in 2020 for SharePoint. However, it appears this was a mistake and the feature was quickly withdrawn. For now, upload software with native SharePoint integration is probably your best option.
Microsoft Forms: external users can't upload files
Microsoft Forms doesn't currently allow file uploads from people outside your organisation. This has generated much debate on the Microsoft user forum.

If you're already using and paying for Microsoft products, then you have a major incentive to stick with these products – or at least ones that natively integrate with them.
Your best bet for file collection is to use OneDrive, because it has a file request feature. If your file collection requirements are modest, or mainly internal, then this will be fine.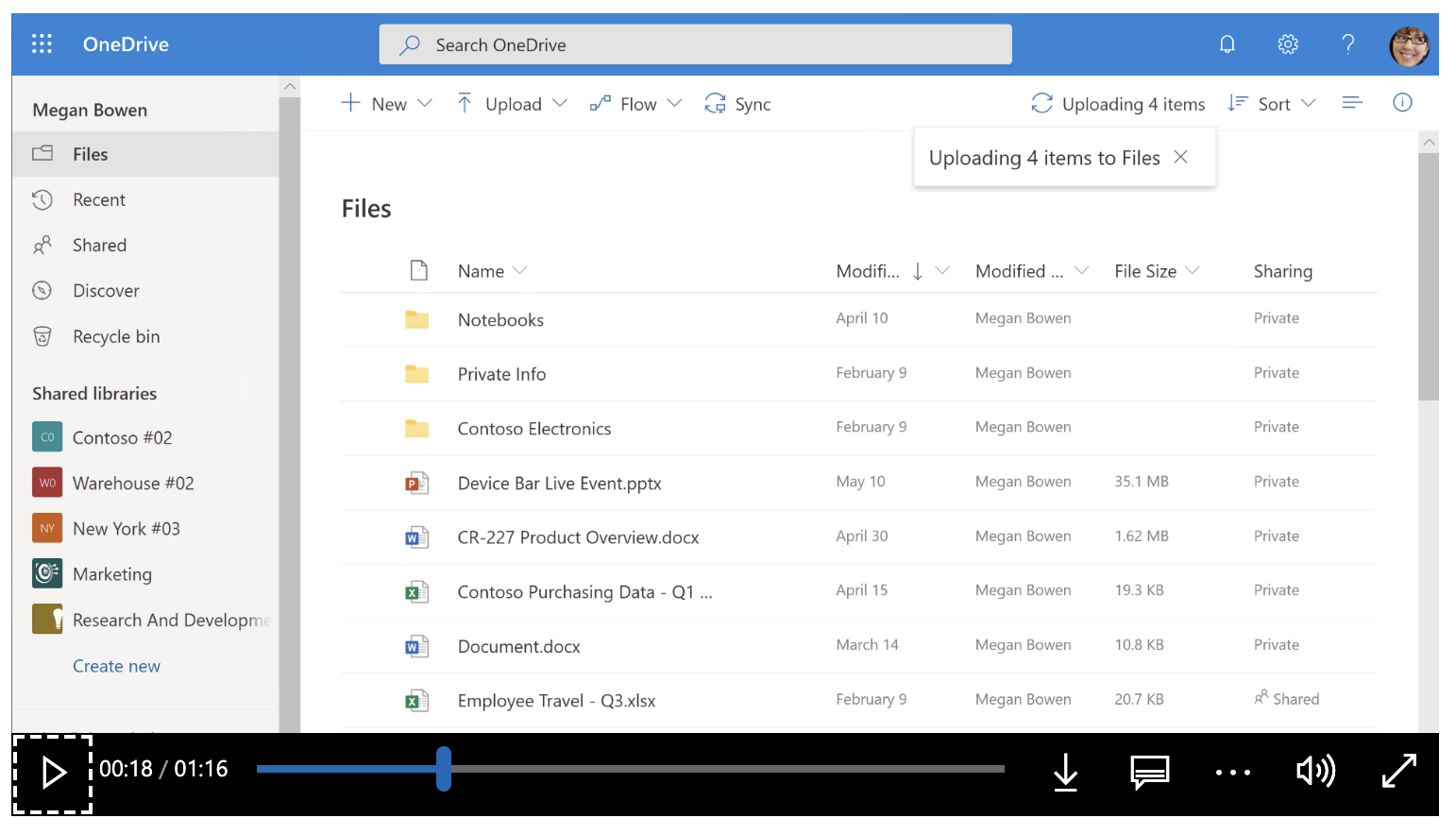 However, if you want a more professional file request experience look at file upload software that integrates with Microsoft products.
2. Client portals: powerful document collection software
Client portals are digital gateways through which you can collect and share files, services and information with clients. Clients typically have a username and password that gives them access to the portal. They can then view, upload and download information from the portal, depending on permissions.
Client portals are generally 'heavyweight' software. This means they have an extensive feature set and are suitable for any size of company, including enterprise companies. Examples include SmartVault, Huddle and OneHub.
As well as offering file sharing, they may have built-in e-signatures, version control for documents, and a large number of integrations with useful apps and software.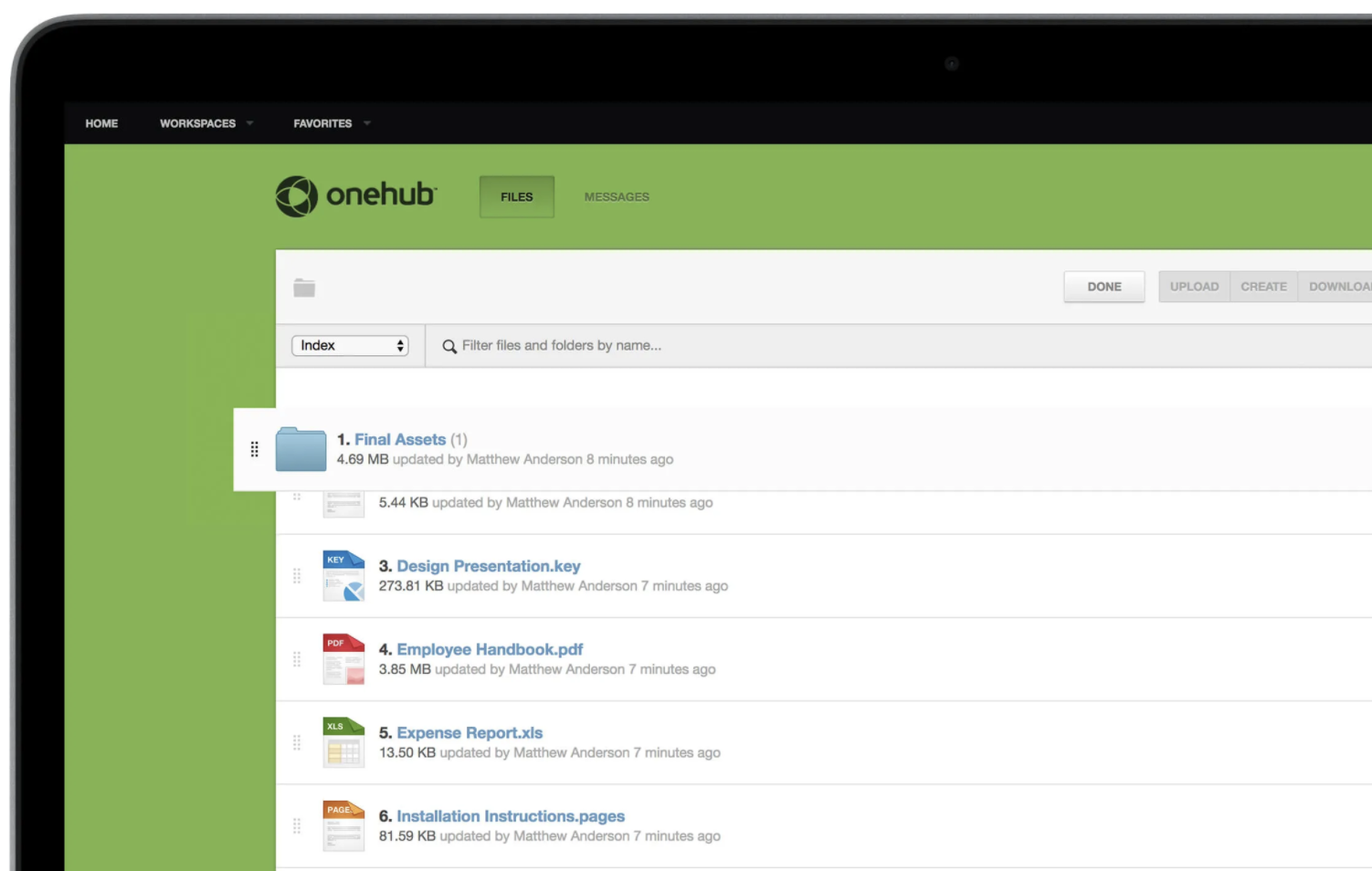 Client portals offer a secure way to collect and organise any type of document. However, because they usually require user sign up they can be off-putting to clients who don't want to manage yet another password.
Client portals also offer plenty of functionality, but you have to put in the time learning how to use them and educating your team.
Will client portals work for your company?
Yes, if you need the full functionality of a portal. If you need to do a lot of document sharing and collection, security is very important, and your clients are willing to log in, then client portals are a good choice. Client portal companies are usually very rigorous when it comes to security and compliance, so are a safe choice, particularly for large companies.
If you don't need the feature set offered by client portals, then look at lightweight alternatives for document collection. These will be easier to use and usually less expensive.
3. Document collection software: easy to request and organise files
Document collection software is designed to make it as easy as possible for you to collect and organise files and content from clients. Your clients won't need to sign in to send you files. Instead, you send them a unique branded upload page (like this one created using File Request Pro). This is a one-page forms, but you can also create multi-page forms.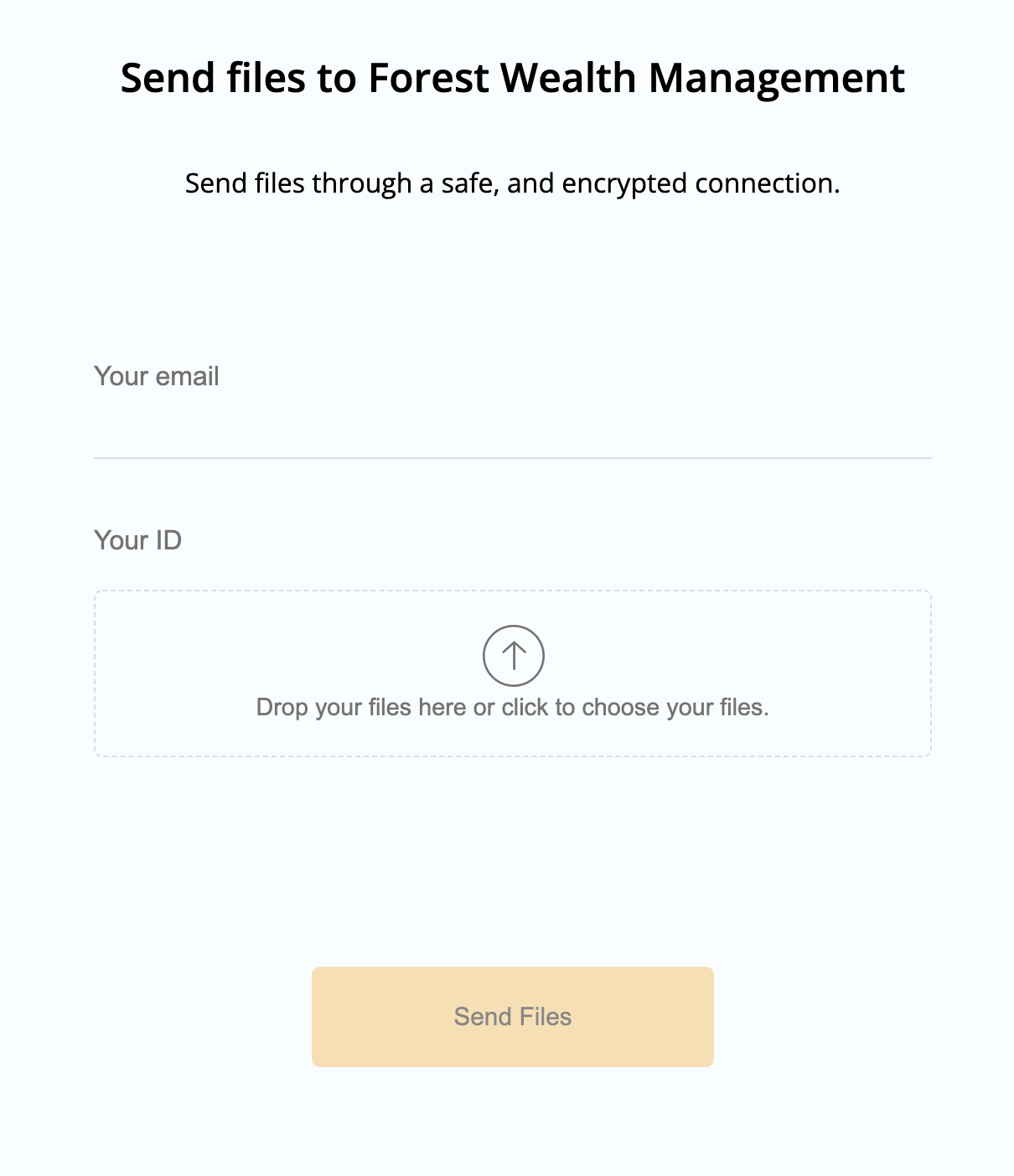 Your clients then fill in any questions and drag and drop files. These are sent to your cloud storage solution (or the software inbox) using an encrypted connection.
Document collection software shares key features of client portals. It usually allow you to automate some of your workflow with email reminder sequences and to brand and customise your upload page so they look professional. Some file collection software also includes storage as part of your monthly plan.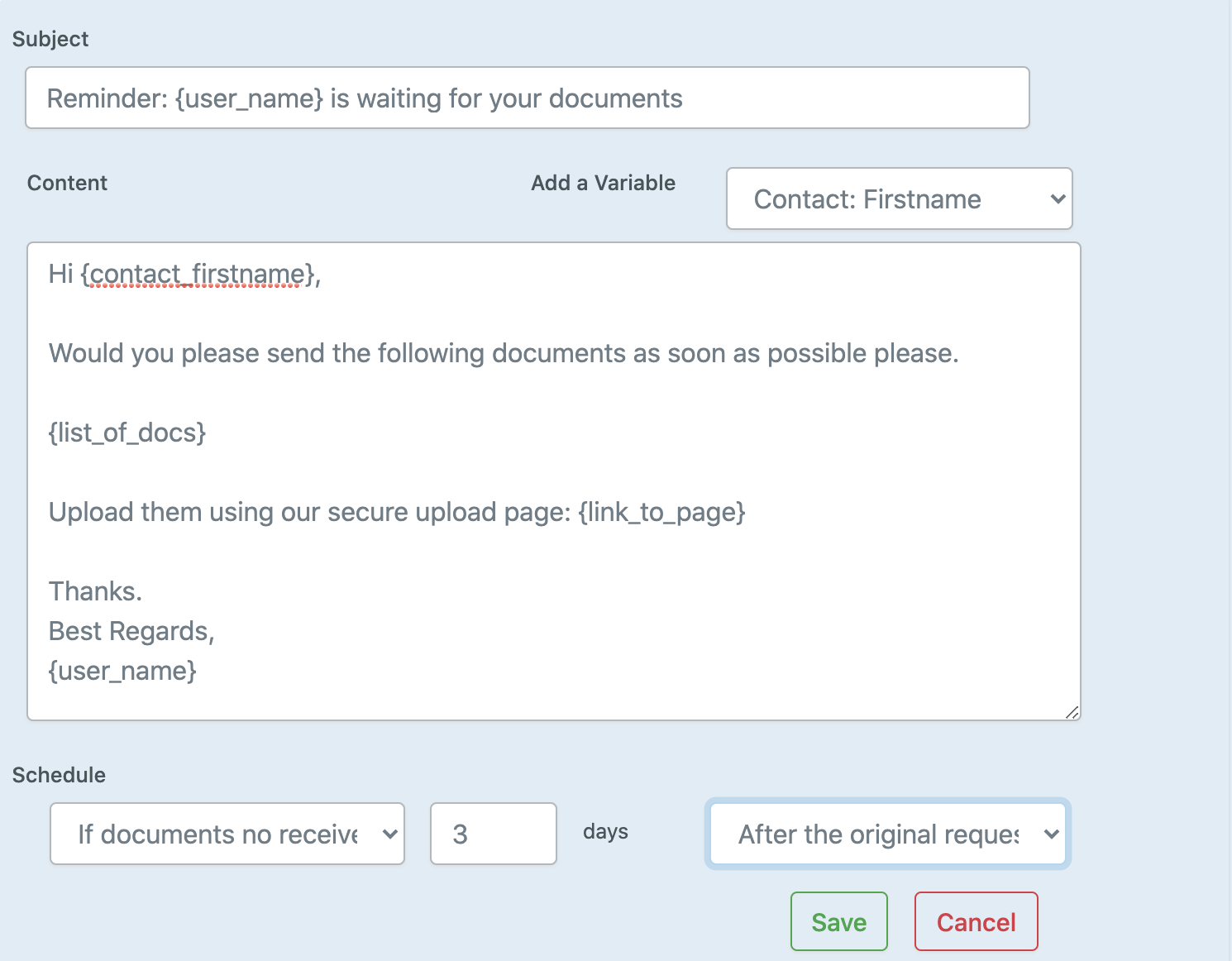 In terms of security, document collection software usually offers at rest and in transit encryption, ensuring that messaging, data and file transfers are secured to the latest global standards.
Will document collection software work for your company?
Yes, if your main problem is collecting and organising client files. Document collection software is designed to make it easy for you to collect content and files from anyone, using any device, without any friction. You should be able to collect large files, send unlimited file requests, and reuse upload page templates and email sequences to save time.
However, document collection software is focused on getting files and content from your clients, so isn't good for two-way file sharing. It also doesn't have some of the extra features of client portals, including version controls, and e-signatures.
4. Form builders: upload functionality as an 'add on'
There's a huge amount of choice when it comes to form builders, and many now allow you to add a 'file upload' questions as part of a form. This example is from Typeform. File upload questions are available on paid plans.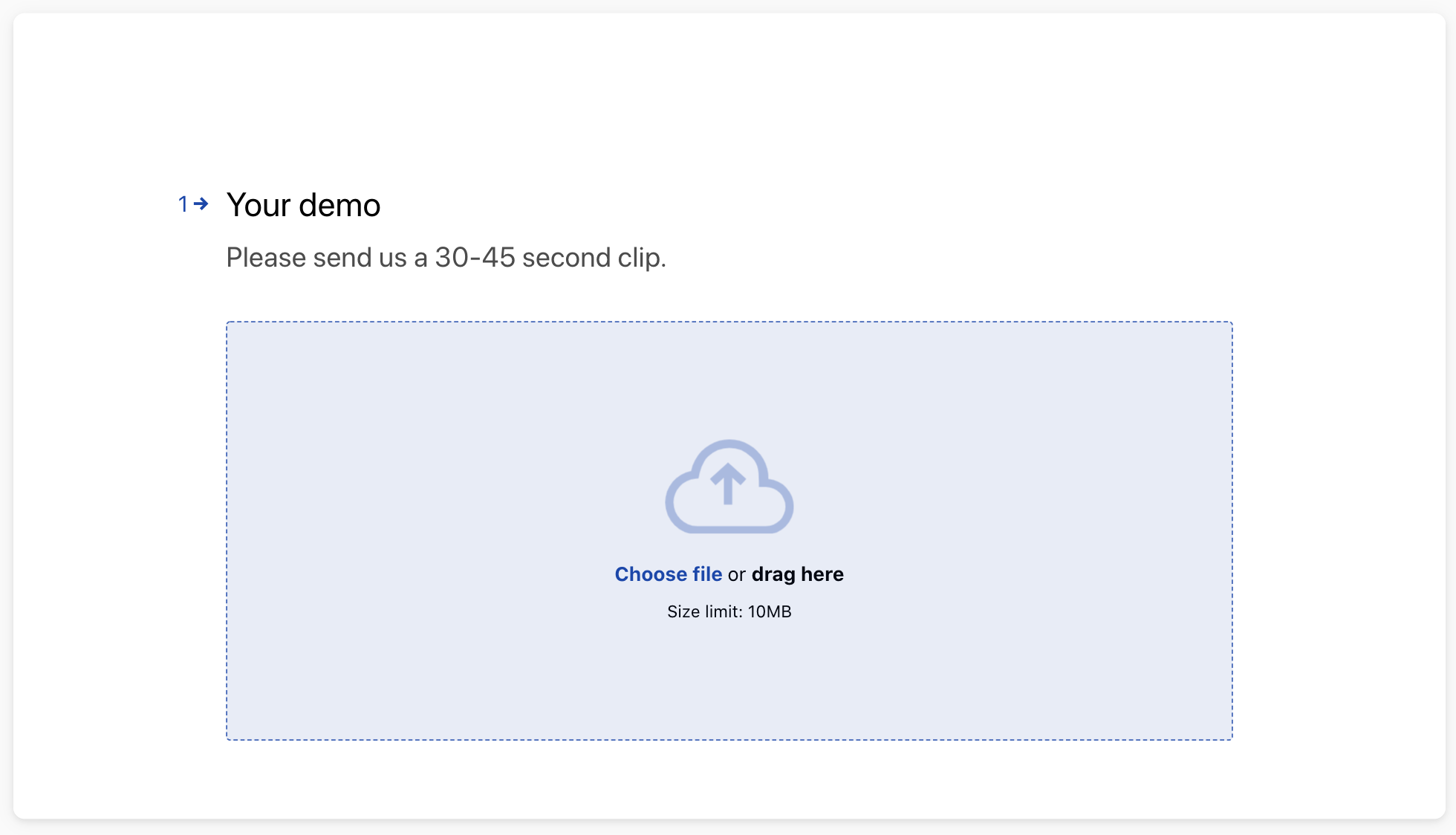 You can usually specify whether file uploads are required or optional, and add a description to guide your client to provide the correct information. Typeform has a 10MB size limit, which is fairly generous.
As with cloud storage providers though, form builders provide file upload as an 'extra' rather than core functionality. This means your workflow can be a little difficult. For example, with Typeform you download files from the results panel, individually or in a Zip file. So to organise these files you're going to have to manually sort them yourself and work out what file belongs to which respondent.
Jotform also has a file upload question, which allows multiple file upload. They suggest you use various widgets to access extra features, because their upload option is fairly basic.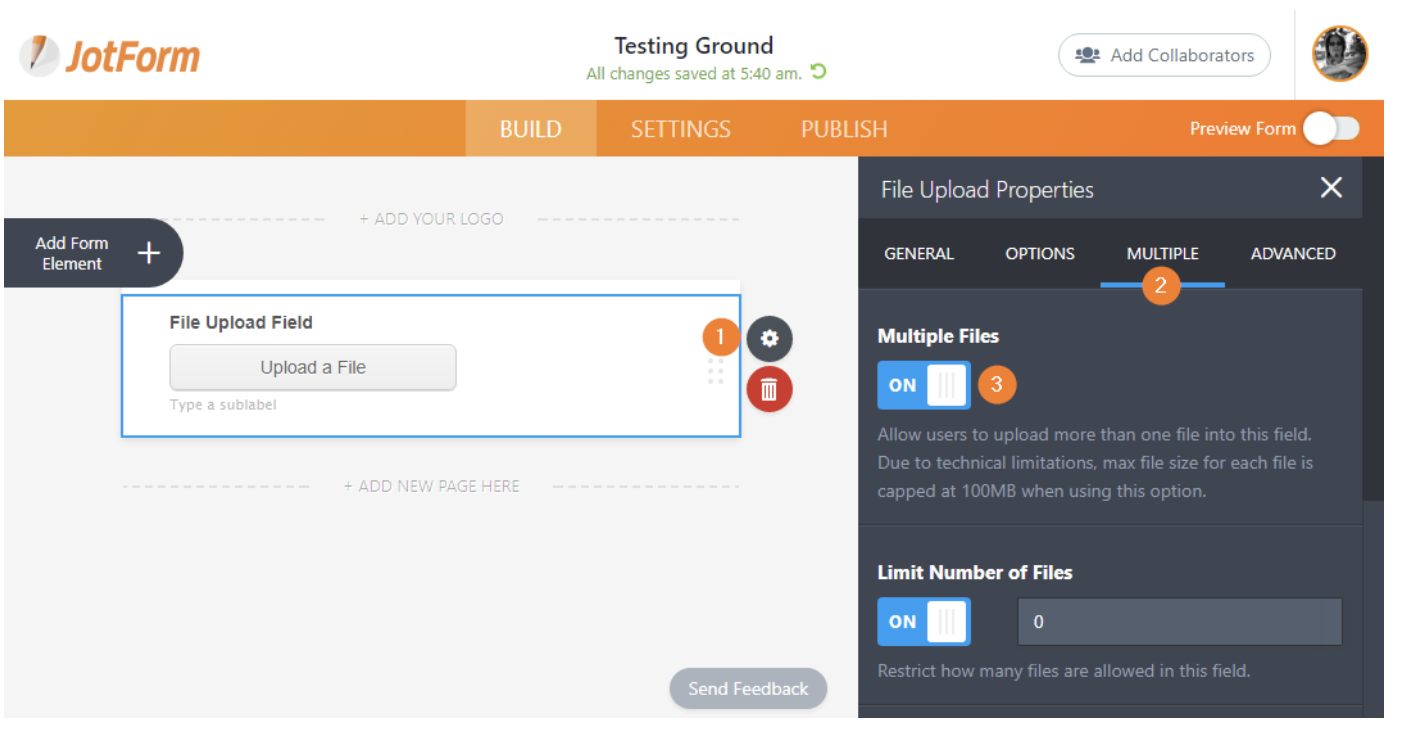 Will form builders work for your company?
Yes, if you mainly need to collect content, with a few files on occasion. Form builders specialise in making it easy for you to collect answers to questions from anyone, using any device. If this is your main aim, they are a good choice. Most have useful options like conditional logic, so you can customise your form depending on the answers of your respondents.
You sometimes need to watch pricing, because certain functionality requires you to upgrade to another plan making the project more expensive than anticipated. However, because there is a such a lot of competition you can usually find a form builder to suit your project and budget.
If you want to regularly collect files, then form builders will be a time-consuming option. They don't really help with workflow automation or file organisation, so you'll need to manually do this yourself.
5. File uploads for popular website builders: plugins and other options
Popular website builders like WordPress, SquareSpace, GoDaddy, Wix and Weebly provide core features for building a website. If you need extras, like file upload functionality for clients, you usually need to choose a plugin from their ecosystem, or use technology agnostic software that works with anything.
The advantage of plugins is that they are specifically designed to work with your website builder, and are simple and often inexpensive. The disadvantage is that they are usually fairly basic in what they do, particularly in terms of helping you manage and organise files, and in terms of customer support.
Document collection software works with any website builder and is more powerful in terms of what it helps you do. It can be more expensive though.
Squarespace
Squarespace includes a web forms tool called 'Form Blocks.' This built-in tool lets you create forms right within your admin panel but doesn't currently offer the ability to upload files via a form. You'll need file upload software that integrates with Squarespace.
WordPress
WordPress doesn't provide file upload functionality. However, there are many plugins that you can use to collect files from users, depending on what you need.
6. Which file collection software is best for your company?
There's some great software on the market that allows you to collect and organise content and files from clients. Some options are 'add ons' for popular software whose core focus is slightly difference. Others are specialist upload products specifically designed to make file collection and organisation as easy as possible.
Whichever option is best for you depends on an number of factors, including:
What software you are already using
How many files you want to collect and how often
How automated you need document collection to be
Whether you need two-way file sharing
If customising the client-side experience is important
Your budget
If you need streamlined, customisable and secure document collection, then client portals or document collection software will be your best choice. If you're willing to experience a few workarounds, or to overlook branding by other companies, then your options are wider. You can always test out your favourite option and see how it works for you.
Try File Request Pro free for 14 days – and say goodbye to lost files and messy workarounds
Use branded upload pages with drag and drop functionality to gather and organise content. Spend more time on important tasks and less time worrying about logistics and security.
File Request Pro includes:
Customisable file upload forms, including using your own urls
Multiple, large file upload and extra storage
Automated email sequences
Native integrations with GoogleDrive, Dropbox, Microsoft OneDrive and SharePoint
See our product overview.