Vendor onboarding can be quite a task at times. With all the options of who you choose to work with, gathering that information can be difficult to organize. Our software can help decrease lost or hard-to-find information, making it easily available to whoever it needs to be shared with.
Vendor onboarding is simple in theory; it's a process that collects the information for approving a new company as a supplier, giving your business a way to make purchases, payments, and conduct business. There are many aspects, but following the checklist below will help you guide you to the most efficient way to gather the required information.
Gathering information via forms is a great way to get all the information all in one place. When introducing a new supplier, onboarding can be a hard-to-manage task. If you know exactly what you need, then you would greatly benefit from a vendor onboarding process that automatically puts all the information into a safe location.
A Vendor Onboarding Checklist.
Have an evaluation and approval process for each new vendor and the type of services they provide.
Set clear and concise expectations and policies that help reduce future misunderstandings and issues.
Find the best way to collect data from vendors, such as forms, that will quickly give you the details to determine if they are the right fit for your company.
Establish a way for easy communication to improve the efficiency of the business, reducing risks of errors and giving the ability to build relationships.
During the evaluation process of supplier onboarding, certain details are critical to ensuring no risk is involved. Consider checking each vendor's track records, financial health, compliance, and ethical behaviors in business.
Let it be known before vendors reach out exactly what it is the company is looking for and what the expectations are. This information can easily be posted along with the application at the beginning of the vendor onboarding process.
Educate yourself on the best practices.
There is a responsibility by your business to do your due diligence during the onboarding process. Many vendors will be working with you depending on the needs of the company. This is where it is important to consider the dos and don'ts of the process.
Do's.
Know the rules and compliance that apply to your business.
Research the companies you want to work with.
Ensure contracts include all necessary information for each vendor.
Stay organized with who you are working.
Don'ts.
Lack of communication between organization members.
Skip a thorough examination of the business.
Lack of setting up a proper system.
Stick to your old ways when a process could go easier as new information is gathered.
Strategic use of the onboarding process.
Consider the options you have when it comes to vendors. With all the data collected, it is easy to see which ones best fit the needs of the business. Does one offer an easier way to purchase supplies from? Is a delivery time work better for your business hours? If these are important, make sure that this is clear in the onboarding request.
Efficiency should be a top priority. Taking a close look at the products and services your vendors are offering can help identify if there are any ways to reduce the amount of income and productivity losses. This can evaluate how these are used and help determine the performance of vendors.
Building relationships with vendors is important. This connection can help with communication and training and reduce the chance of unreliability. Vendor relationships can also help with brand boosting in a positive light. This can tie in with risk management because working closely can ensure that all regulations and policies are being followed, making it easier to work with.
Moving the onboarding process of new vendors digitally is a great way to help any organization have a better organization and ensure that those they are working with can provide the information needed. It limits the risk of lost information or lack of data by being able to personalize and customize the intake form.
How to collect your vendors' information?
Gathering the information is key. The basic details should include the business name, address, contact information, licenses and insurance documentation, details for banking, and details of the reps you'll be in contact with.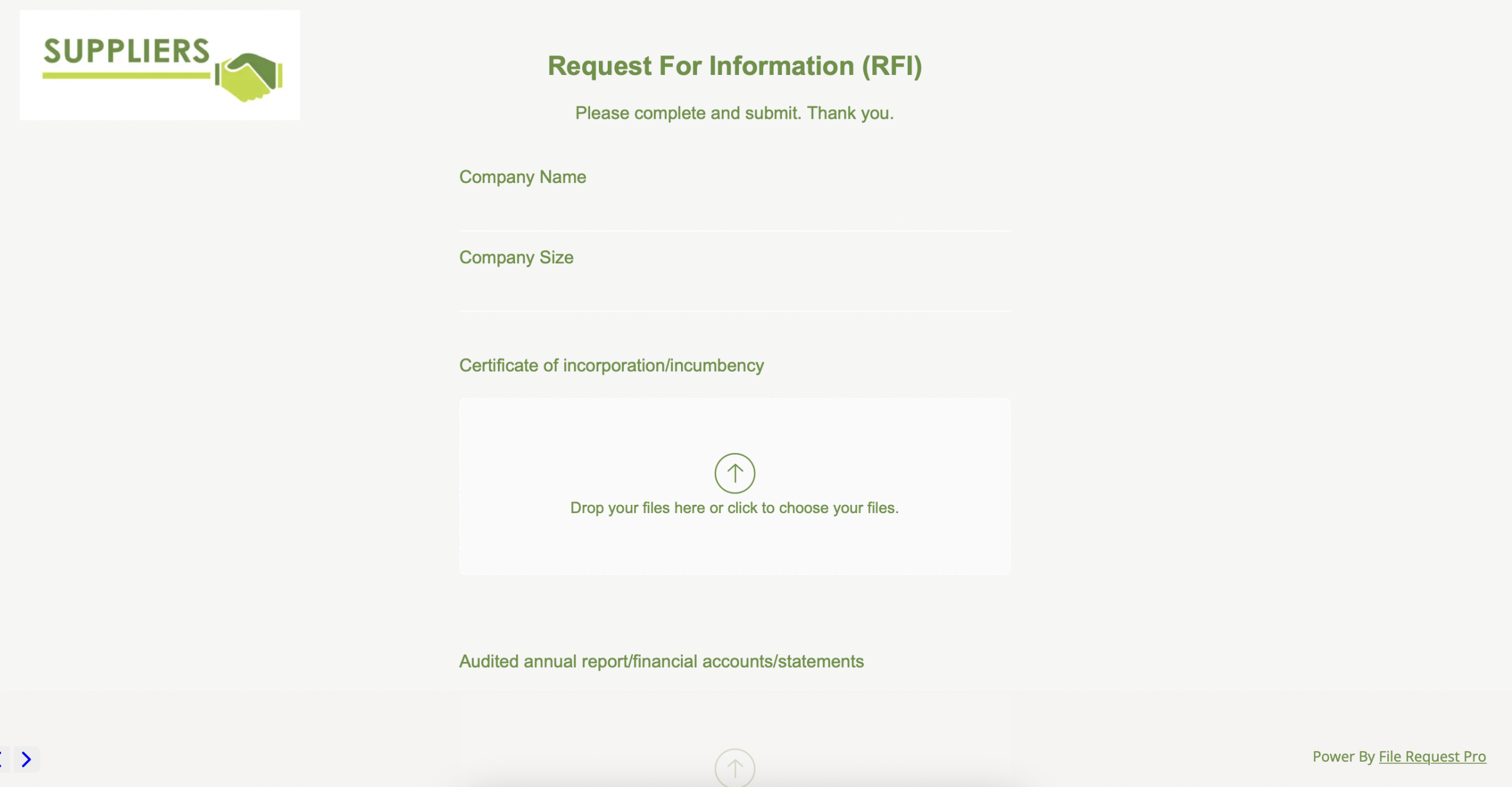 In turn, gather all the information that is specific to the needs of your company including the products, services, lead times, how to place orders, payment terms, delivery logistics, any available discounts, and anything else that might be more specific to your needs.
Automating this process would allow for more time and focus to be used in other areas. File request pros software allows for an easy way to automate many parts of the job such as reminders that would auto-send depending on a due date, sending out thank-yous, file request emails, and sorting responses into folders to access easily later. The software can store templates of vendor onboarding forms, making it easy to tweak previous forms without having to redo them.
File Request Pro allows many features to help ensure information is collected promptly. It can be altered depending on the service or vendor you are using and then made easily accessible later on. These are also safely stored on a cloud and available anywhere, no matter where you are during the day.
Take advantage of the technology at your disposal and see how automated processes can help your business. There are plenty of guides and ideas on how exactly to tweak any form for your specific needs. Ensure that the process is also just as easy for those you are requesting the forms from. If you feel the need to work more efficiently, then set up a demo to see how we can work for you.