Customer data is without a doubt your company's most valuable asset. From lead generation to long-term retention, your company teams rely on the knowledge you have about clients to provide satisfying experiences at the appropriate moment.
Many companies turn to Salesforce CRM as a solution to manage all their customer's data. As one of the most widely used CRM platforms, Salesforce offers all organizational departments—including marketing, sales, customer service, and e-commerce—a single and current perspective of everything that occurs with customers.
However, when dealing with sales at a scale, keeping an accurate, up-to-date client database becomes increasingly more challenging, even with tools like Salesforce in place; especially if your organization still relies on manual data entry methods for lead tracking and bookkeeping instead Salesforce forms.
Without a solid foundation of data practices and automation processes, your teams won't be able to tap into the power of all the information available about the thousands of leads and clients you now have.
Manual data entry is hard and prone to errors
Trying to input all your data manually can be a headache or even lead to errors, especially for organizations that collect large amounts of data about prospects and customers. Manual data entry simply isn't efficient, secure, or reasonable for most companies.
Your business is undoubtedly spending more money than you realize if you're still entering data manually or worse still, doing your bookkeeping by hand. For firms of any size, manual data entry can mean a major expense in the form of labor costs, missed time, monetary penalties from regulations, and staff turnover.
Some of the challenges your business may find by manually entering data can be:
Manual data entry is error-prone.
The more data you manage, the more likely you are to make mistakes when entering it manually. If you're trying to input several hundred records per day, those errors can add up quickly.
It takes too long.
Manual data entry is much slower than automated methods — and if your software doesn't support automation at all, it will take you even longer to complete tasks like updating customer profiles or generating reports something you could easily speed up with a form for Salesforce.
It's not secure enough for sensitive information.
Hackers or malicious internal actors can easily gain access to sensitive information stored via manual processes for storing and entering information about their customers and prospects. This kind of security breach can lead to identity theft and other problems for consumers.
Can't access your information in real-time
You may not be able to react quickly when opportunities arise or keep up with changing trends in your industry or market segmentation if your data isn't updated quickly.
It Might Lead to Compliance Problems
Your capacity to comply with regulatory requirements suffers from poor data quality. At best, faults could be discovered during audits, but more serious flaws in data input could mean trouble for your product or service. Your capacity to produce a paper trail is also constrained. The manual entry makes it simpler for staff to forget, damage a document, or even falsify results.
Scaling Is Difficult
Manual procedures are not flexible enough for businesses. You need to be concerned about staffing needs if your demand fluctuates, such as during holidays. More staff members need to be hired, trained and managed appropriately. You risk missing out on orders and disappointing your clients.
Automation solutions scale up fast to meet changing business needs, making it simple for you to adapt to changing market conditions. Although automation may appear unattainable for small organizations or those with complex operations, the technology to make it possible has become more widely available.
Automation Solutions for Salesforce Web Form Building
A common solution for professionals who want to get ahead of the game in collecting data from customers is by creating a Google Form and then uploading the compiled responses to a CRM. Google Forms has been around for years and it's still one of the best tools for creating online forms and surveys. Google Forms is free and easy to use, making it ideal for small businesses that need to collect information from their customers. However, there are some drawbacks to Google Forms:
It only works with Gmail accounts (you can't create a new account on Google Forms)
You can't collect sensitive information or any other data that requires privacy (e.g., credit card numbers or loan documents)
You can't schedule reminders for your customers/clients or send them email notifications when they complete their forms.
Beyond these disadvantages, there's also the fact that, as mentioned before, manually uploading data to your CRM is inefficient. More crucially, your customers might hesitate to upload sensitive information on a form that isn't part of your company's site and may fear their data is in danger when a simple solution would be to have a salesforce web-to-lead form.
So, what's the alternative for a Salesforce document collection integration? There are other tools that are better for forms with a lot of questions or complex logic, like Wufoo, ProProfs, or our own solution, Filerequestpro.
Wufoo allows you to collect your customer information through professionally designed form templates. When customers fill out a form, their info is automatically added to your Salesforce email list, therefore there's no need to export and import manually every time you want to send out a newsletter. But the forms are very plain and Wufoo doesn't not offer a built-in WYSIWYG editor.
ProProfs gives you the ability to improve your lead creation process. Create captivating lead quizzes quickly, add a lead form to collect vital data from quiz participants, and send the collected data right away to your Salesforce CRM. Lead generation is now hassle-free thanks to the integration. Some of the cons of ProProfs are that takes a while to get used to the editor and is limited survey types.
Why File Request Pro is a better alternative to Google Forms for collecting data from Customers.
On the other hand, File Request Pro allows you to create custom forms quickly and integrate them directly into your CRM, without having to write a single line of code. The Form Builder supports collecting all kinds of info such as names, phone numbers, emails, and more. Forms can be configured to add records to any kind of Salesforce object, and you can map each form field to a specific data field, giving you full control over your data collection process. Records can be exported into various formats such as Excel, CSV, or PDF.
File Request Pro is a very user-friendly and easy file storage option, taking only a few minutes to setup. After the initial configuration is complete, you are free to personalize your online hub with your information, connect it to your preferred file sharing solution, and begin requesting files from clients, coworkers, superiors, and even family members for private use.
Your recipients enjoy a similar level of convenience as you do when sending out file requests. File Request Pro offers them a simple way to exchange folders, pictures, music files, and other content without the need to register for an account, all through the convenience of a file browser. That's how easy it is.
As we mentioned above, File Request Pro's data collection platform gives you powerful Salesforce integration capabilities that surpass even Salesforce's native options, plus all the customization functionality that come with a fully-featured web form builder. With a little bit of tweaking, this tool can be a great Google Forms alternative, and the best part is that it directly sends the data to where it needs to be in Salesforce.
Integrate File Request Pro forms and Salesforce in 4 Simple Steps.
Establishing the integration
Click "connect" on the Salesforce integration while you are in your page settings and then click the integration link on the right side of the screen.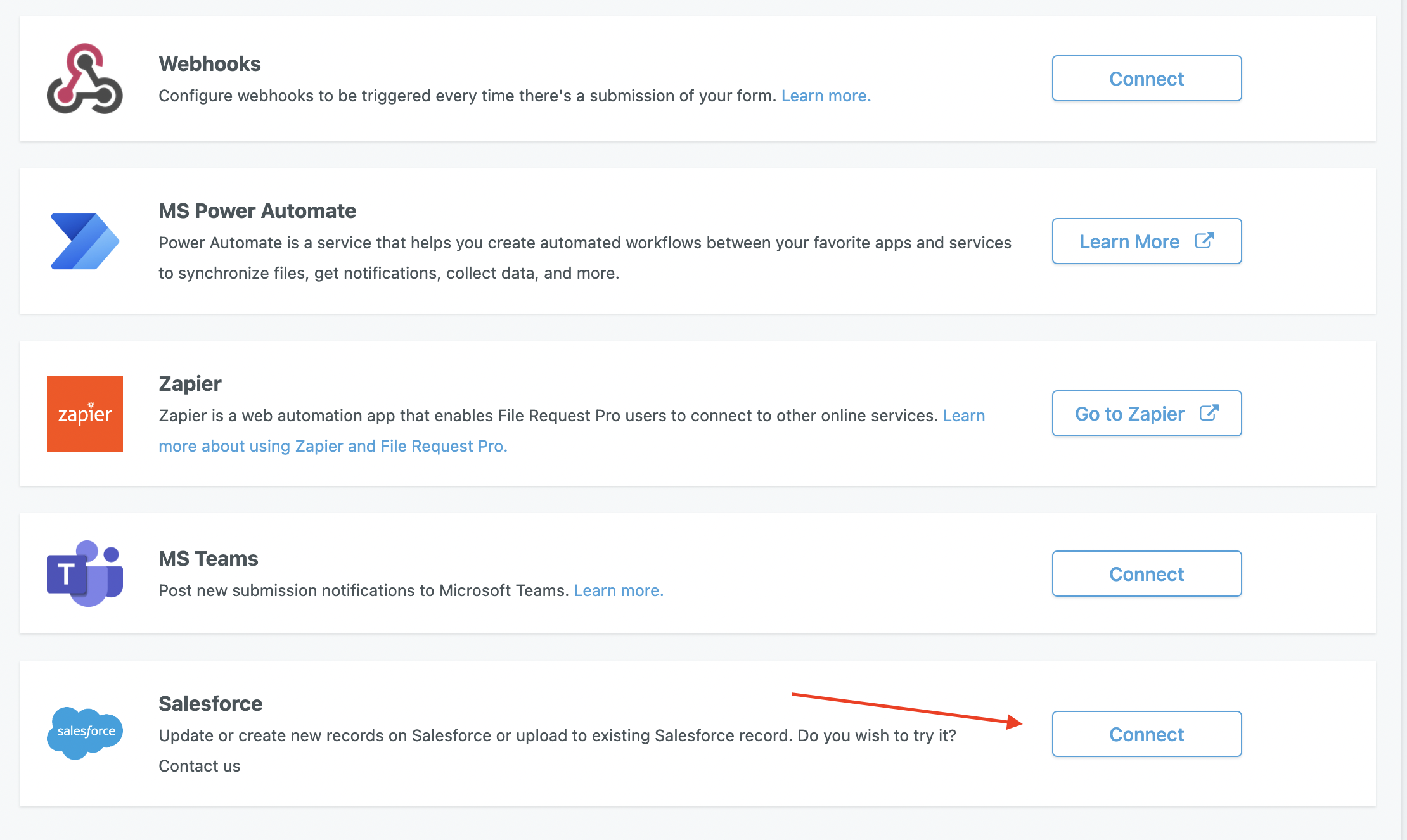 To connect your Salesforce account, click the "Connect your Account" option.

Once your account is joined, pick one of the following: make a record or amend one Add a file to a record that already exists.
Choose one item from the list. In the integration, all common and unique Salesforce items are supported.
Your form fields should be mapped to the data fields in the selected Salesforce object.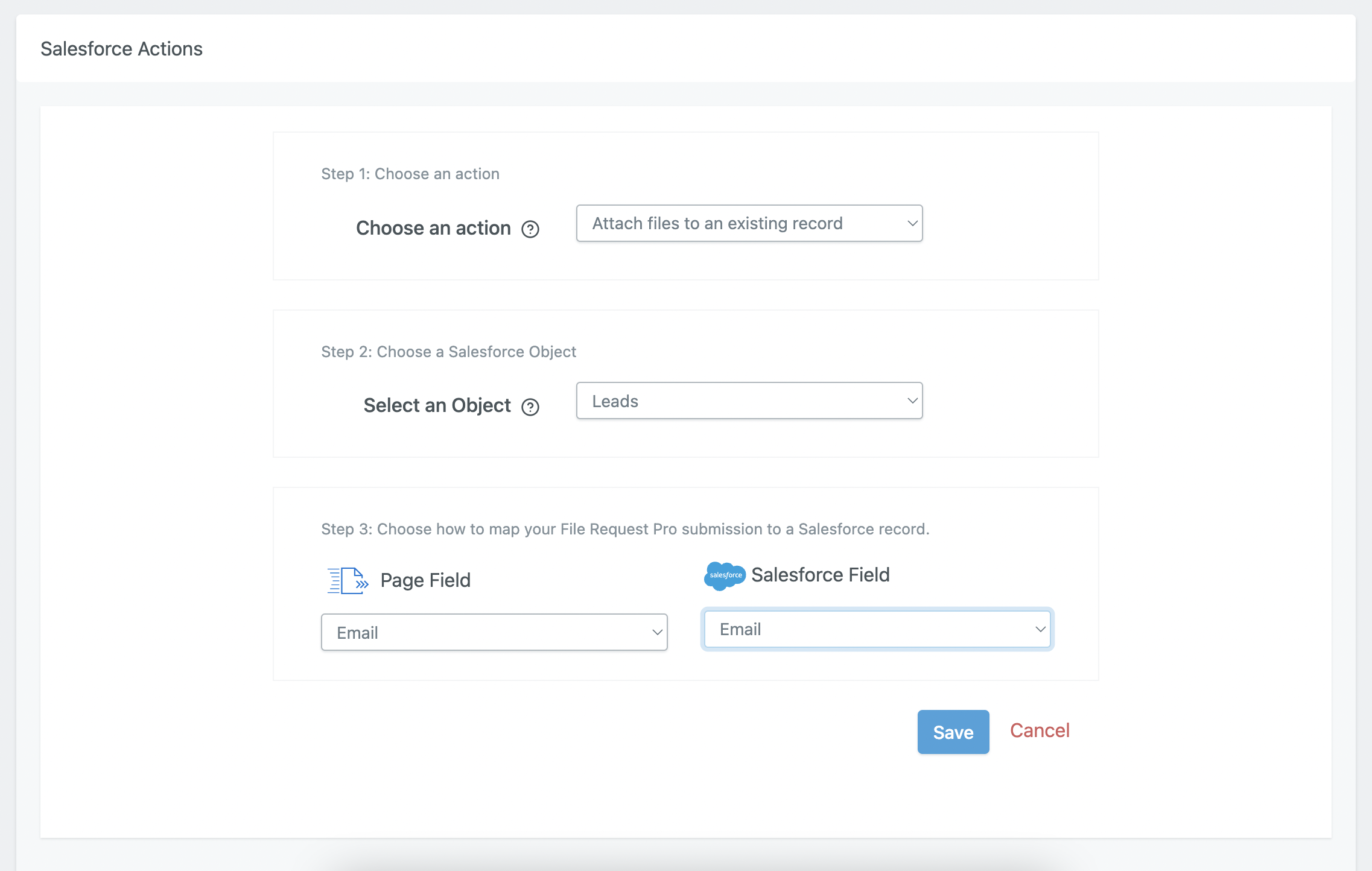 A Salesforce record creation or update example. You must map your Page fields to Salesforce fields in order to perform this activity.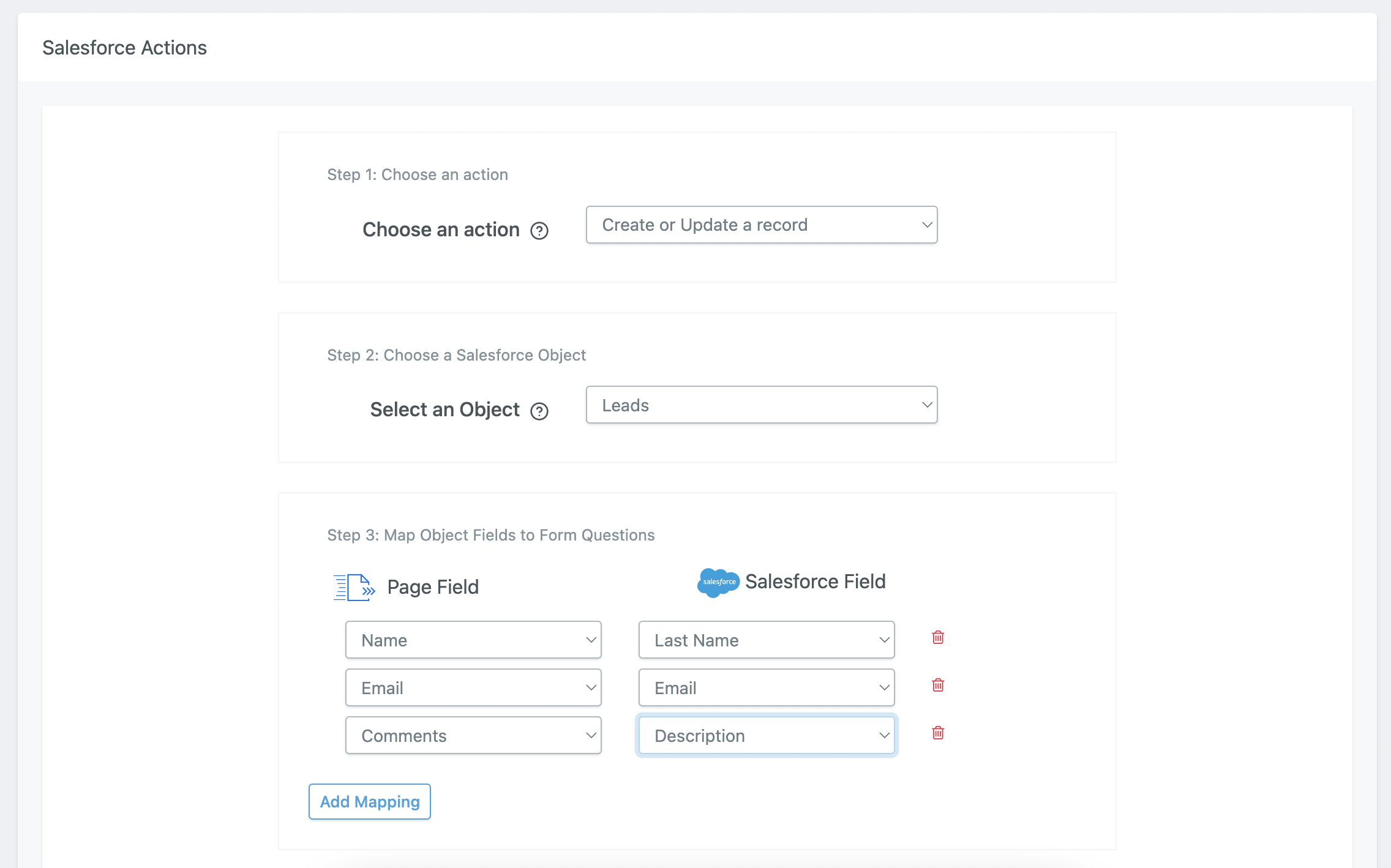 Once finished, select this type of action, and click the Save Action button.
There are many reasons why every Salesforce user can benefit from File Request Pro's Form Builder. Salesforce is the backbone of your customer relationships, so it is important to keep your records up-to-date with accurate profile data and relevant files associated with them.
Whether you need a complex client intake form or just a basic newsletter sign-up form, Filerequestpro is the perfect choice for your business.