If you want to collect a few files from friends and family then Dropbox File Request is a good solution. If you need a more professional file collection tool that natively connects with Dropbox, then use File Request Pro.  Part form builder, part upload software and part automation tool, it's been specifically designed to simplify the file collection process for companies using Dropbox.
With File Request Pro you can allow anyone to upload files and content to Dropbox professionally and securely.
File Request Pro: The business alternative to Dropbox File Request

File Request Pro has a native Dropbox integration, so you can have all the advantages of Dropbox without any of the disadvantages. Use File Request Pro to collect:
Mortgage applications
Accounting documents
Website redesign content
Recruitment applications
Onboarding information
Client intake forms
And many more use cases…
Collect extra information from your clients, including email
If you want to collect extra information from your clients, you will struggle with Dropbox. They provide a basic file request feature – not a form builder. You can ask for more information using the 'description' field, but your clients can easily skim over this and forget.
Even collecting your client's email along with their uploaded file is problematic. When your client receives a file request, they are required to use a valid email address. However, you can only see the person's name and not their email address in Dropbox. So, if you need to contact that person, you'll have to somehow track the file back to that person.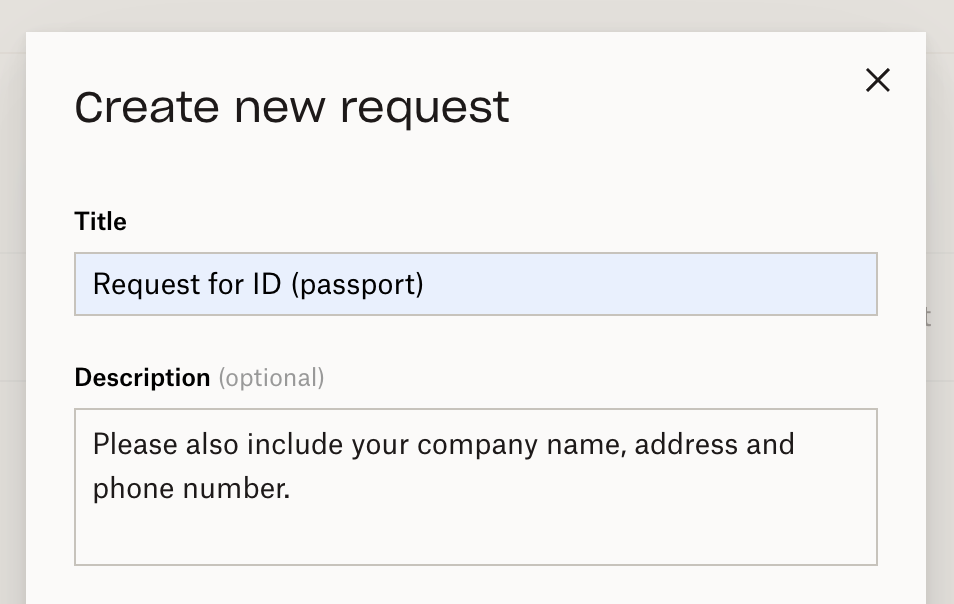 If collecting extra information from your clients is important, then File Request Pro lets you create branded forms with upload functionality. These forms guide your clients to input the correct information, leading to a a much higher success rate in terms of accurate content collection.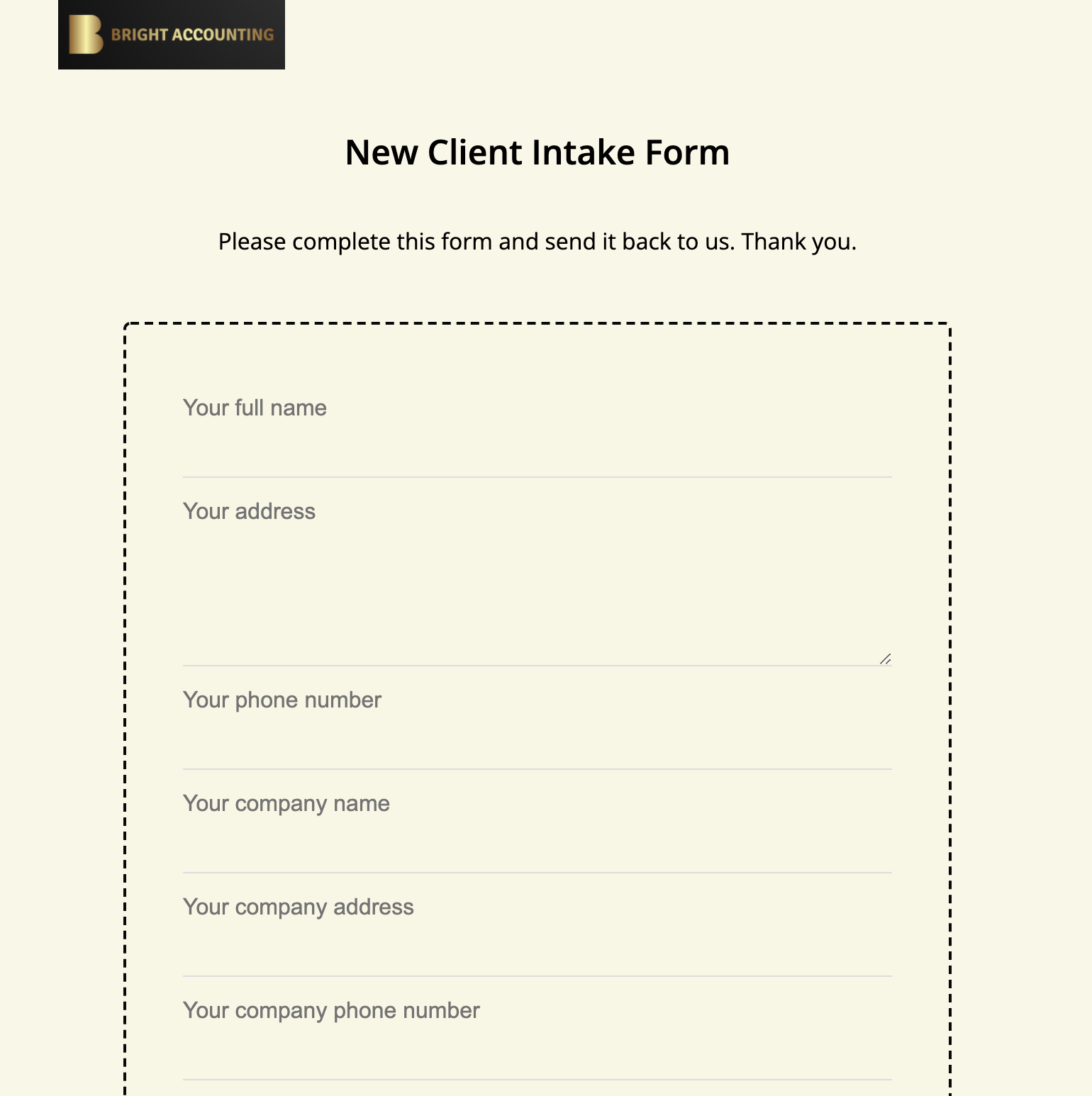 Automate time-consuming file collection tasks
If you have a Dropbox Pro account you can set a deadline for clients to send you content. Clients are automatically sent a reminder email before this deadline, by Dropbox.
File Request Pro gives you considerably more control over the file request, deadline, reminder and thank you process.
You can choose a due date a set number of days after sending the request, or select a fixed due date.
You can create as many reminder emails as you need, and customise the text
You can create a thank you email once clients have uploaded files and content
The reminder sequence is 'smart' so reminders are only sent if they are needed, and if a client has uploaded one out of two files then the reminder email will be updated to reflect this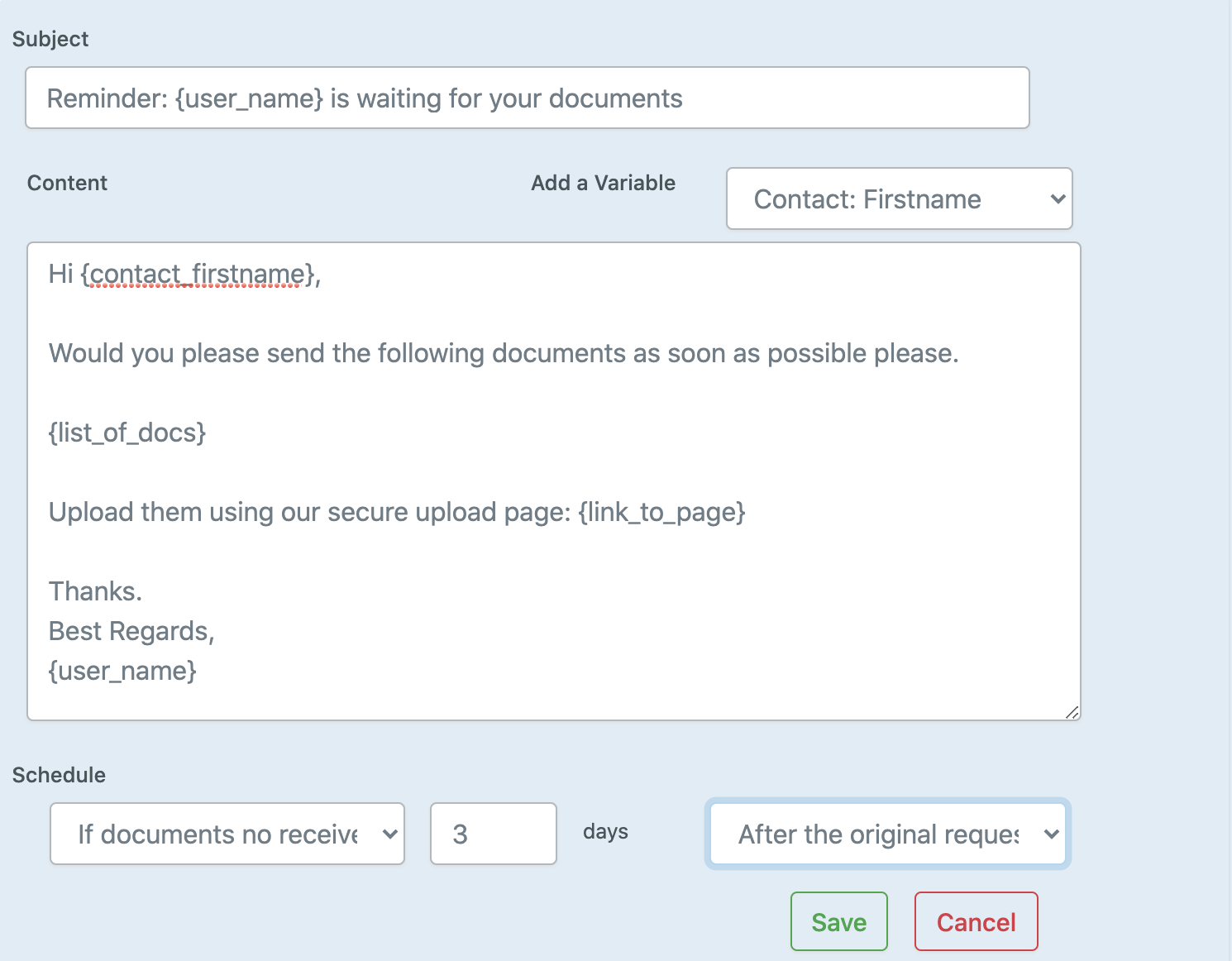 File Request Pro also allows you to dynamically organise files and content based on a value that you choose.
Once you choose to organise client files by name, for example, we'll automatically create a subfolder for each of your clients within a root folder of your choice in Dropbox.
If you have hundreds, or even thousands of clients, this will save you a massive amount of time and reduce the possibility of error caused by manual file organisation.
Read more about dynamic file organisation.
White label your file upload form rather than promote Dropbox
Dropbox's business model is based on getting existing users to promote Dropbox. This means that Dropbox doesn't let you customise file requests. They all look like they have come from Dropbox.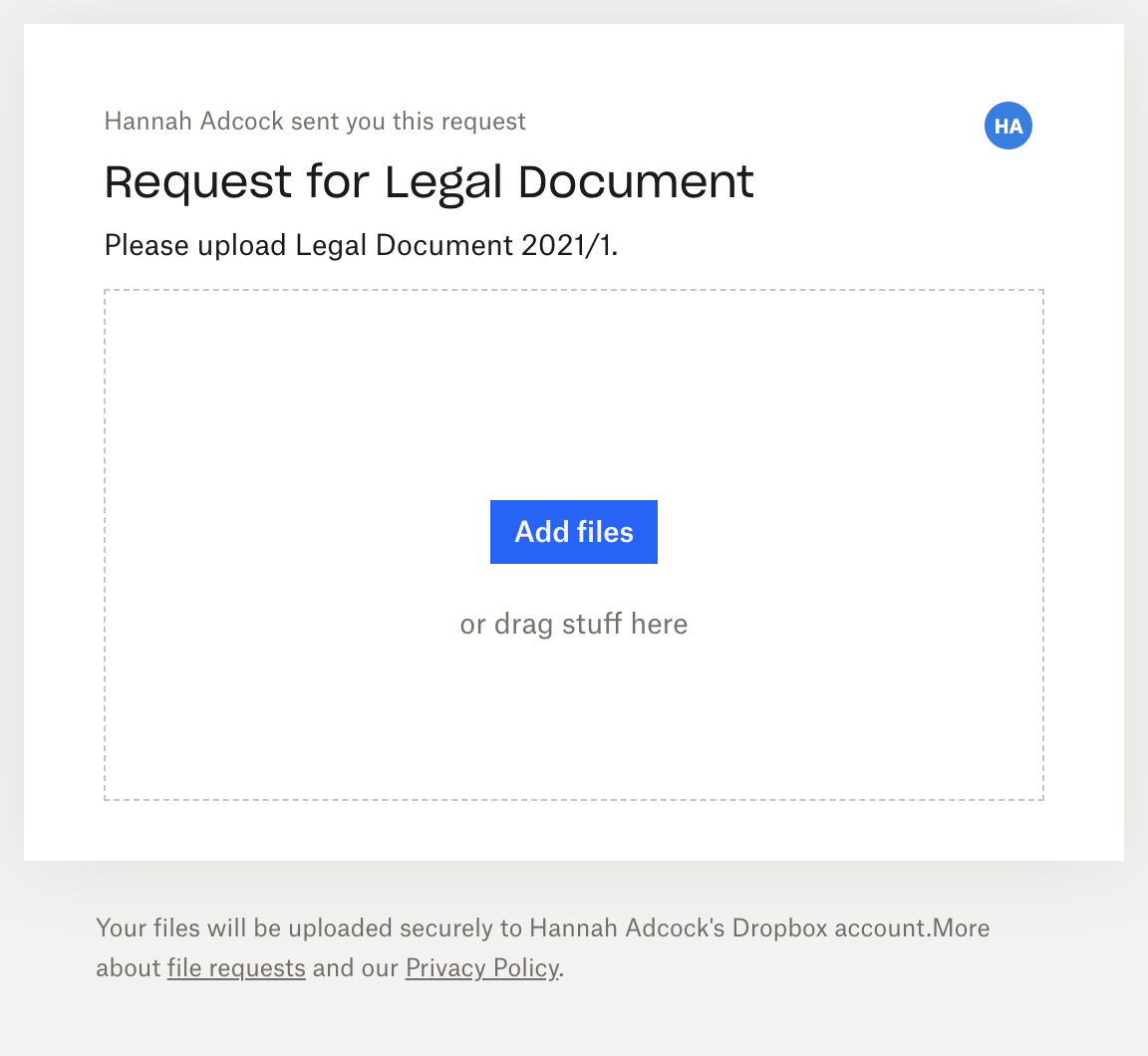 Once your clients have sent files, they are also shown a screen with a cartoon inviting them to become Dropbox customers.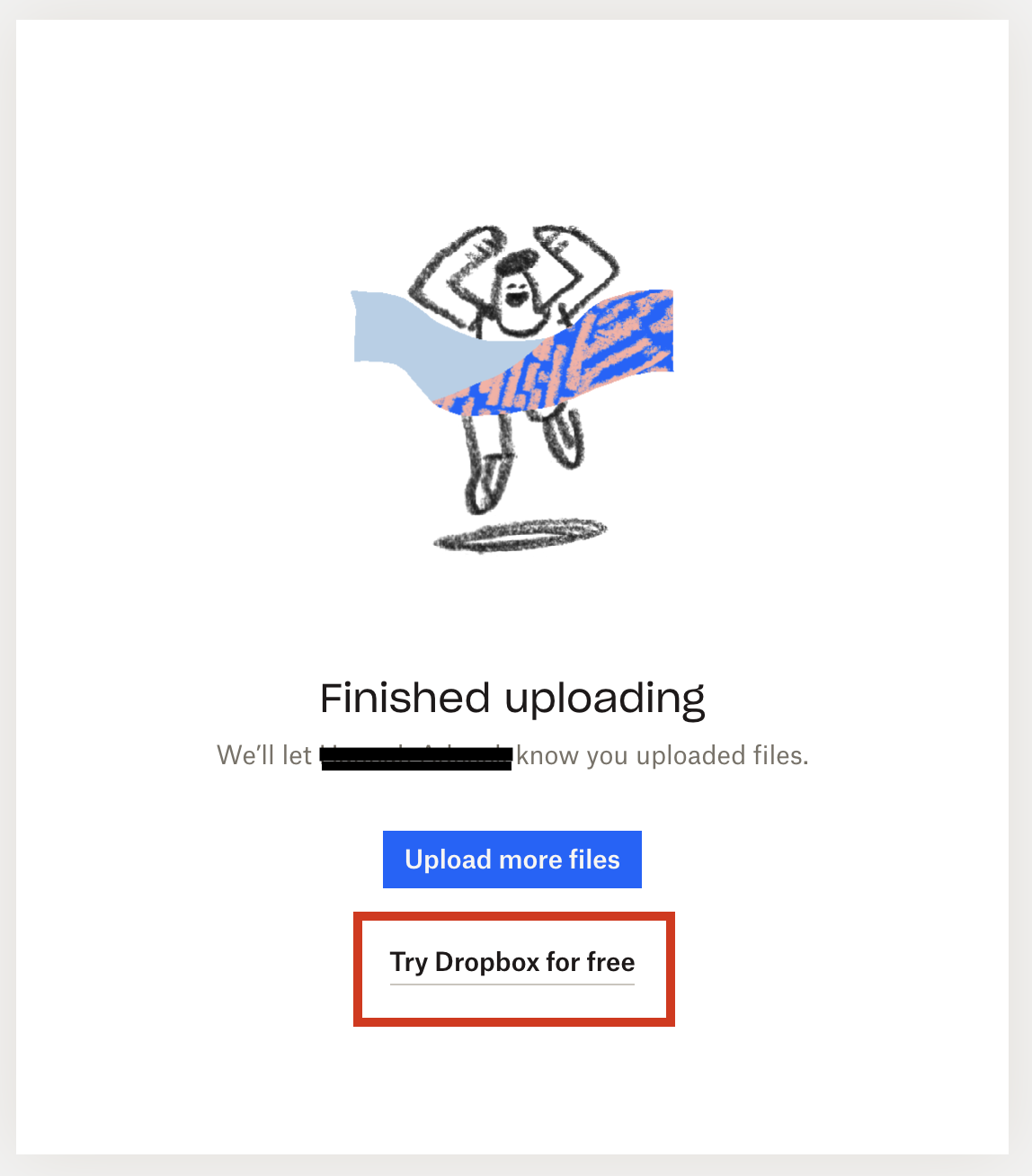 If your clients don't know (or like) Dropbox, this can lead to a lower response rate. Clients can also be left unsure as to whether the file request is definitely from your company.
In contrast, File Request Pro lets you white label your upload forms and customise your communications. Your clients can be sure the file request comes from you. The entire file upload experience feels more professional.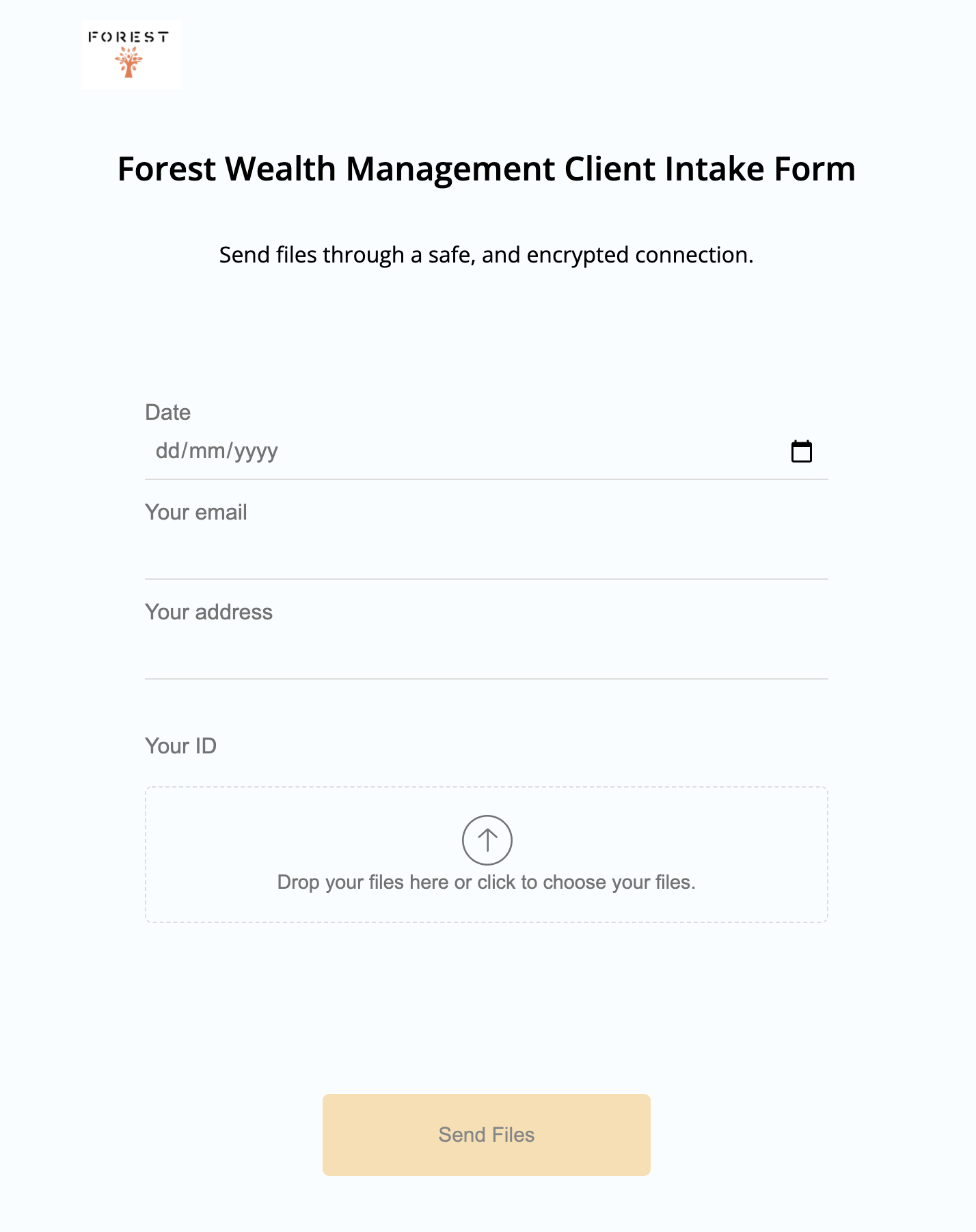 Receive large files in your Dropbox account
You can upload files up to 2 GB with most Dropbox accounts. Even if you have lots of storage in your Dropbox account, you won't be able to change this limit.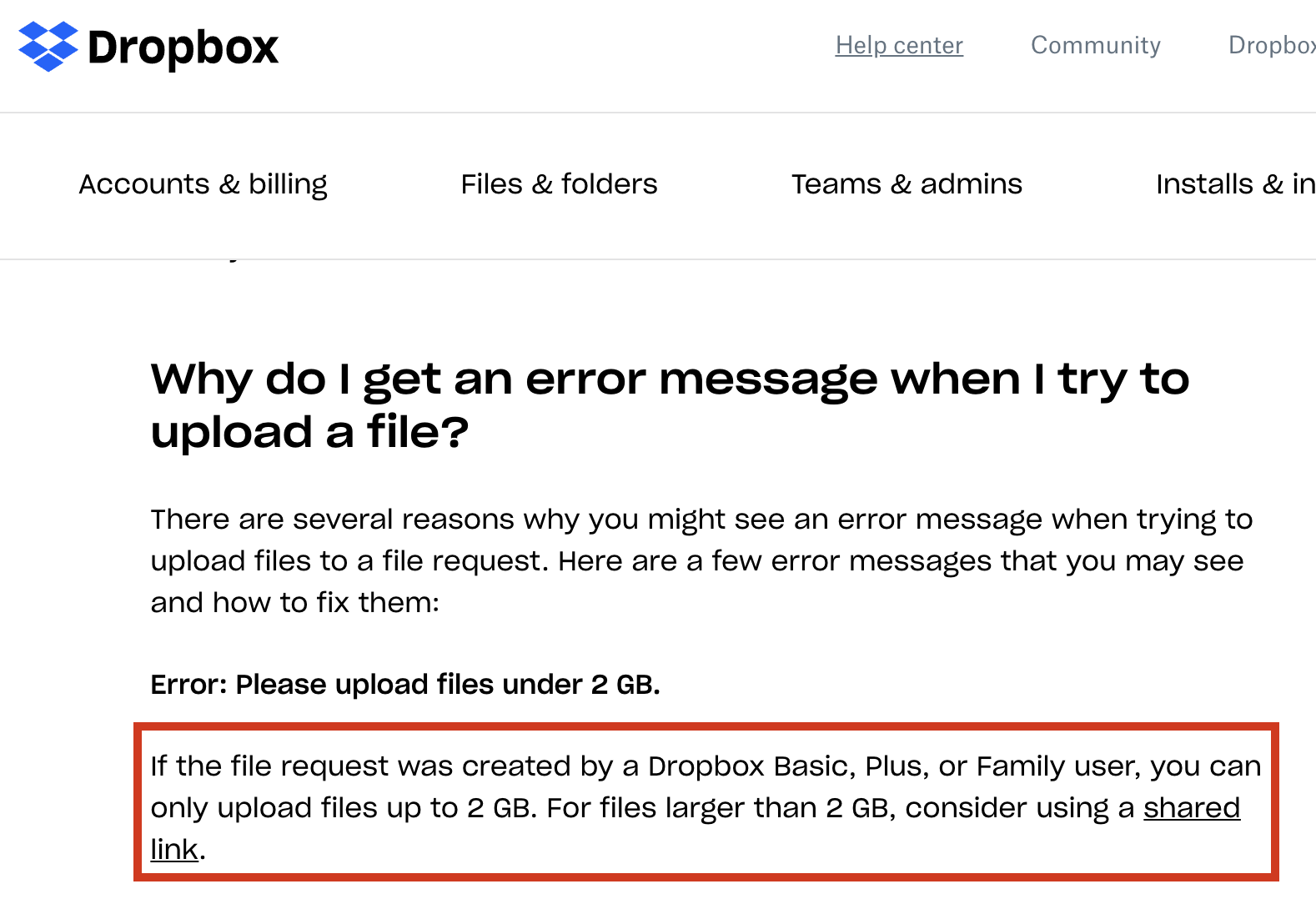 If you need to receive large files you can upgrade your Dropbox account. File requests created by business team members or professional users can accept files up to 50 GB.
Alternatively, with File Request Pro you can receive files up to 5GB with our basic Team plan, or 10GB with our Business plan. Contact us if you need to accept even larger files.
You can even use the extra storage we provide (50GB/100GB), if your Dropbox account is getting too full. This is included in our Team and Business plans.
Embed the upload form in your website or create a standalone page
Dropbox lets you send file requests by email, or copy a link that you send to clients. The link lets you send clients to a standalone page, although the design of the page will not fit in with that of your company. You can't embed a file request form on your website.
File Request Pro lets you create a standalone page with your company branding, or you can embed the upload form within your website by cutting and pasting a few lines of code.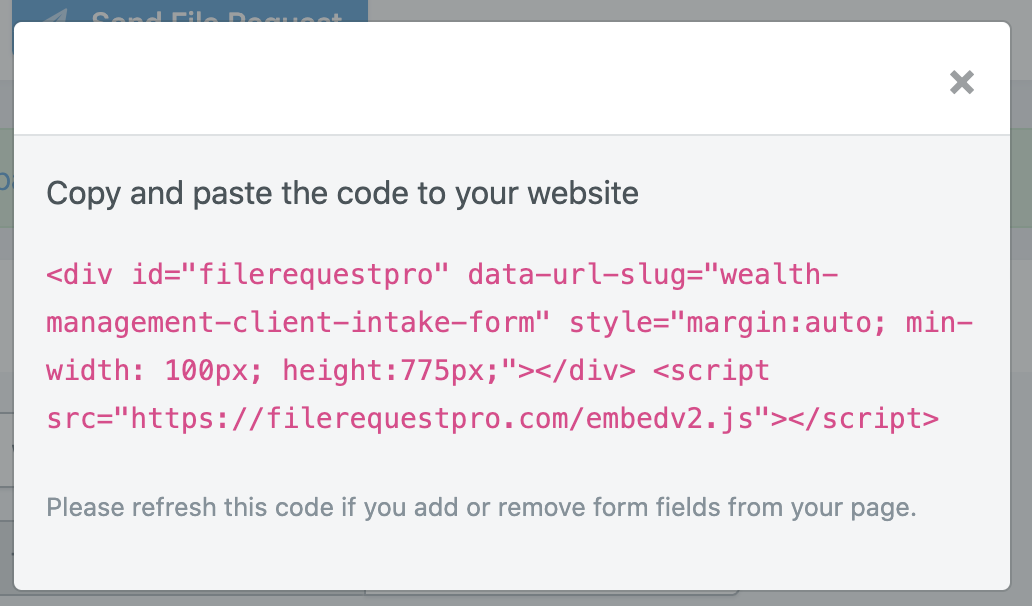 Collecting client files and content with File Request Pro and Dropbox
By creating a file upload form with File Request Pro, you can use Dropbox for what it is really good at – storing client files and synching them across devices. Then use File Request Pro for collecting and organising files and content.
See File Request Pro product overview.
14 Days trial. No credit card required