Dropbox File Requests provide you with a simple way to collect files from anyone you email or send a link to. They don't need to have a Dropbox account. However, there is a file limit, you can't collect emails and Dropbox brand file requests.
Here are some commonly asked questions about Dropbox File Requests, with answers.
1. What is the Dropbox File Request size limit?
If you have a Dropbox Basic, Plus, or Family user, you can upload files up to 2 GB. Dropbox Business team members or Professional users can accept files up to 50 GB in size.
2. Can you collect email addresses with Dropbox File Requests?
No. Respondents who are signed in to Dropbox can upload documents without adding extra information. Respondents who aren't logged in, or don't have an account, will be asked to enter their name and email. However, their email isn't passed on to you. Their name is added to the file name.

3. Can you customize file requests or remove Dropbox branding?
You can't customize or white-label file requests or remove Dropbox branding on your upload page. Once your respondents upload documents, they will be asked if they want to sign up for Dropbox, if they haven't already. File request forms are designed by Dropbox, using their branding.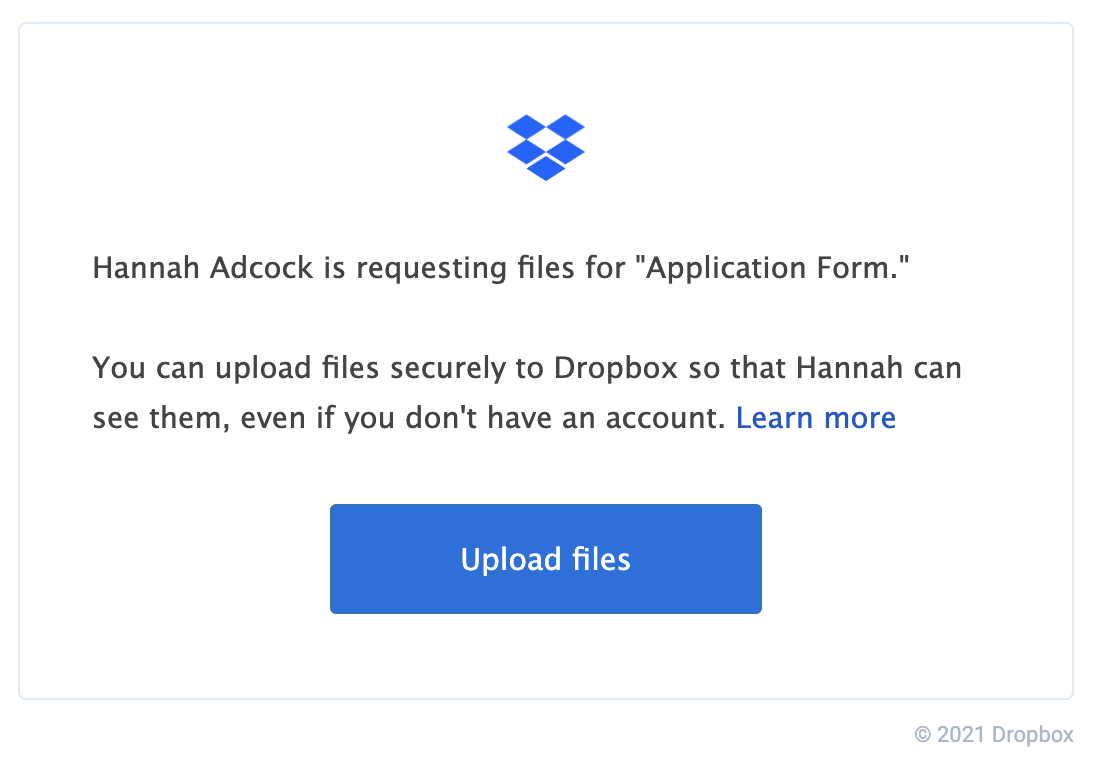 4. Can you send clients reminder emails?
With a Dropbox Pro account you can add a deadline to file requests.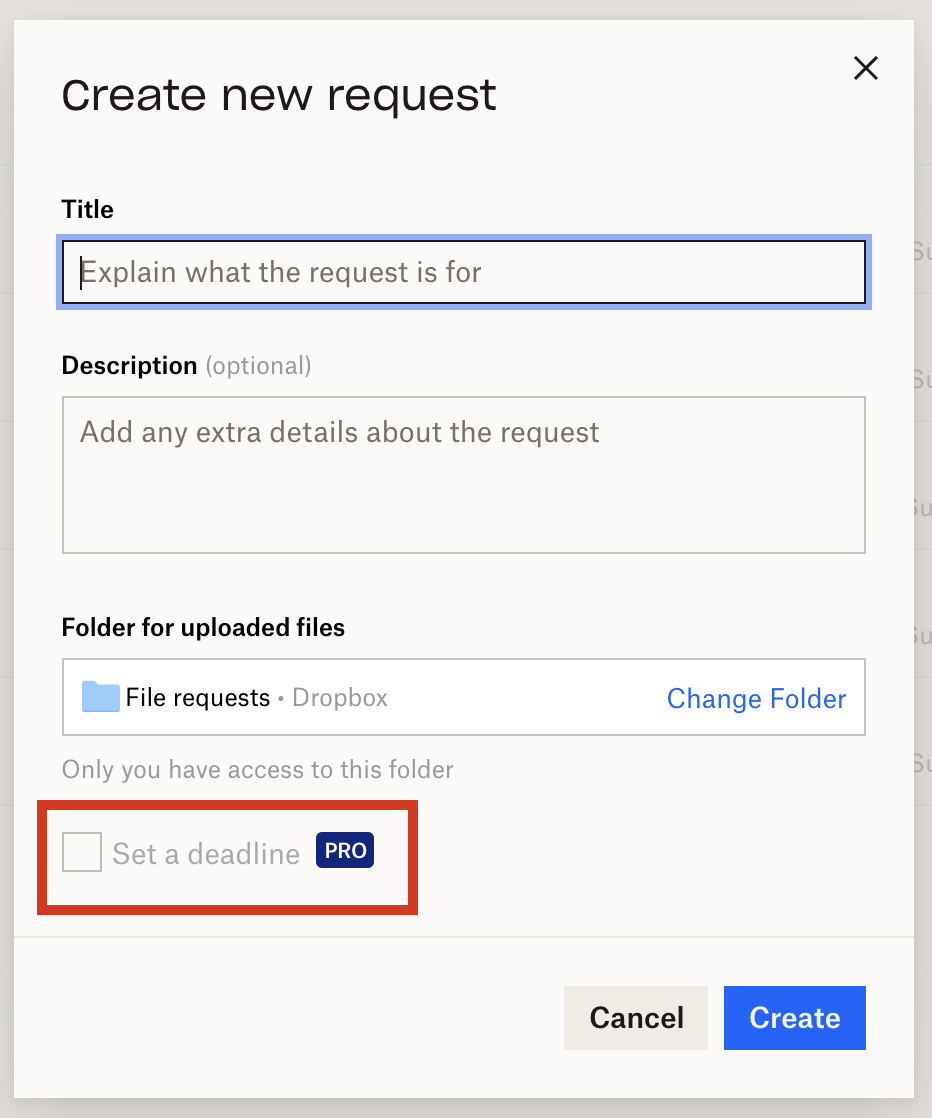 Dropbox will then send one reminder email on your behalf. You can't customize the reminder sequence.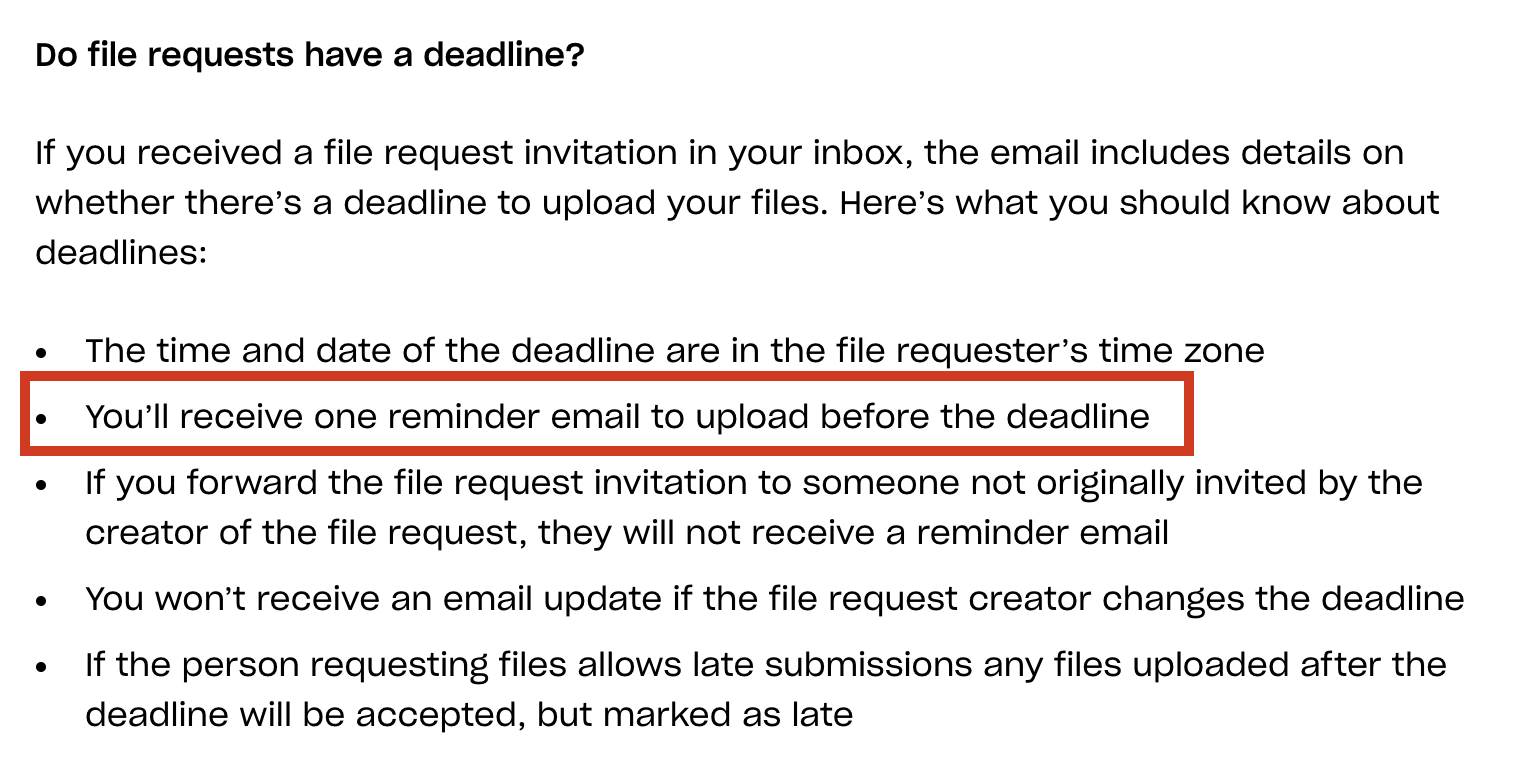 5. Who can I send a Dropbox file request?
You can send a Dropbox file request to anyone. They don't need to have a Dropbox account. However, if they aren't in your listed contacts, then you'll be asked to import contacts. So you can't just use any email address. You can send links to anyone. Links are long and ugly so you might want to use a URL-shortening service.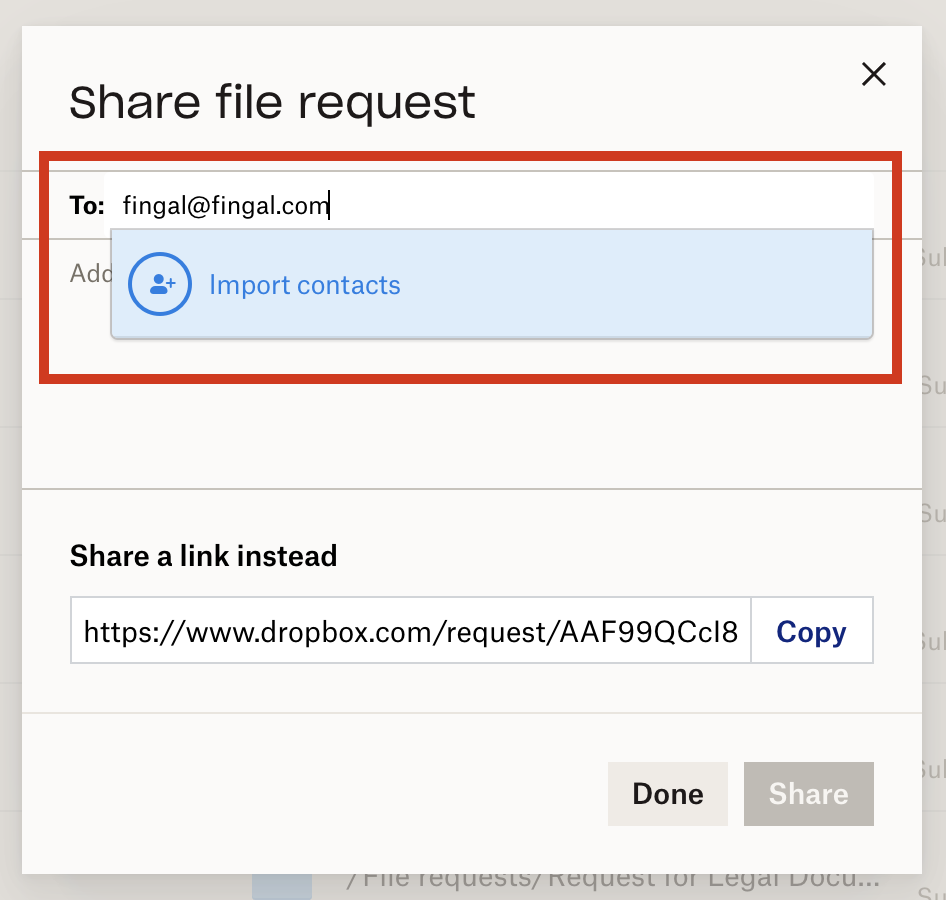 6. Can I create a Dropbox public upload page?
Using Dropbox file requests, you can get a public link that links directly to the request. Even if this is a public upload page, you won't be able to add a field to collect more information to remove Dropbox's branding from the page.
To create a Dropbox upload link, go to your Dropbox folder, and click the file request button on the left menu. Here you will see all the file requests folders, click on the three dots menu of the folder of your choice, and you will find the file request links to the file requests page. You just need to copy it and send to the person you request the files from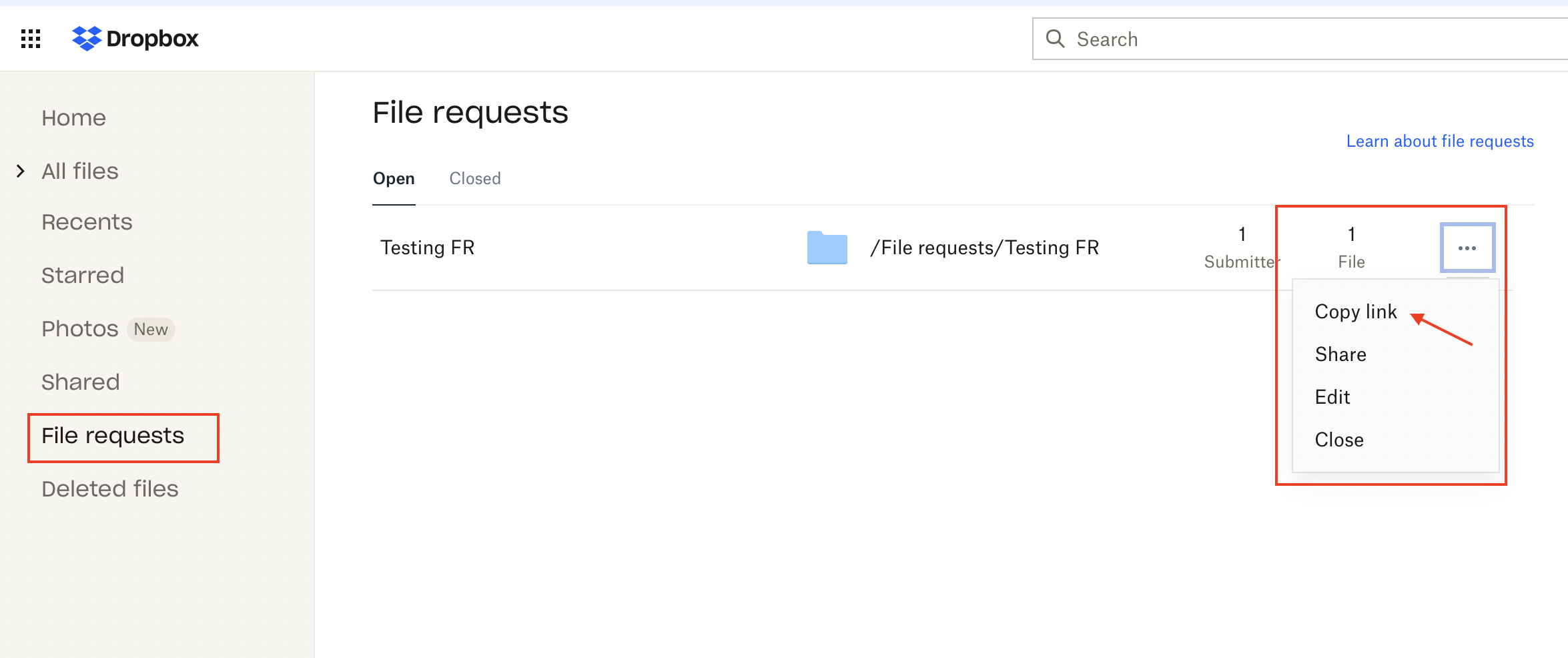 7. What are the alternatives to Dropbox File Request?
Google Drive doesn't have a specific file request feature, although you can 'share' folders. Microsoft OneDrive lets you request files, but with limitations. Microsoft SharePoint doesn't currently let you request files from people external to your organization.
Dropbox is the best of the cloud storage providers in terms of being able to request files from anyone, regardless of whether they have an account. However, it is a 'add-on' feature and not geared to business users. If you need more flexibility and sophistication then consider specialist file request software.
This white-labeled file request form was created using File Request Pro.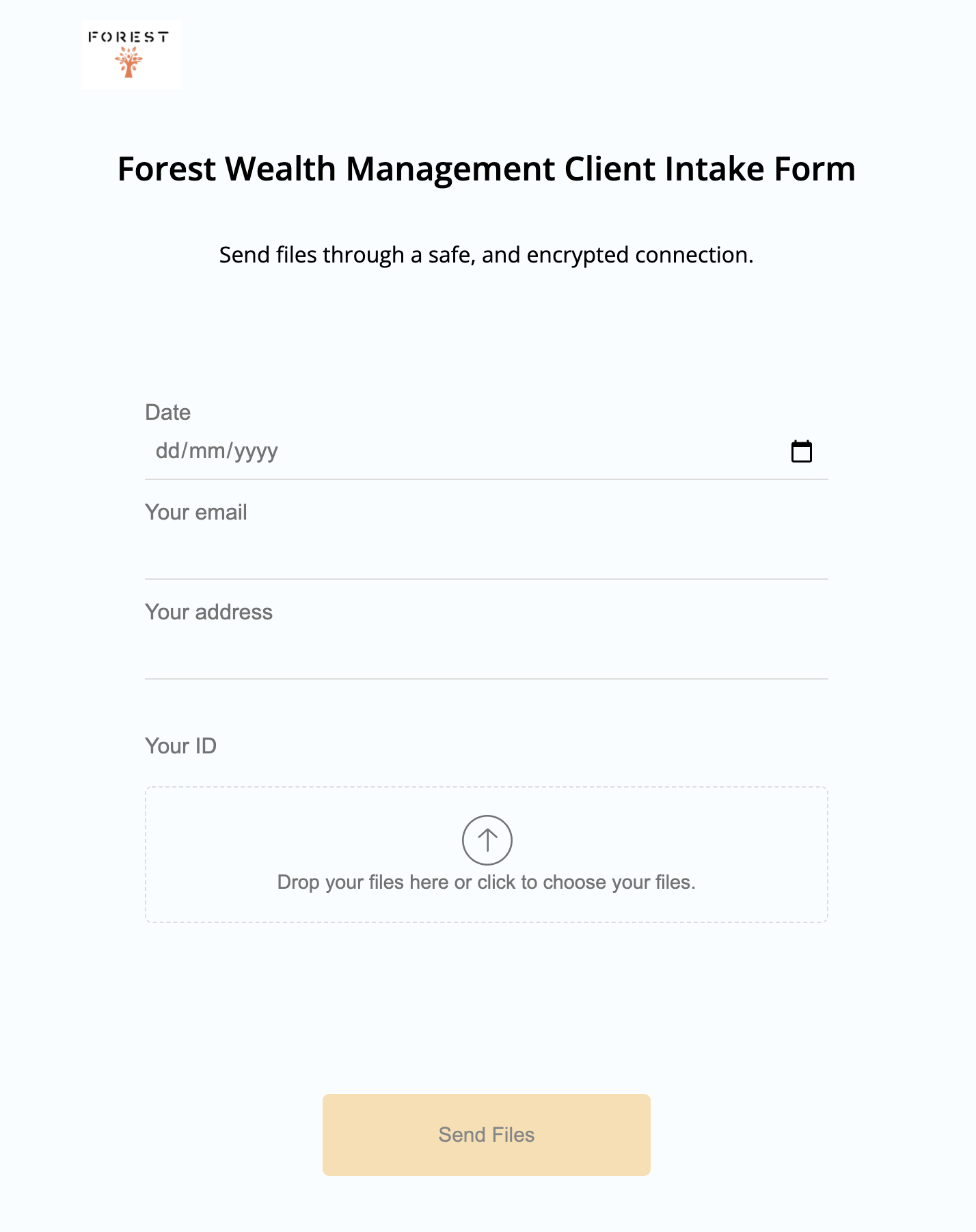 File Request Pro – collect and organize files and information from anyone, direct in your Dropbox account. The business alternative to Dropbox File Requests
File Request Pro is specialist file upload software, which provides a business alternative to Dropbox File Requests.
Use Dropbox for file storage and File Request Pro for professionally collecting and organizing client files and information.
White-label and customize file request forms and file upload pages
Request client emails and any other type of information using a range of form fields and conditional logic
Receive all uploaded directly in your Dropbox folder
Dynamic file organization based on whatever factor you choose (name, email, ID, etc)
Send file requests to anyone, on any device, with no sign-up required
See how you can use Dropbox and File Request Pro.