One of the first steps in a coaching relationship is filling out a form. This can be something as simple as a paper intake form that summarises the first session, or something more detailed and detailed like coaching goals.
I'm sure you've already come across this coaching tool and the benefits it can have for your business.  More clients means more responsibility, and that includes needing to keep track of more things.
Sending new clients a coach intake form is the answer to all of your prayers. Not only does it create a smooth onboarding process, but it will also help you stay organized at all times!
What Is The Coaching Intake Form?
The coaching intake form is a document that is designed to collect all the information that a coach might need to know about the client.
A Coaching Intake Form can help you to better understand what coaching will be like and how a coach might work with you. The data gathered from this form can also be used for workflow and process improvement of the company.
The form should be filled out in during or before the first session with the client. It should include questions about their goals and desires, any previous experience they might have had, and their reasons for coming to coaching. The form can also help coaches figure out what type of coaching style would be best for them, which will then help them better understand how they can work with their clients.
How Coaching Forms Can Grow Your Business
1- Coaching Forms create a positive client experience
Do you ever find yourself struggling to understand what your client wants? Maybe you assumed certain things without realizing that they were incorrect and didn't get the information you needed to provide them with an effective solution.
These issues can be avoided by using the right form. From onboarding questionnaires to feedback forms, you'll never have to second-guess what you're trying to do again.
2- Coaching Intake Forms Free up Your Time
Consider how much do inefficiency you experience by not having the appropriate forms and other workflow tools. Emailing, onboarding paperwork, designing processes… these can all be improved with the right software.
Getting your coaching intake form out of the way before our initial meeting can make it much easier to talk and will save you the hassle.
If you use a software with automation, you can even create a reminder sequence to follow up with your customers to make sure they respond to your intake form.
How To Create A Coaching Intake Form?
Ideally, they should know what data you want to collect and how best to go about getting it.
The coaching intake form has various sections, including the Client Information section. The first part of this section deals with a client's name, date of birth, and gender. There are then details about their residence and business. You must get all the contact details of the client. This includes electronic mail addresses. You can get an idea about where the client stays for conducting follow-up sessions. The second section has a pre-coaching questionnaire. It is for knowing in depth about the client.
The form should have an agreement for confidentiality. It is used to indicate that the information of the client can exclusively be used for coaching purposes and will not be exposed to third parties.
Which tool should I use to create my coaching intake form?
For this, you can write your own questionnaire, or you can use a free template that is available to you. There are countless ways to go and if you're not sure how to start, there's help here.
Forms Builders
If you're looking for a tool for standard forms, Google Forms is probably the first thing to come to mind. It allows you to add various question types to conduct surveys and gather feedback from your clients.
It's common to find some limitations when using Google forms and similar tools, such as versatility and productivity. This doesn't mean that you won't have to do anything, of course! If you want things to run smoothly in your business, you will still have to chase clients and send countless emails, which can get tiring.
Forms with reminders or automation
Most specialist client intake form software aims to automate low-value tasks associated with getting customers to fill the information you need.
For example, chasing clients for files and content is time-consuming and frustrating. They get the deadline wrong. They want to know exactly what you need in from there.
File Request Pro helps you to create an automate a reminder email sequence instead. It also makes it easy for you to be precise about what files and information you need. It is easier to guide clients to upload the correct content with a smart user interface, rather than chasing them after they've already sent you files.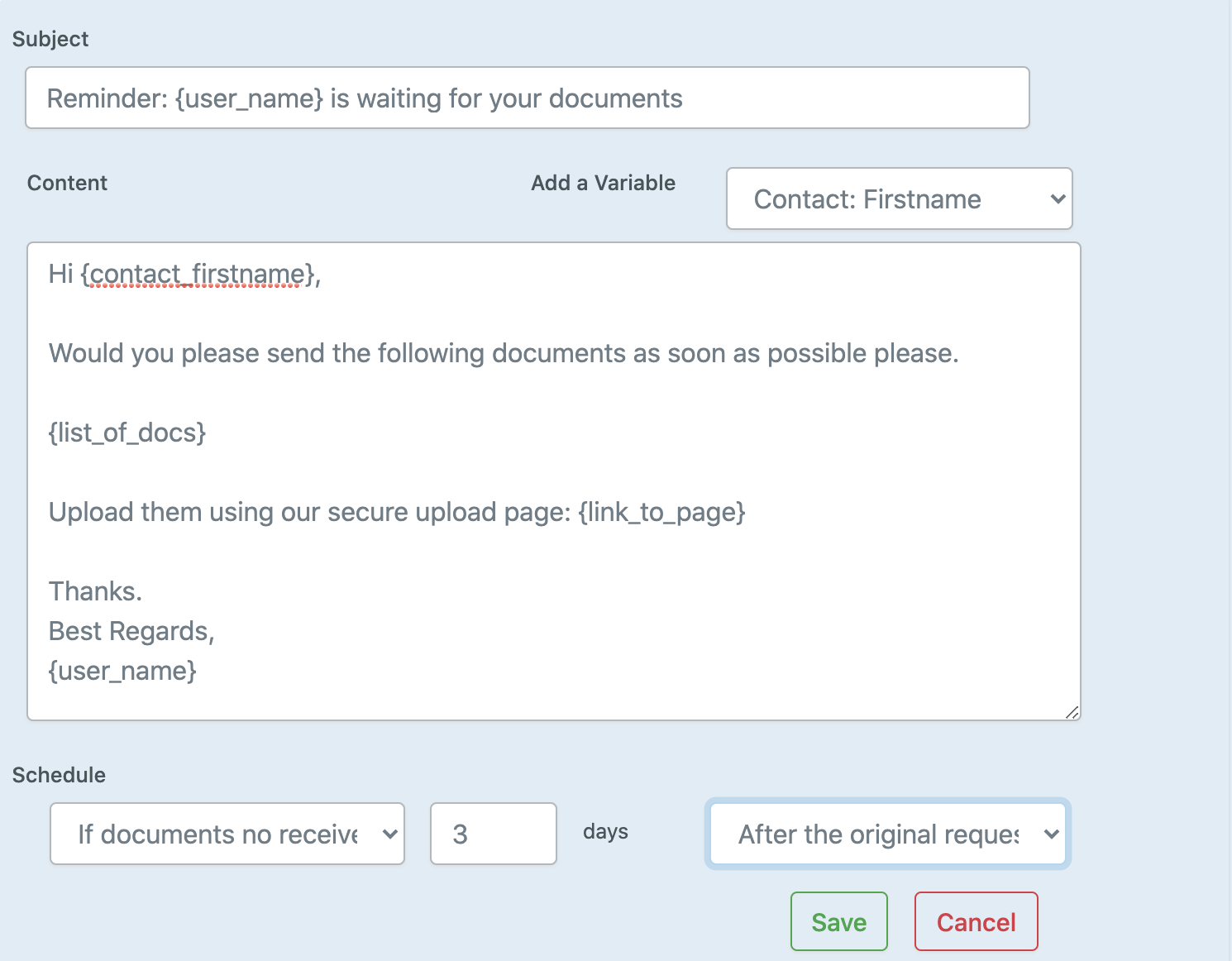 To keep your coach intake process as simple as possible, reuse your intake forms and automated reminders for different clients. You might need to make the occasional tweak, but this is much quicker than starting the process from scratch every time.
Ready to streamline your coaching intake process with improved forms?
These are your next steps:
Sign up for a free trial of intake software like File Request Pro
Create a customized coaching intake form (10-15 minutes)
Set up automated emails (10 minutes)
Send your first invite to a client
TOTAL TIME TO IMPROVE YOUR ONBOARDING PROCESS = 25 minutes