Although smartphones and modern software make it easy for almost anyone to create and store videos, it's still very challenging trying to collect large files. Without a good system in place, your video applications and promotional material will end up scattered across a variety of places, programmes, and formats — some more secure than others.
Here are your options for collecting large video files, with the advantages and disadvantages highlighted:
1. Collect videos and audio files over email
✓ Everyone understands how to use it
X File size limits
X Confusing email threads
X Security issues
Email is a simple way to collect files. Everyone understands and knows how to use it. However, your clients or applicants will probably run into file size limit error messages fairly quickly. Most email providers limit uploads to 10-25 MB, which is getting quite tight for video or large media files.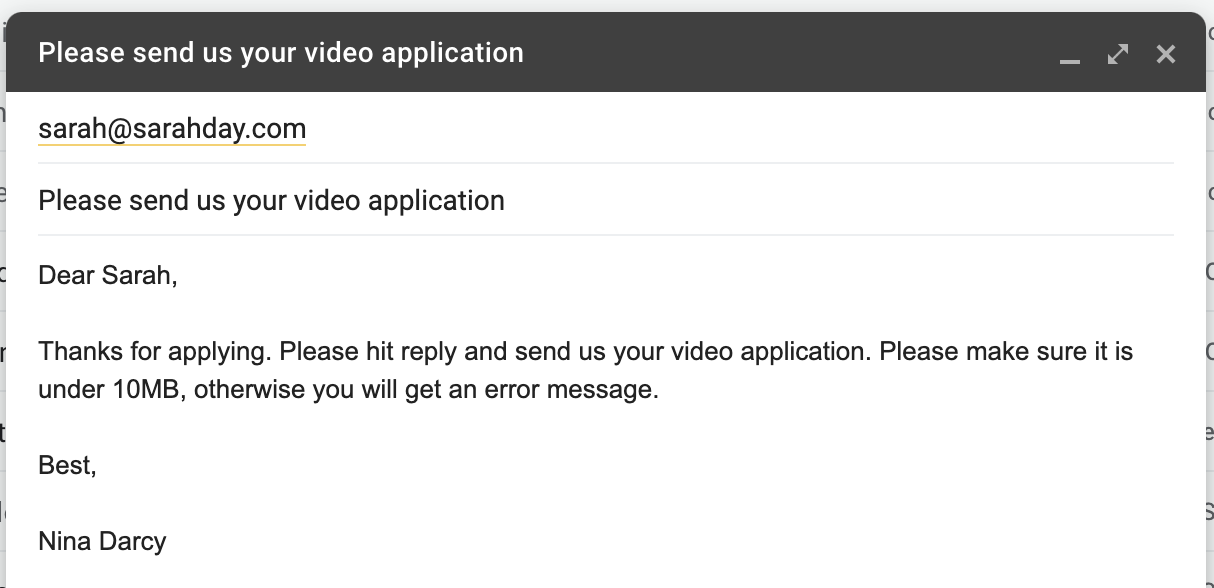 For Internet email accounts such as Outlook.com or Gmail, the combined file size limit is 20 megabytes (MB) and for Exchange accounts (business email), the default combined file size limit is 10 MB. Microsoft Support.
Using email to collect confidential or private information can also have security implications, unless you use encrypted email. This can be a particular issue if you need to comply with the GDPR.  Data breaches could: "expose your organisation to disciplinary action under the GDPR (General Data Protection Regulation)." 
Using email for data collection also means that large files have a tendency to get lost in email threads. To avoid this time-wasting scenario, move emails with file attachments straight into project-specific folders so you know where they are.
2. Use file upload pages to collect videos
✓ Easy to use for you and your clients
✓ Automate file organisation and reminder emails
✓ Collect extra information using form fields and conditional logic
X No free option
File upload page software like File Request Pro has been specifically designed to make it easy for you to collect and organise large files and extra information from your clients. It takes some of the best features of cloud storage software, file-sharing programmes and form builders and presents them as a complete package for file and content collection.
It is a secure and easy way to collect video testimonials and messages, video applications, and partner content. It is also a professional solution, because you can fully customise the process, adding your own branding, choosing a one-page or multi-page layout, and scheduling a series of reminder emails from your own email address.
Read more about how to receive large files with File Request Pro.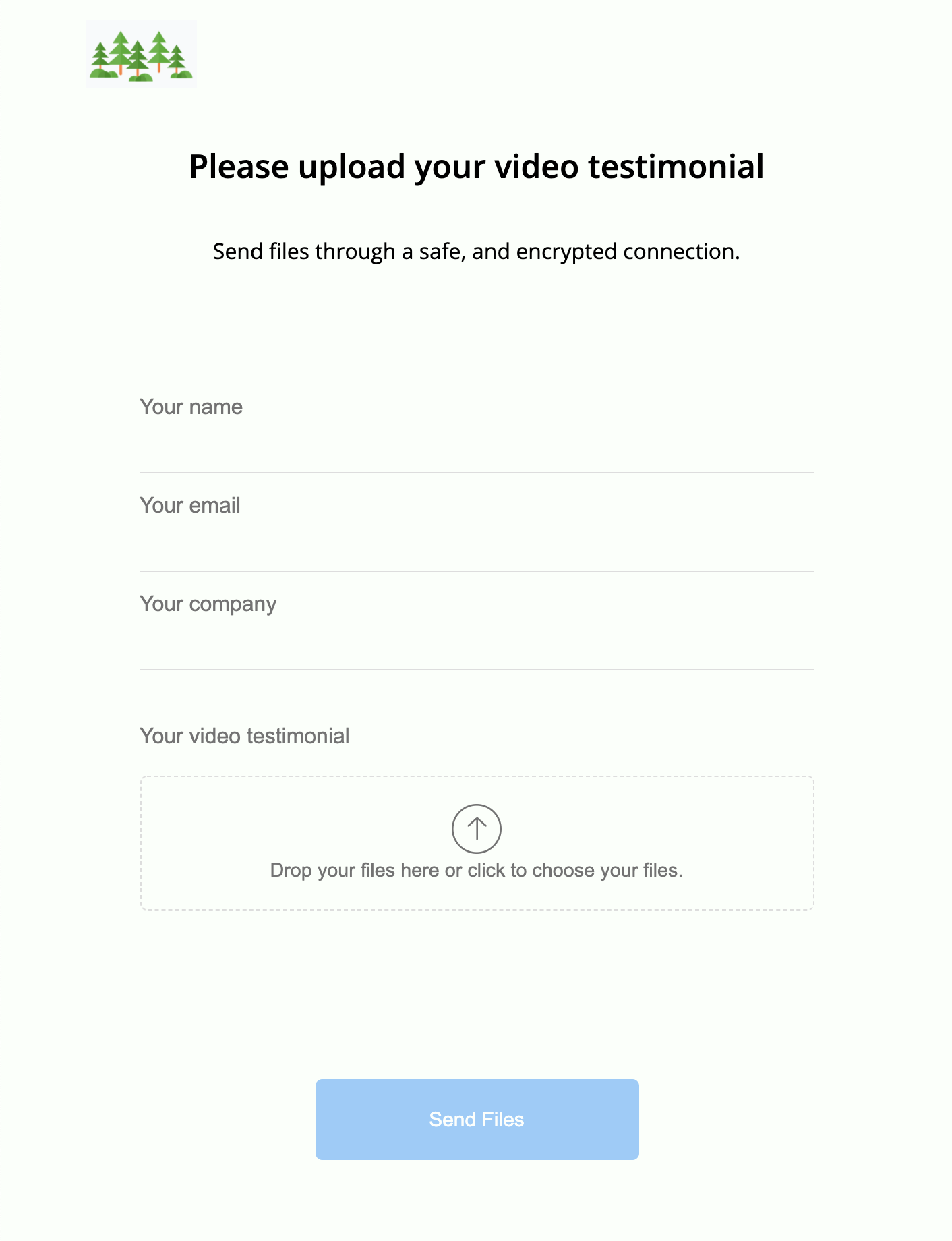 Files and content are automatically sent to your favourite cloud service software. You can organise files by almost any value that makes sense to you, including client name, email, sales number, business type and so on. You can also send files to your inbox.
3. Receive videos just using Cloud Storage Software
✓ Good for collaboration
✓ Secure (mainly)
X Clients usually need an account which can be off-putting
X The file sharing experience can't be branded by your company
Cloud storage software like Google Drive, Dropbox, OneDrive and SharePoint are a popular way to move large video and audio files. Use the file sharing feature to invite clients to collaborate on a project with you. You do this by inviting them to upload files to a shared folder.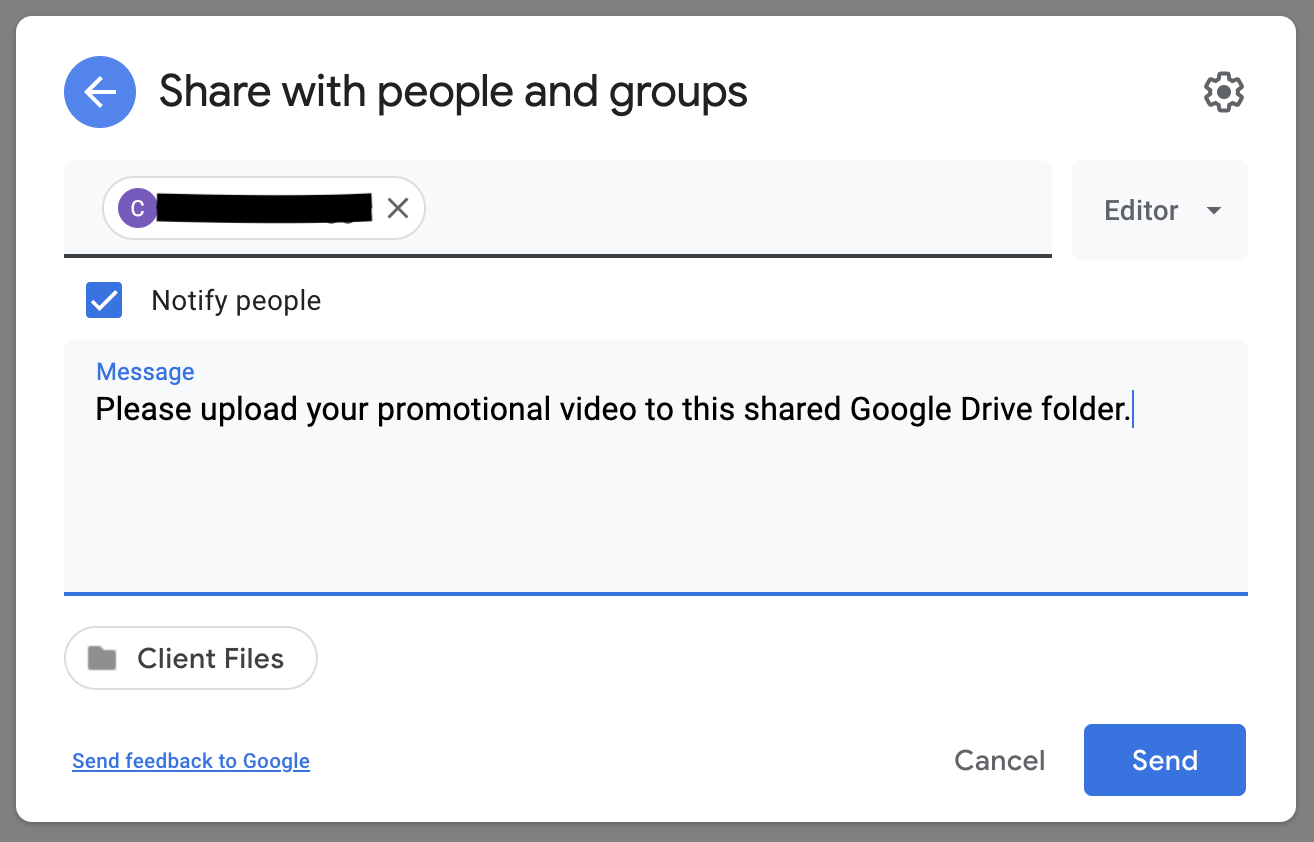 Although you can usually set different permissions for contributors, they can usually open and see all files in that folder, even using the most restrictive 'view only' setting. This is because cloud storage software is primary geared for collaboration rather than file collection.
You need to consider whether has privacy implications for your clients. If so, you'll need to create a separate shared folder for every client, and also a separate folder again for confidential material that is relevant to the client but which you don't wish them to access.
However, cloud storage software is generally secure – certainly more so than email. Any security failings are generally caused by file sharing, and fraudsters trying to exploit this option. This is what Google Drive has to say about how they tackle fraud and phishing.
Where cloud sharing software can be annoying, is that your clients may need an account to share video and audio files with you. This is the case with Google Drive. SharePoint also doesn't support anonymous file sharing.
The good news is that Microsoft OneDrive rolled out a new 'request file' feature in December 2019, for certain types of accounts. Dropbox also has a file request feature, which you can use to request large files from anyone.
Both file request features options are easy to use but basic. You can't ask for other information in a structured way (even clients' email addresses), and you can't white label the experience with your own branding. In fact, with Dropbox the file request feature actively promotes Dropbox, which can seem unprofessional.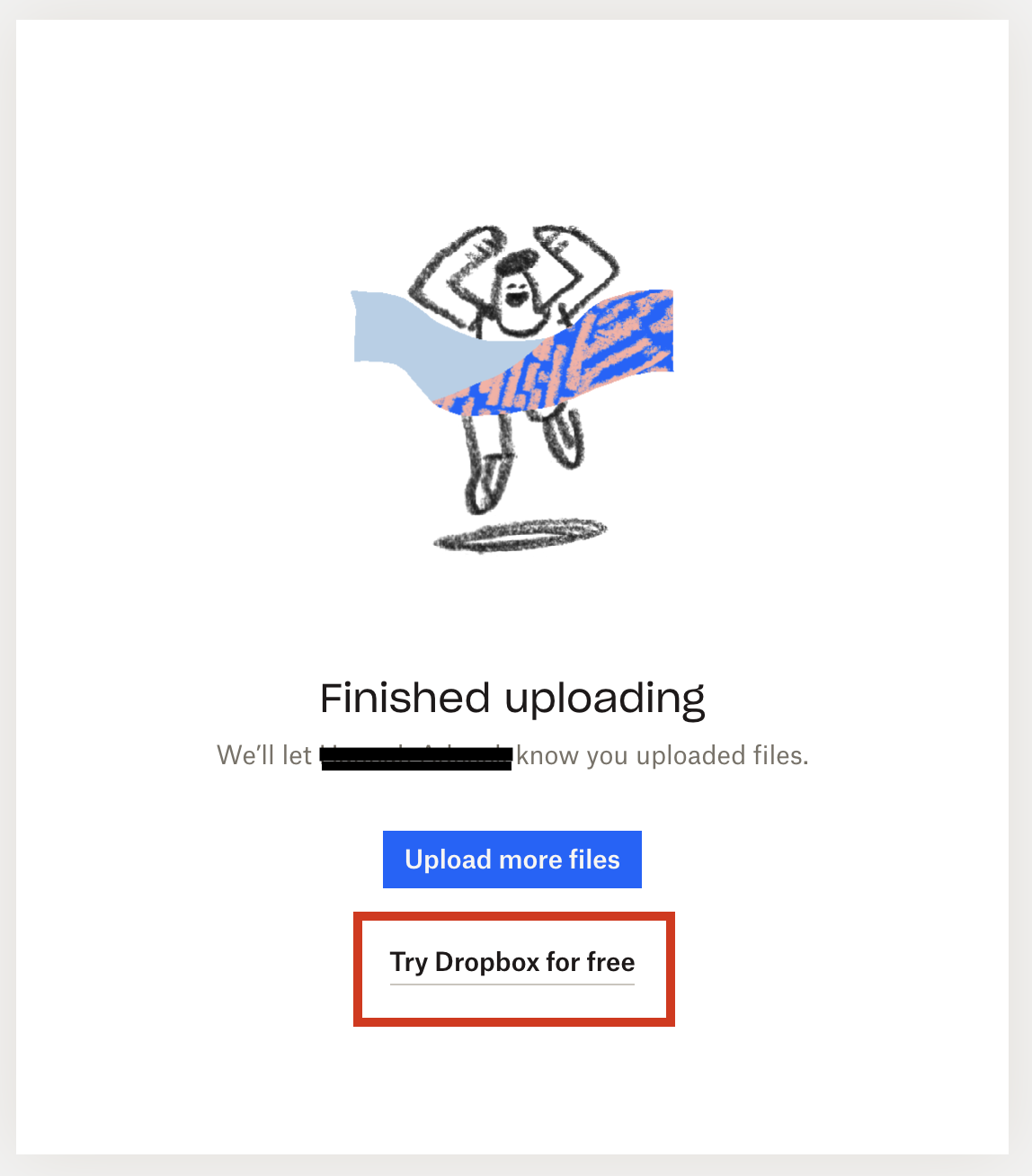 4. File-Sharing Programs
✓ No account needed
✓ Easy to use for your client
X You need to download every file and upload it to your storage system
X Can't white label the experience on basic plans
A host of file sharing programmes have sprung up to make transferring large files easy. Many have free or cheap versions. These include WeTransfer, TransferNow, or DropSend, where your clients can simply type in the recipient's email address, attach the large file, and press "send." You then get an email link, which you click on to download the file.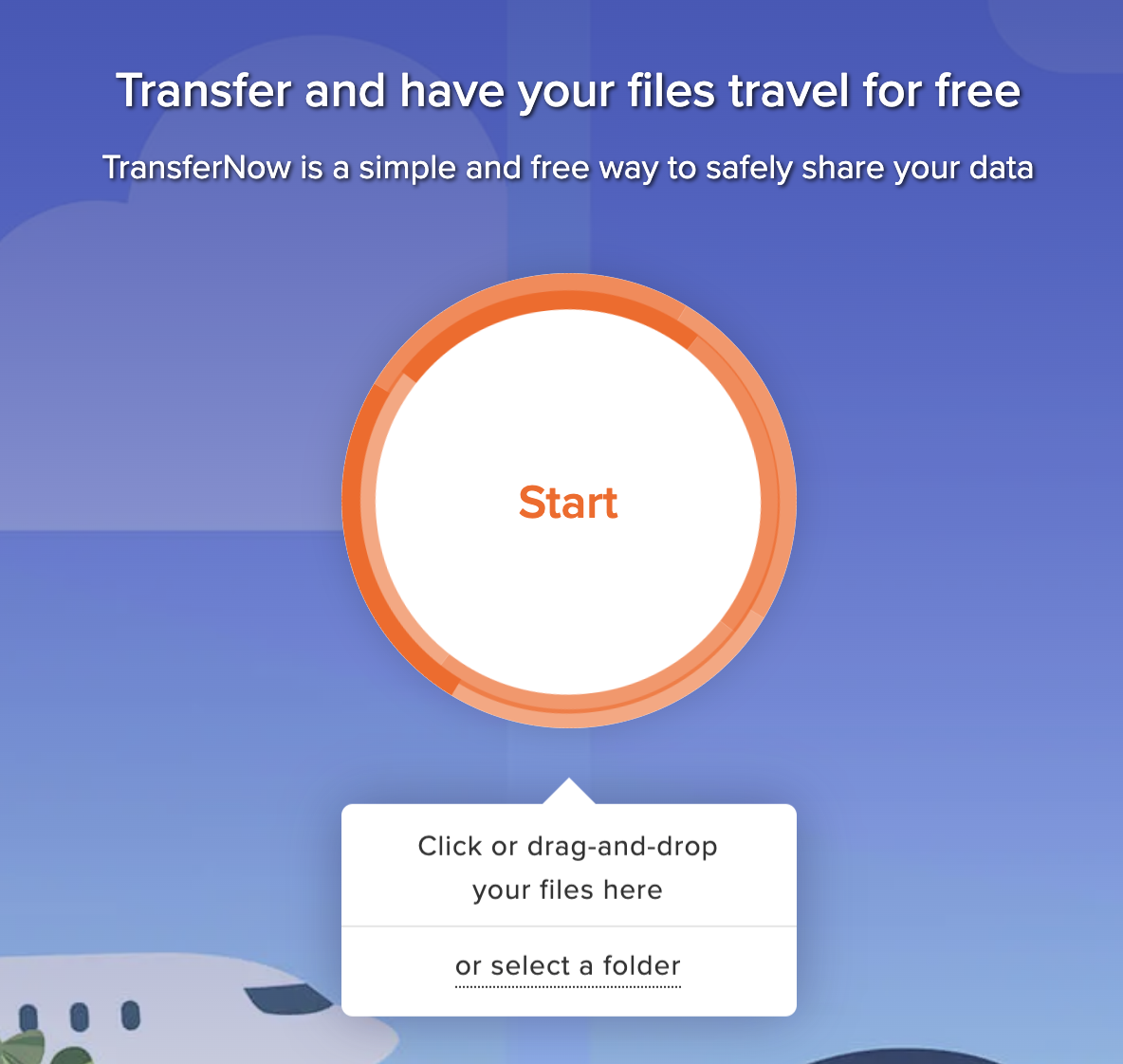 The experience is easy for your clients, although your response rate will dip if your clients don't trust this option. You might need to choose a more expensive business plan so you can white-label the experience, and make the experience secure (with 256-Aes security). DropSend start providing these features on their $45 a month plan. WeTransfer have a Pro Plan from $12 a month per person.
Collecting files is only half of the file request process though. Most file transfer programmes offer fairly basic options as to how you can organise files. You usually need to download every file within a certain time frame. Then it's over to you as to what you do next. If it takes you hours to download and organise video files, you have a problem, particularly if you are requesting a lot of files. This kind of work is low-value and prone to error.
Although file sharing programmes have many advantages, their main focus is on how someone can send a large file rather than on how a company can collect large files. So their feature set is geared towards making it easy to send files, meaning the experience for you – the recipient – is less satisfactory.