Client intake forms can be used by accountants and wealth management companies as part of the new client onboarding process. They provide a professional, repeatable and automated way to collect essential information at the start of the relationship.
They are also an easy way to simplify your onboarding process without having to use complicated software that seeks to replace your existing tech stack or initial high-touch processes.

What is a client intake form?
Client intake forms can be used in two different ways. You can embed them on your website as a way of curating leads, so you can avoid lots of back and forth conversations about what you offer and whether you are a good fit for the client and vice versa.
Or you can privately send a new client intake form to leads that you've already converted. This way you can collect essential information and get on with providing value as soon as possible.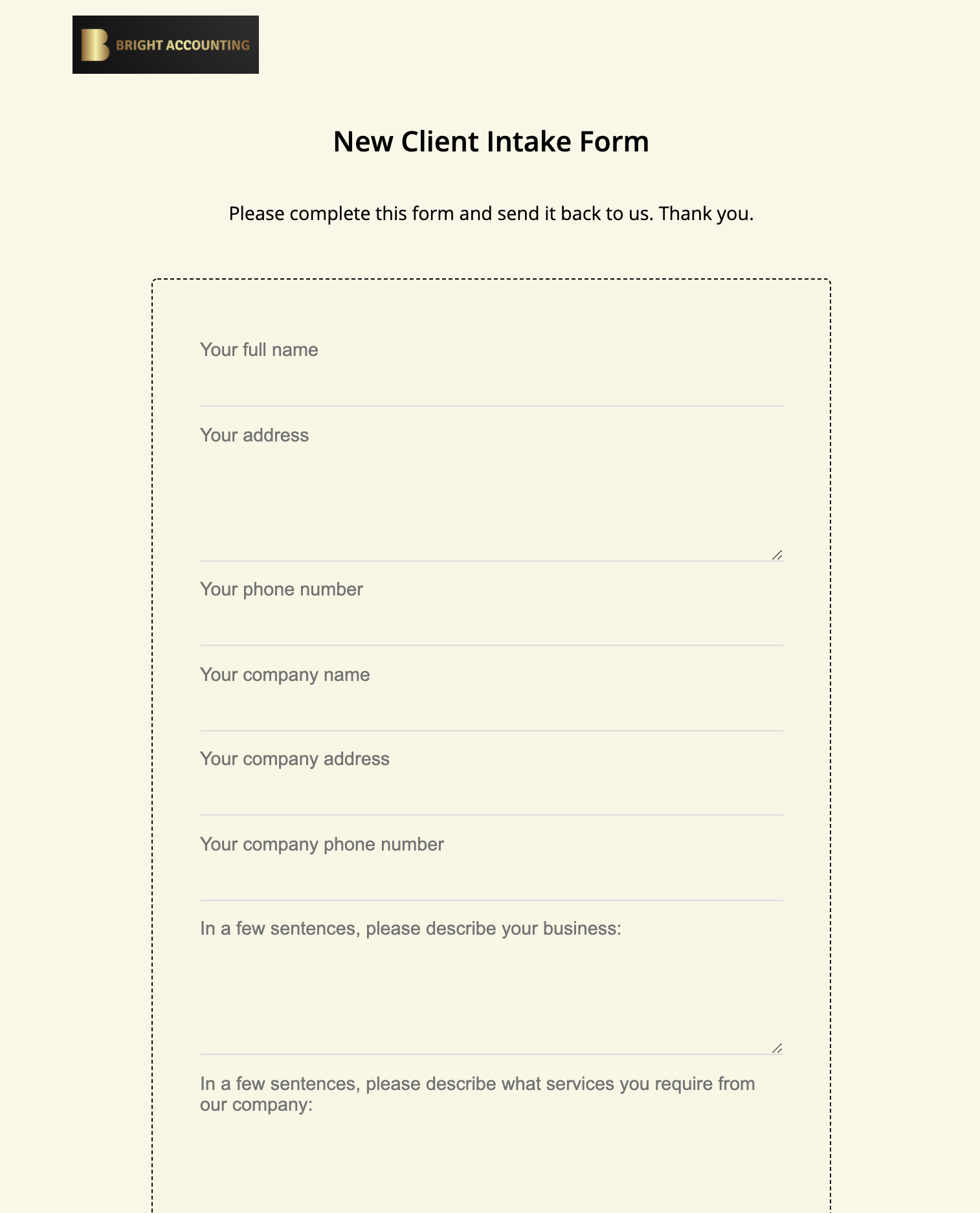 Client intake forms should provide a secure way of collecting content, and sometimes files, from clients. They should also make it easier for you to organise new client details and files, preferably by collecting them in one secure place.
Why should accountants and wealth management companies use a new client intake form?
Client intake forms, particularly when you send them privately to very new clients, are a secure, low cost and repeatable way of collecting information and files.
Done well, they should provide a positive initial customer experience with your company. After all, if people come to you because they want help with complex finances and convoluted legislation the last thing they need is a complicated onboarding process.
Client intake forms will also help you meet stringent security requirements when it comes to client data. Email is often a target of scammers, while even shared cloud drives can be problematic.
This help document for Google Drive explains what they do to counteract phishing and malware. Popular cloud storage providers are often the targets of hacking as well. This article examines whether Dropbox is secure.
How do you create a client intake form?
Client intake forms are basically very simple. You can create a form using free software that you can email to clients. However, if you need a secure form that helps you organise content and automates follow up reminder emails, then you'll need more specialist software.
Here are your two options for creating a client intake form:
1. Use popular and free software for creating client intake forms
You can use popular word processor or spreadsheet software like Word or Excel to create forms, which you then email to new clients. However, email has security problems when it comes to sharing confidential information.
Email accounts can be compromised by attackers using phishing attacks or otherwise, exposing your email communications to cyber criminals. Email messages and attachments can also be intercepted as they travel over the email network. By default, emails are not encrypted as they travel from your emails servers to the recipient. This means that if hackers are able to compromise this data, they can read your emails and attachments. Expert Insights
You could use Dropbox to share the form, or encrypt your emails. Both options are safer than ordinary emails, although not entirely without problems.
Dropbox has been a favourite target of hackers in the past, and promotes itself when you use it, which doesn't always look professional. Encrypting emails requires some work or expenditure. This is the process for encrypting gmail messages. Microsoft includes Office 365 Message Encryption as part of this bundle of services.
You can also use alternatives like Google Forms and share your client intake form with clients using the cloud. Google Forms is free for personal use or part of the Google Workspace package for business. 
You can customise Google Forms, which is useful for offering clients a more coherent onboarding experience. However, people outside your organisation can only upload files if they have a Google account, so Google Forms are not a good choice if you need this functionality.
Create a client intake form with Google Forms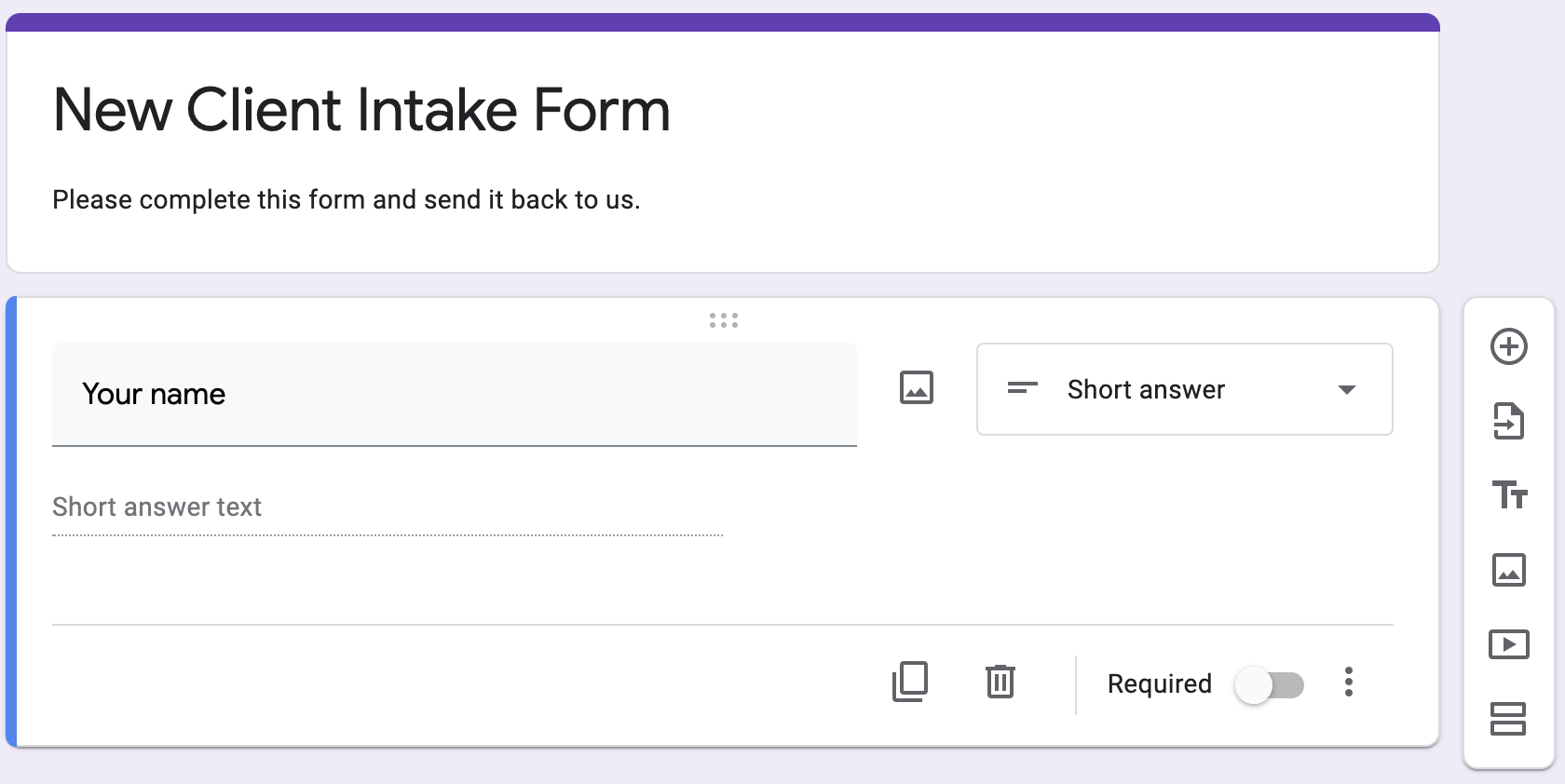 2. Use specialist software for creating client intake forms
Upload software like File Request Pro allows for secure file uploads, unique standalone upload pages for every client, automated reminders and native integration with Microsoft OneDrive and SharePoint, as well as Google Drive and Dropbox.
It is a good option if you want flexibility in terms of how you construct your client intake form, particularly in terms of document collection. It also allows you to automate the reminder and thank you email sequence, as the following template shows: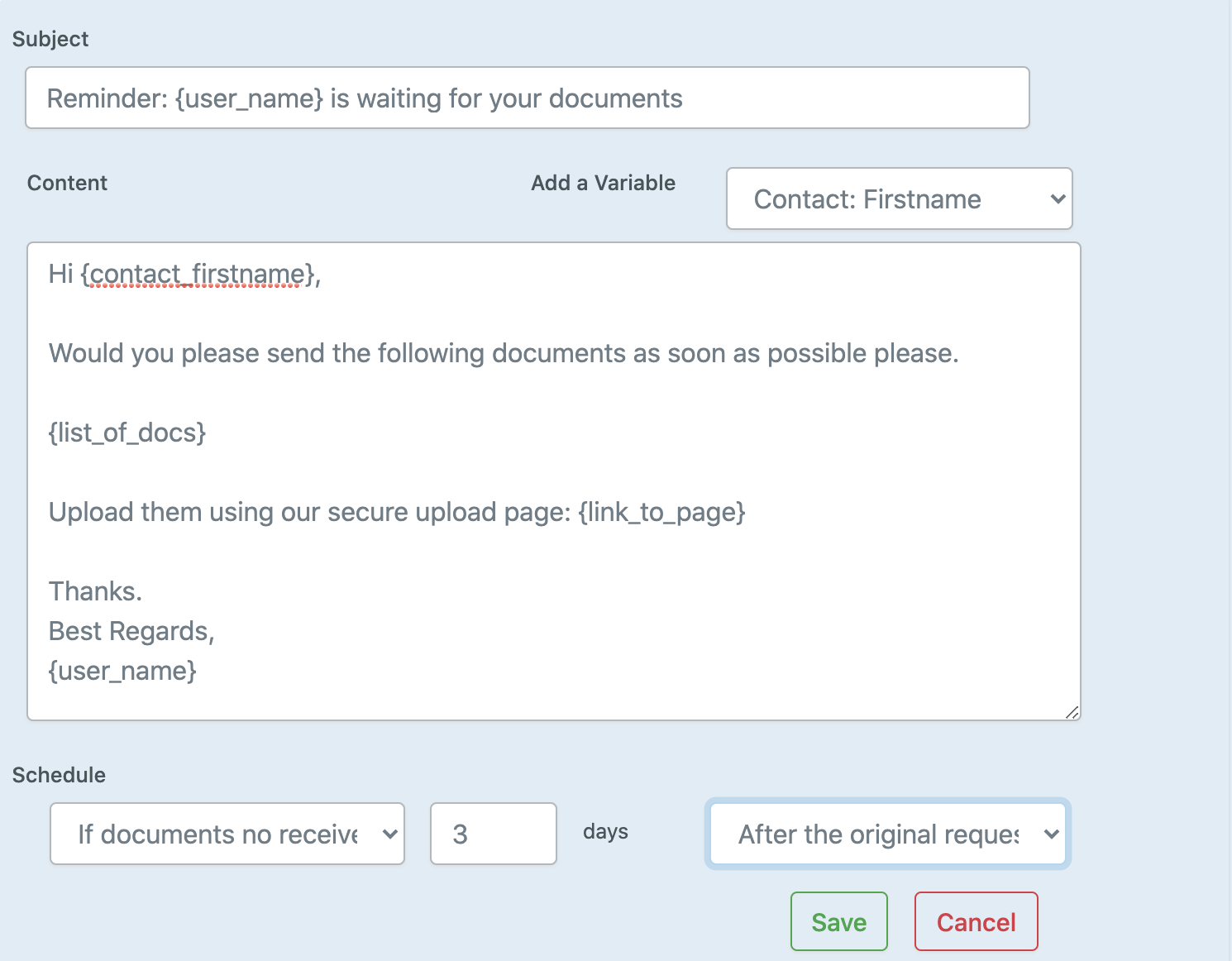 However, specialist software is a more expensive option than cloud service providers by themselves.
Pure form builders such as Jot Form and Typeform, or WordPress plugins such as Gravity Forms or WPForms, make it easy for you to create attractive, shareable and secure forms.
This is an example from Typeform: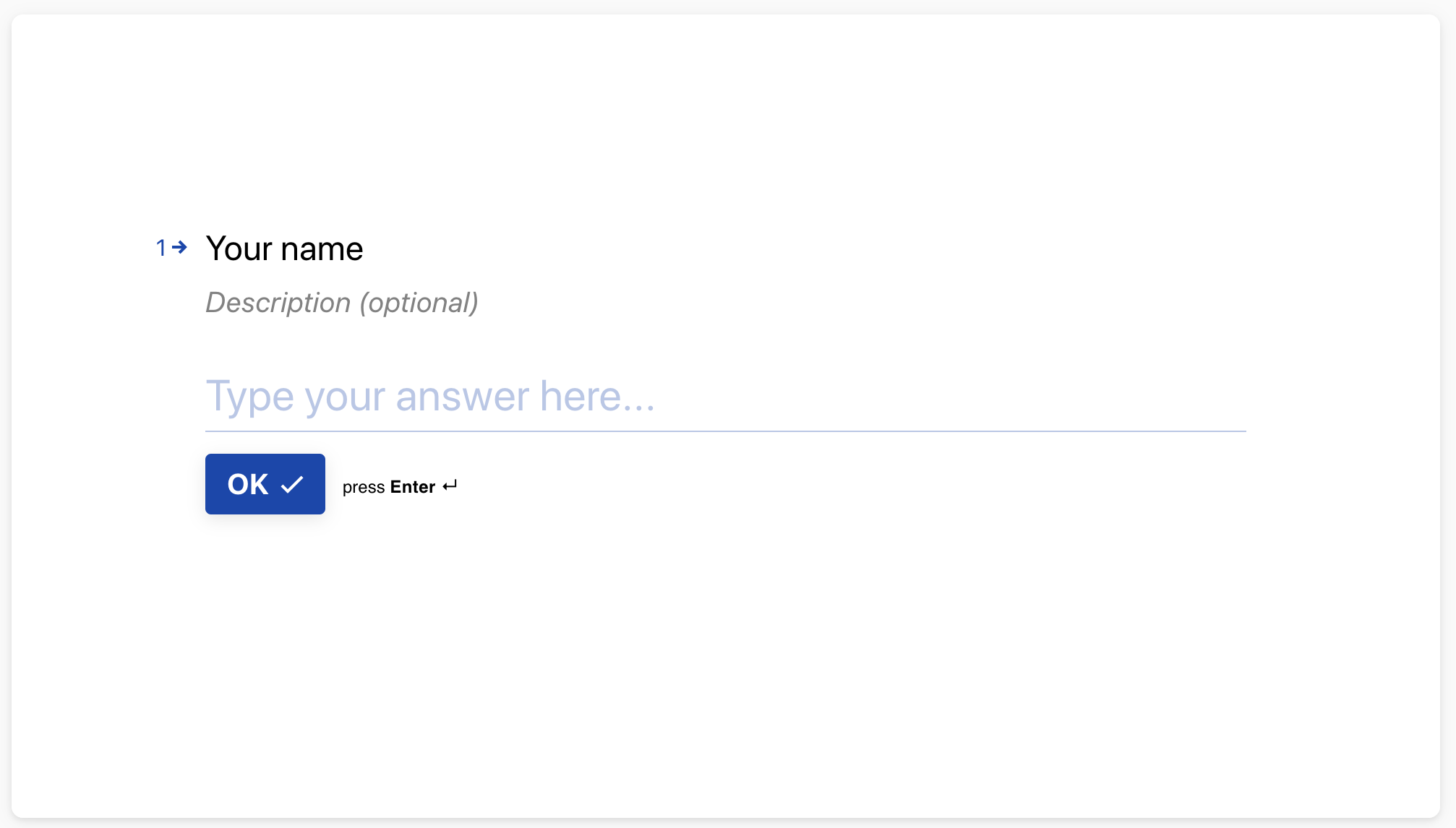 All these options are aimed at a general market though, so might need quite a lot of customisation. For example, Typeform prides itself on helping you create 'conversational' forms that convert. However, different clients prefer different form designs, so what works for a short customer satisfaction survey might not be so great for a client intake form.
Would your clients prefer to see all questions on one page, for example, so they know what they are dealing with?
Form builders also don't usually allow you to automate a reminder sequence of emails.
Free software vs specialist software – which do you need?
Specialist form builders are popular because it is time-consuming to create from scratch attractive, easy to use forms that clients can fill in on any device without needing to sign in to anything.
There's no point creating a form if your clients find it annoying to fill in and send back to you. It must be user friendly and, preferably, technology agnostic. It must also be secure, if they are sharing sensitive information with you.
REQUESTING SENSITIVE INFORMATION: Although we discuss in this article how you can make sure you collect data securely from clients, you will also need to consider the legalities. For example, the GDPR legislation affects how you collect data from people living in the EU.
If security, flexibility and file upload functionality are essential, then upload software will be a better choice. Upload software lets you create a customisable unique upload page for each client, which can also be used to collect files. Data and files are then shared using bank-level encryption, and automatically stored in your cloud drive or elsewhere if you use Zapier.
You can also automate the reminder process to save you time and hassle.
What should a client intake form include?
You need a lot of information from clients to be able to work effectively together. So you can either send clients one long client intake form, or split it over a few forms, prioritising the most important information first. It might help to think of the client intake form as your first step in content gathering.
Once that step has been completed, and your client has some momentum, you can send them an onboarding form asking for more detailed information and attachments.
You could include in your initial client intake form:
A request for basic contact information
Basic company information
Business details
Then follow up by asking for:
Financial details and records
Required documents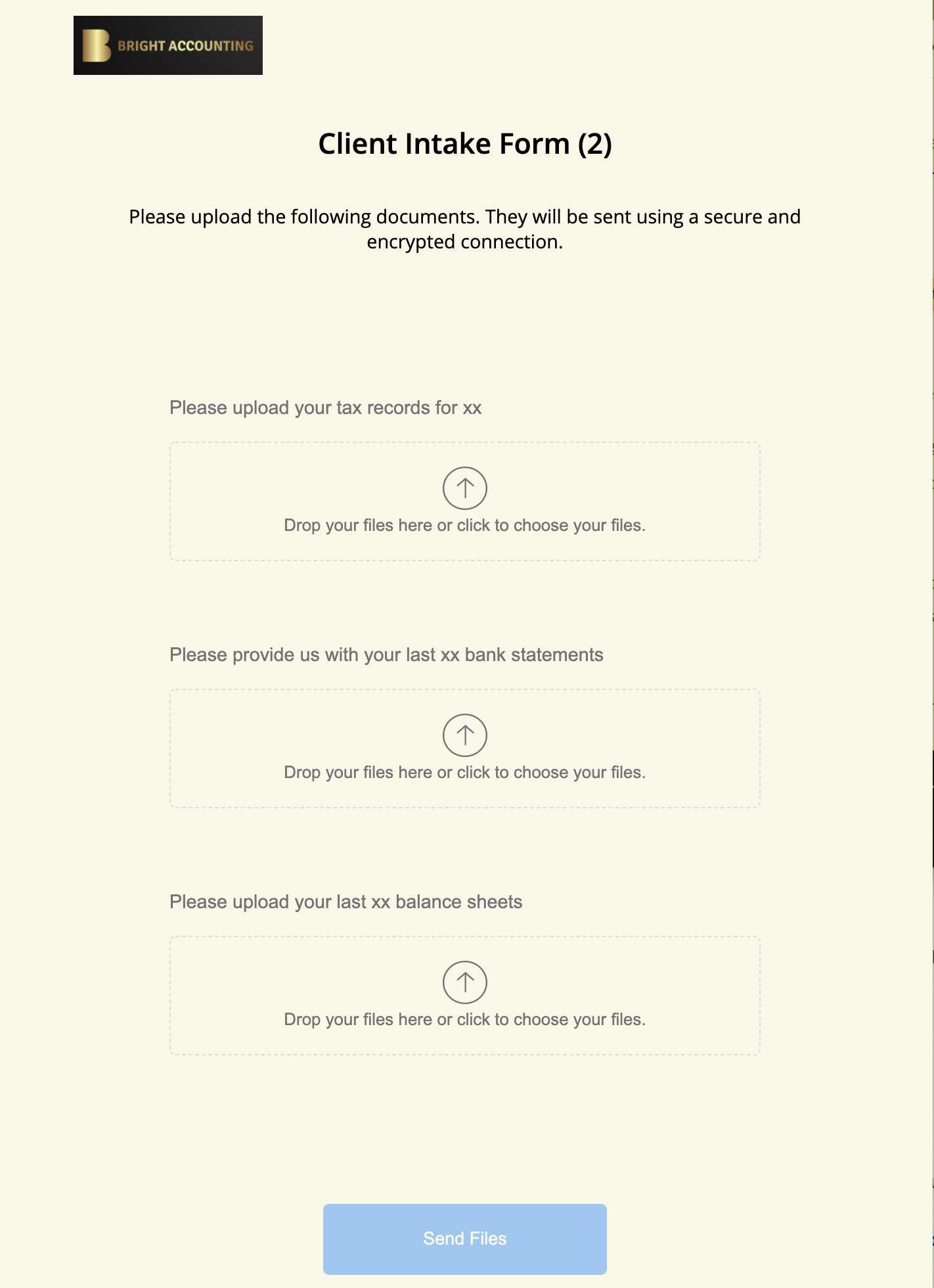 Improving your client intake form
Once you've trialled your client intake form with a few clients, make some tweaks. If clients tend to give you unexpected information for one question you might need to change the wording. Or if they get back to you with questions about part of the form, then you need to improve your description copy.
View your client intake form as a work in progress that can be optimised as more clients use and respond to it.
Try File Request Pro free for 14 days – create high-performing client intake forms with file upload functionality
Use branded upload pages to gather and organise content. Spend more time on important tasks and less time worrying about logistics and security.
Here is our step-by-step walk through of creating a client intake form with File Request Pro.