Google forms allow you to easily create and share your forms with others and make it easy for them to provide their responses. Responses to Google Forms are stored in a spreadsheet on the Google Sheets app.
Google Forms is a great product. It's free, easy to use, and popular which makes it a good alternatively to create a simple or quick client intake form but, if you need to accept attachments or file uploads and if you wish to present a more professional image to your future customers of your law practice or accounting firm for example, then it may not be the best option for your business.
Can I use Google Forms for client intake?
Google Forms is an easy-to-use digital tool that simplifies the process of creating customized forms and surveys. It allows businesses and organizations to customize their forms, including intake forms, for their clients' needs.
Using Google Forms as an intake tool has several benefits. It is not only free but also easily accessible to anyone with a Google account. It saves time and increases efficiency, as the tool can automate data collection. With its data analysis capabilities, Google Forms also helps businesses gain valuable insights into their customers' needs and preferences.
Google Forms is a great tool to create customized intake forms and make the client intake process more efficient. However, before using this tool, businesses should take into consideration their specific needs and ensure that Google Forms aligns with their client data collection needs and legal requirements.
Creating a Client Intake form with Google Forms.
To create your intake form,  go to https://docs.google.com/forms/u/0/ and click the Plus sign to create a new form.
Name your form: In the top-left corner, click Untitled form or the template form name and enter a new name.
Add a description: Under the form name, add your text.
Add a header, change the theme and background color, or font style: Click Customize Theme and then choose your options.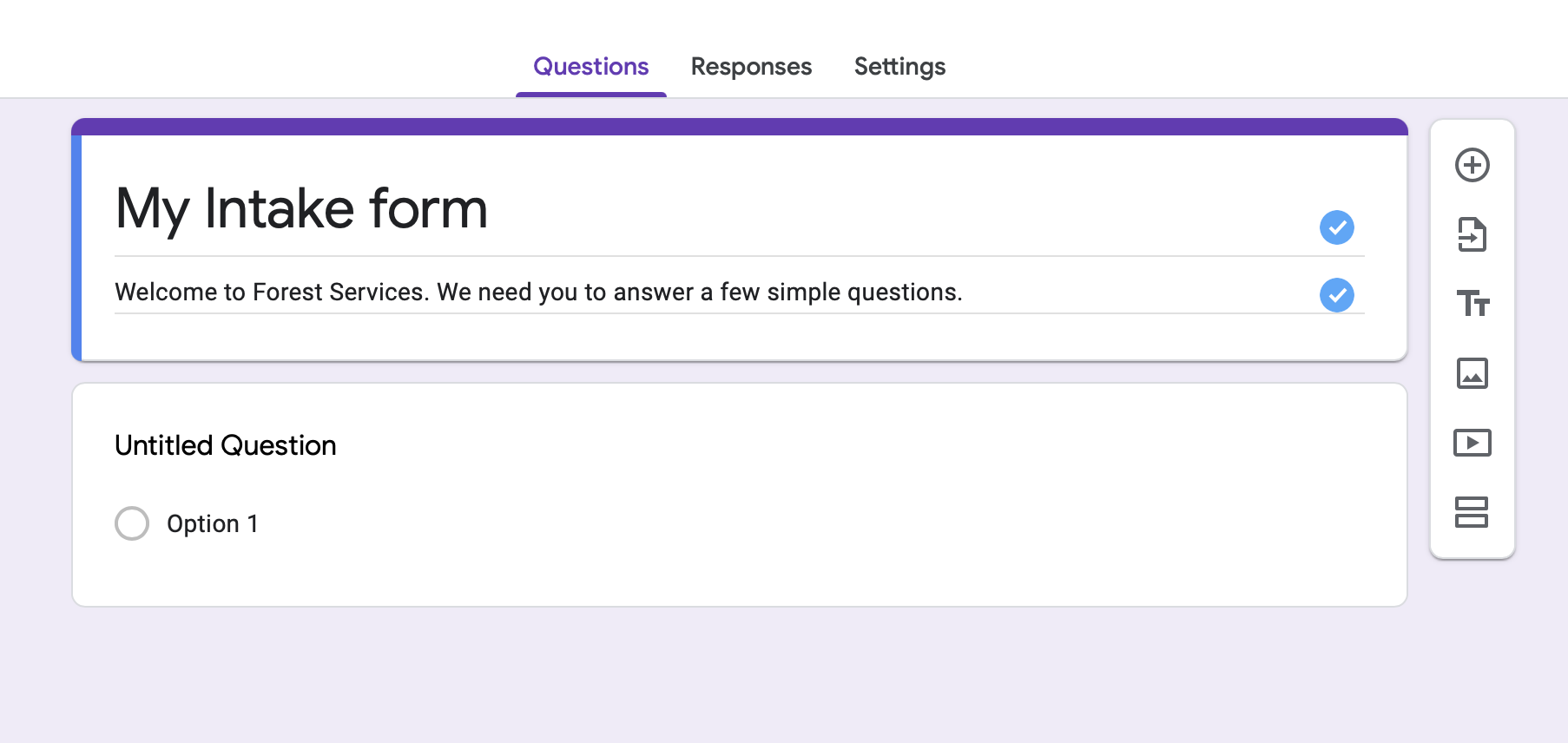 Adding questions to your Google intake form.
When designing your forms, it is important to consider how the client will want to fill them out. They often want to know what they are committing themselves to and what they need to do next. We have to create lengthy explanations and long-form terminology that YOU don't need.
Click Untitled Question and enter your question. You get suggestions based on your type of question.

(Optional) To change the question type, click the Down arrow and choose an option.

Add response options (if applicable for your question type).

To add a copy of the existing question, click Duplicate.

(Optional) To specify if people must answer the question, click Required.

To add a new question, click Add question.

See responses in Forms.
You can see a summary of all responses or look at individual responses on the Response tab. You can also view the form questions by clicking on the Question tab. To switch between individual responses, click the individual's email.
You can also connect a Google Sheet to automatically filled with each new response by clicking the Sheets icon.

Here are some things to keep in mind when creating a Client Intake process with Google Forms.
While Google forms make for an easy and simple way to create an intake form, there are a few things to keep in mind.
Your intake forms may end up in a Google Search.
Google forms and public URLs can be pickup automatically by google, even if you don't want your business intake form to be found online. Just try searching for "intake form site:https://docs.google.com/forms" and you will find countless examples of business intake forms that came up in Google results.
Limited branding and customization options.
Keep this in mind when designing your intake form: it should look like a friendly and trustworthy part of your business. You might want to customize the design, alter the company name or logo, or make sure that you don't load up any unnecessary graphics. This way it will seem more personalized, something that customers appreciate.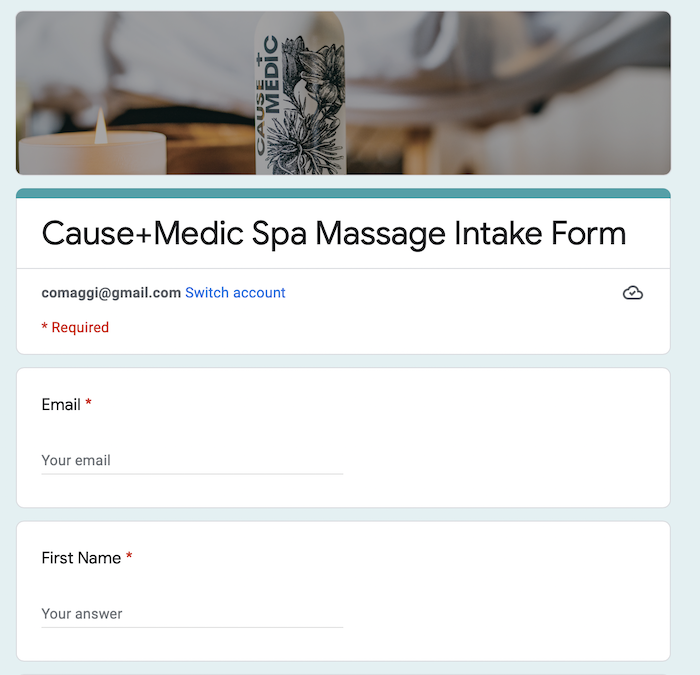 This isn't just a case of making your form look 'attractive'. It's about persuading your clients to trust you with sometimes sensitive information. With the amount of fraud around on the internet, clients are rightly cautious about completing and sending a random form that looks like it could have come from anyone.
When it came to branding and customization, Google forms offer very limited options. You can change the top image and some colors, but it's easy to tell that they are just a Google form and not your own website or a professional tool.
Problems with file uploads.
To add a file upload question, choose '+' and then use the dropdown to find 'File upload'. You can choose to allow only specific file types, the maximum number of files, and maximum file size.
You can only receive files from respondents with Google accounts using Google Forms. There is no easy workaround, just use Google Forms to allow file uploads without login.

If you need to collect files, pictures, or documents, you won't be able to use your Google Intake form.
Are the Google Forms restrictions too difficult? There are other options.
If it is important for you that you can request and organize files from clients, partner businesses, or suppliers, then you might need to look at other options. You'll specifically want to upload software that natively integrates with Google Drive, so your workflow is as streamlined as possible.
Also, if offering a professional image with your custom logo, colors, and even your own domain like intake.example.com you will need to look for a tool like File Request Pro.
We created File Request Pro so that you can use cloud drives for what they are great at – file storing and synching across devices – and File Request Pro for professionally collecting and organizing any type of file or folder.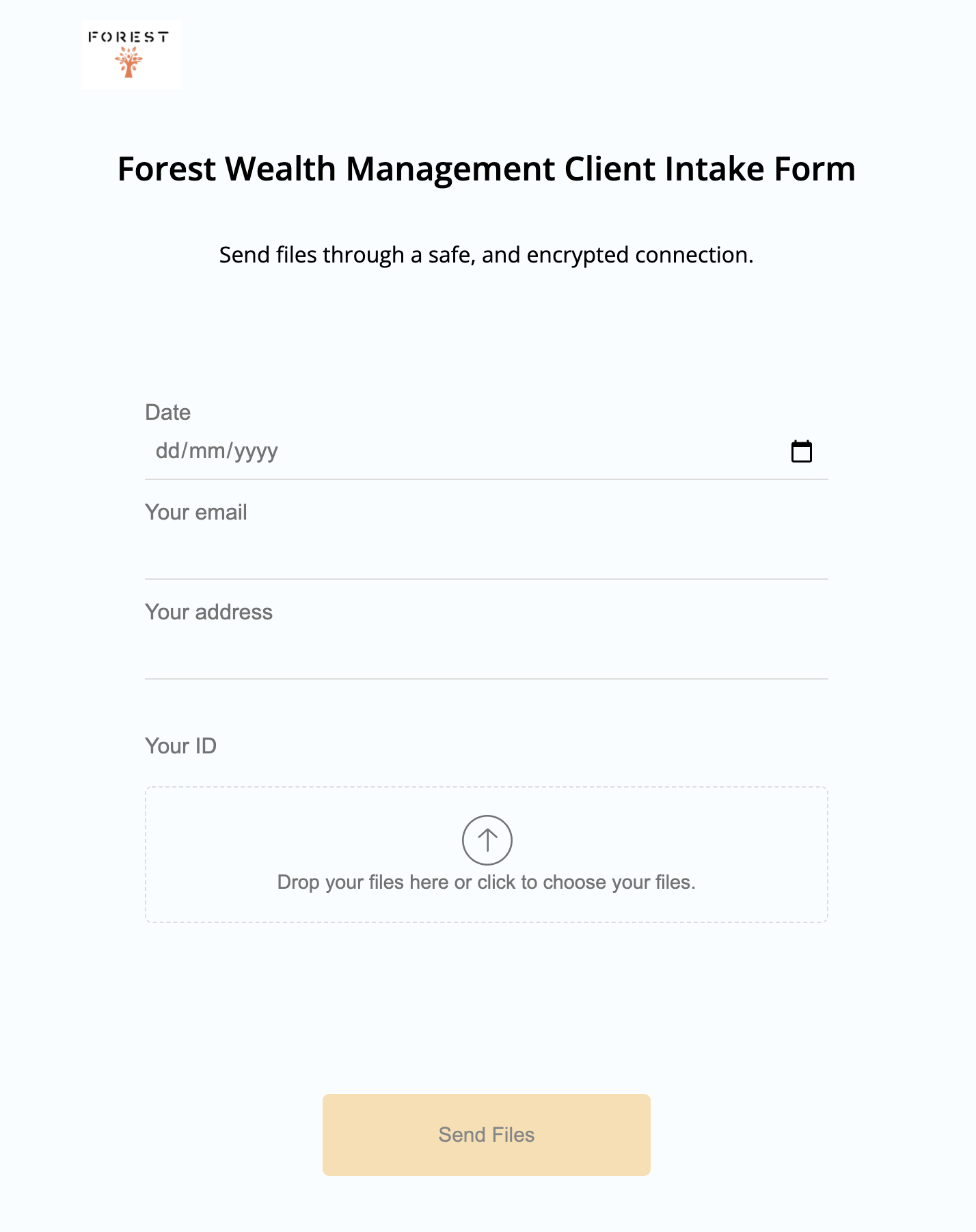 How File Request Pro works – the easy way to allow file uploads from anyone direct to Google Drive.
Sign up for a free trial account and connect your Google Drive account (shared or individual) with a click.

Create a branded upload page using as many or as few customization options as you choose.

Add any extra form fields to collect text information (date, email, hidden, anything really) and decide whether you want a

one-page or multi-page form.

Add

conditional logic to questions

or entire pages so your clients only see relevant questions.

Activate a reminder sequence of emails and set a deadline so you don't have to chase clients manually for content.

Send a customized link to your clients, or embed the upload page on your website. Clients don't need to sign in or create an account.

Files and any text will automatically appear in your folders in Google Drive, organized by whatever value you choose.
To read in more detail about how File Upload Pro works please see our article: Create a client intake form with File Request Pro.