File Request Pro provides you with an easy way to gather support requests from your customers.  It is a flexible alternative to Salesforce's web-to-case feature, supporting attachments and customizations.
Use File Request Pro to quickly create one-page or multi-page customer support forms that give your team the information they need to deal with customer problems.
Embed the customer support form on your website by pasting a code snippet or creating a standalone upload page with a customized URL.
Connect Salesforce to File Request Pro with one click, and send data securely from File Request Pro to Salesforce.
Find out more about how File Request Pro and Salesforce work together to smooth your sales process.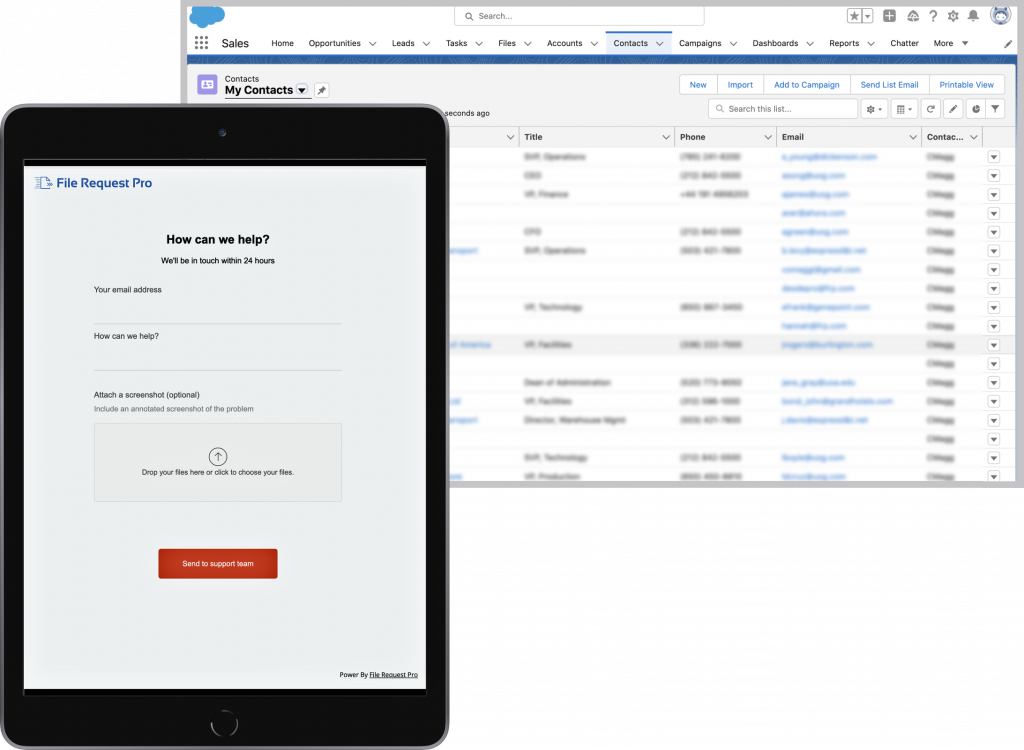 No code form builder that supports attachments.
Create a form by adding whichever form fields you need. You can collect almost any type of information from your clients using these fields: text, phone, email, URL, checkbox, dropdown, date, and more.
Add help text and descriptions to encourage your customers to send your support team all the information they need.
Move fields up or down with drag and drop.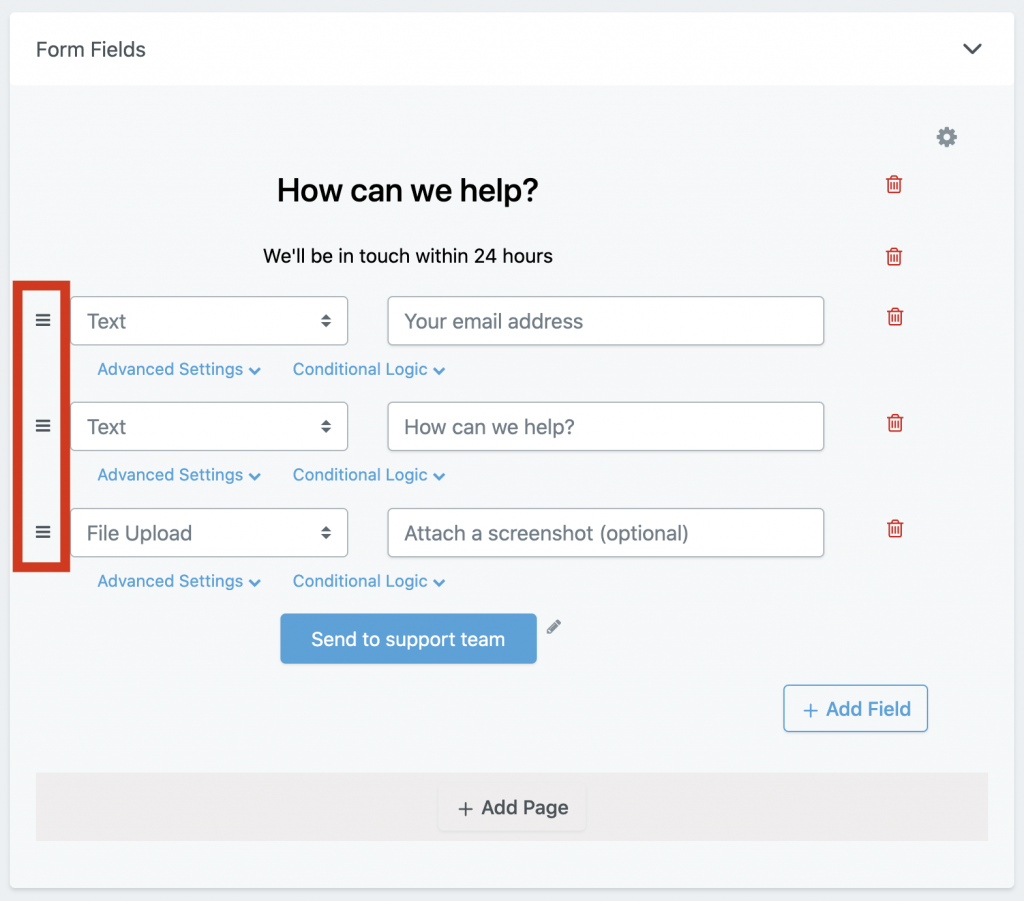 Add a file upload field to request attachments – this could be a short video showing the problem or an annotated screenshot.
It is often easier for your customers to show what challenges they are experiencing rather than describing it. This reduces the back and-forth between your support team and customers to gather missing information or gain clarity.
Large files are easy to send with File Request Pro. Your users just need to drag and drop – they don't need to sign up or use a particular device.
The File Request form builder requires no coding knowledge.
Customize your customer support form.
You can use the File Request Pro form builder to create a customer support form that works best for your customers.
If you want to gather lots of information from customers you can use a multi-page form, with conditional logic.
If you want to keep it simple, use a one-page form with a few simple questions.
You can also add your brand colors, logo, help text, and any other information that reassures your customers.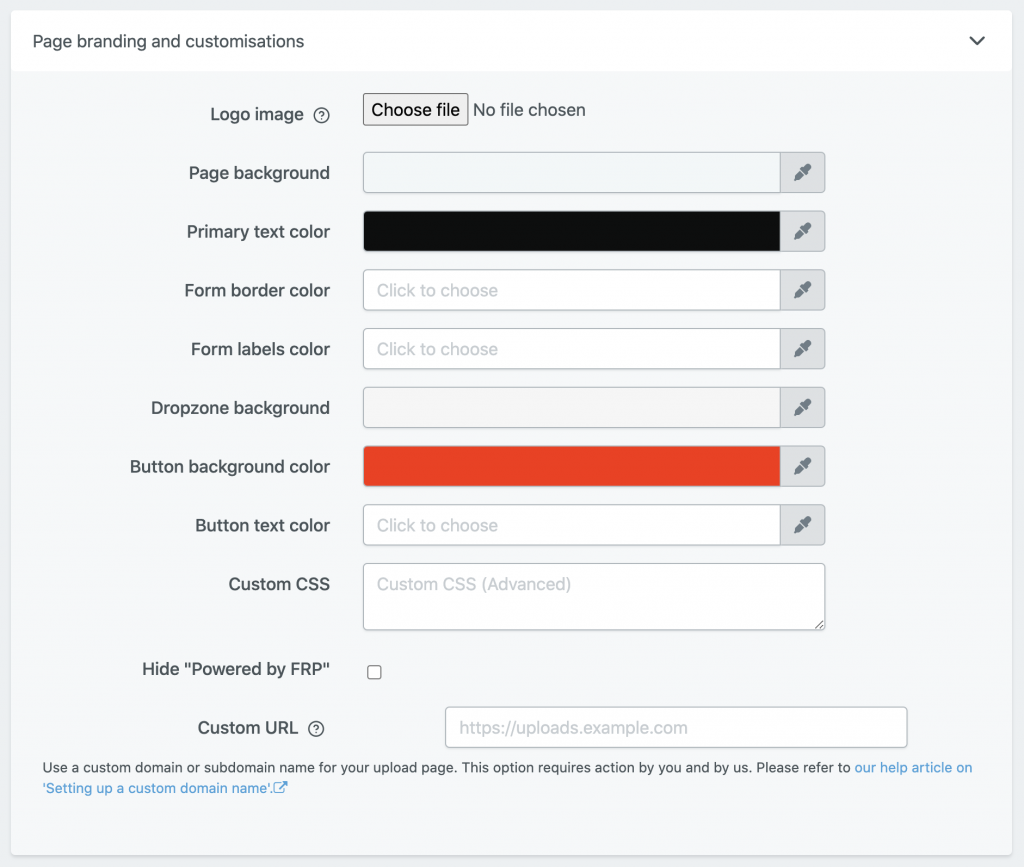 Set up for professional use.
File Request Pro is designed for use by companies of all sizes, so there is no limit on end users and responses.
File Request Pro uses a number of security measures that don't affect your users. This contrasts with Salesforce, which uses reCAPTCHA information for spam prevention, which could affect your conversion rate as an unnecessary step.
All our user data is encrypted at rest using AES 256-bit encryption algorithm. Our service is built on cloud service providers like Amazon Web Services (AWS) and Linode, with robust security mechanisms.
For detailed information about our security, and best practices read our security commitments.
Salesforce integration.
File Request has a one-click Salesforce integration.
Use File Request Pro and Salesforce to gather information and attachments from your customers that are sent directly to your Salesforce.org.
Specify within which database set you to want to collect this information (Salesforce objects). Then match the questions you create in File Request Pro with the information you already have in Salesforce (Salesforce records).
Find out more about the Salesforce and File Request Pro integration.
Or see our pricing (and sign up for a free trial, no credit card is required).