File Request Pro is lightweight data collection software that you can use to collect videos, images, GPS coordinates, and spreadsheets. It is particularly useful for securely collecting and organising client data, without them needing to log in or use a specific device.
File Request Pro natively integrates with popular cloud drive platforms, so you can automate file collection and reduce errors caused by manual file wrangling.

What are data collection tools?
Data collection software or data collection systems are a type of software that helps to collect data from different sources. There are many types of data collection software, some are more simple and others are more complex.
When you're collecting data, it's straightforward if you have the right tools to collect that data. Data collection tools are used for storing and preserving your data. There are various types of software for this purpose, such as apps or other types of software that may be considered more 'full-featured'.
There are a number of different data collection methods you can use, depending on what type of data you require and how it will be used. You can offline forms, mobile devices, and digital forms, among others.
The benefits of using data collection systems are that they eliminate the use of paper forms and allow data to be quickly exported or synched to other apps quickly and efficiently.
Easy-to-use data collection software.
Use File Request Pro to send your clients and users a link to a branded upload page. They fill in form fields and drag and drop files onto the file dropzone.  Their data is sent over an encrypted connection to your inbox, or straight to your cloud drive, organized by whatever value you choose.
File Request Pro natively integrates with Google Drive, Microsoft OneDrive and SharePoint, and Dropbox. You can use Zapier to connect it to thousands of other apps to avoid any data entry on your side.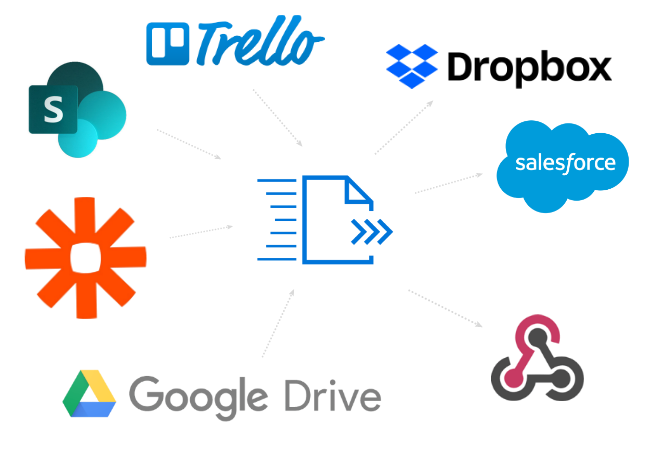 Your clients will need an internet connection to send you their data.
Simplify your data-gathering process in 20 minutes.
Although File Request Pro has plenty of granular functionality, we've designed it, so you can get and run quickly.
Sign up for a free trial and select 'Add a new page'. Customize the upload page as much or as little as you decide. Add your logo and colors, change the microcopy, and specify the page URL.
Add form fields, if required, to collect extra data. Keep all questions and upload requests on one page or split over multiple pages, which can be more approachable.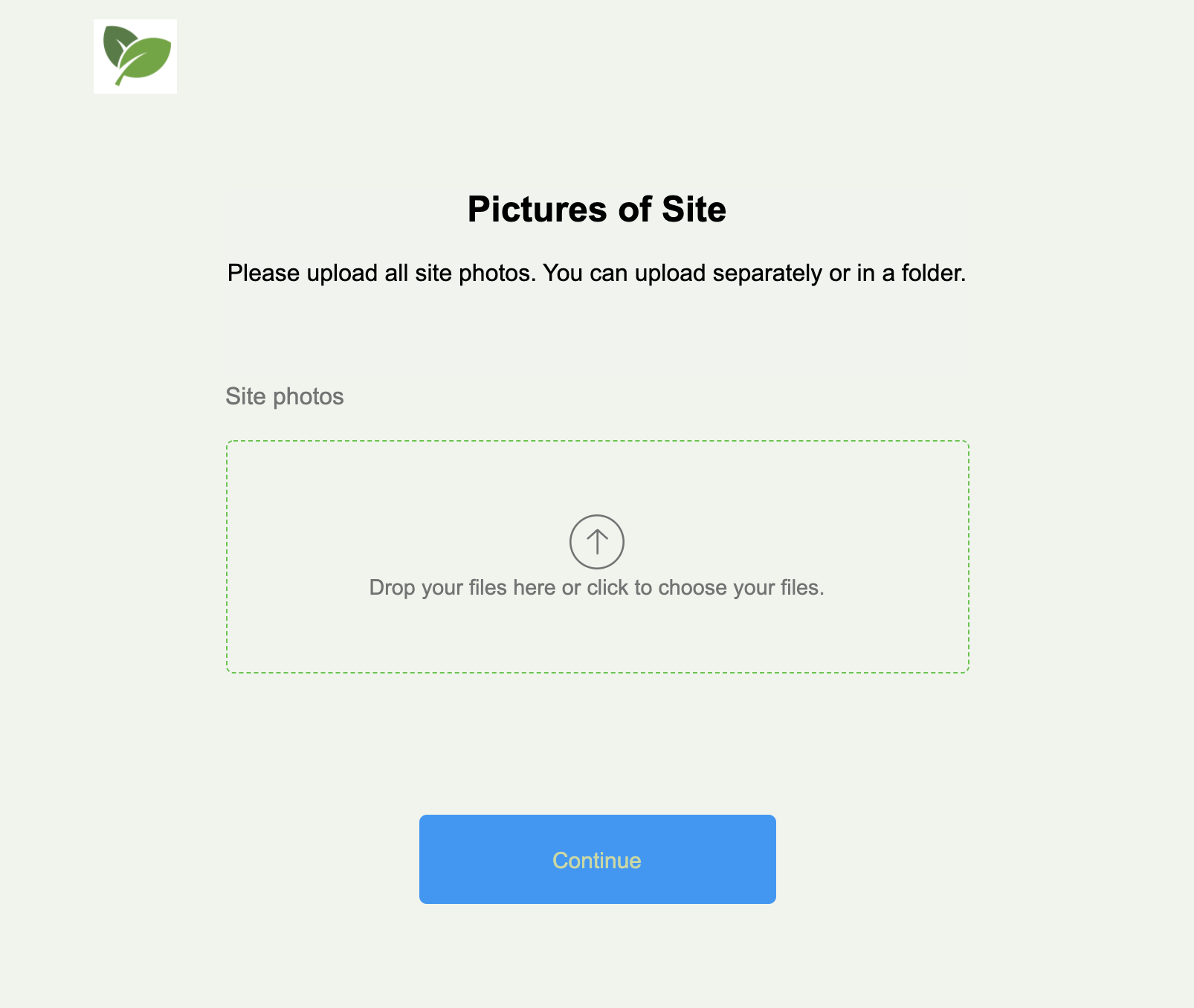 File Request Pro also supports conditional logic, so your clients only see the questions relevant to them.
Embed the upload page on your website, or send clients a link to a standalone page. Your clients' data will automatically appear in your cloud drive.
Automate low-value data collection jobs
If your team is spending time searching through email threads for client data, manually organizing files, and chasing clients for content as deadlines approach, then automation will save you hours of time and hassle.
To set up dynamic file organization connect File Request Pro to your cloud drive (shared or individual) and specify what root folder you want client data to be collected in. Then choose what value you want to use to organize client data. This can be almost anything, although the client name is popular, as is a client's reference number – and you can make this a hidden value, so a client can't alter it.
You can choose nearly any field that you have added to your upload page to group files in your cloud drive. In this example, I can choose from three form fields I have added to the upload page.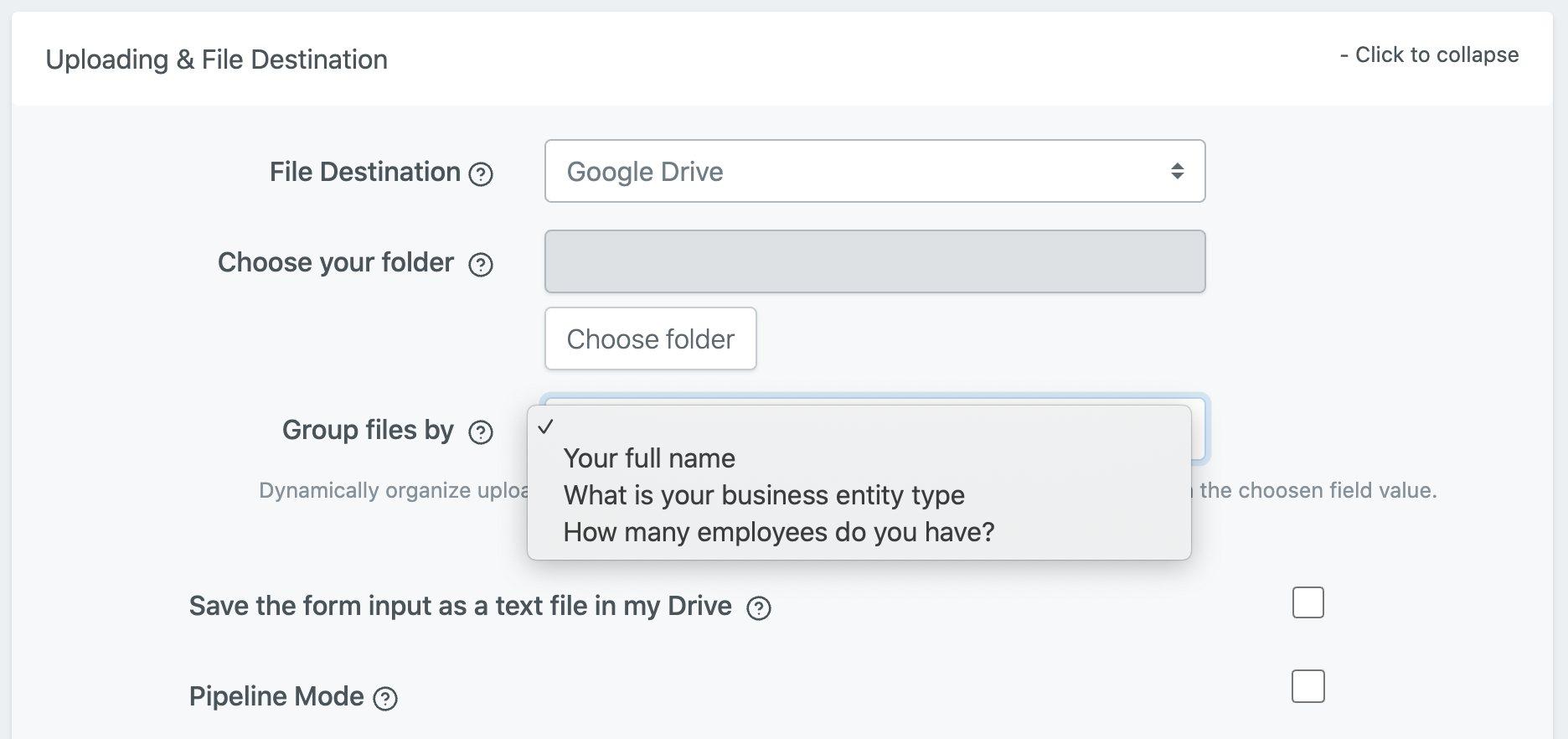 To automate a sequence of reminder emails, file requests, and thank you emails, use our templates. You can add variables like customer name, email and list of files to make the process quicker and more repeatable. You can also specify deadlines.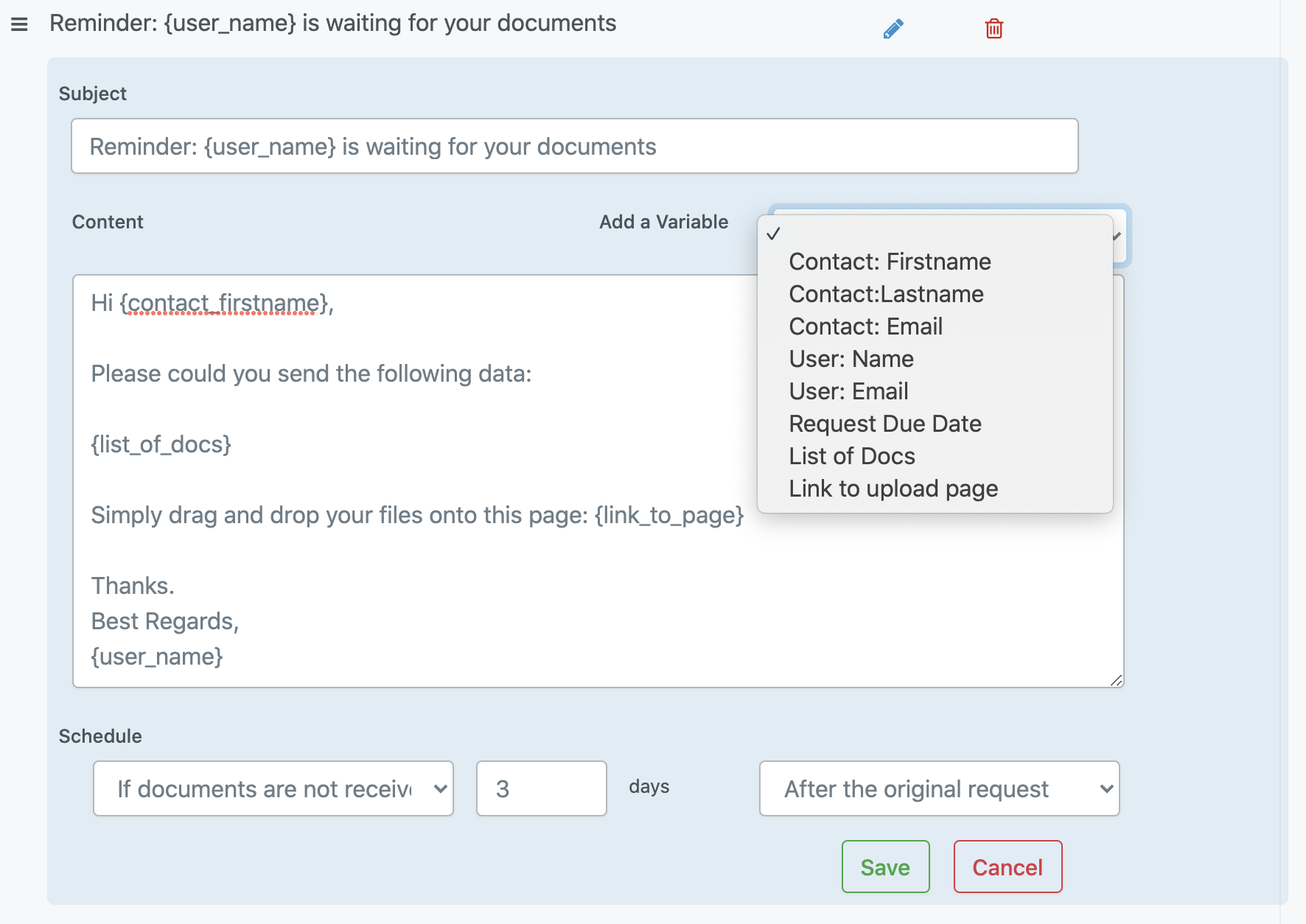 File request pro also features Zapier integrations, which allow you to synch your data to 1200+ other apps.
Encryption and best practices keep your data secure
If clients are sending you private and confidential data you need to make sure your data collection process is secure and trustworthy. Using unencrypted email or even links to shared cloud folders can be problematic.
In contrast, File Request Pro provides you with a secure way to collect data that is still easy for your clients to use. All our user data is encrypted at rest using AES 256-bit encryption algorithm. Our service is built on cloud service providers like Amazon Web Services (AWS) and Linode, with robust security mechanisms.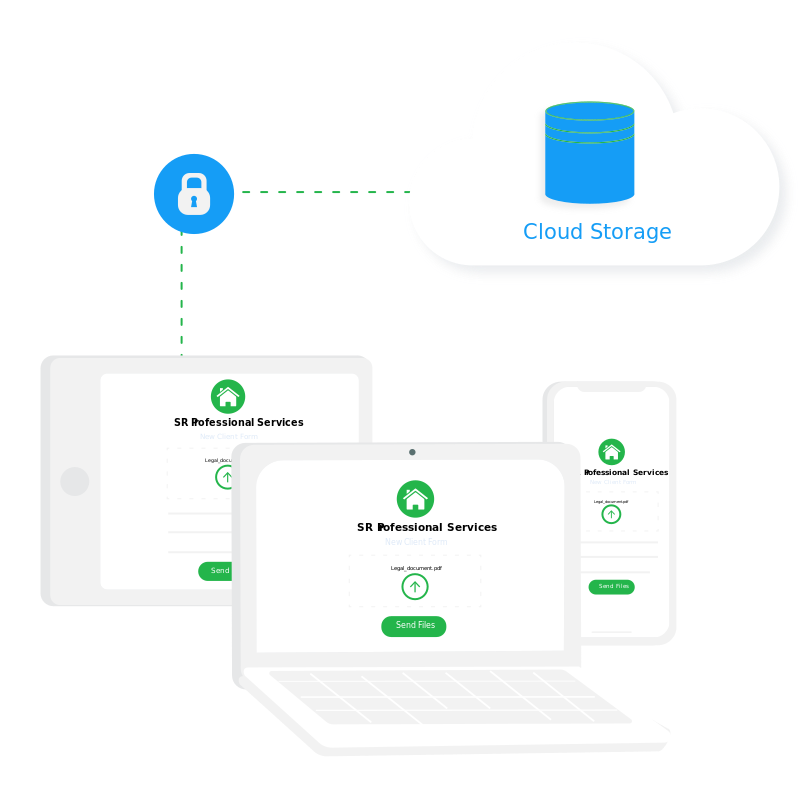 File Request Pro also provides a full history of messages, file uploads, and file downloads. Know exactly who, when and from which device each file was uploaded or downloaded.
For detailed information about our security best practices, read our security commitments.
Reduce errors and increase the speed of content collection.
With File Request Pro, you can guide your clients to send you the data you need. Create and customize upload pages to ask for data that fulfills certain criteria. Pre-fill form values to save your clients time and reduce errors using query strings.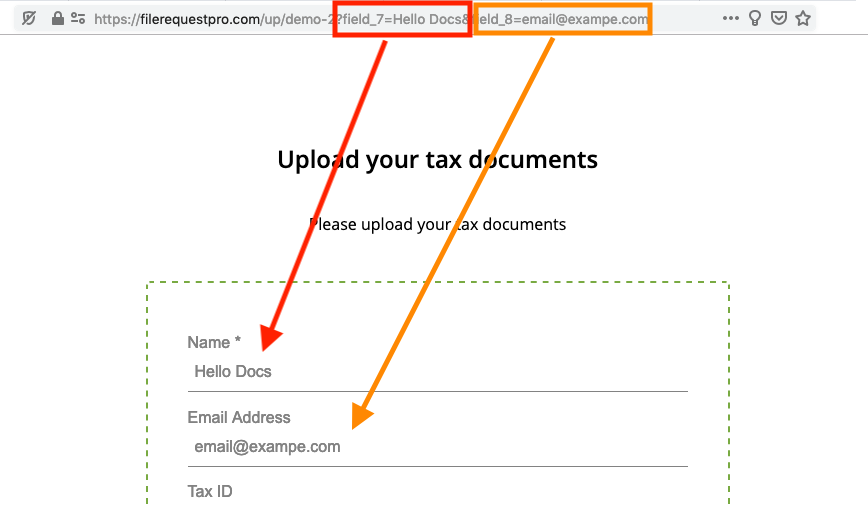 It is much quicker to use a well-designed user interface to request client data than a more piecemeal process that relies on a lot of back and forth with clients.
Create a data collection process that is repeatable, so you can use it for all your clients, with a few minor tweaks to customize pages for different client verticals.
Interested in trying our File Request Pro – free for 14 days?
Sign up for a free trial and see if File Request Pro is a good fit for your company. Any questions, just give us a shout. We're always happy to hear feedback as well, so we can continue to improve our product.
Learn more about File Request Pro